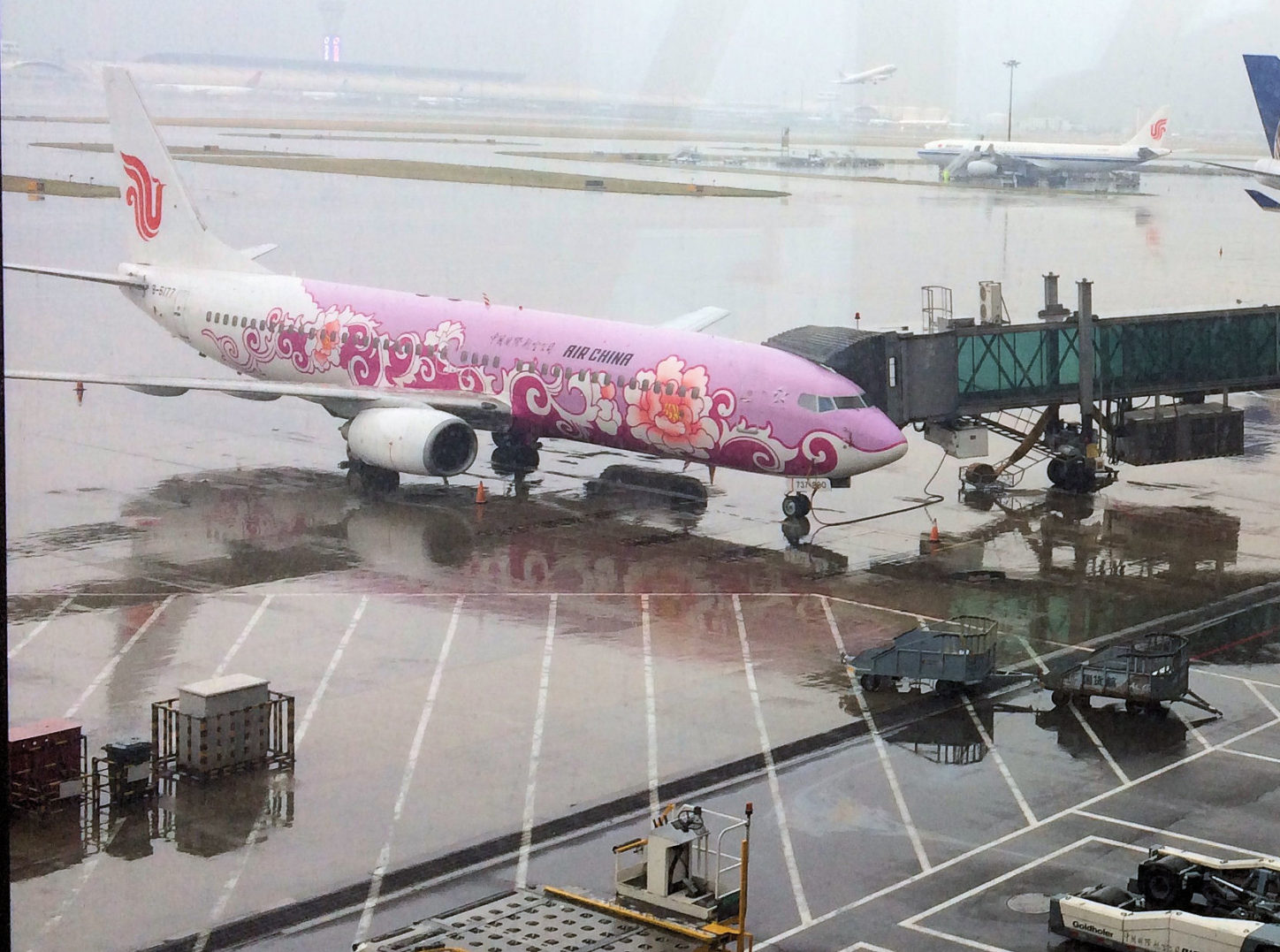 TRIP TO CHINA!
Monday, Sep 22, 6:55 PM. Nine hours to go on the flight to Beijing. Lisa got here last night/this morning at 130am. We stayed up talking until 430am then got some sleep. Woke up about 830am and we ordered breakfast in. Lisa called her mom. We left about 10am. My doorman got us a taxi. Traffic was terrible due to the UN being in session and I was a bit nervous we wouldn't get there in time since the instructions said be at the airport three hours ahead. We arrived about 11am. The line at Air China wasn't too long and there was a bathroom close by so I ducked in. We gave the gate agent our United frequent flyer numbers then we checked our bags and went through security. They don't have TSA precheck so had to take off our shoes. People still so confused about what they have to do to get through. They had the body scanners. The gate 6 was not far and we stopped for some food. All that panic to get to the gate and the flight was delayed by over an hour. People started lining up really early to get on but we didn't. There was plenty of overhead space as this is a huge plane – Boeing 777-300. Some people were in our seats and eventually the woman in the middle seat was able to find an aisle seat which was great and let Lisa and I have the empty seat in between, though the Woman was not able to sit with her travel companion. Flight attendants said the flight was 14 hours so we won't arrive until 4pm instead of 220pm. Some people saw my Facebook check in. The seats in economy are not so bad as there is some legroom. There aren't many movies on the entertainment system but the Grand Budapest hotel is on there so I will watch that.
After the movie I wasn't too sleepy so I took another melatonin. I did some stretches but think I need to stand up. The food for lunch was a choice of pork or duck with rice, weird looking shrimp salad and some fruit. I ate one of those, my hummus and pretzels and some plantains. Then went to sleep. Don't feel sleepy now so guess I will watch the movie and see if I drift off. Lots of people in the aisles walking around. I did some good stretches. Airplane dinner wasn't as bad as lunch – rice and beef with a fresh salad and a roll and some Milano cookies. I had a tiny cup of white wine.
DAY 2 BEIJING
Tuesday September 23. Beijing. Been on the bus from the airport to the hotel for about 30 minutes now. There is a huge traffic jam and it's raining. We got to the gate at 4pm. It is a long walk to the immigration area. Plenty of bathrooms along the way. Six lines were open for foreigners. Took maybe ten minutes. I said hello to the guy but he didn't respond and just handed me back my passport. Then on to baggage claim. We had to take a train to terminal TC3. Baggage claim number 42. Our luggage came off pretty quickly. We filled out a customs form but they didn't stop us on the way out for inspection. It seemed pretty random. We saw the Gate 1 travel guy and sure enough 4 black women we'd seen on our flight were also on the tour. Our tour guide is Jack. We were waiting for three more people and someone had to go back in and look for them. Three ladies and they were still waiting for their luggage which hadn't come yet. Jack said another bus would be here later and he sent the rest of us on the bus to the hotel. He said it is more than an hour drive. It is raining and cloudy and so far nothing to see but freeway and traffic.
Mercure Hotel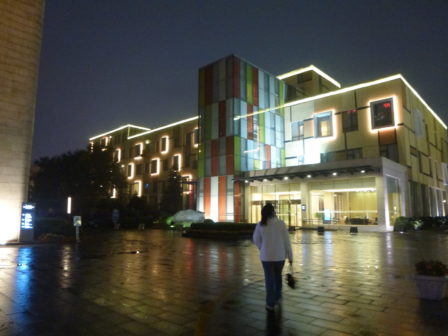 We finally got to the room about 7pm. We unpacked and then decided to go and look for a restaurant behind the hotel that had been mentioned on tripadvisor. It was nice out and had stopped raining. We found a kind of "restaurant row" and decided on a Japanese restaurant because there were some signs in English. It was a good choice. The hostess and waitress were nice, the menu had pictures of everything. We ordered vegetable tempura, avocado rolls and bean curd (which I had never had before but was pretty good ). They had bottled water and actually understood English pretty well. It was a nice meal which cost $140 Yuan or about $23 total. We didn't tip. Then we walked back to the room and went to bed.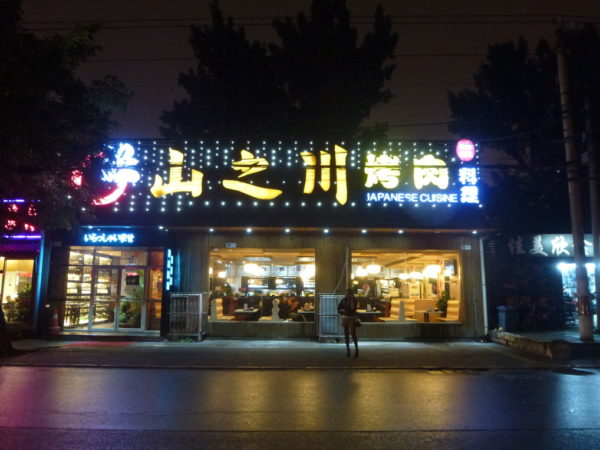 DAY 3 BEIJING
Wednesday September 24. Beijing. Afternoon – Sightseeing at the Summer Palace.  This was the second half of our tour today. But let's start at the beginning. Wake up call at 6am, down to breakfast by 7. Meeting at 745am with our tour guide Jack. There are thirty people on the tour and half of them are black!! My how the world has changed. We have assigned seating on the bus and my number is 14. We also have those whisper things – a box with earphones, where Jack can talk and we hear him. The bus is nice and is air conditioned. Our first stop was Tiananmen Square.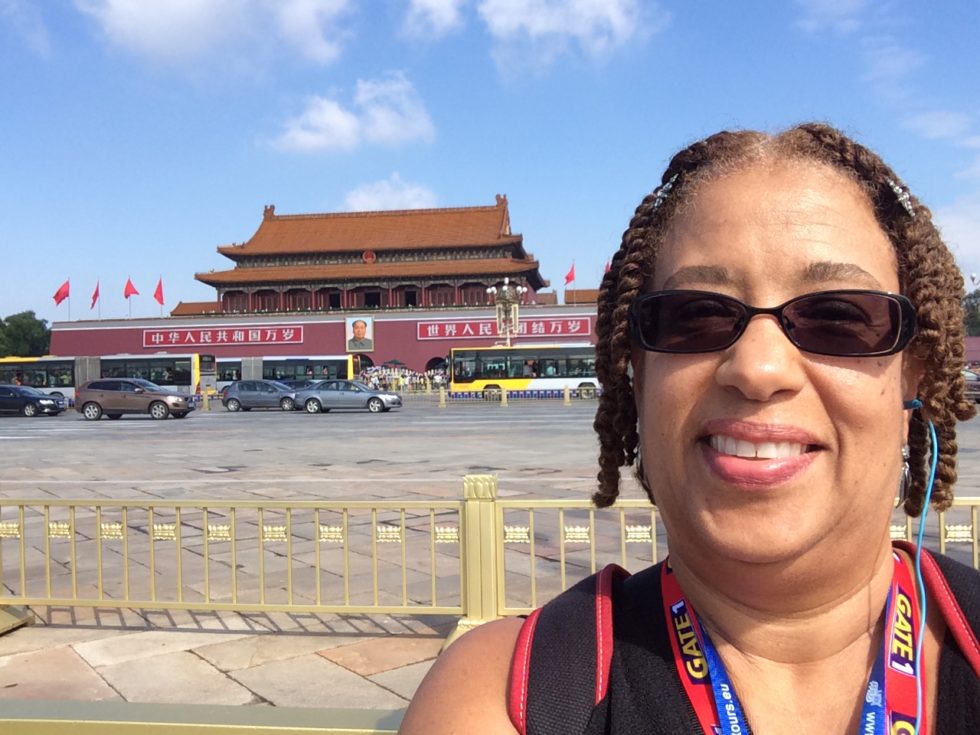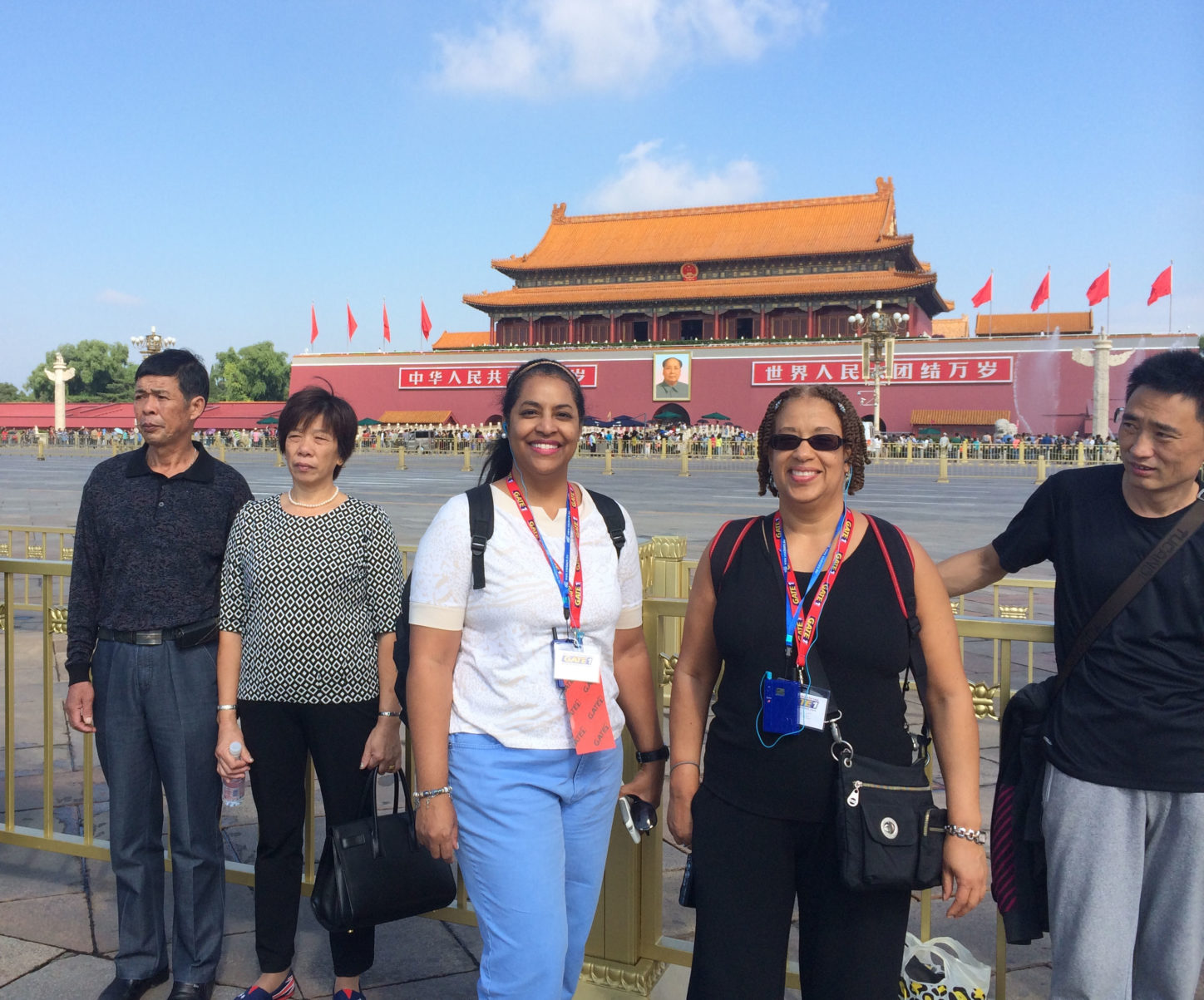 We saw Chairman Mao's photo and mausoleum, walked around the square.
Then we went to the Forbidden City/ Imperial palace.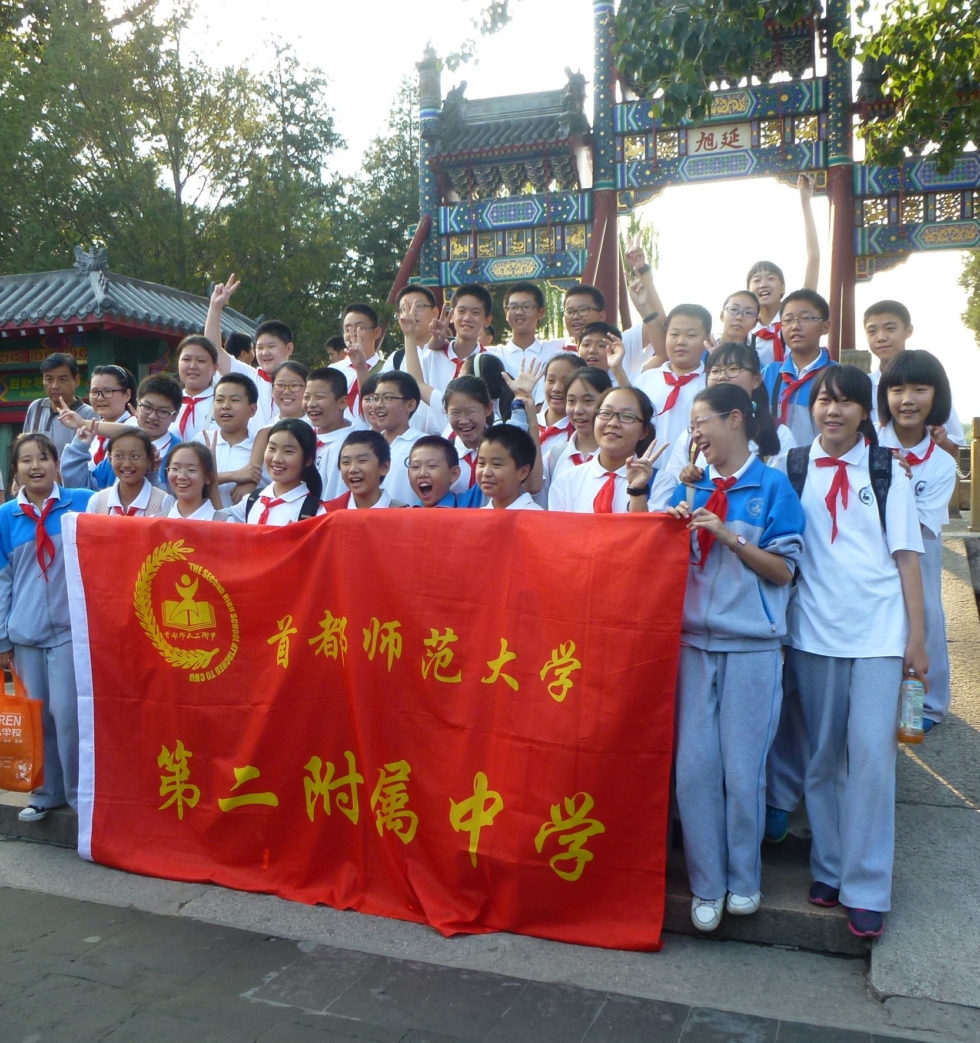 The Forbidden City is quite majestic, but there is a lot of walking.
Then to lunch which was tasty and spicy. Lunch today was the best so far. It was a local restaurant so there were mostly Chinese people eating. Jack ordered for us. We had green beans, sweet and sour chicken, many spicy things. They serve peanuts with everything. Cauliflower and eggplant.
Our next stop was a pearl shop. The salesgirls are very persistent. I bought a necklace and matching earrings, not sure why but I thought it was pretty – delicate with pearl and jade. The set cost 420 Chinese Yuan, or about $66.00. After that, I was so tired I didn't want to shop anymore.
On to the summer palace where we took a short boat ride on the dragon boat over to the palace.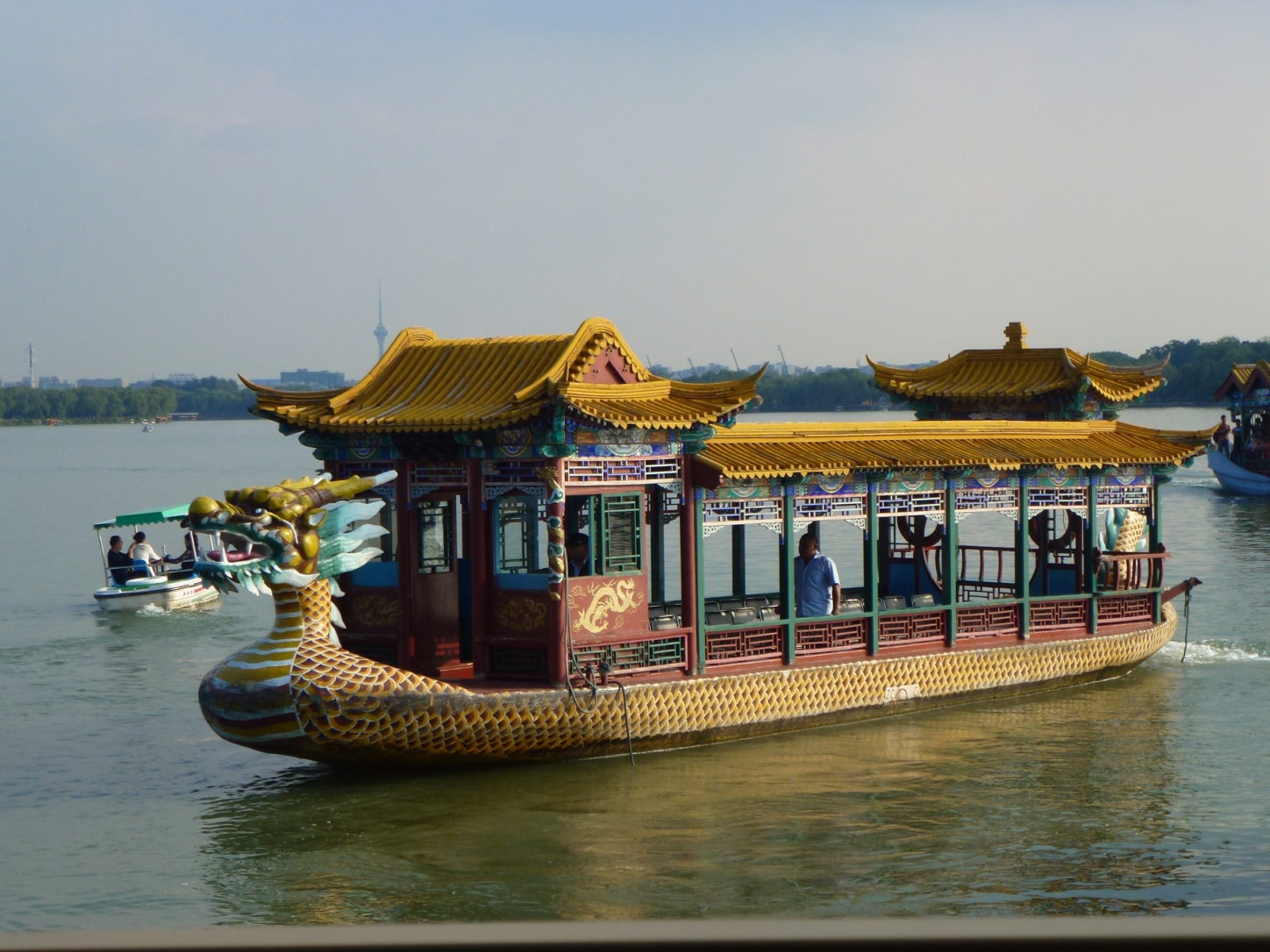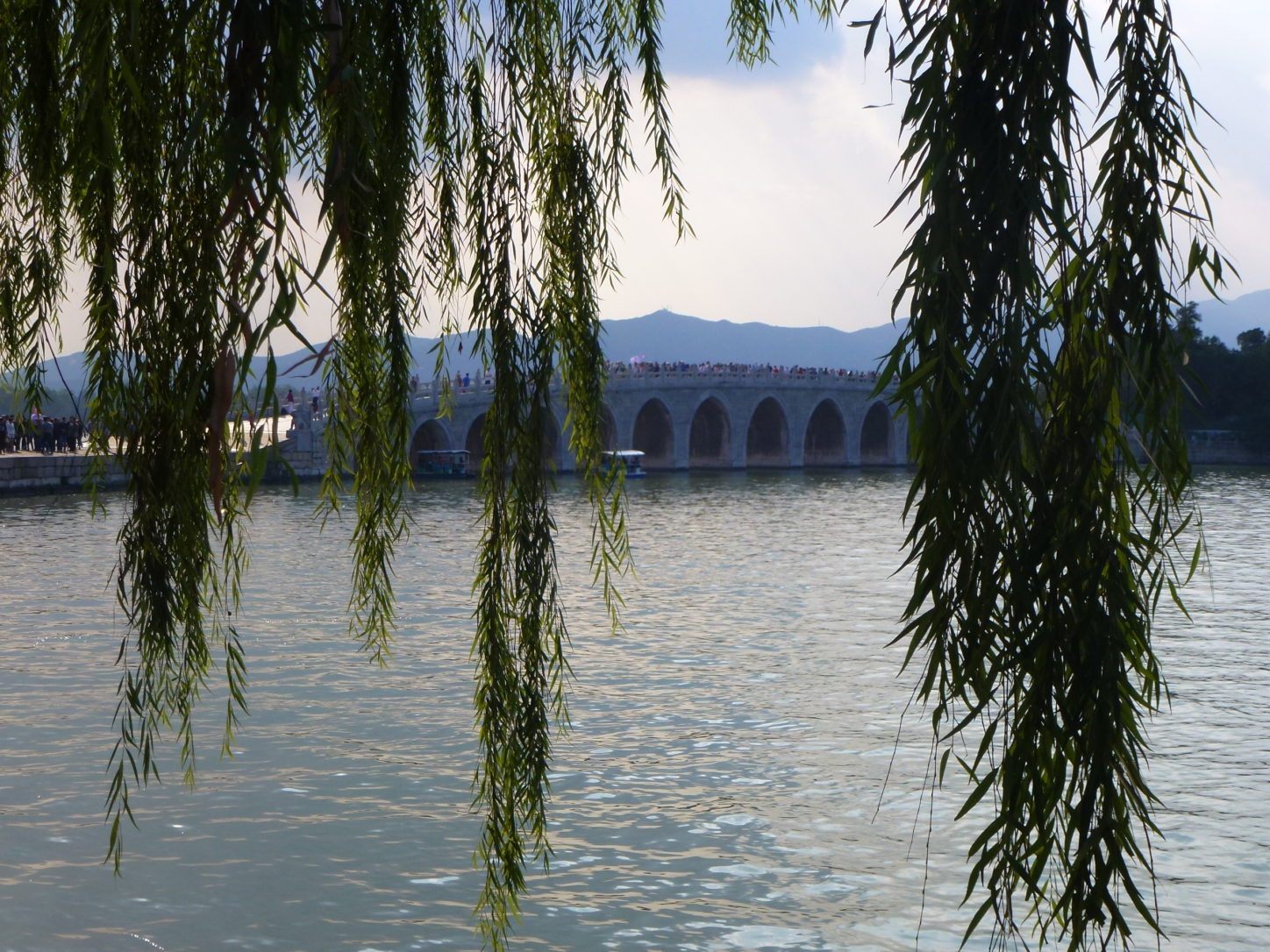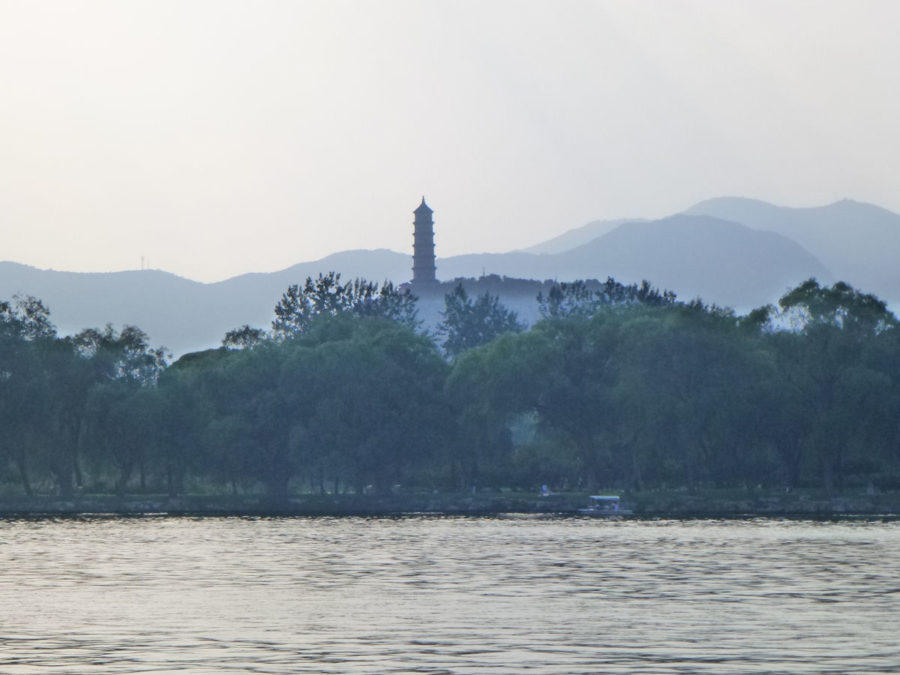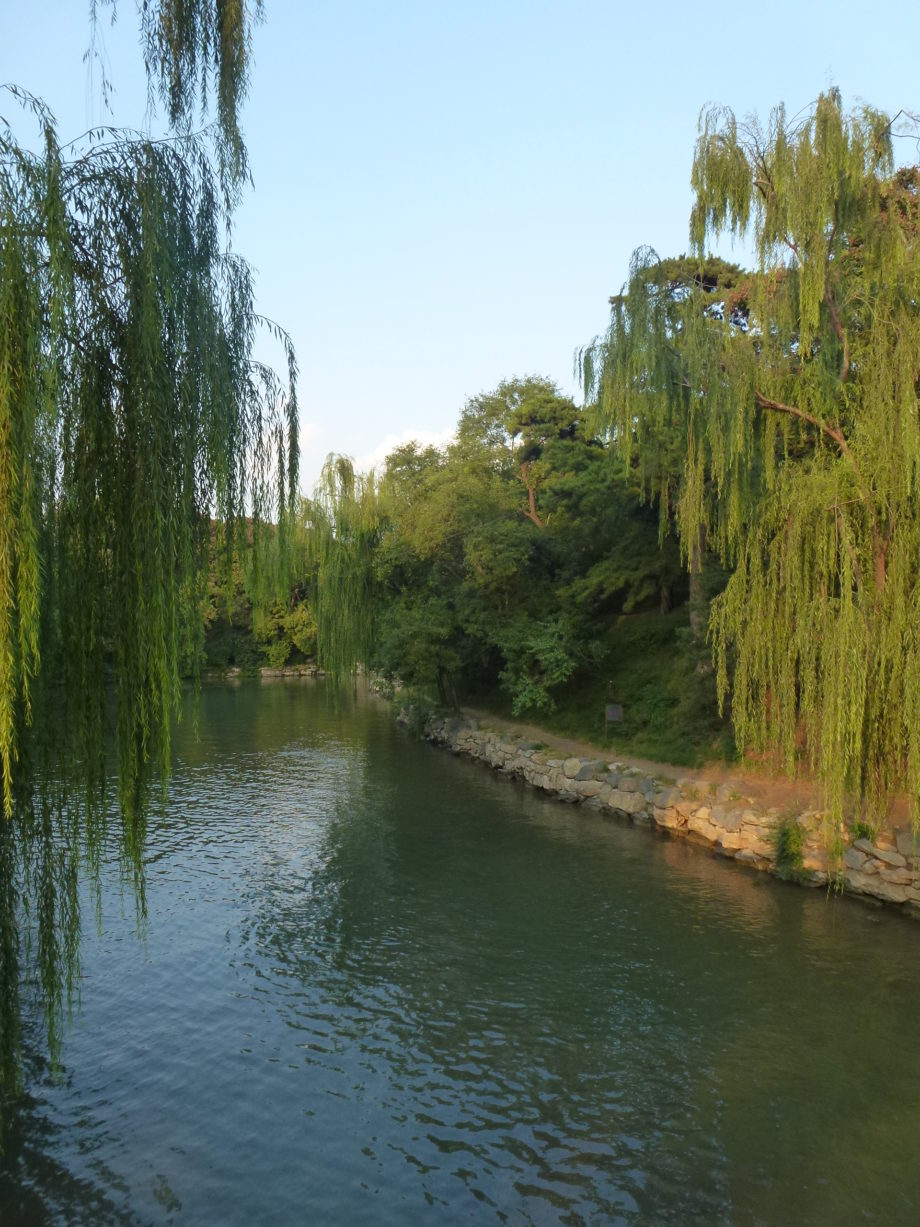 The grounds are so beautiful with a lake and trees. A local girl stopped while Lisa and I were sitting on a bench and wanted to touch my hair. I didn't mind.
Tonight was the Peking duck dinner. I was surprised how good it was because I don't normally like duck. The chef cut it up in front of us and then a waiter shows you how to eat it.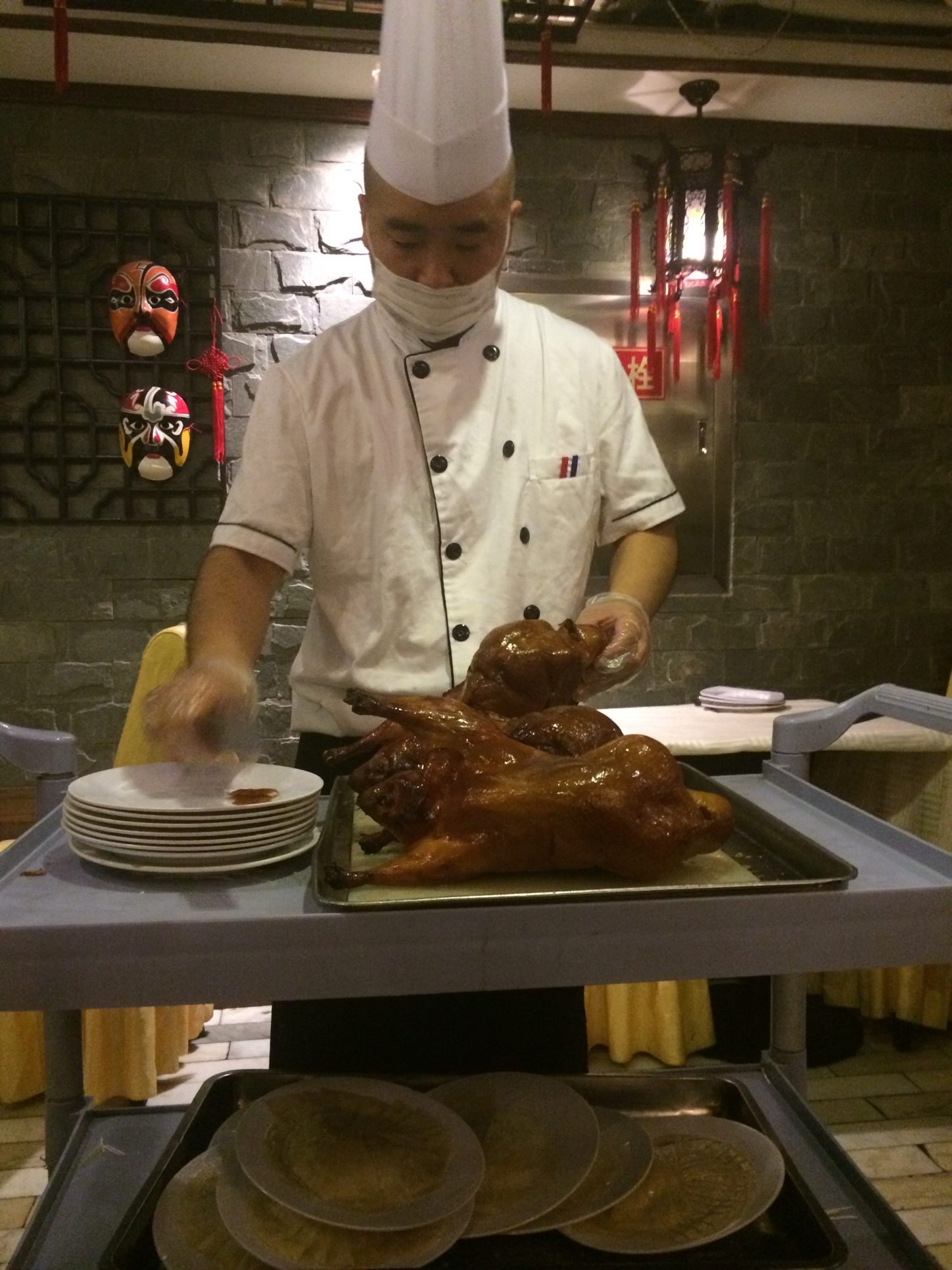 They have tortilla looking wraps and you dip the duck in the plum or moisin sauce then put some bean sprouts and some cut cucumber inside and fold it up. I ate three of them. The rest of the food was not that good and there were mostly westerners in the restaurant. I ate a lot of duck since it was the only good thing. They also had some kind of local Chinese liquor which tasted like rum to me. The wine is terrible and the beer at lunch tasted like water. You can have one glass of bottled water, beer, coke or sprite included with lunch. They don't have diet drinks. Jack said that China is getting a diabetes problem. They aren't fat but they eat a ton of sweets. They brought out a fish with its head and tail still on but when Jack told us it was carp I wouldn't eat it.
DAY 4 BEIJING GREAT WALL OF CHINA
Thursday September 25. Beijing. Photo of the entrance to the Great Wall.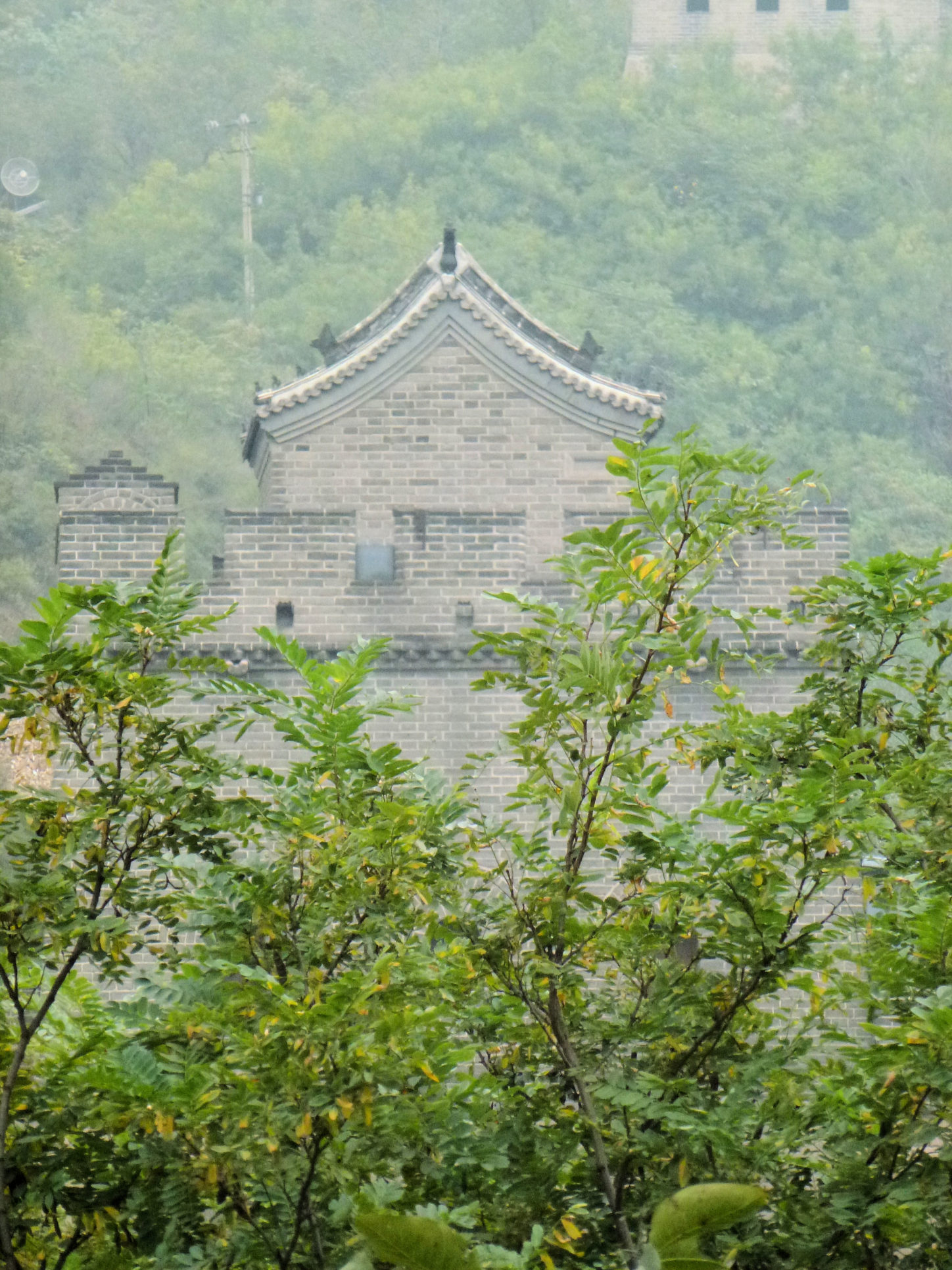 This morning I woke up before six am. And I was hungry. I went down to breakfast by myself. Had a tea egg (an egg hard boiled in tea) and a croissant and some zucchini bread which was very good. And a little watermelon. We left about 8 am. Juyong pass is the part of the Great Wall that we climbed. After about an hour and a half of driving when we left the hotel we stopped at a jade shop. We got a lesson about buying jade. The stuff in there was unbelievably expensive. Nothing but a mini tea cup for under $50. Terrible. The bathrooms at the Great Wall were the worst ones we have been in so far. Totally wet on the floor and smelly!! Just finished climbing up as far as we could go. We were with Adil and Farhan from Turkey (they live in Annapolis). We went for the lower climb with less steep stairs. There were still 2 climbs of about two flights of stairs each and a very steep ramp. But it was worth it to climb. The day was cloudy so not the greatest photos.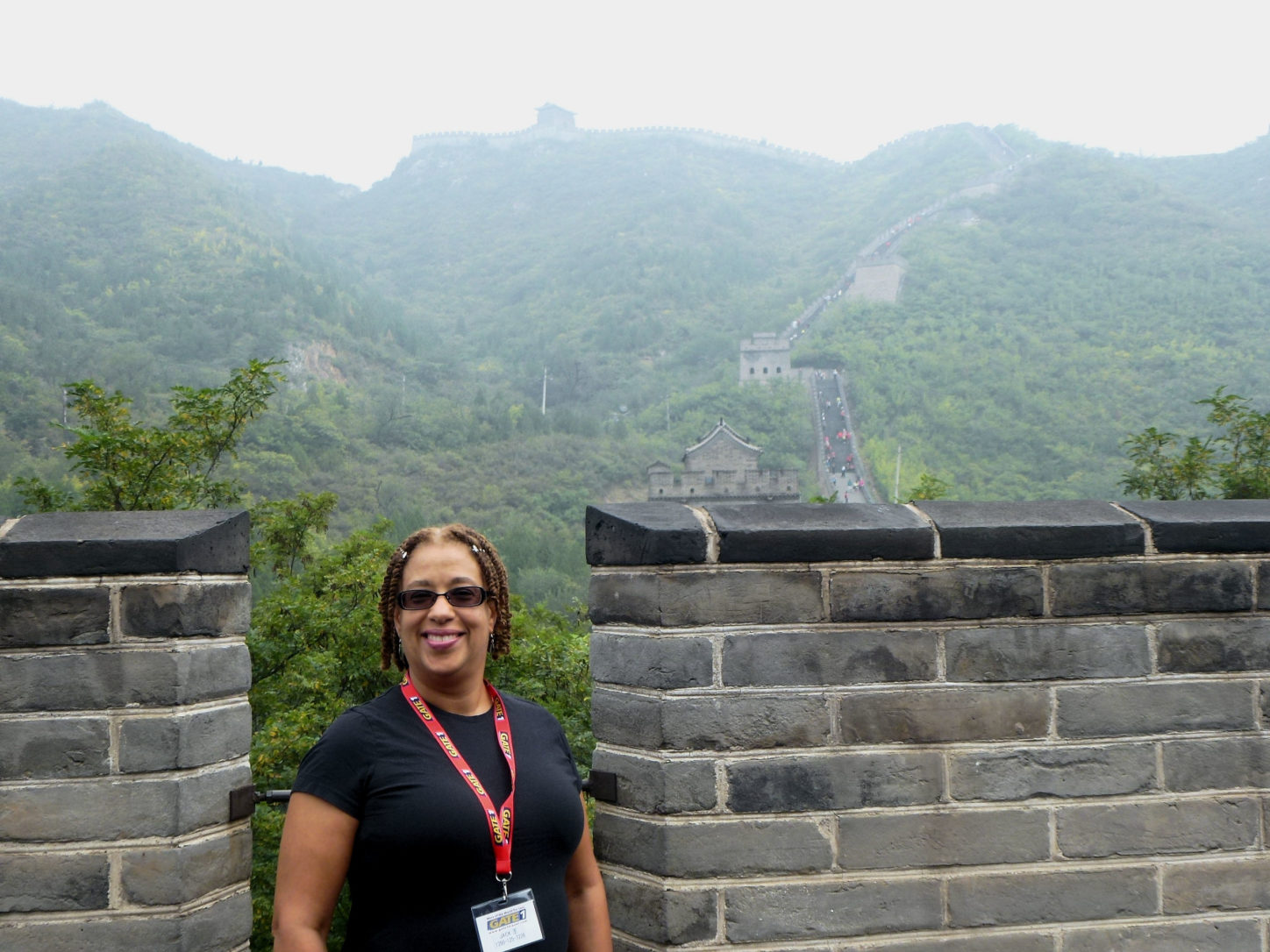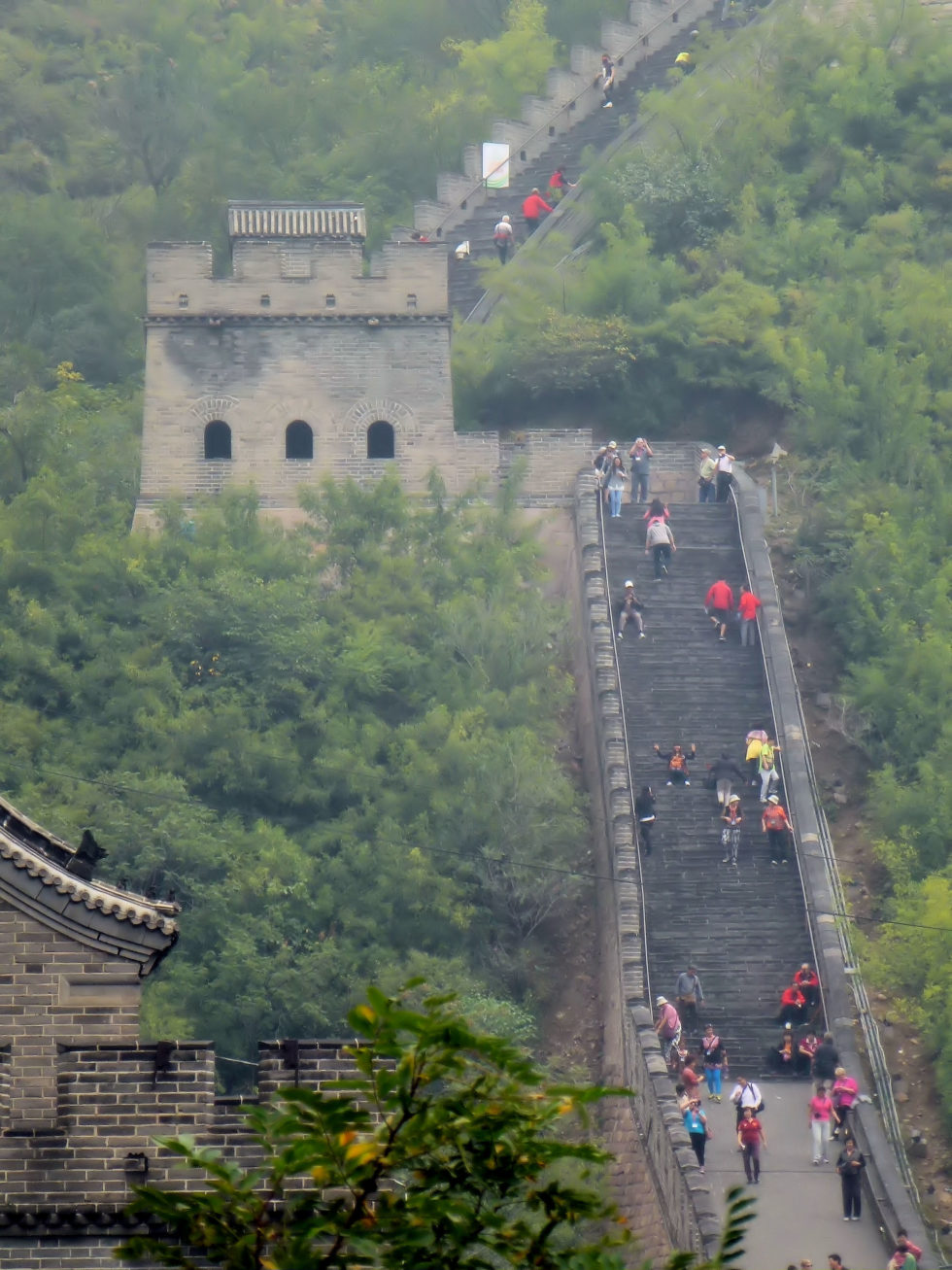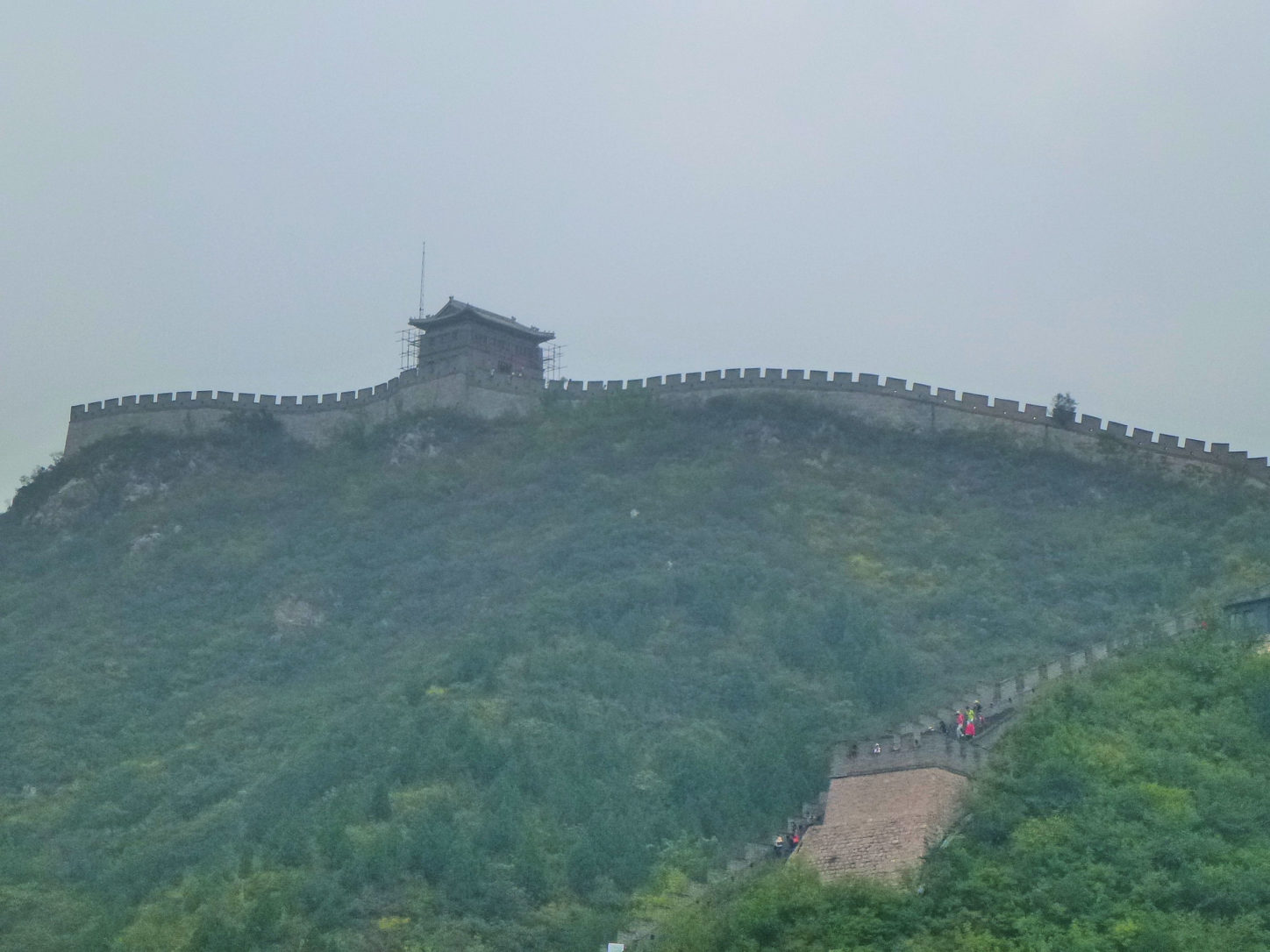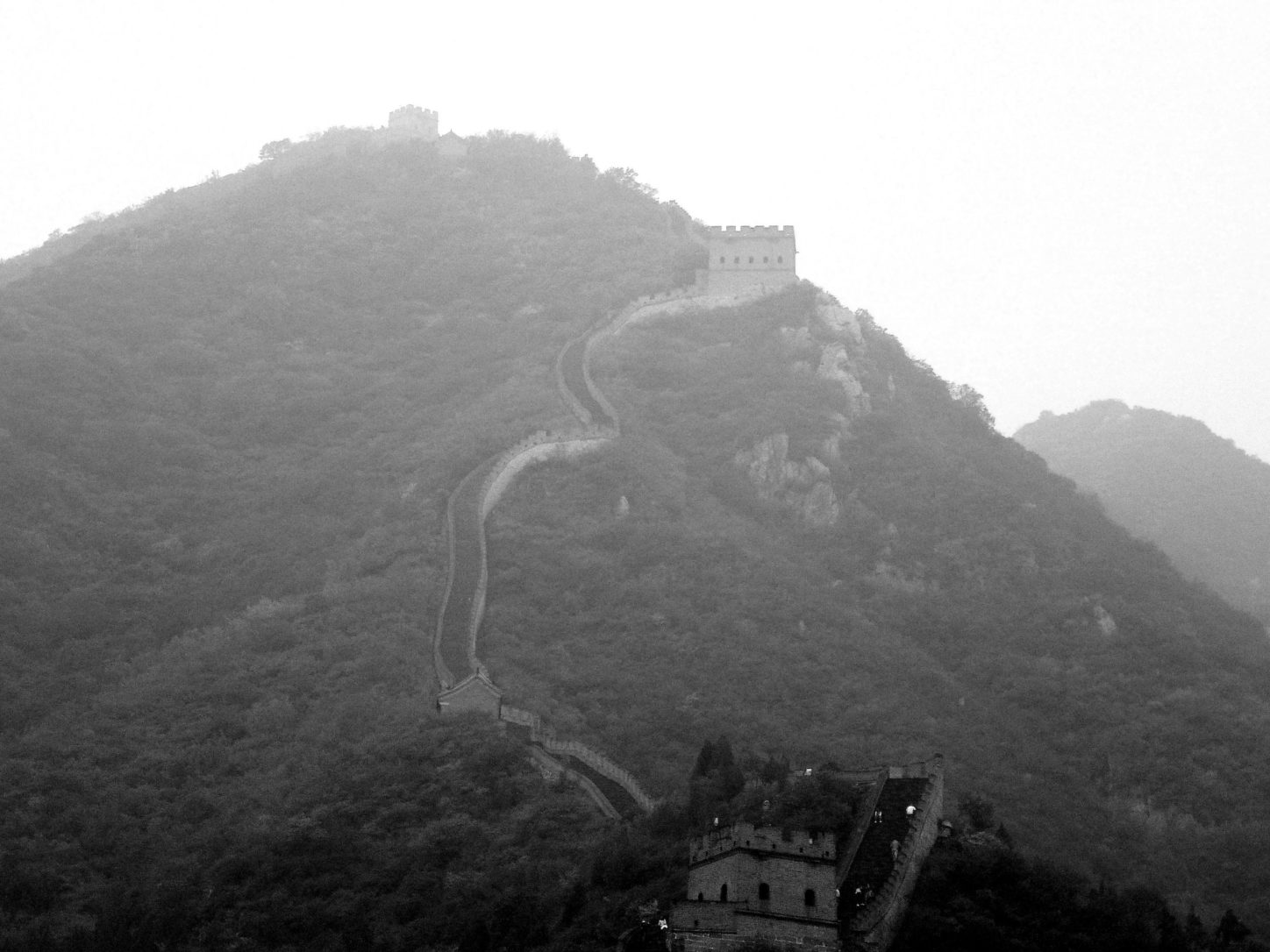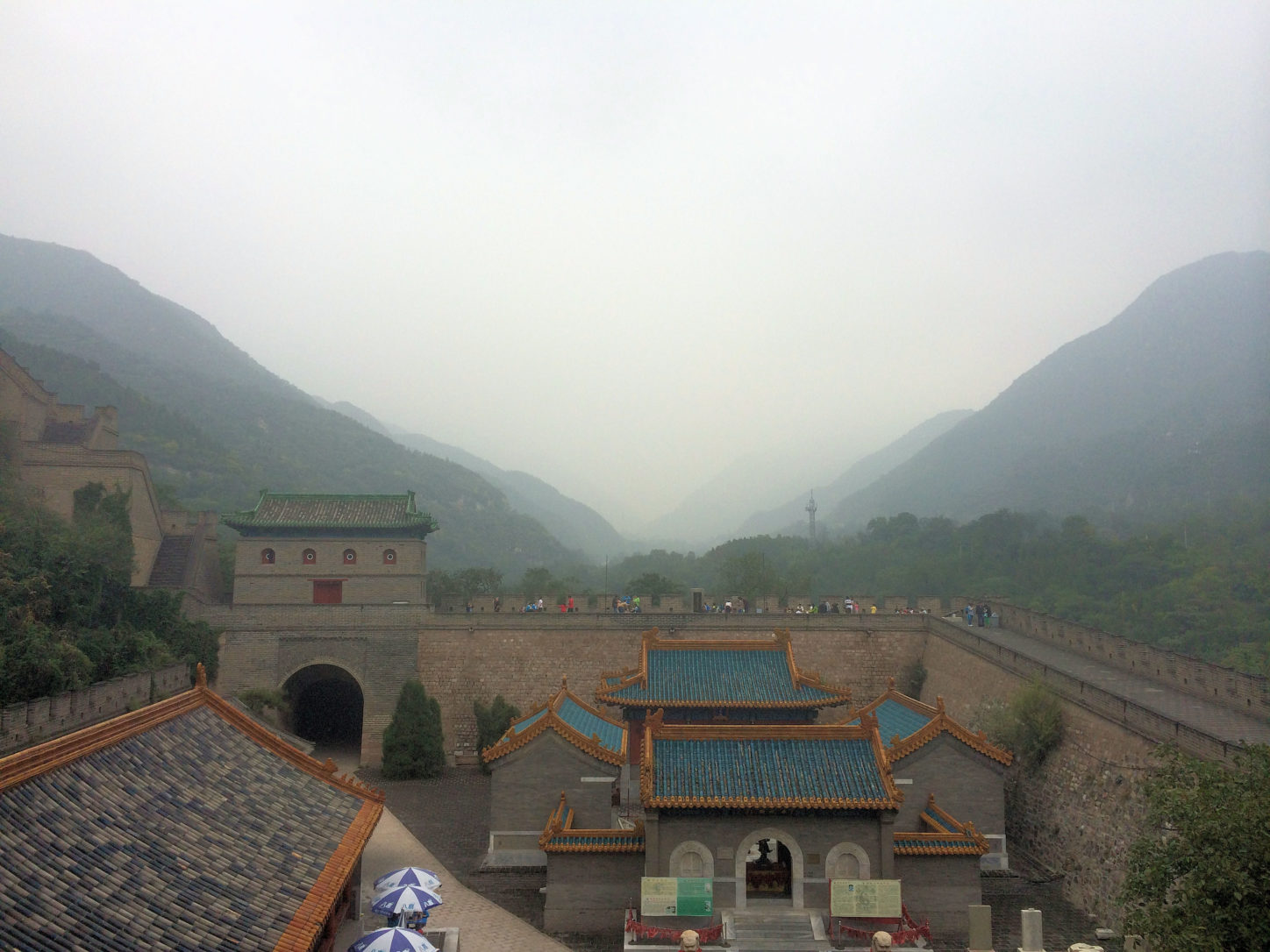 Lunch in the countryside was better than expected. The room looked like a big banquet hall. Again the food was good, served family style. There was some shrimp. And other spicy meat and veggies. I have not been drinking the tea which I miss, but I have made tea with the bottled water in the morning with the teapot in the room. Then we drove to the zoo to see the Giant Pandas. The ones inside were sleeping, but when we got outside there was one that was active and playing around.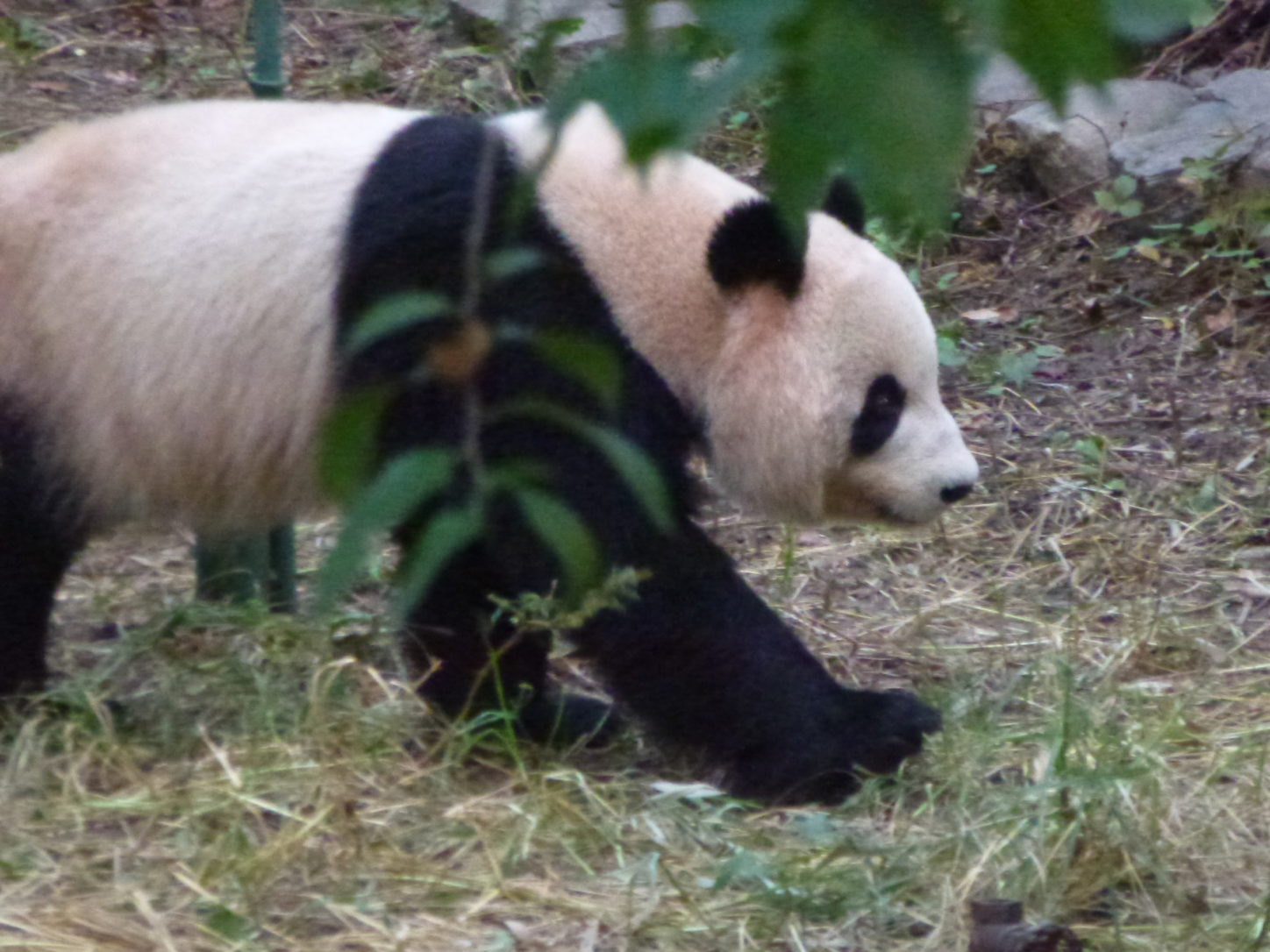 We found a post office at the zoo and bought some stamps but they didn't have good postcards. We were late getting to the bus because we had to make a stop at the happy room (bathroom). A bunch of people wanted to take my picture at the zoo. Lisa got a kick out of watching but she didn't want to be in the pictures. Then we drove past the Olympic Village and got out for a few minutes to go up on a bridge and take some photos. We got back around 7pm and were really tired. We had the evening free and some people went to the silk market but Jack said the vendors were very aggressive and mean so we had no interest in going. Jack told us about some restaurants to go to but by the time we got ready and figured out how to get there they were closed. There was one next door open until 10pm, and a woman came and waved us inside so we decided to try it. A fun experience because the menu was not in English and no one there spoke English. They found one girl who spoke enough to understand that we didn't want any meat or salad. She told us about the vegetables on the menu. They only had six and we knew one was potatoes. The restaurant was really cute and it had a stove at the table. They brought out the food and we watched them cook it.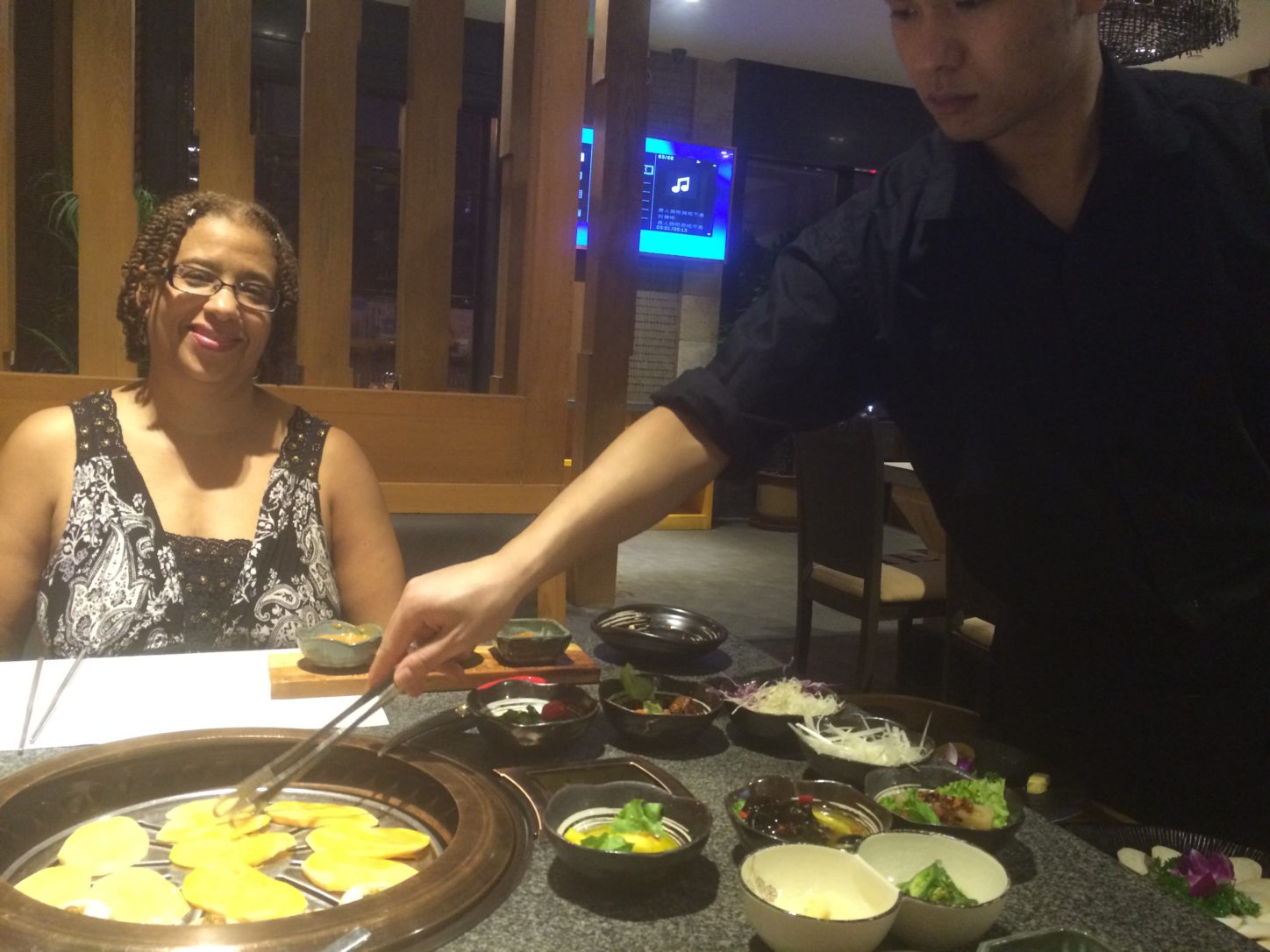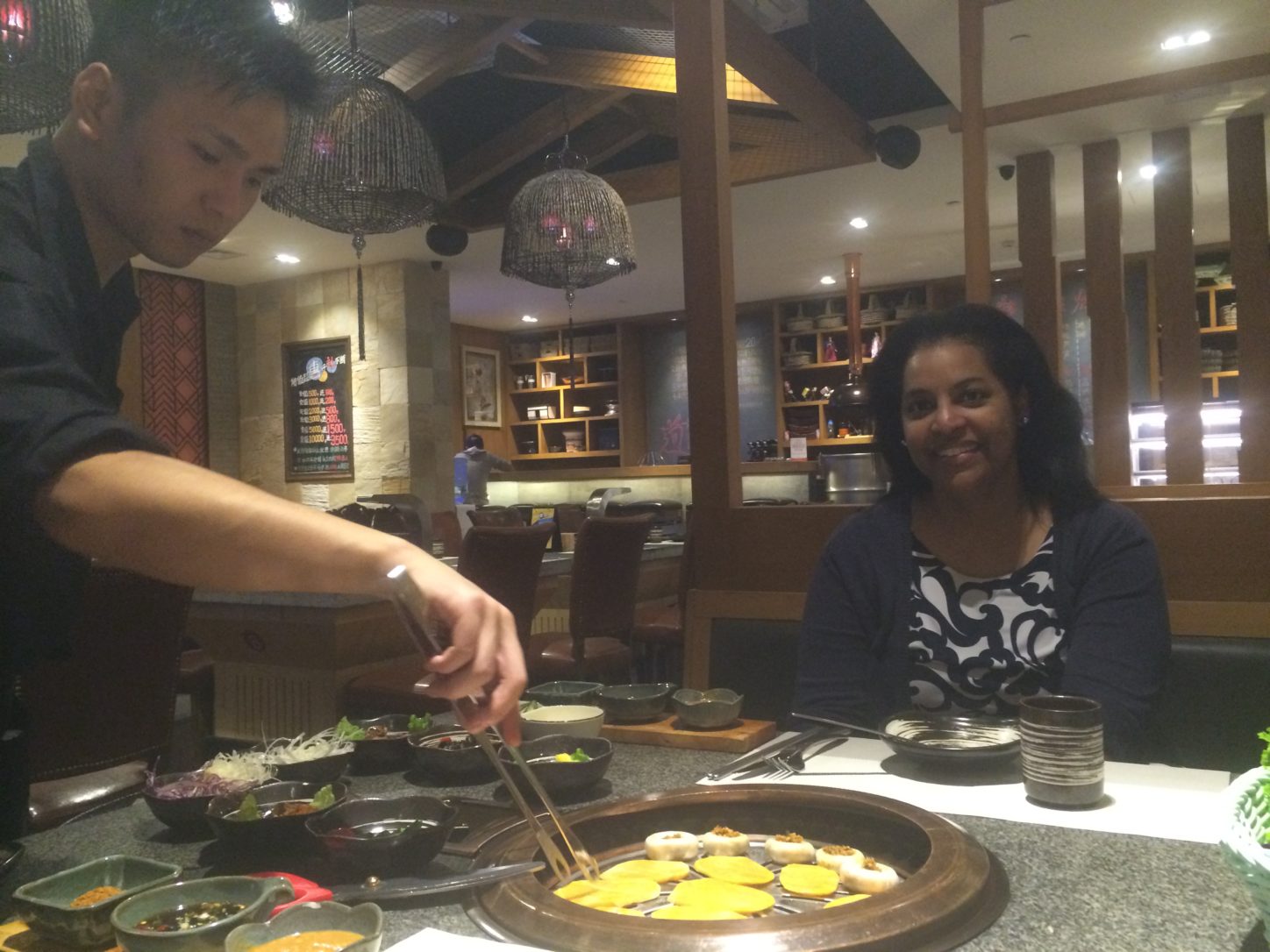 There were two types of mushrooms, sweet potatoes, and regular potatoes. They slice it very thin and rub the slices with butter. We got bottled water from the case. It was a pleasant experience. It only cost ¥100 for the entire meal. Jack looked at the picture of the sign for the restaurant where we had dinner and told us it was a Korean BBQ place!!
DAY 5 XI'AN
Friday September 26. Flight to Xi'an from Beijing. We had our luggage out front by 745 am but we didn't catch the bus until 9 am to go to the airport. The security check at the airport is no joke-everyone gets a pat down and you have to take out your camera, cosmetics, and any battery/chargers. No liquids of any size. I put the liquids in my checked luggage. The Chinese TSA woman opened my purse and looked through every single pocket. Finally I got through. There are free trolleys to push your luggage. We had plenty of time to kill – we were there about 1030 am and we didn't board until 1155am. We walked around. Lisa was looking for a watch so we shopped a bit but there were only high end shops. I saw a sign that said spa and we hunted the place down. I got a twenty minute chair massage. Just what I needed to loosen sore muscles before my flight. Then we went back to the gate, and boarding had started.
You take a bus to the plane and then walk up the stairs. The plane was a little smaller but still pretty comfortable. The flight attendants served a puffy bread bun with chocolate inside and a muffin, neither of which I liked. I read the inflight magazine and got a kick out of the things written in broken English about the United States. After we arrived, a van took our luggage and our nice bus appeared. We had pre-ordered Subway sandwiches for lunch and ate those on the bus. The choices were ham, tuna fish, or veggie. Lisa got the veggie and it had mayonnaise so I'm glad I didn't order that one. My ham had thousand island dressing. We each got one and a half sandwiches and devoured them. Our next stop was at the Shaanxi Provincial History Museum. Maggie was our guide there. The museum was crowded, but we were able to see some historical artifacts and treasures from the Han and Tang dynasties. On the way to the hotel after that, we made a short stop at the Muslim quarters. A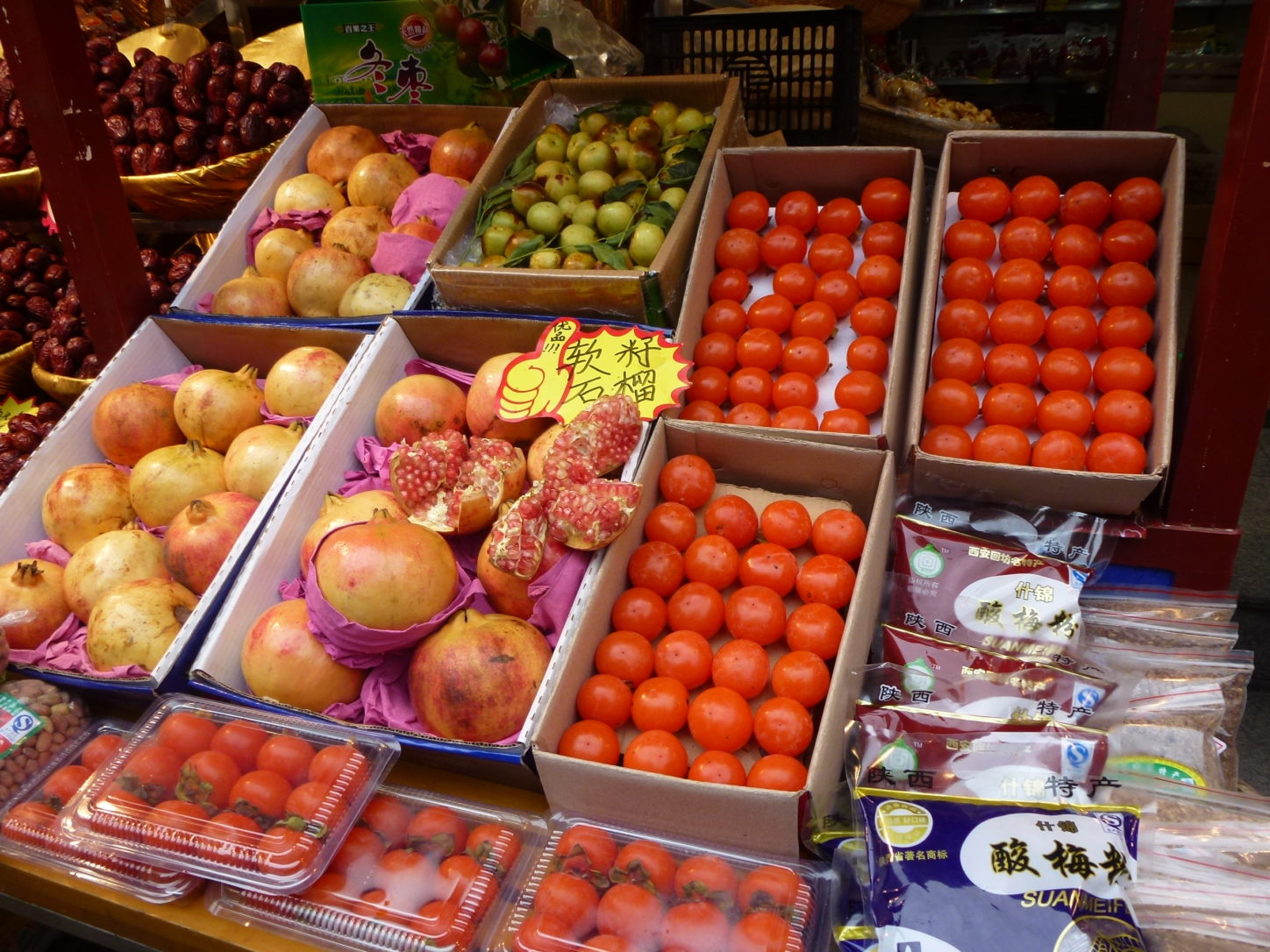 vibrant, colorful area except Jack said watch out for pickpockets. I got a bargain on some postcards and a pack of cigarettes for a friend. Lots of shops, but many of them selling the exact same things. Here is a picture of a local making noodles.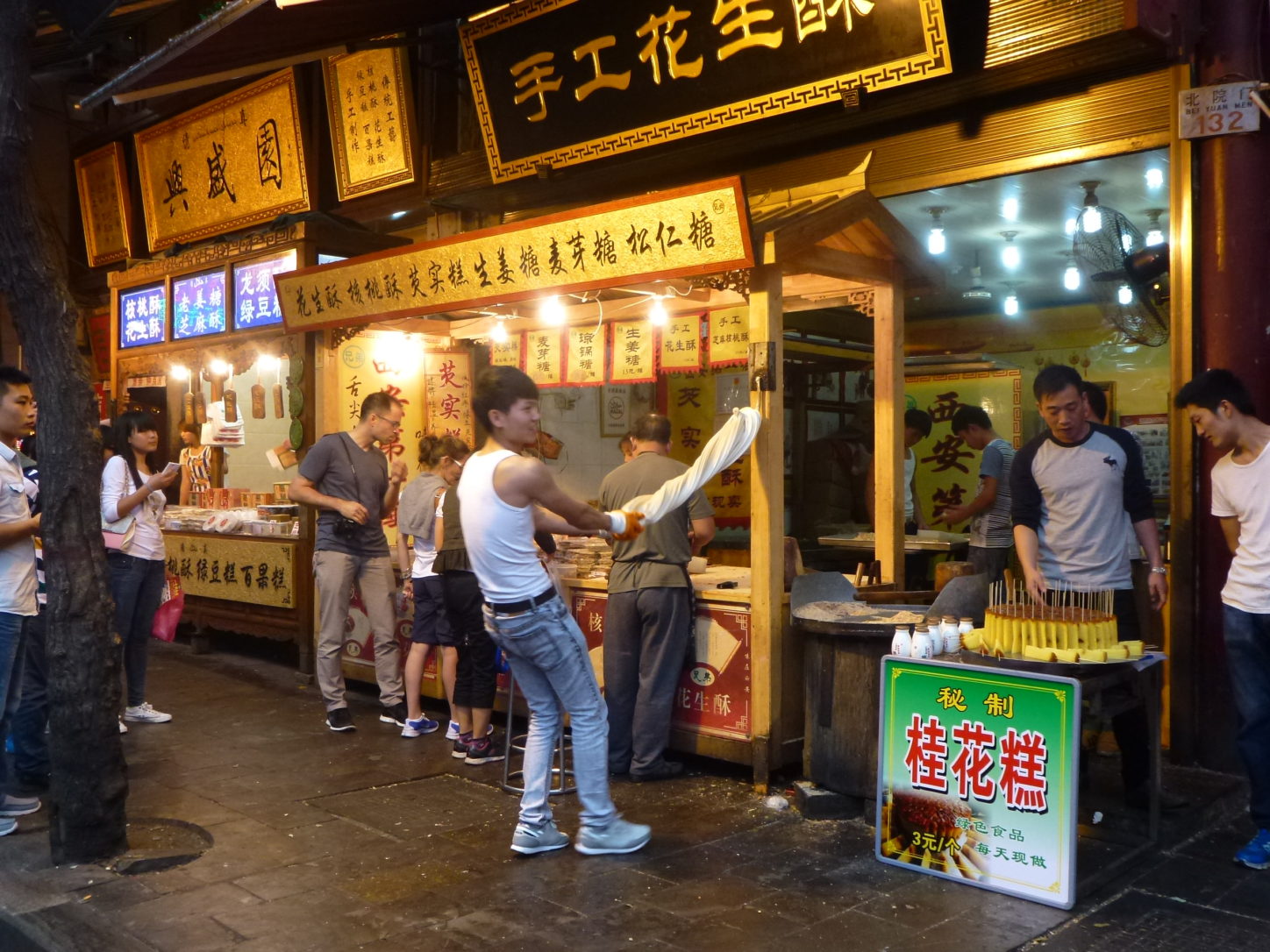 We arrived at our hotel about 530pm. We had to be ready for the dumpling dinner at 630pm so barely time to unpack. I changed clothes and "someone" decided to take a shower at the last minute which made us late. The bus ride to the dumpling restaurant was through a real neighborhood – people were out exercising, BBQing, playing games on the stoop. The dumpling dinner was interesting. You got one each of walnut, spicy chicken, mushroom and pork, mushroom, veggie, pumpkin, duck, (well can't remember them all but there were sixteen). Then they bring out a big gold pot where they cook the soup (the soup comes after the meal here).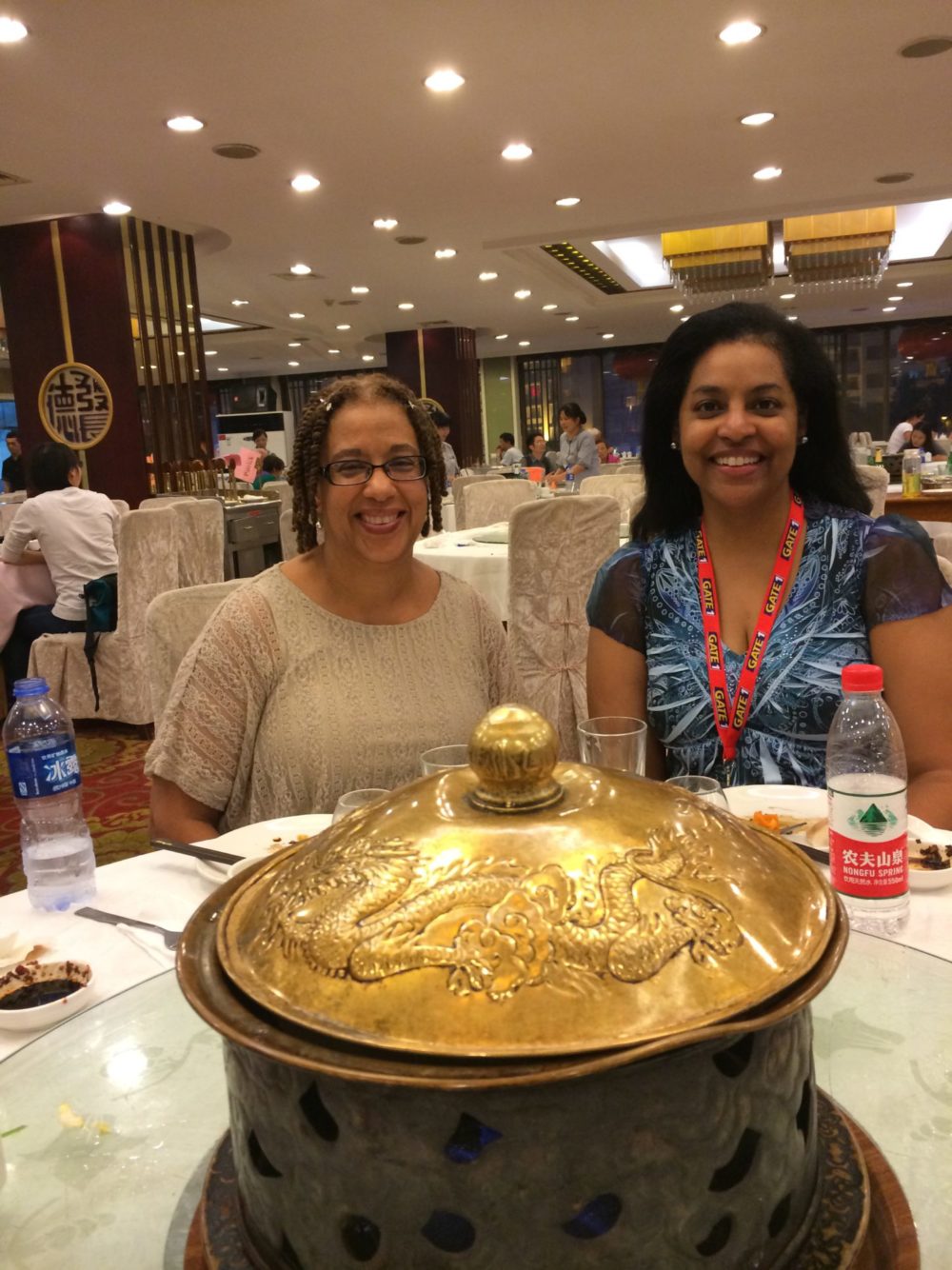 They put little baby dumplings in and then when you get your bowl you count how many are in there and that means something to do with good luck. I got 4. The bathroom wasn't too bad there. After the city was lit up at night and we all took pix in front of the bell tower then walked back to the bus.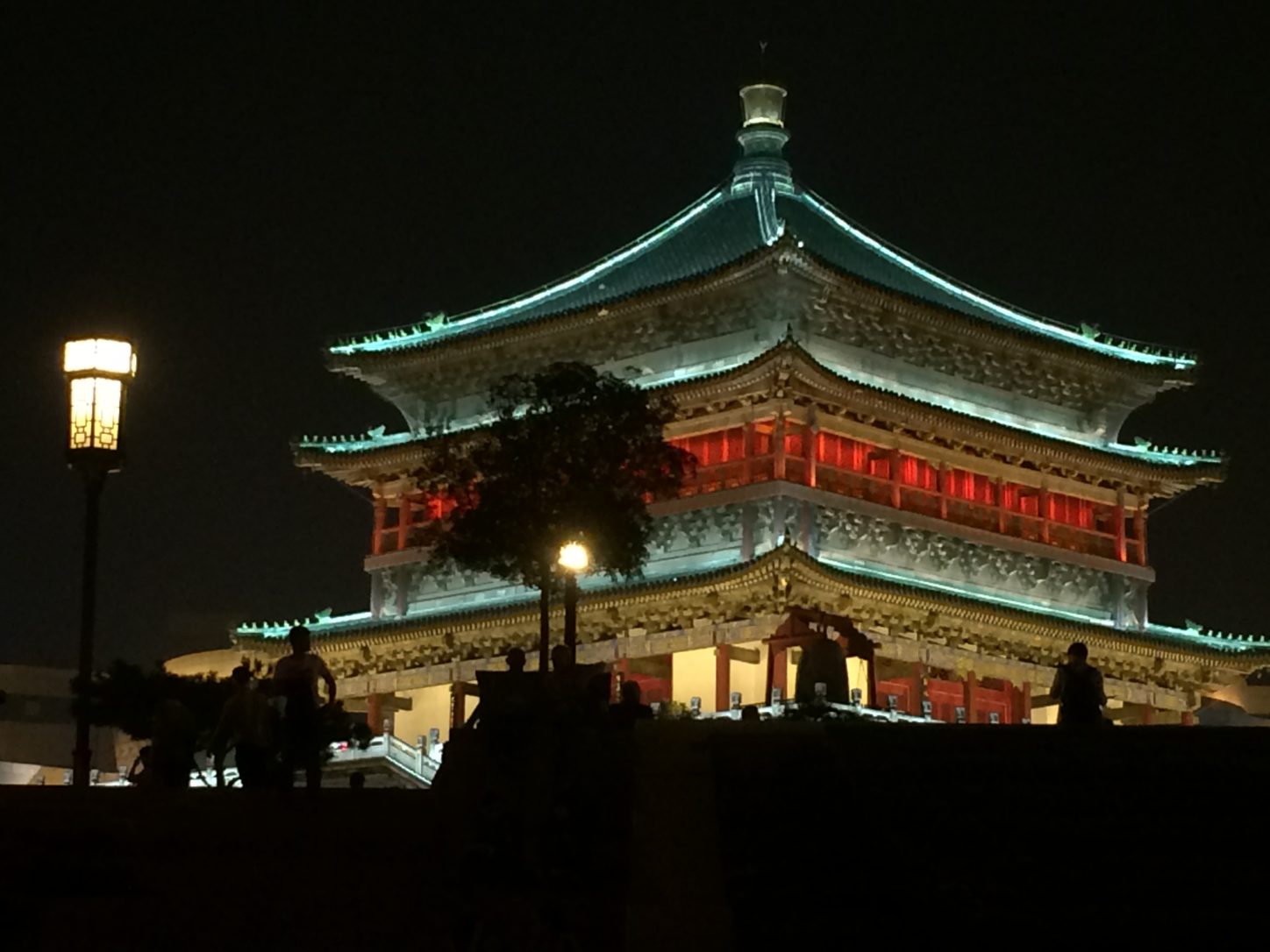 DAY 6 XI'AN
Saturday September 27. Xi'an. We got up around 7am and made it to breakfast by 730. Off to the races by 8. First stop was a park to do exercise with the locals. Chinese people get up early and go to the park to exercise. I didn't think that would be fun but it was. First we did tai chi.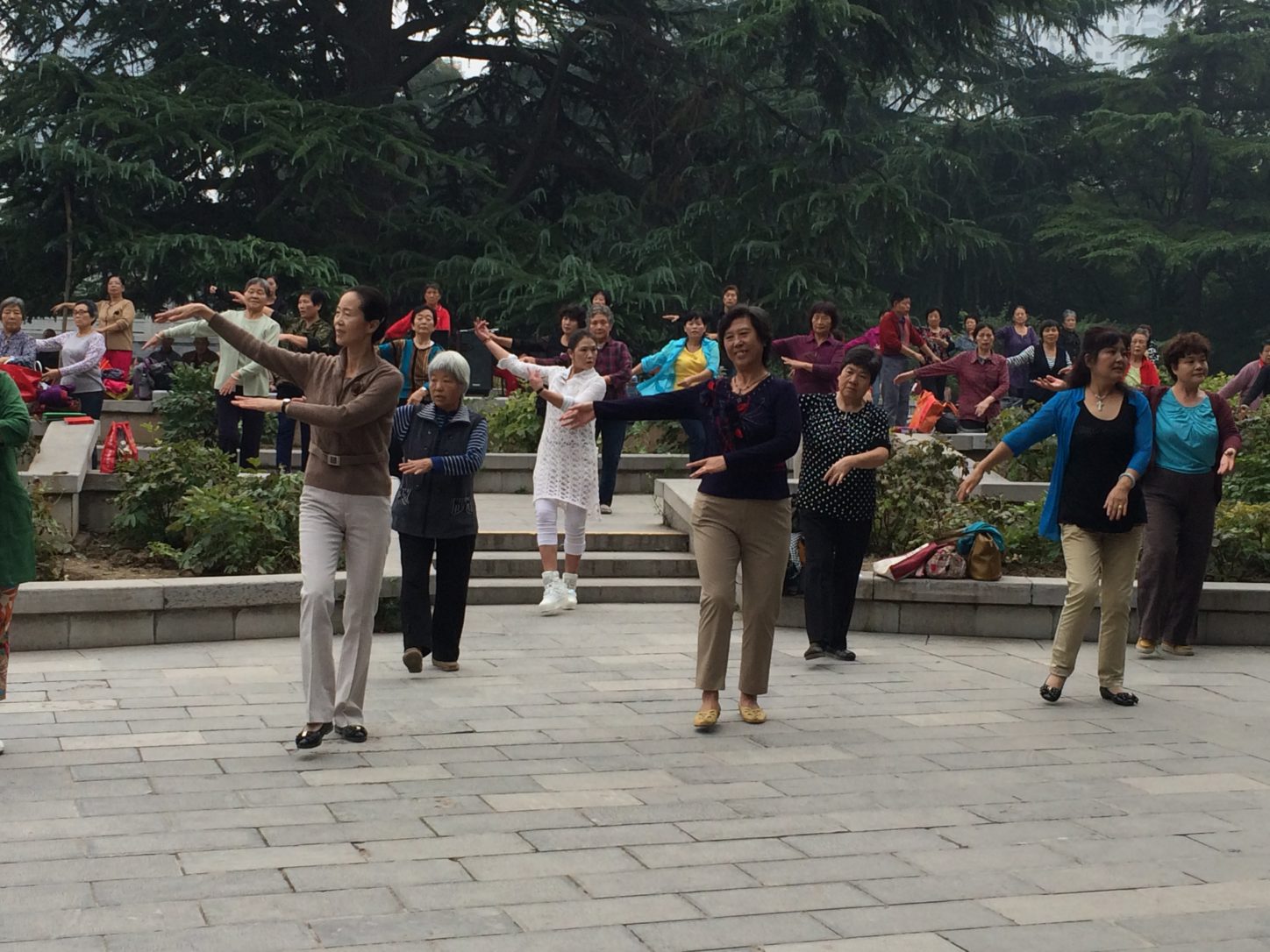 Then we did a fan dance.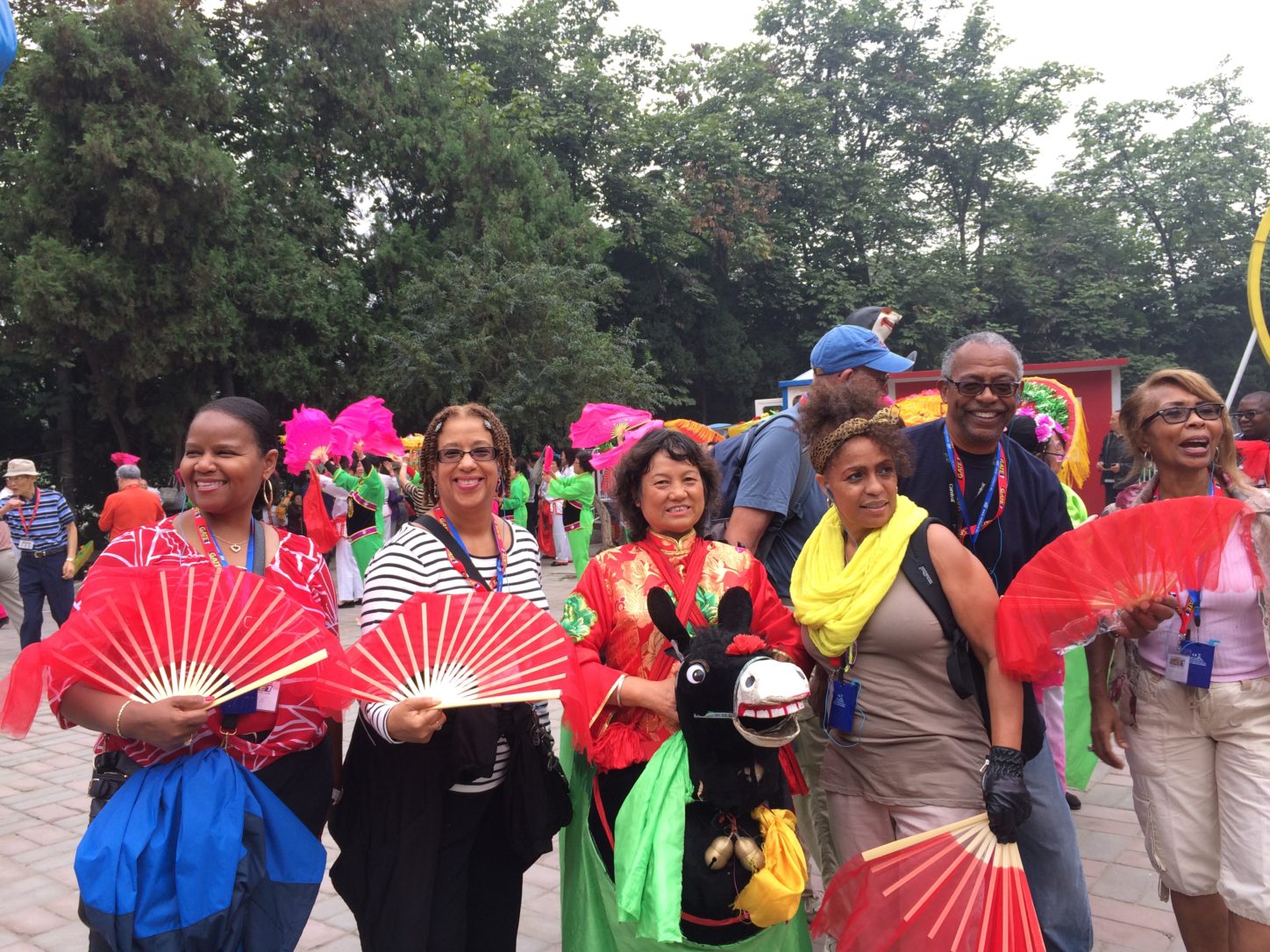 The park was very beautiful. We saw couples doing ballroom dancing. Then a Chinese man wanted to dance with us (and I noted he only asked the black women in our group). I danced with him. People wanted to take pictures with us.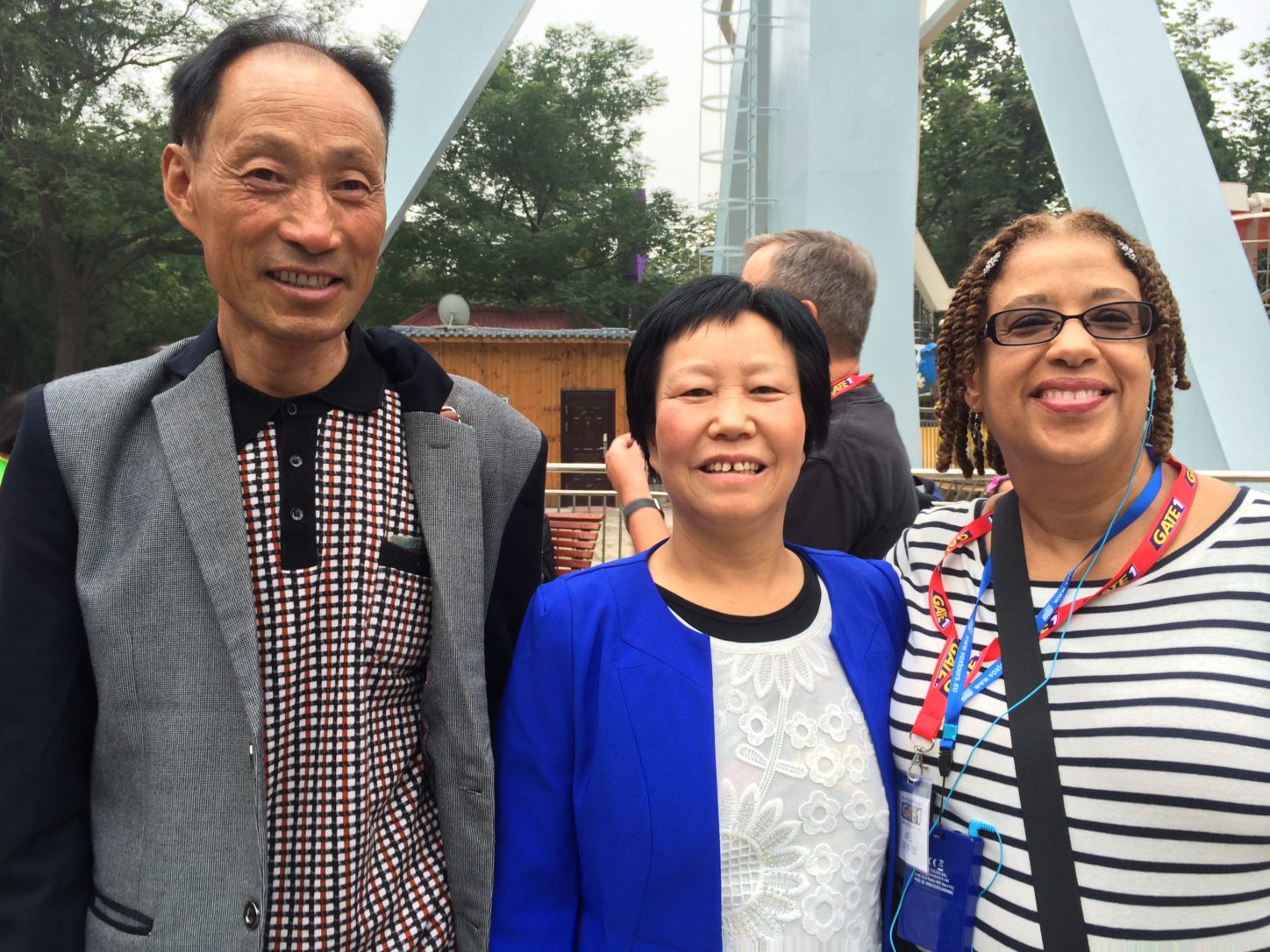 Then we stopped at a lacquer store. I found a pretty globe which I had wanted and several small boxes and 2 wall scrolls and met the artist. For all of that it cost $150. Ed was quite happy because he found a lacquer cabinet with butterflies on it.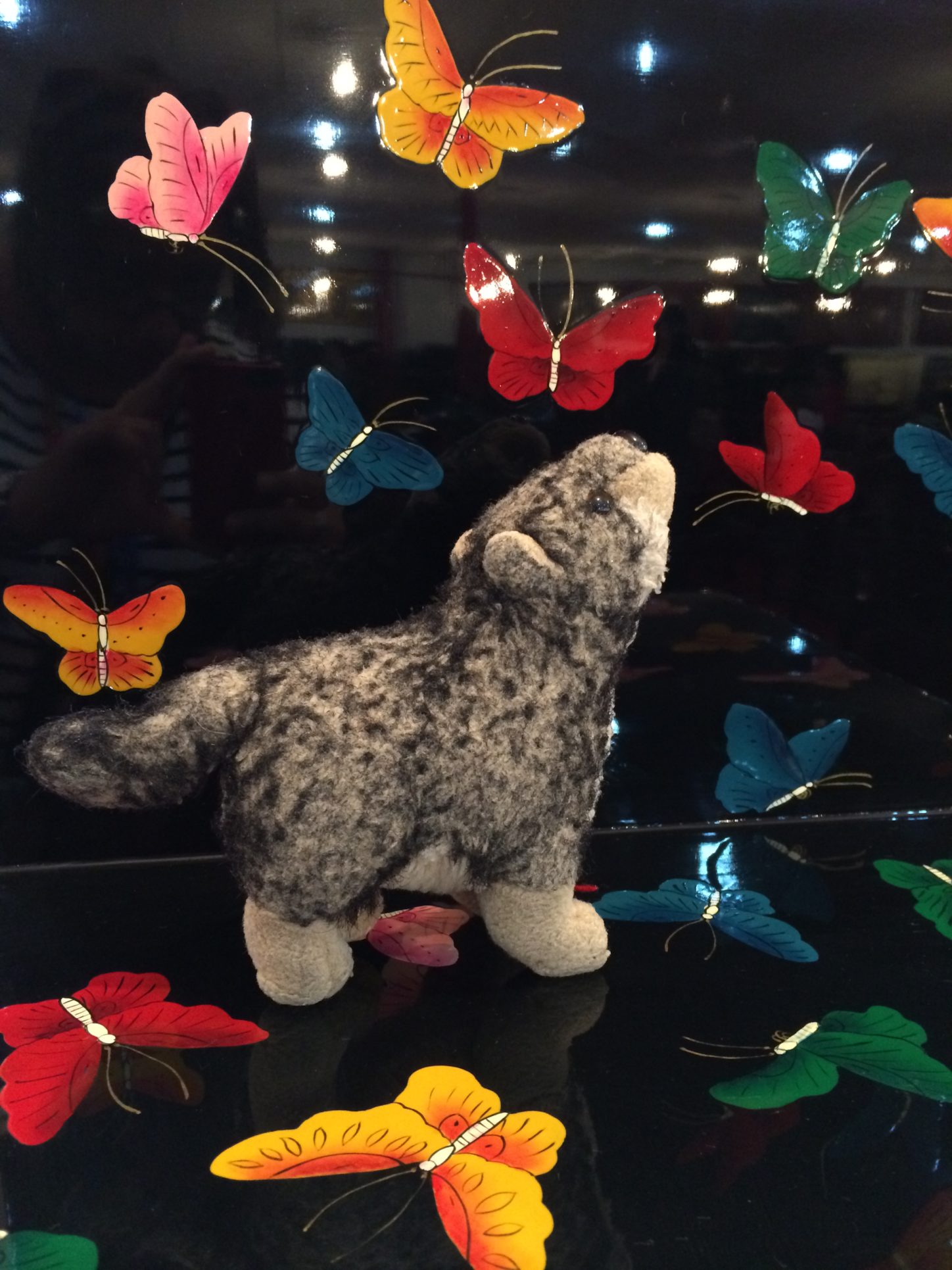 Now we are back on the bus headed an hour outside of the city to lunch and then the terracotta warriors. The food was pretty good today, I ate eggplant, green beans. Chicken. There was a big store at the lunch place. I was too tired to shop.
On to the UNESCO World Heritage Site – Terra Cotta Warriors!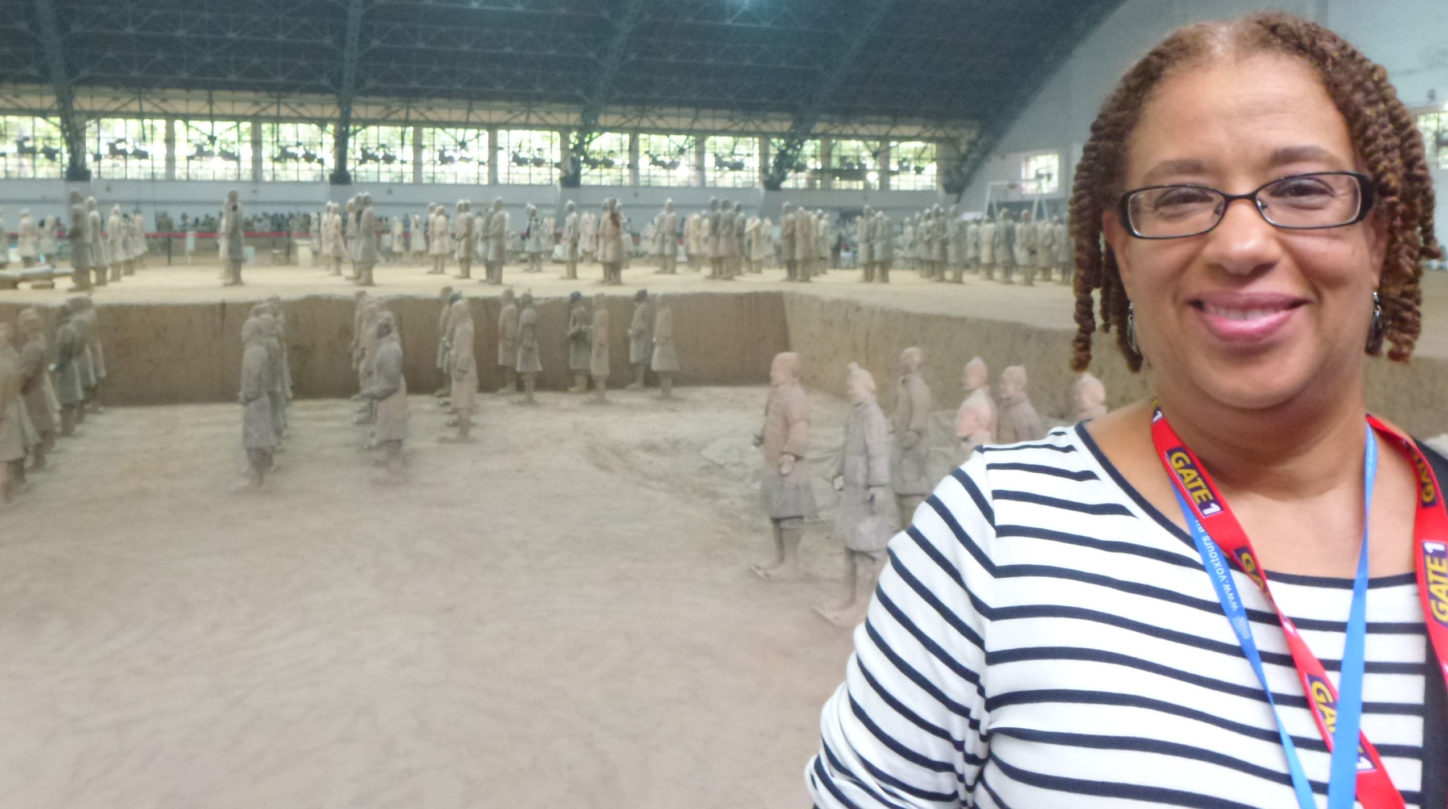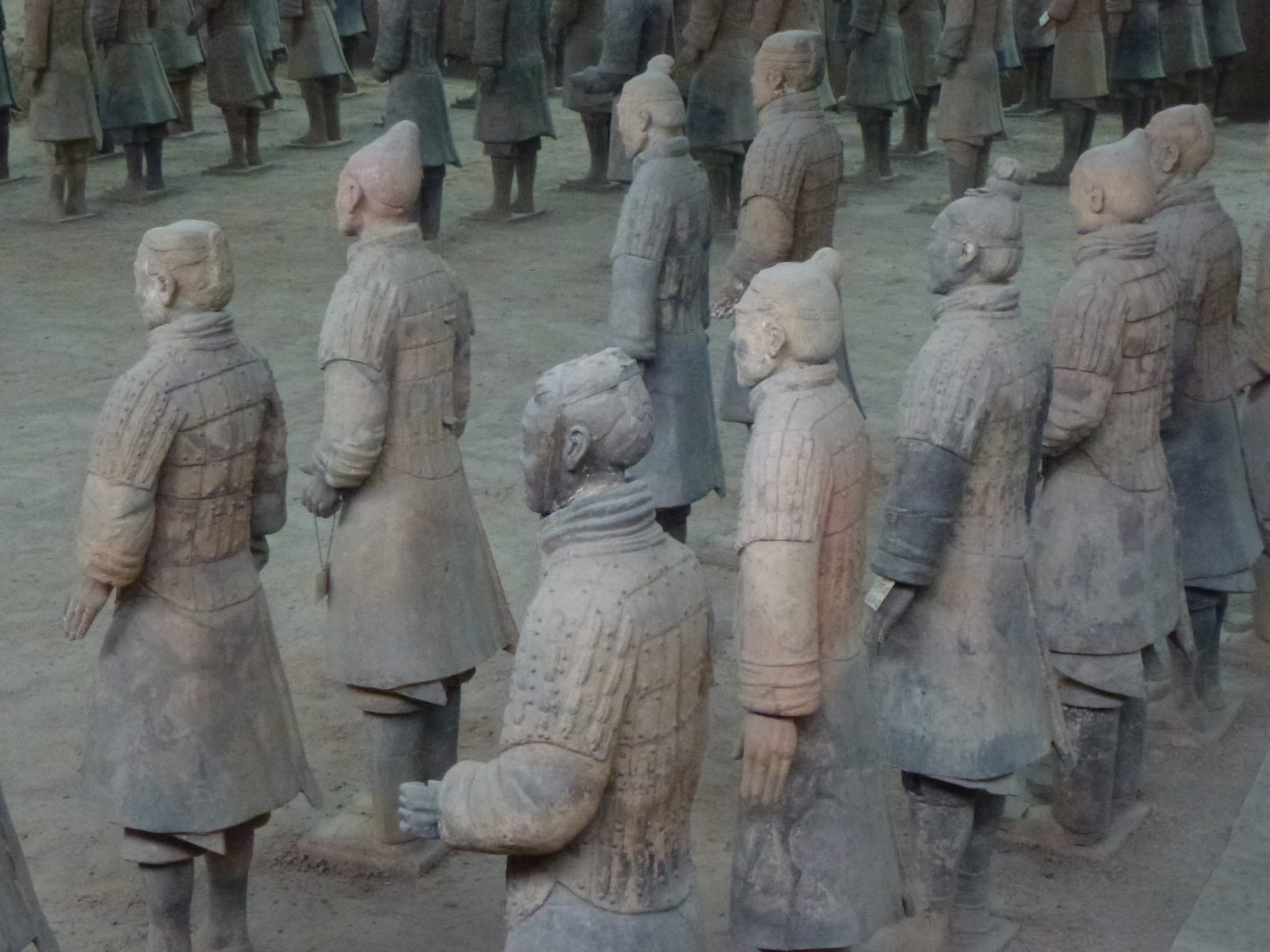 The weather got worse on the way there and it started to rain. Most of this exhibit is inside, but we did have to change buildings several times and the rain put a damper on things. I also wasn't very happy while inside – the crowds were unbelievable, and people are pushing and shoving to take pictures, and the vendors were sticking to the Americans like glue. A couple of times I was engulfed by people who wouldn't move and I had to throw an elbow to get out! At least the hotel here, the Embassador International was really really nice! Look at this entrance!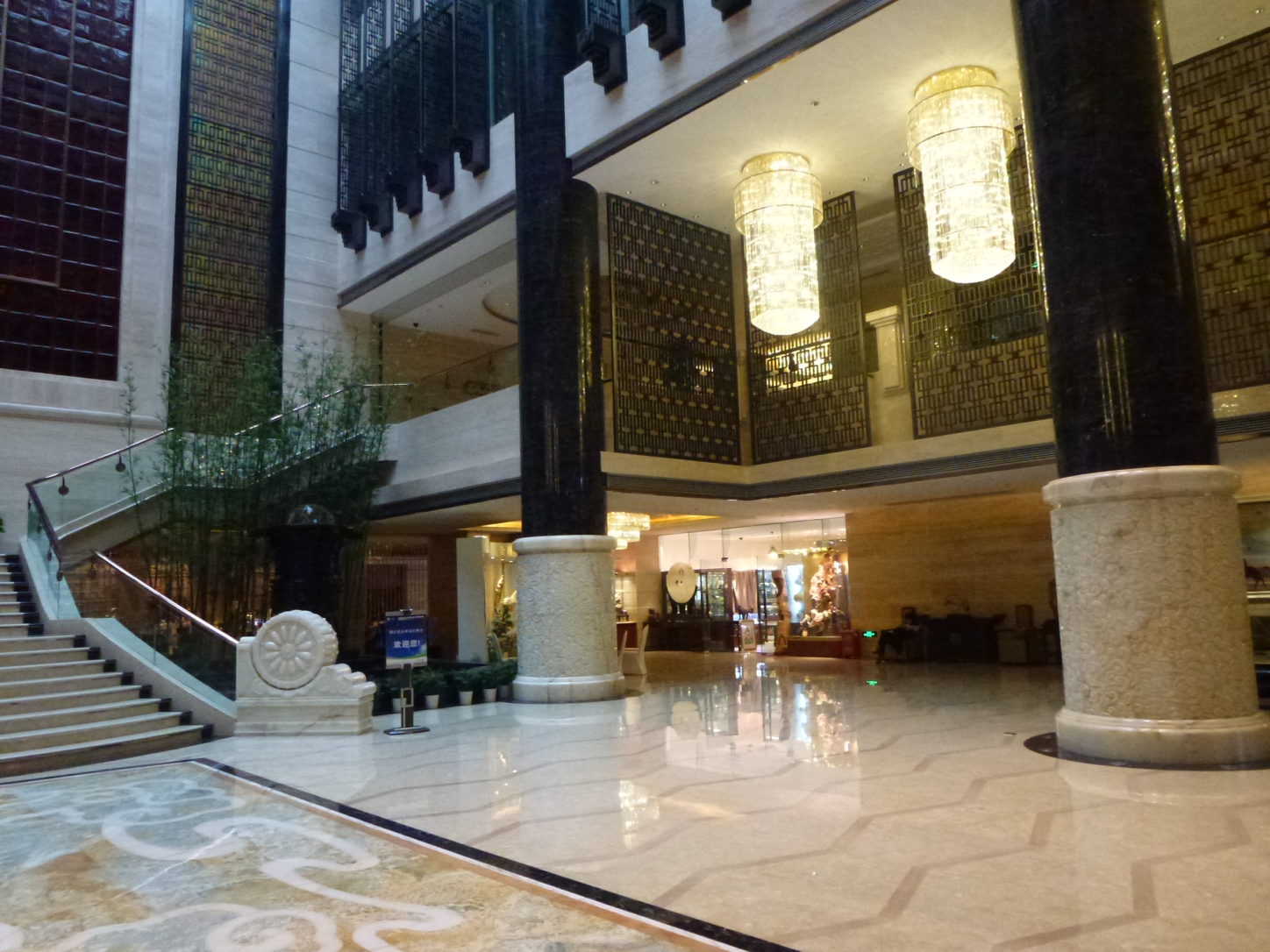 And a bubble bath in the sunken tub soothed a sore body after a long day of sightseeing!
DAY 7 SHANGHAI
Saturday, September 28. Another early day to catch our flight from Xi'an to Shanghai. Jack warned us in advance that the hotel there would not be as nice as the one in Xi'an, but the trade-off was that we would be right in the city center. The drive to the city from the airport was beautiful – you could see that Shanghai was much more modern than Beijing or Xi'an.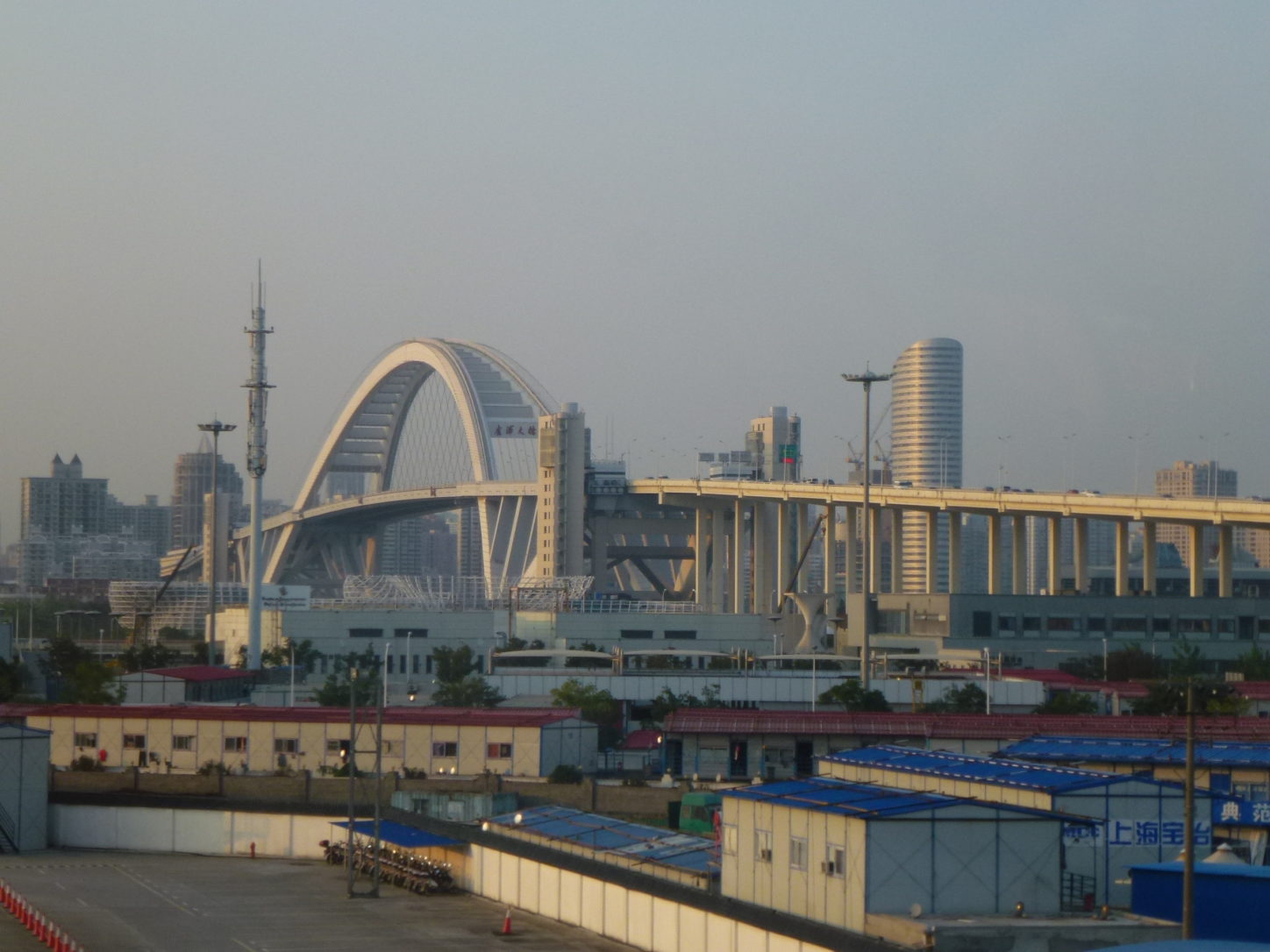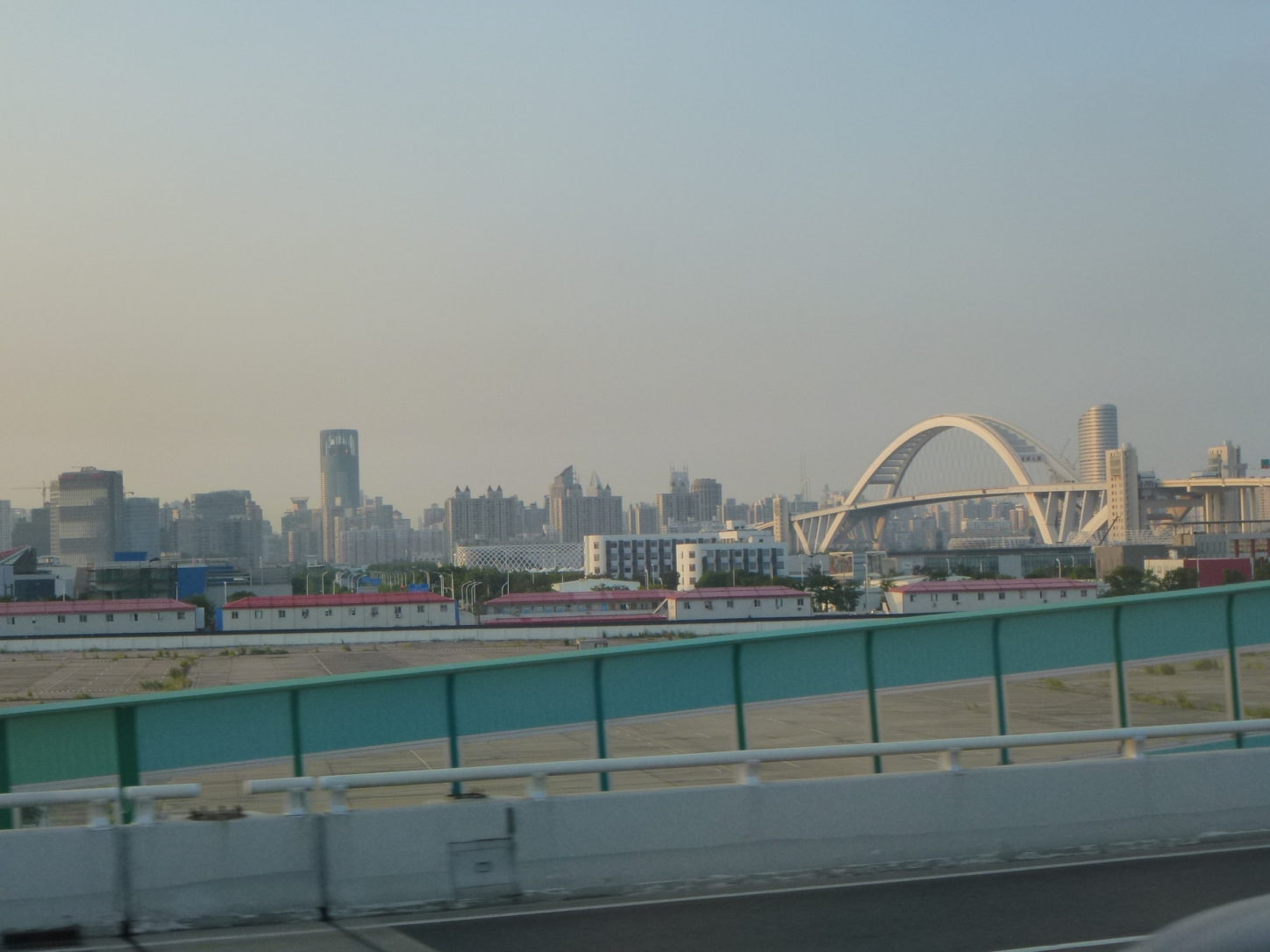 The name of our hotel was the Shanghai Hotel, part of the jinjianghotels.com family. Check in was easy.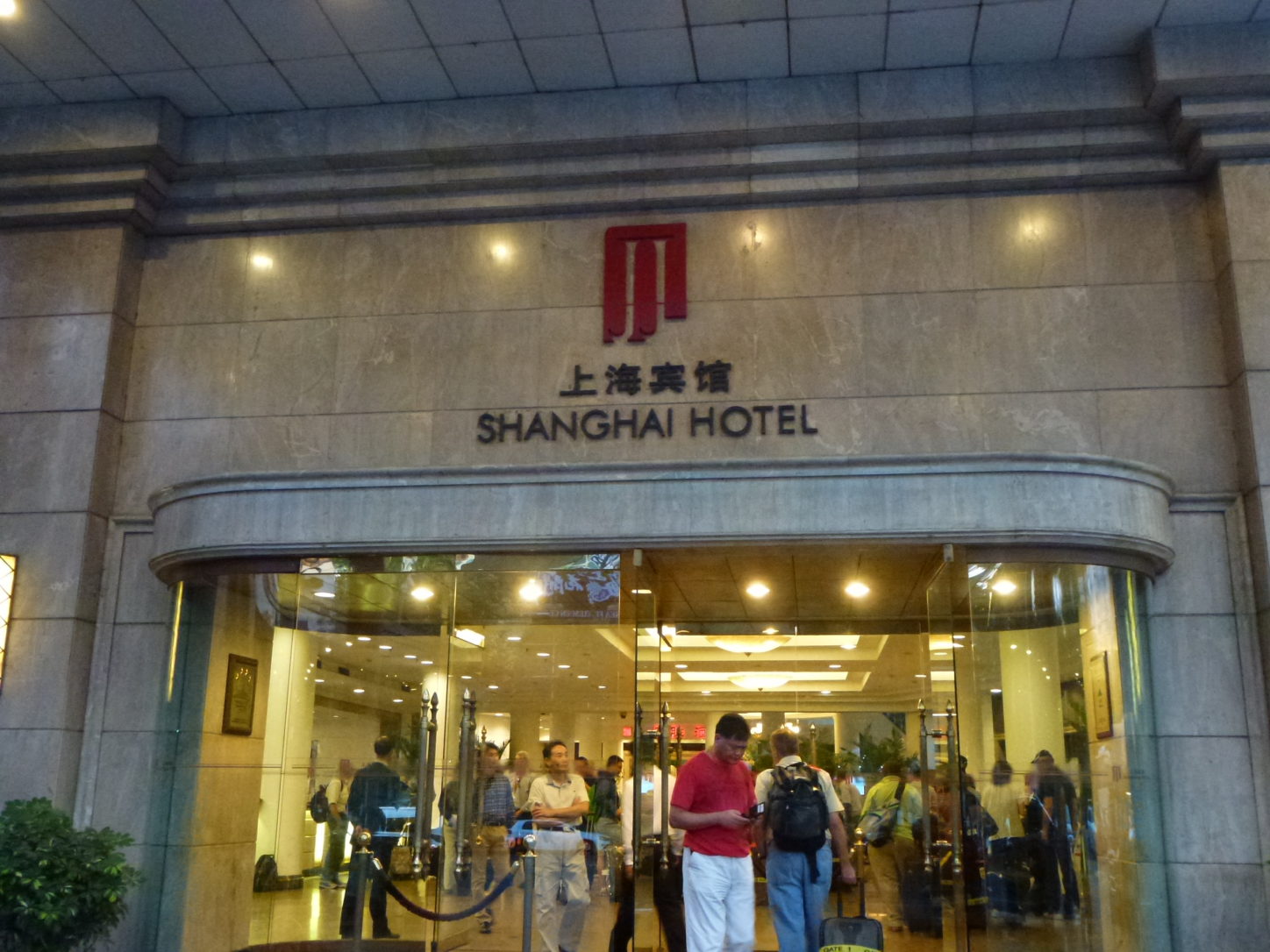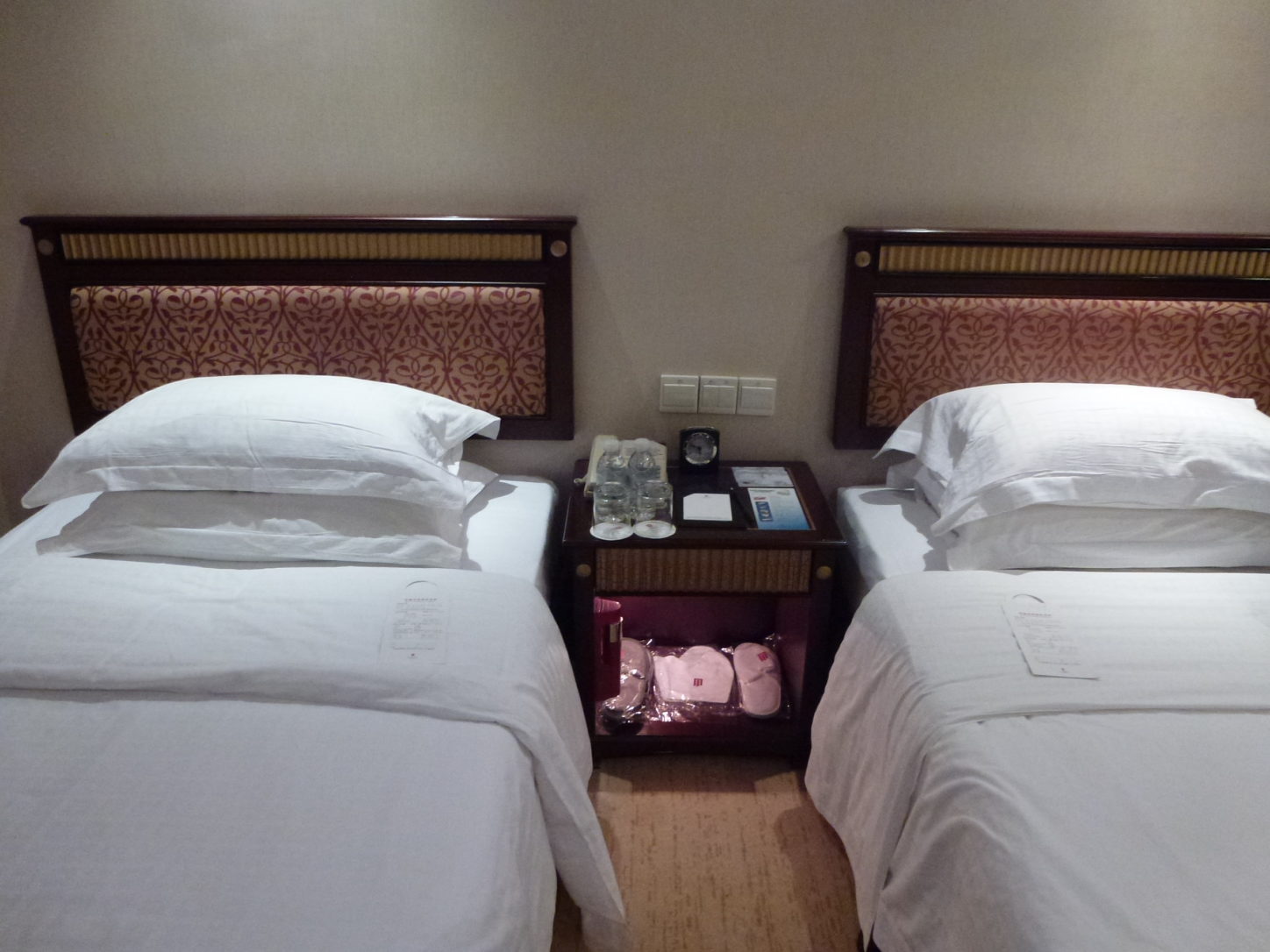 We had a little time to rest and unpack, then we had to meet for the (optional – extra cost of $35 per person) Shanghai by Night with Dinner, which included a river cruise. Before boarding the cruise ship, we had dinner and then had some time to take photos on the pier.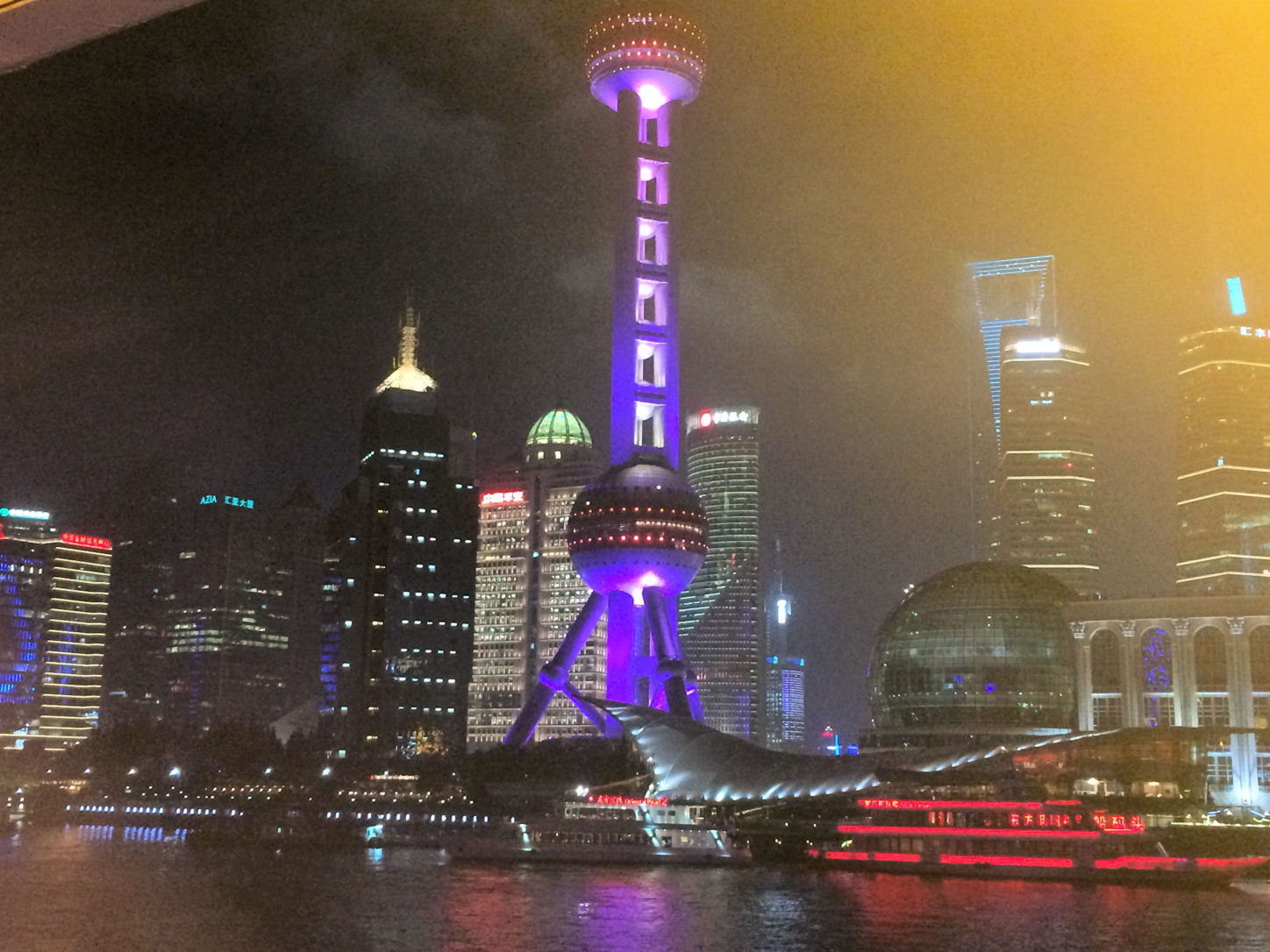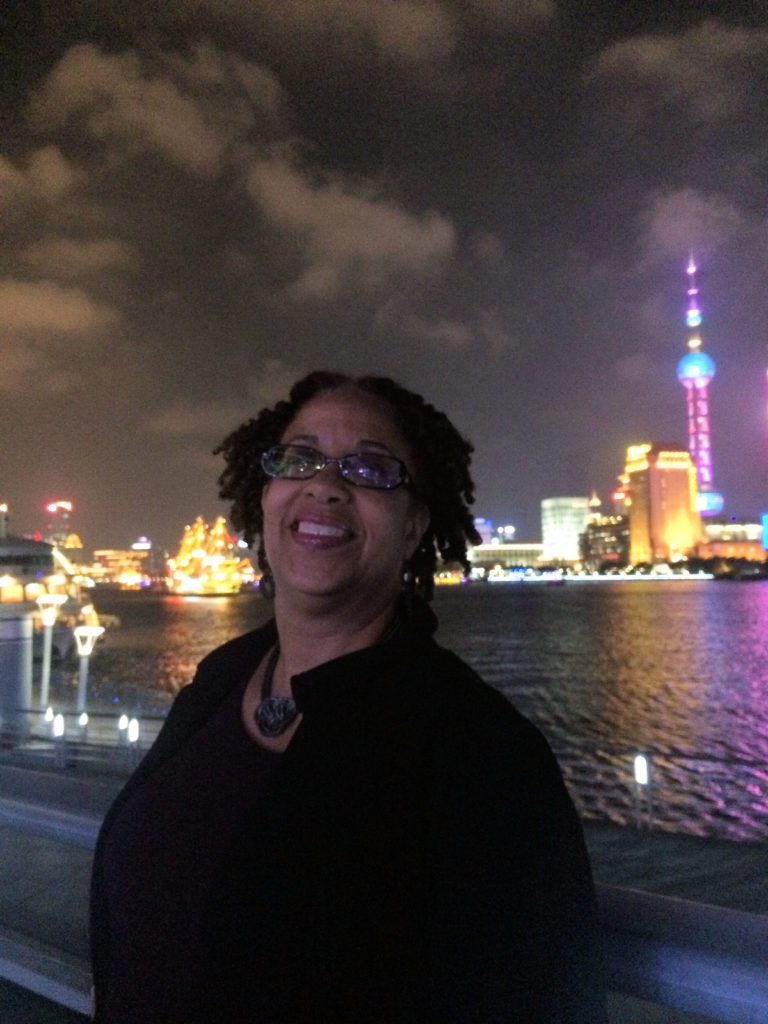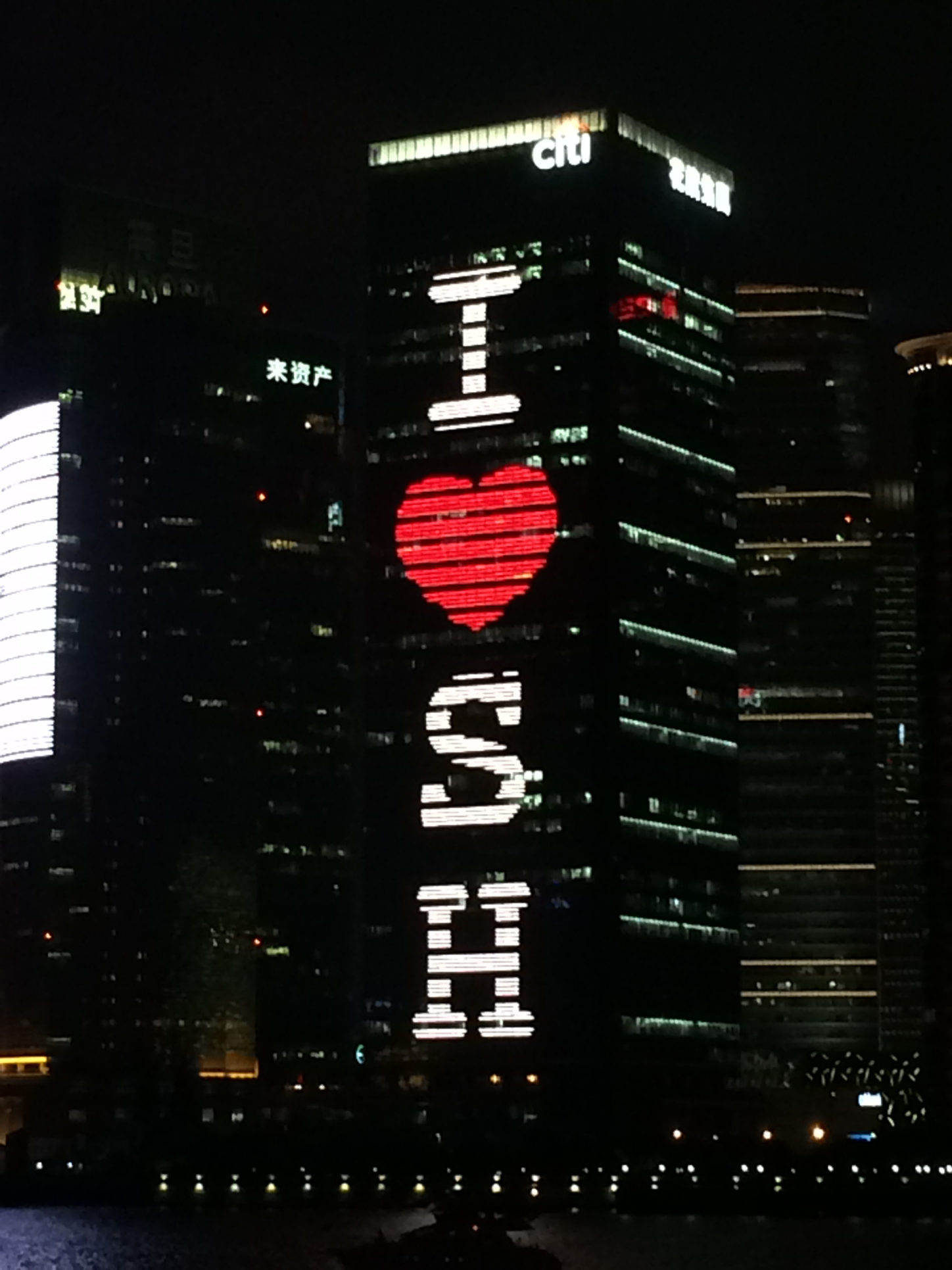 A tour mate and I got so involved taking photos that we wandered away from the group and got lost! Luckily Jack noticed before the group got into the line to board the ship and found us!
The ship was so pretty! A few of us paid about $20 to get into a roped off section on an upper deck which had chairs and a better view.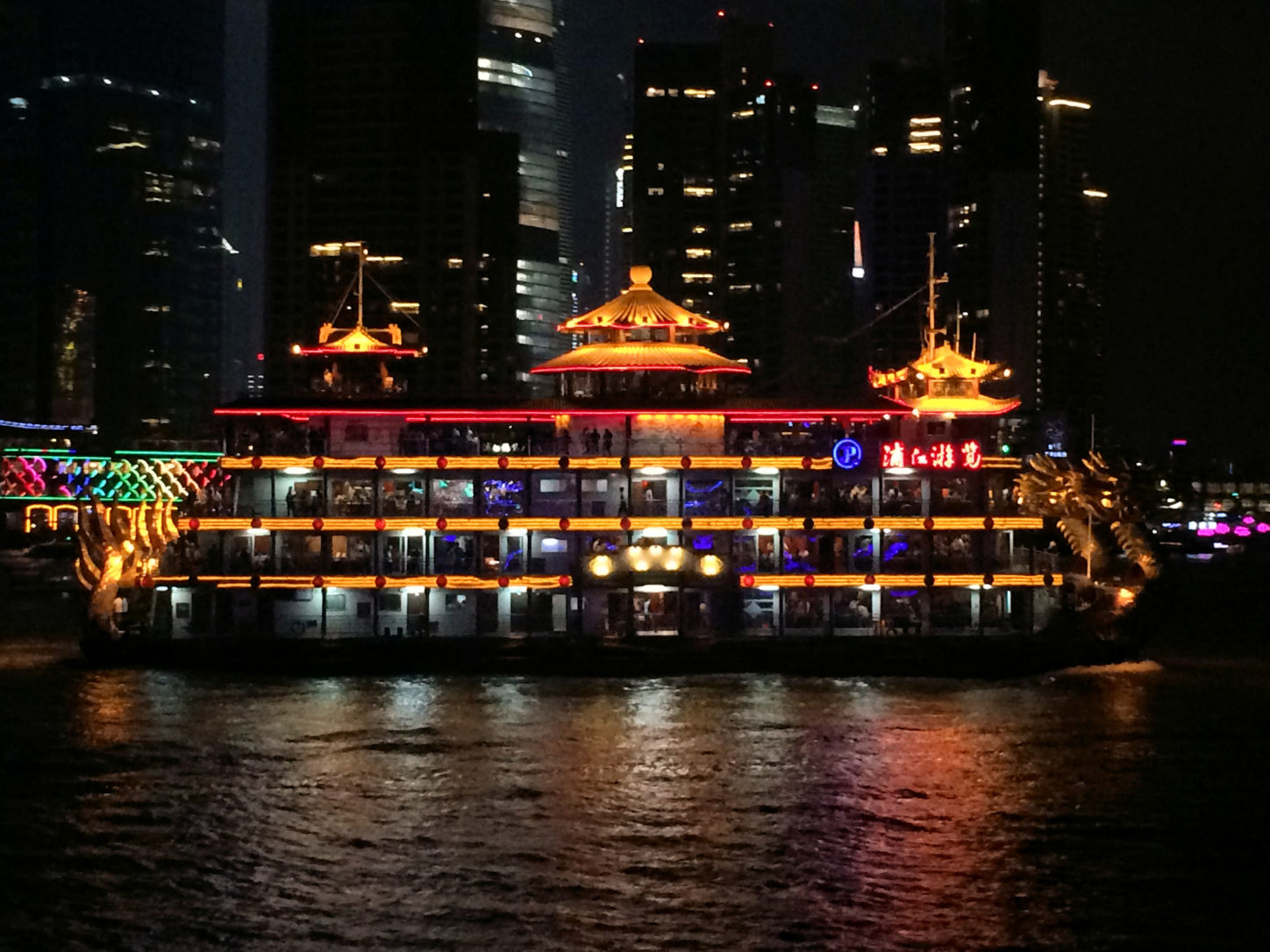 Then fireworks exploded in the sky as we sailed. Jack said they were for China's National Holiday week coming up on October 1. This was my absolute favorite activity of the trip.

Monday September 29. The breakfast at the hotel was not very good. All I could eat was eggs, toast and croissants with some watermelon. The dining area was fine, but most of the food was not American style. This morning we had a tour of the major attractions of Shanghai. First, the Yuyuan Garden, built during the Ming Dynasty. The gardens are 400 years old!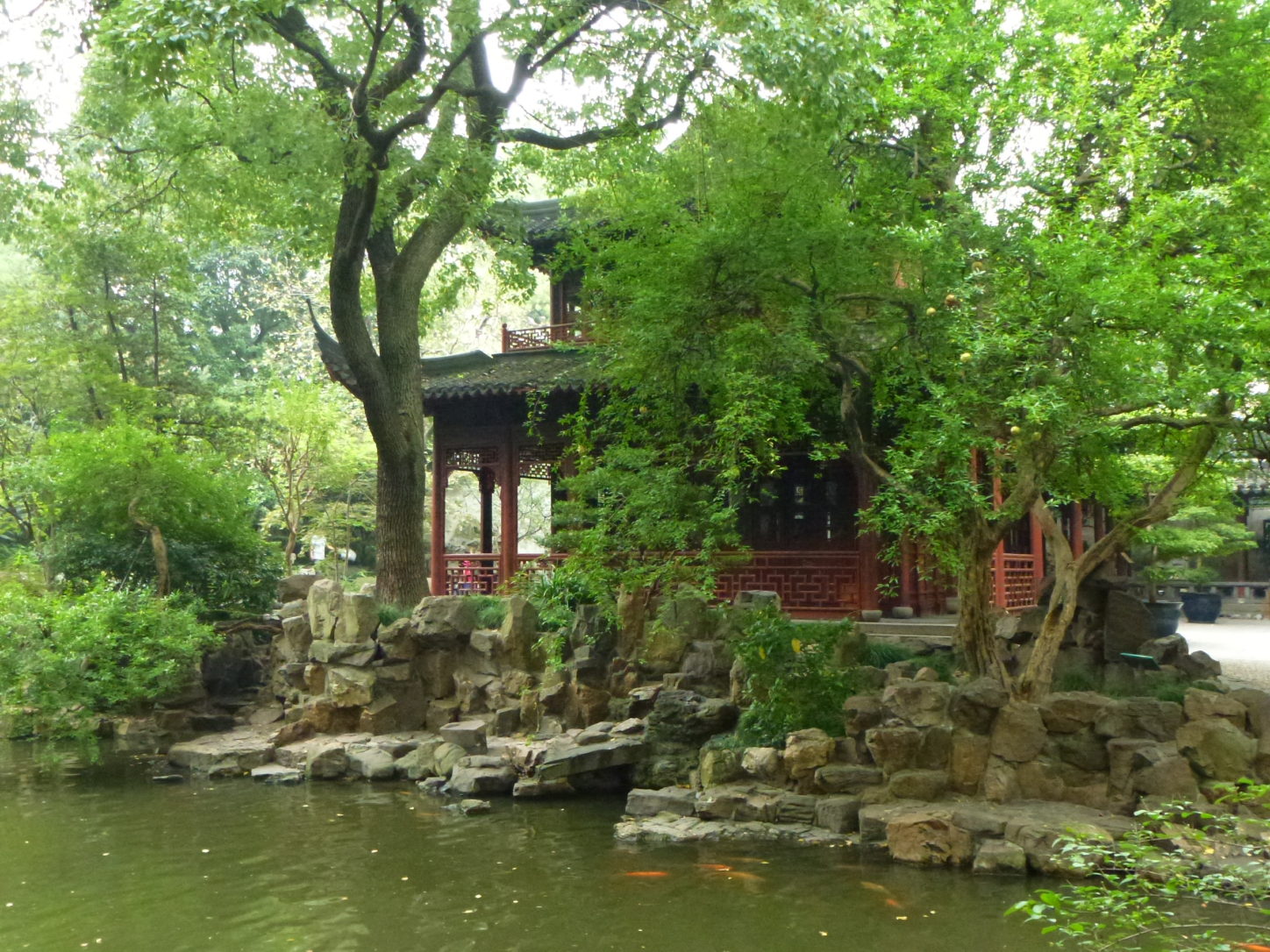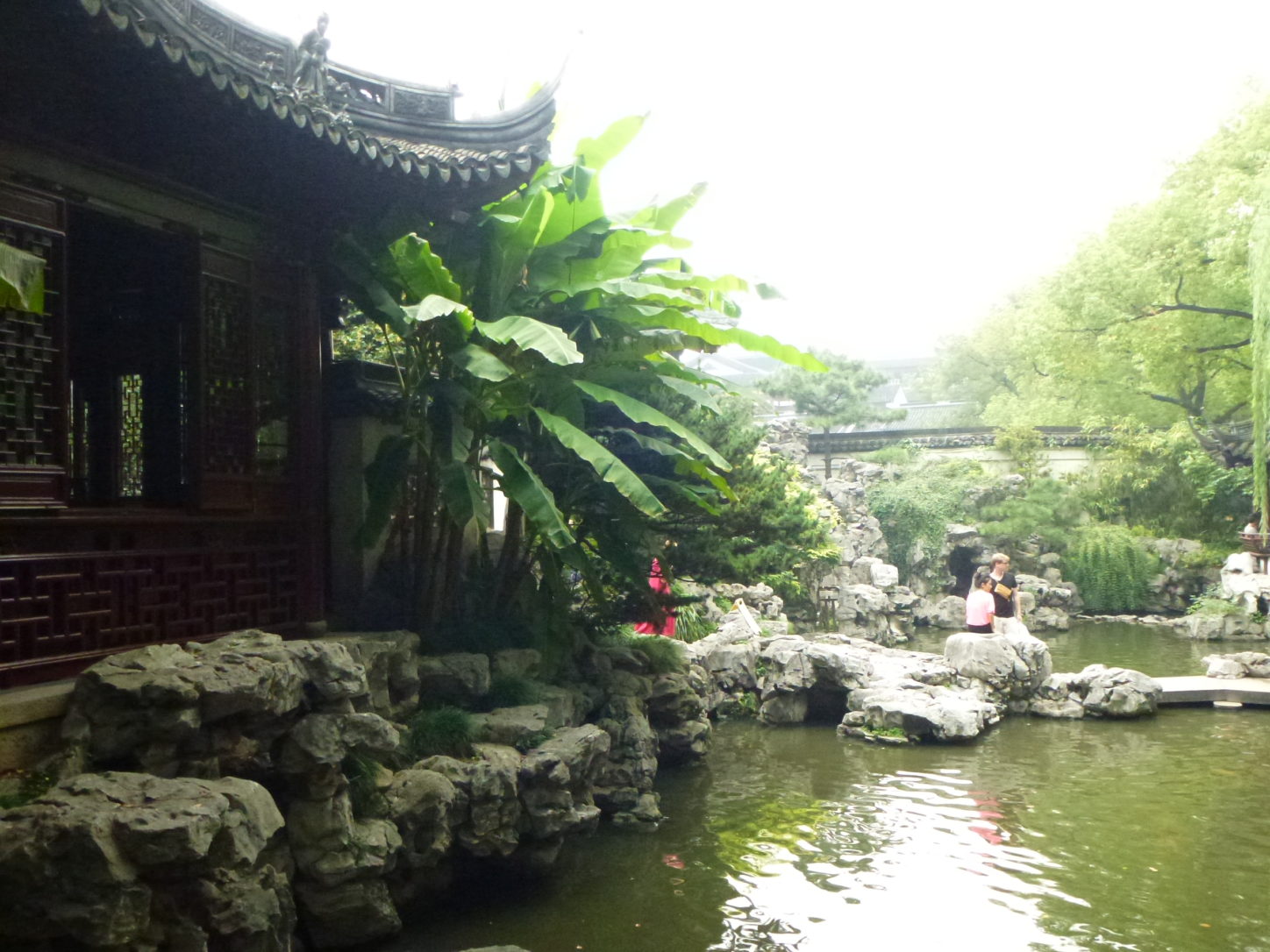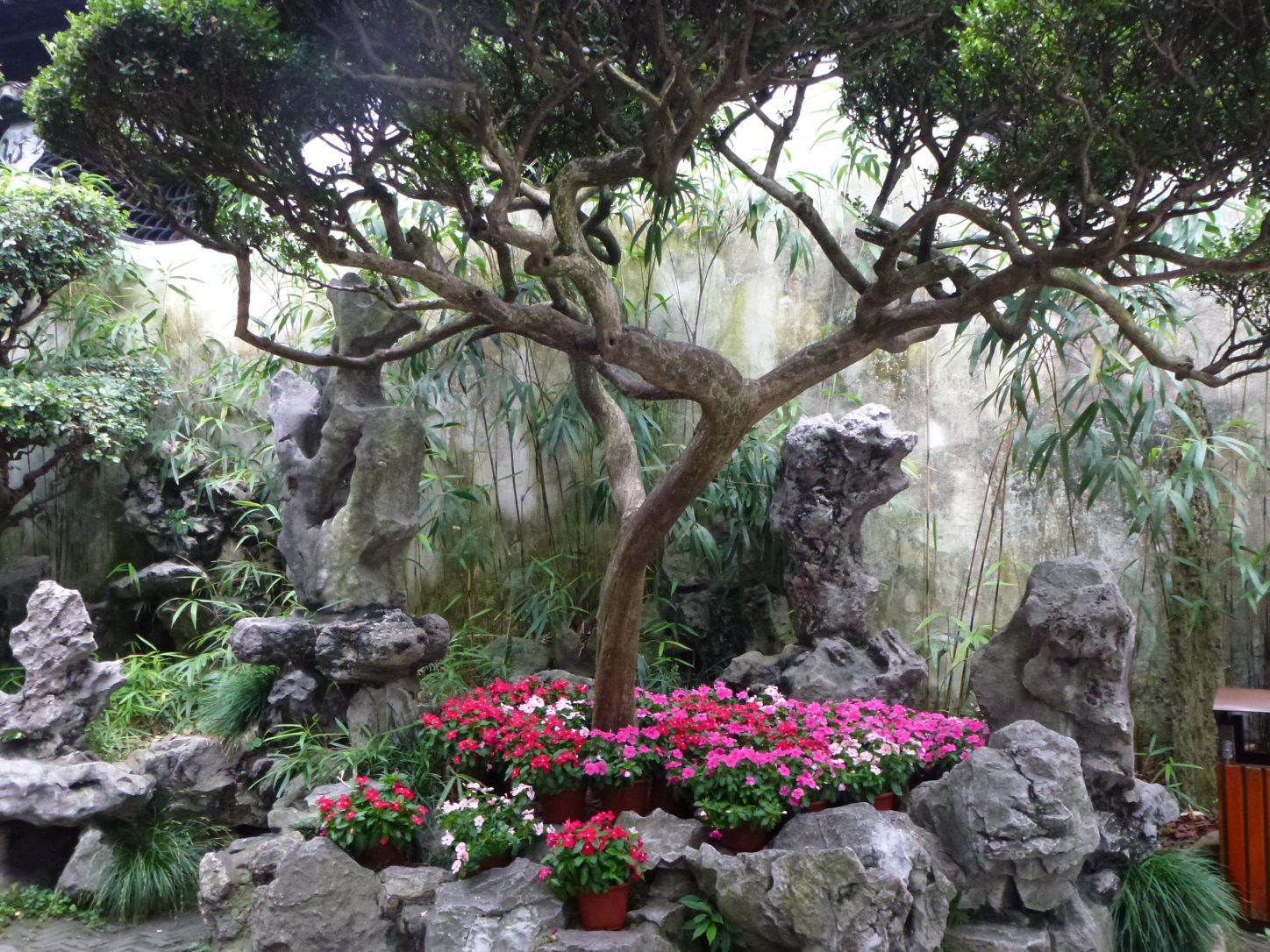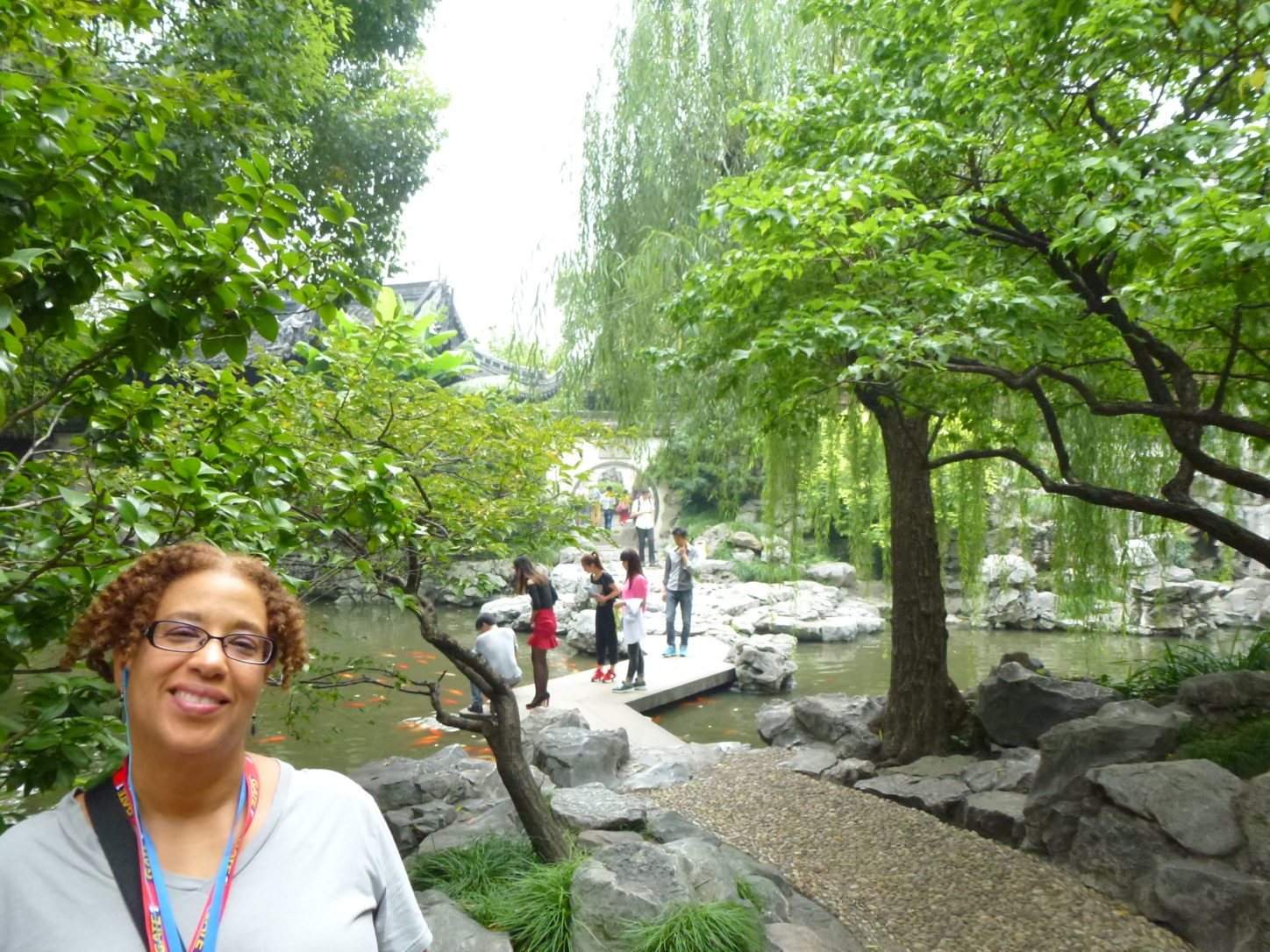 Next, we went to the Bund – the Wall Street of Shanghai. The bull seen here is the exact same one as on Wall Street in New York.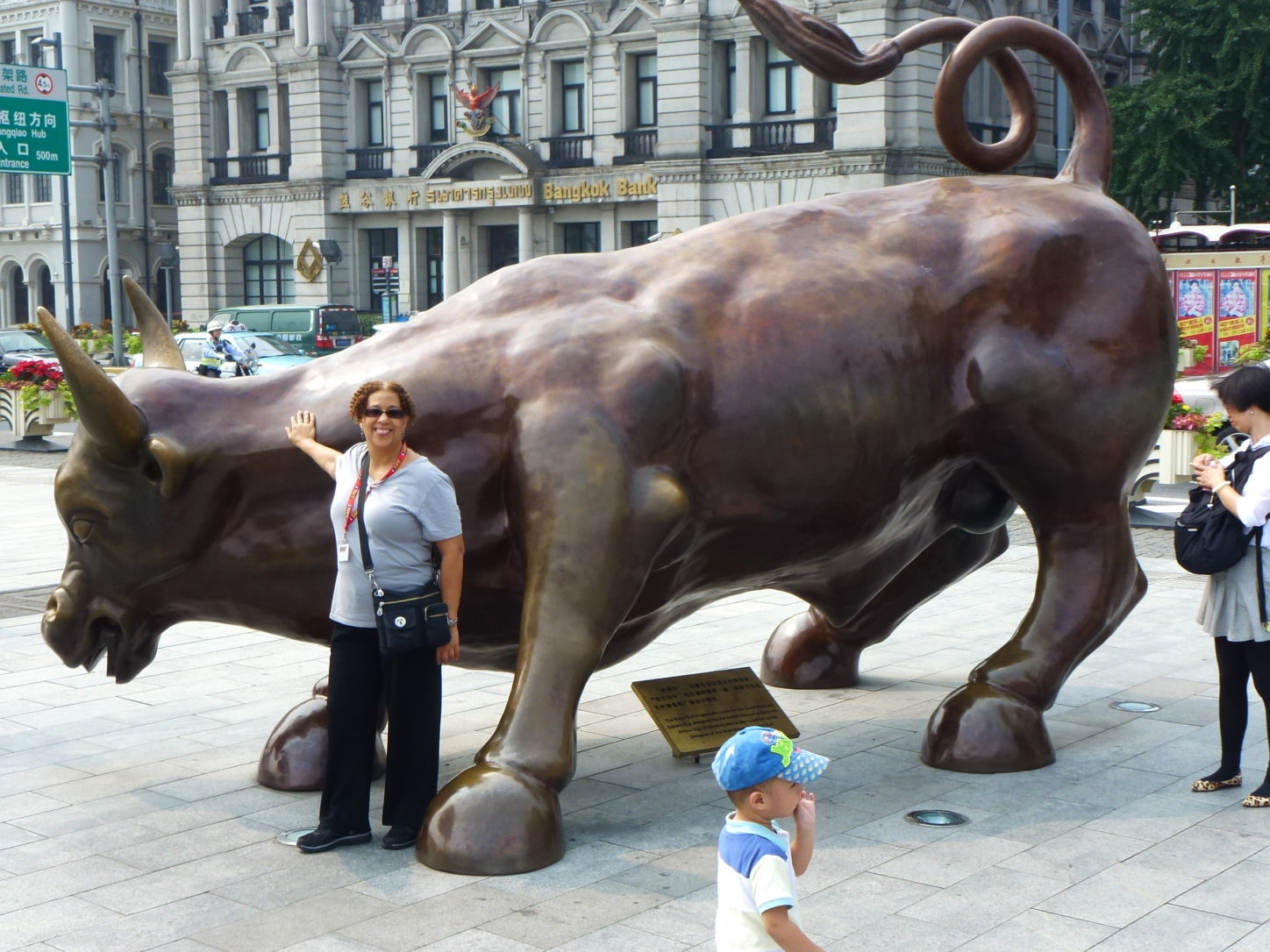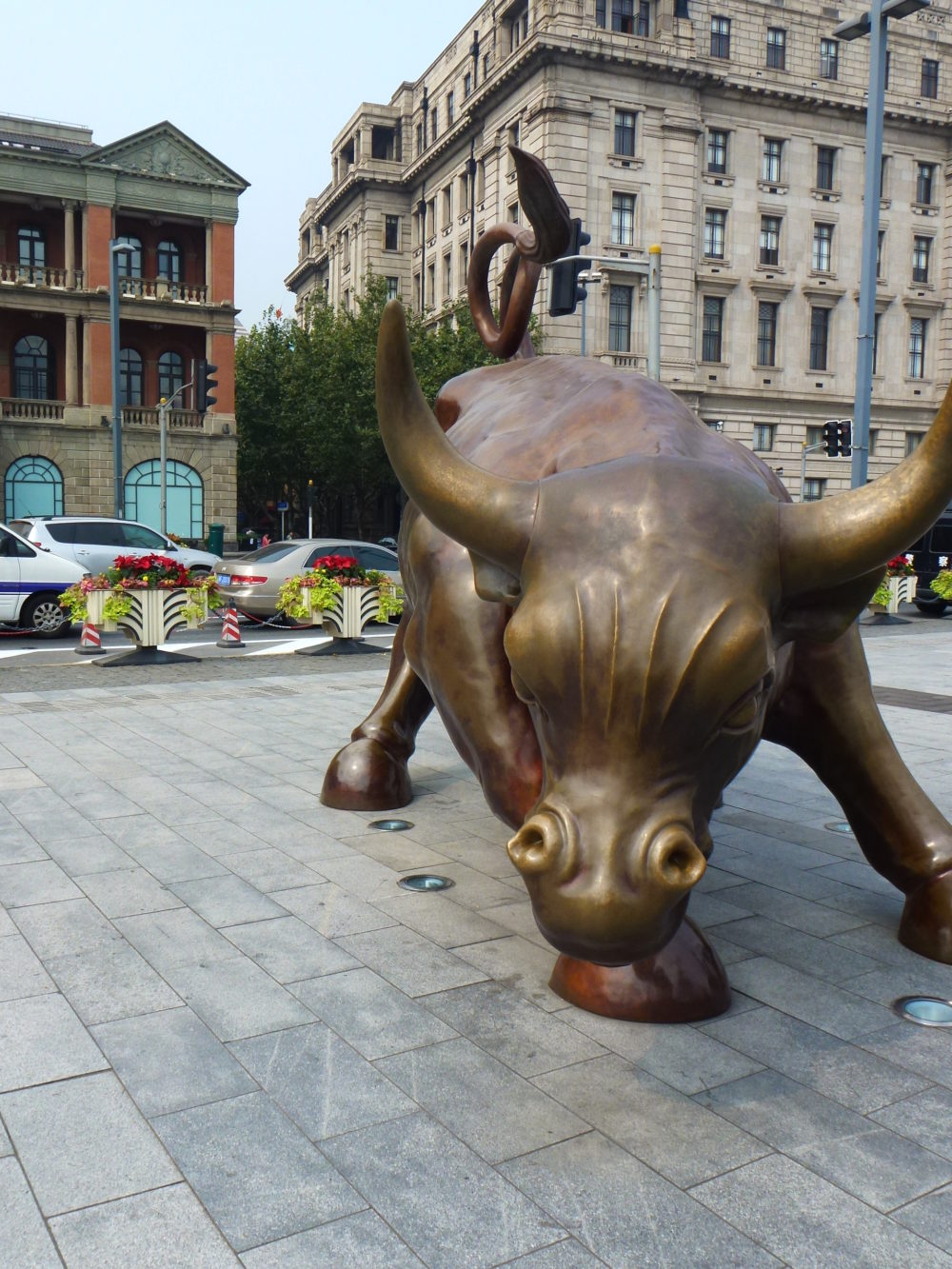 Along the wall next to the Huangpu River are mosaics made of flowers.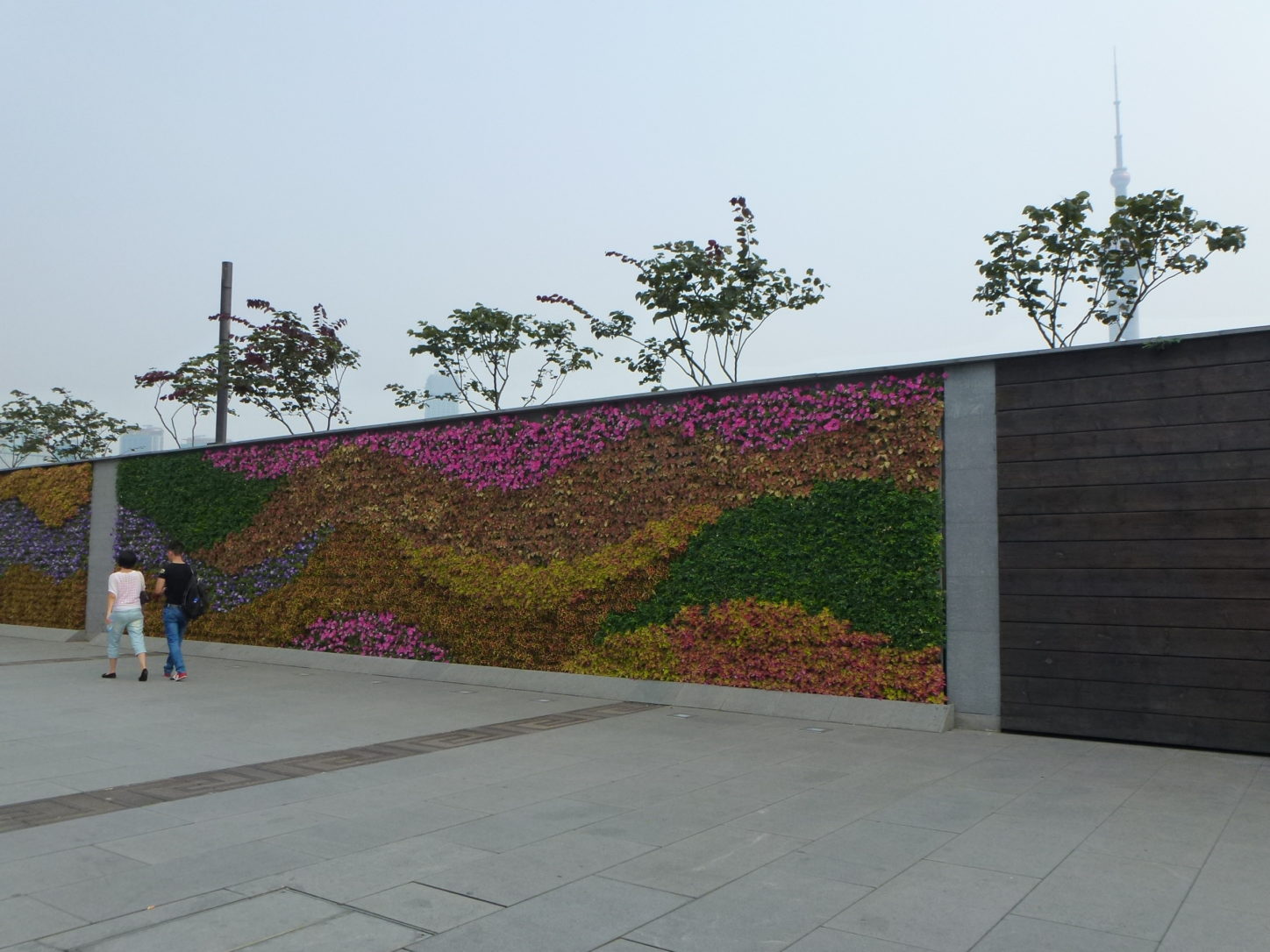 We went into the headquarters of HSBC, but weren't allowed to take photos. Then since we had some time before the bus came to pick us up, we went to cool off at the Waldorf Astoria nearby. Next stop was the Jade Buddha temple. There was a good gift shop inside the temple and other shops in the area where the bus parked.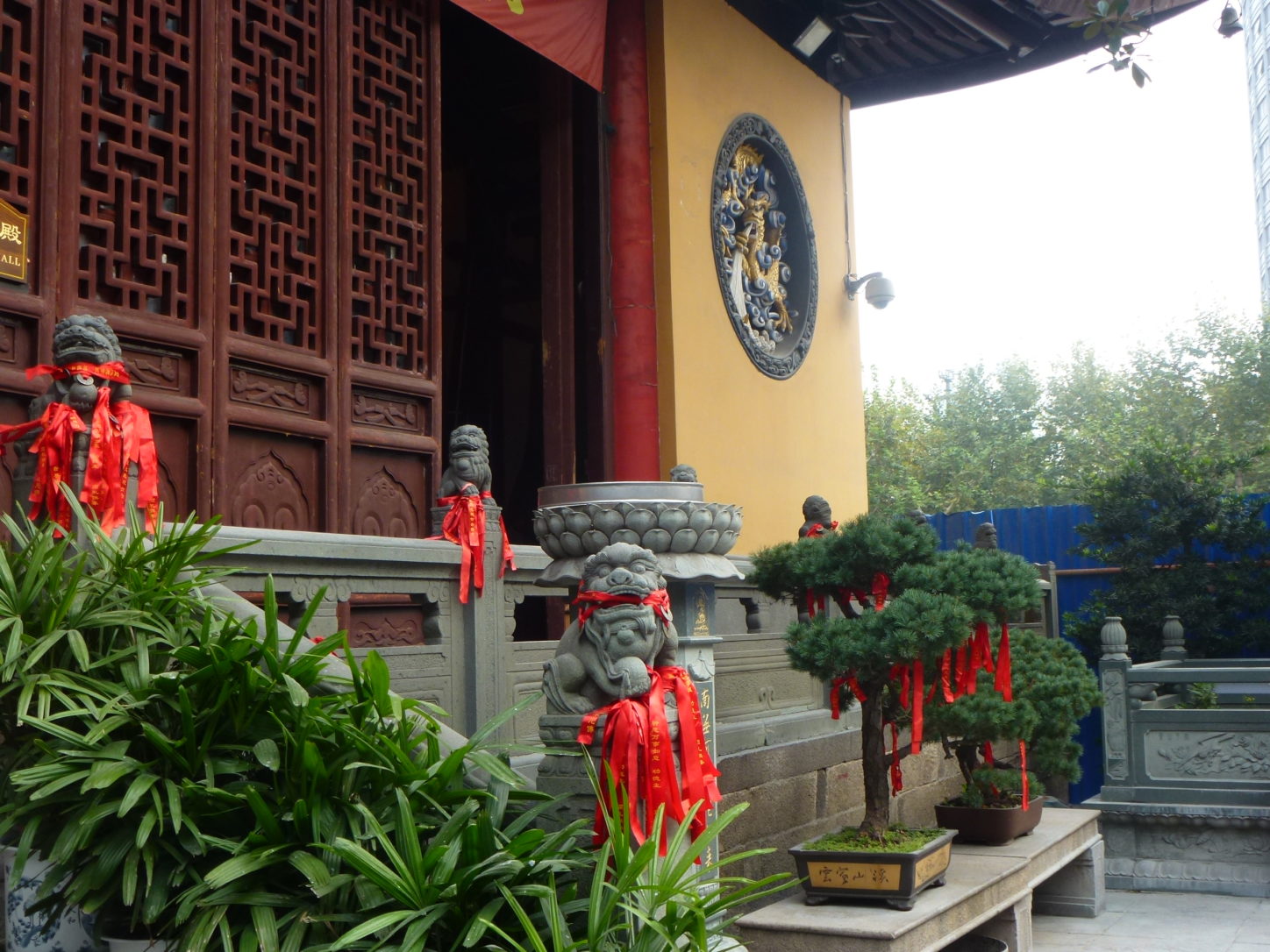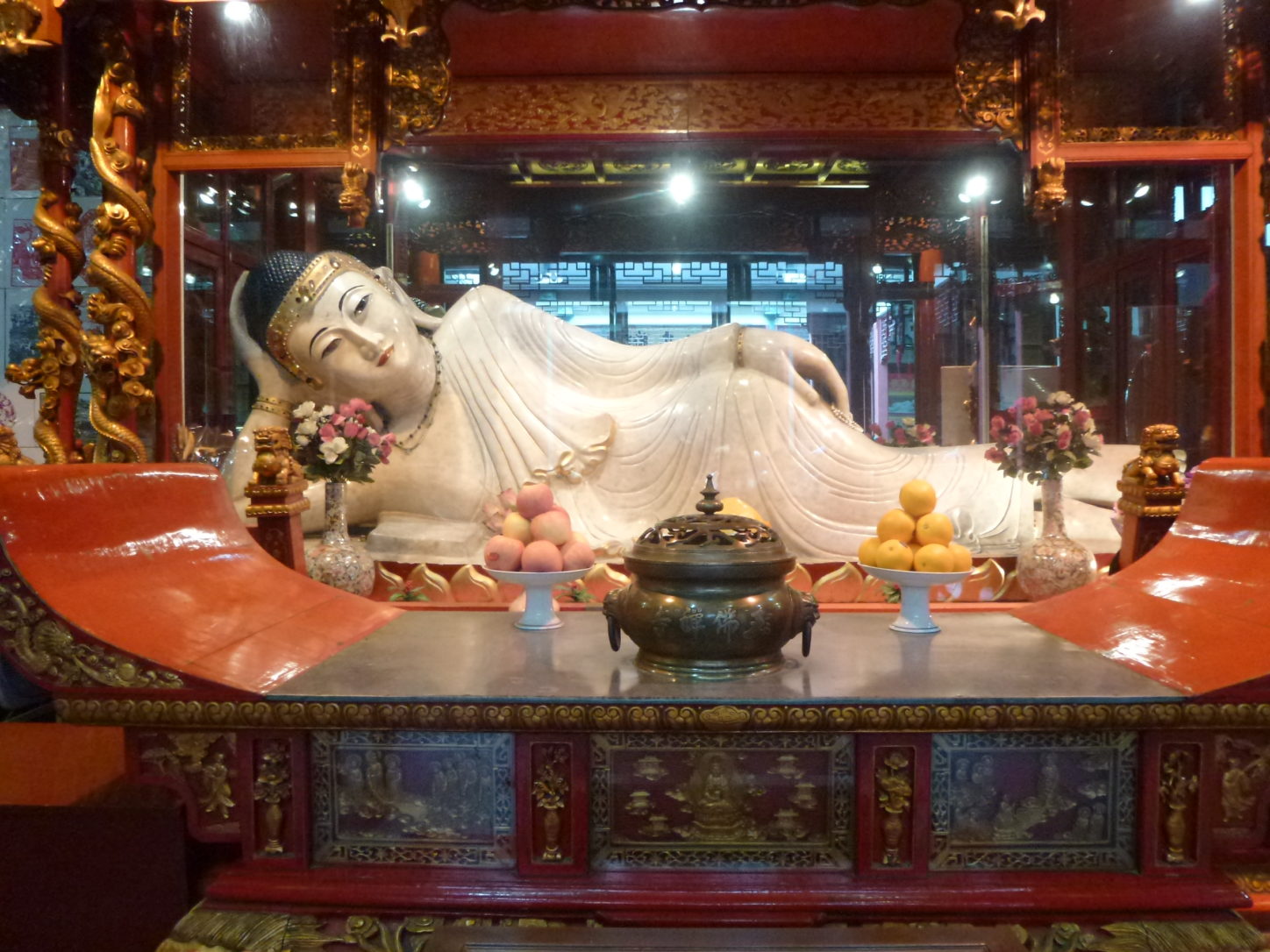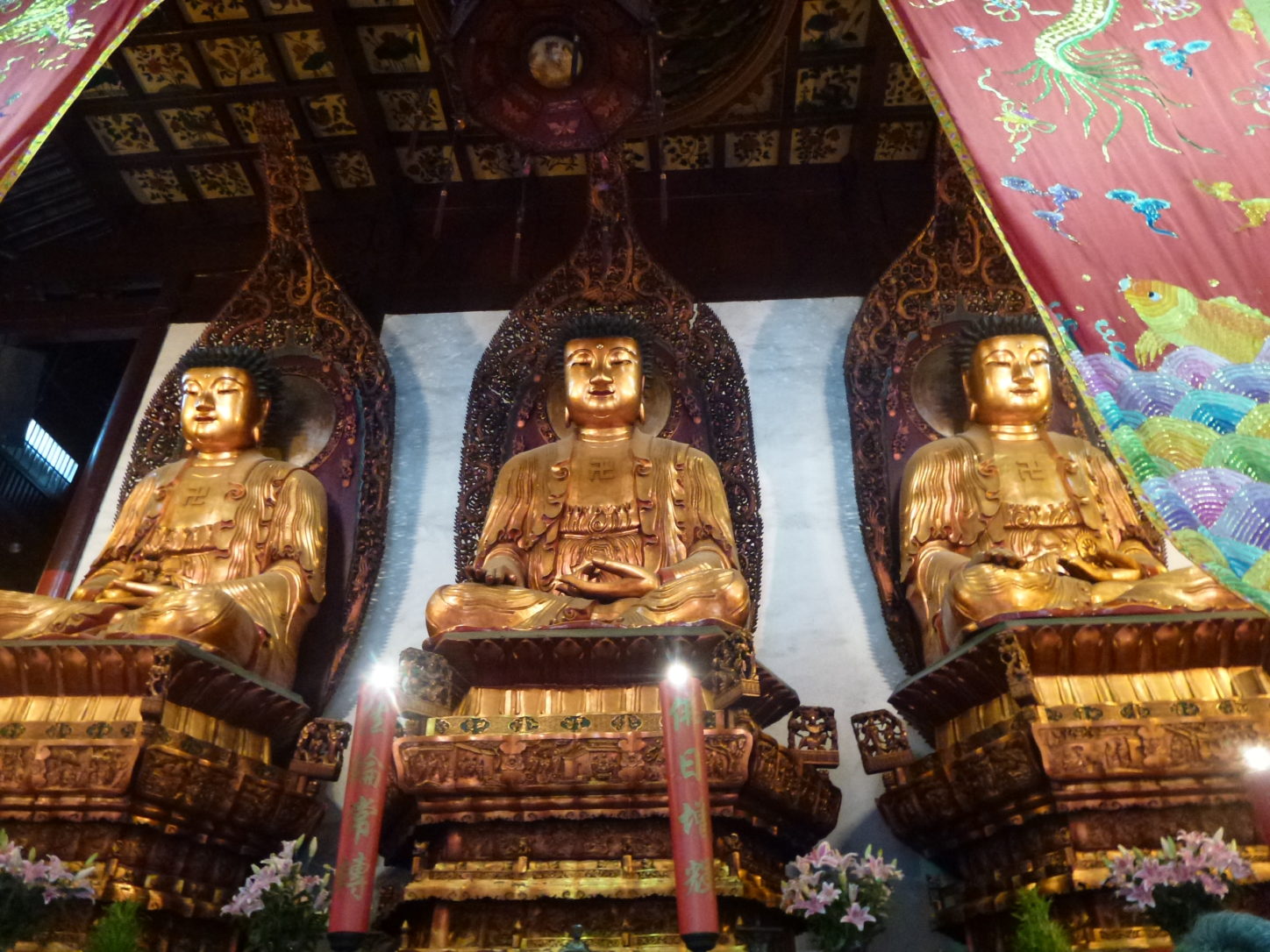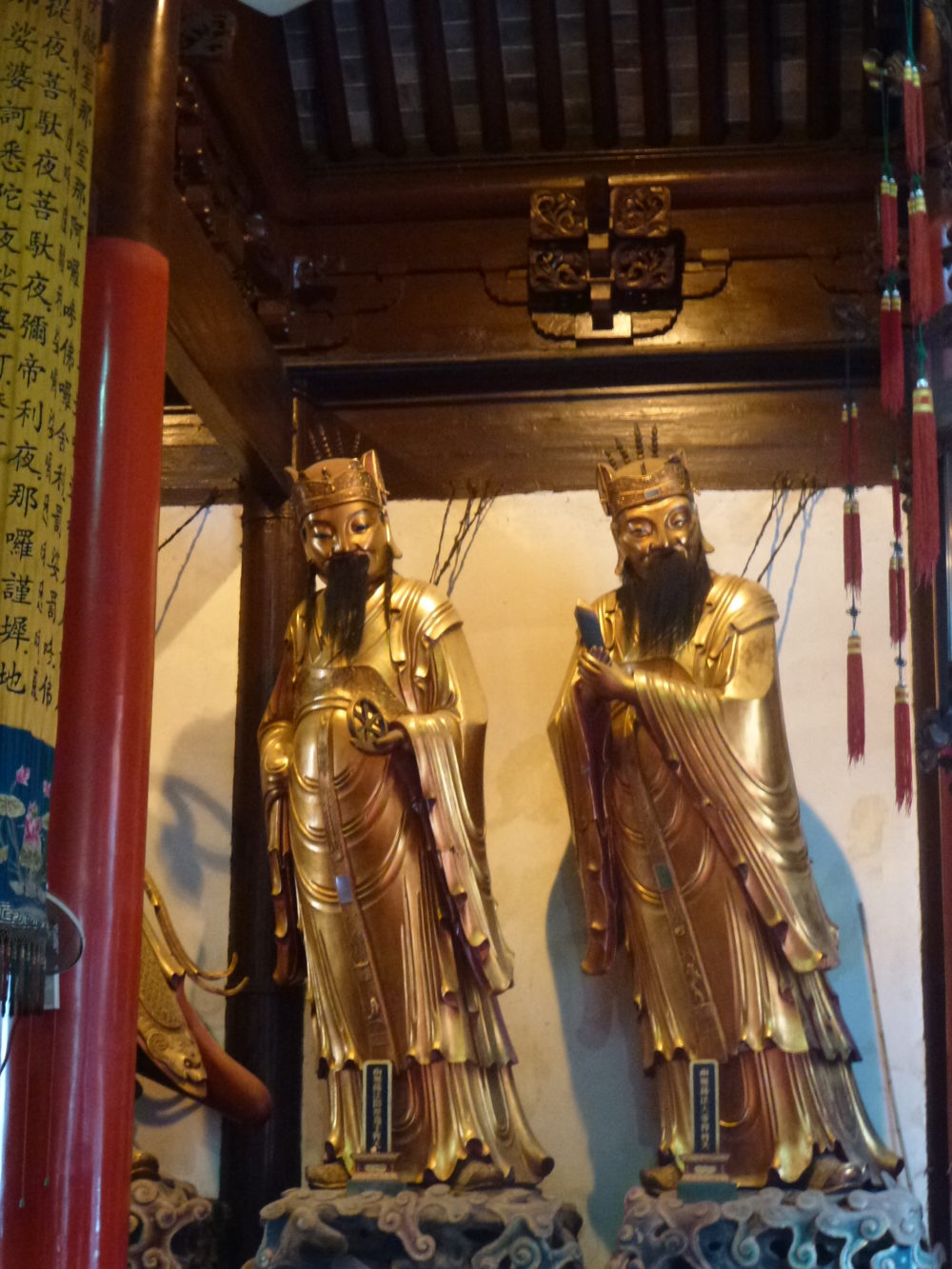 There is a jade Buddha here, but no pictures of that particular one are allowed. It was interesting to see a monk inside the temple.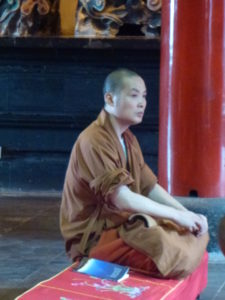 Lunch today was a Mongolian BBQ. The selections to put into the stir fry were limited, though. We were then taken to a local silk carpet and embroidery store. We watched the worker making the rugs by hand, which explains why they are so expensive. There were some exquisite embroidery paintings that were reasonably priced and many people bought those (myself included).
After this sightseeing tour, we were dropped off at the Shanghai Nanjing Road Souvenir Market. This is an outdoor market with tons and tons of shops, everything you can imagine – jewelry, crafts. The touts who work the market trying to sell you fake Rolexes are unrelenting – and some of the people in our group got solicited for the "special tea ceremony," which is a way to get you somewhere by yourself so they can rob you or worse. Jack warned us not to fall for it. I think these rip off artists would follow you into the toilet if they could to get you to buy something. I found that ignoring them worked better than trying to be polite and say no thank you. Inside the bigger shops, too, it seemed like you get assigned a sales person who refuses to leave you alone until you buy something. Keep resisting until they drop the price down to where you want it to be. Lisa and I picked up a few souvenirs and got the H-E-double L out of there. I didn't take any pictures because I was too afraid to take out my IPhone or camera.
That night we had dinner and the Shanghai Acrobat show. Dinner was a bit rushed because traffic was horrible and Jack was afraid we would be late for the show. The show was fantastic!!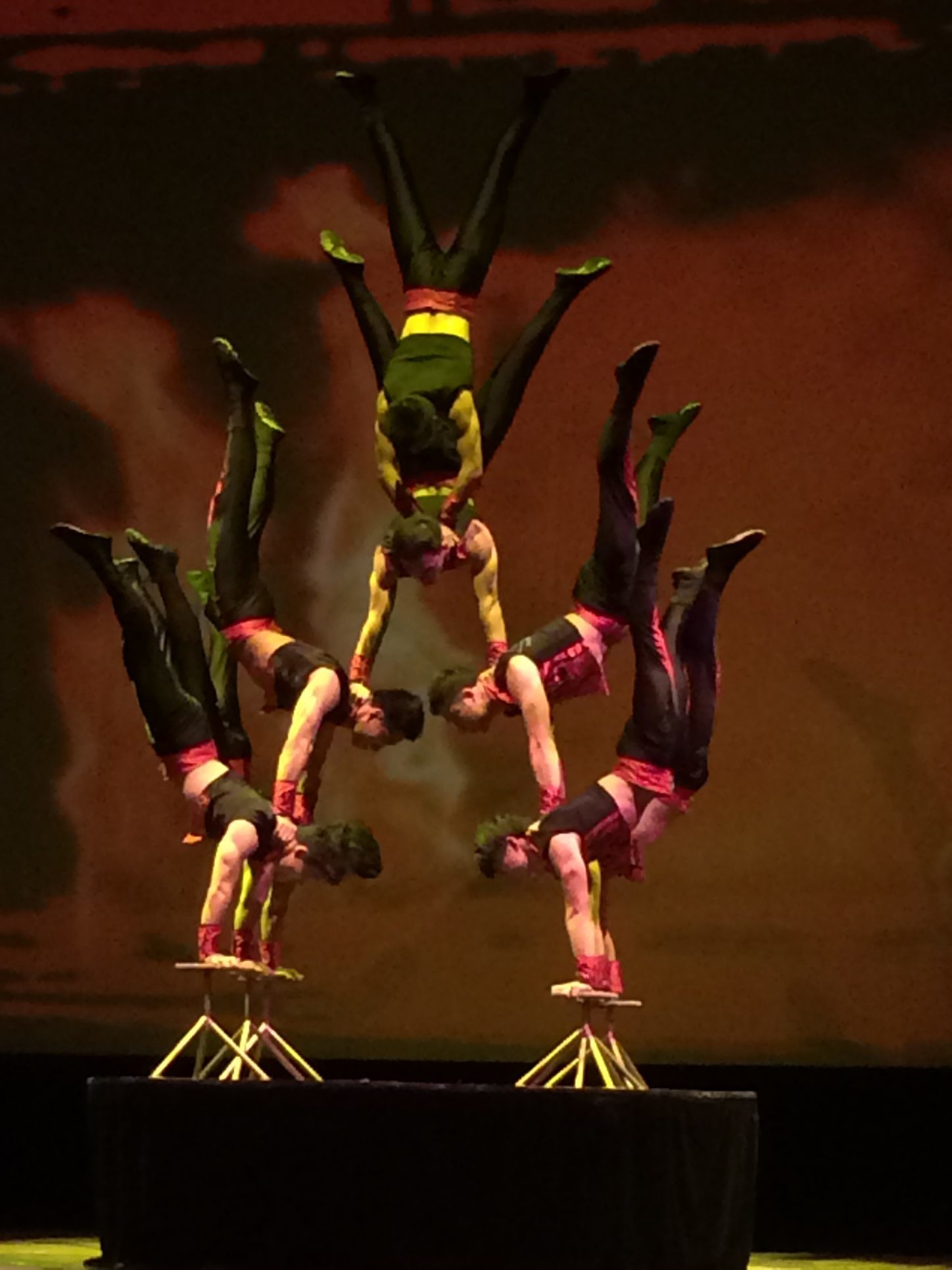 DAY 9 SHANGHAI
Tuesday, September 30. We had a free day in Shanghai. The first thing to do was sleep late. Then I had organized a trip to ride the Maglev train – anyone who wanted to go would meet me and Lisa in the lobby at noon. Twelve people showed up! We got stuck in the elevator heading down to the subway, which was scary. Luckily there were two Chinese women in there with us who spoke to the maintenance people after we rang the emergency bell. We got moving again pretty quickly, thank goodness! Then trying to figure out how to buy a ticket on the subway, as we had to go to the Longyang Road station to catch the train. No English language options! People kept shoving in front of us so that was tricky too. But we were finally on our way! The Maglev station wasn't crowded, so we bought tickets and waited for the next one to ride to the airport, and then ride back. It was amazing how fast it went, and our highest speed was 300 km/h or 186 miles per hour. It can actually travel at 430 km/h or 268 miles per hour. I later learned that it travels at the fastest speed only certain hours of certain days.
Shanghai Maglev Train (SMT)
| Period of Time | | Top Speed |
| --- | --- | --- |
| Longyang Rd. Station | Pudong International Airport Station | Top Speed |
| 11:00 – 12:45 | 11:02 – 12:47 | 300 km/h |
| 13:00 – 16:45 | 13:02 – 16:47 | 430 km/h |
| 17:00 – 21:40 | 17:02 – 21:42 | 300 km/h |
Oh well. It was still fun.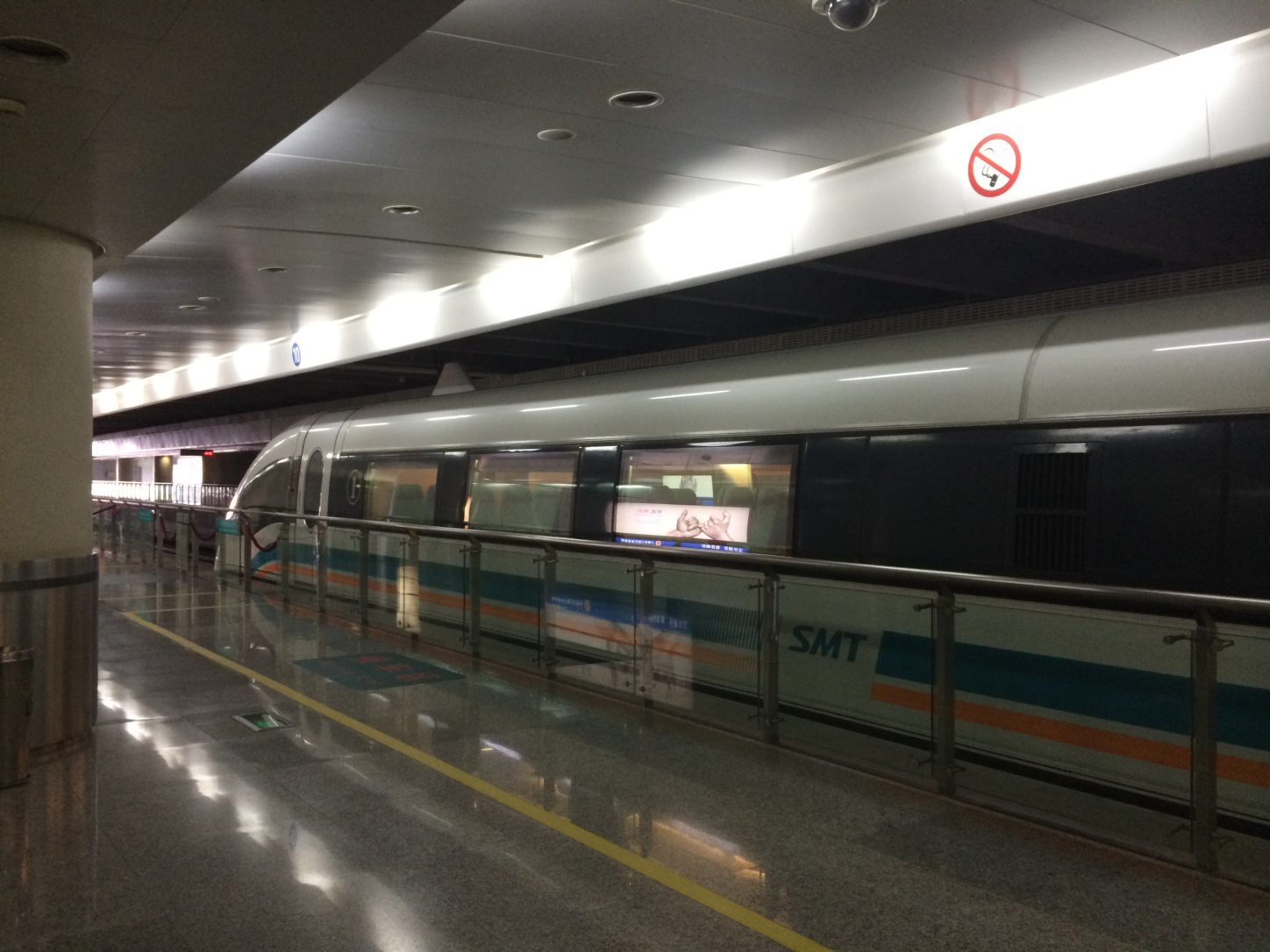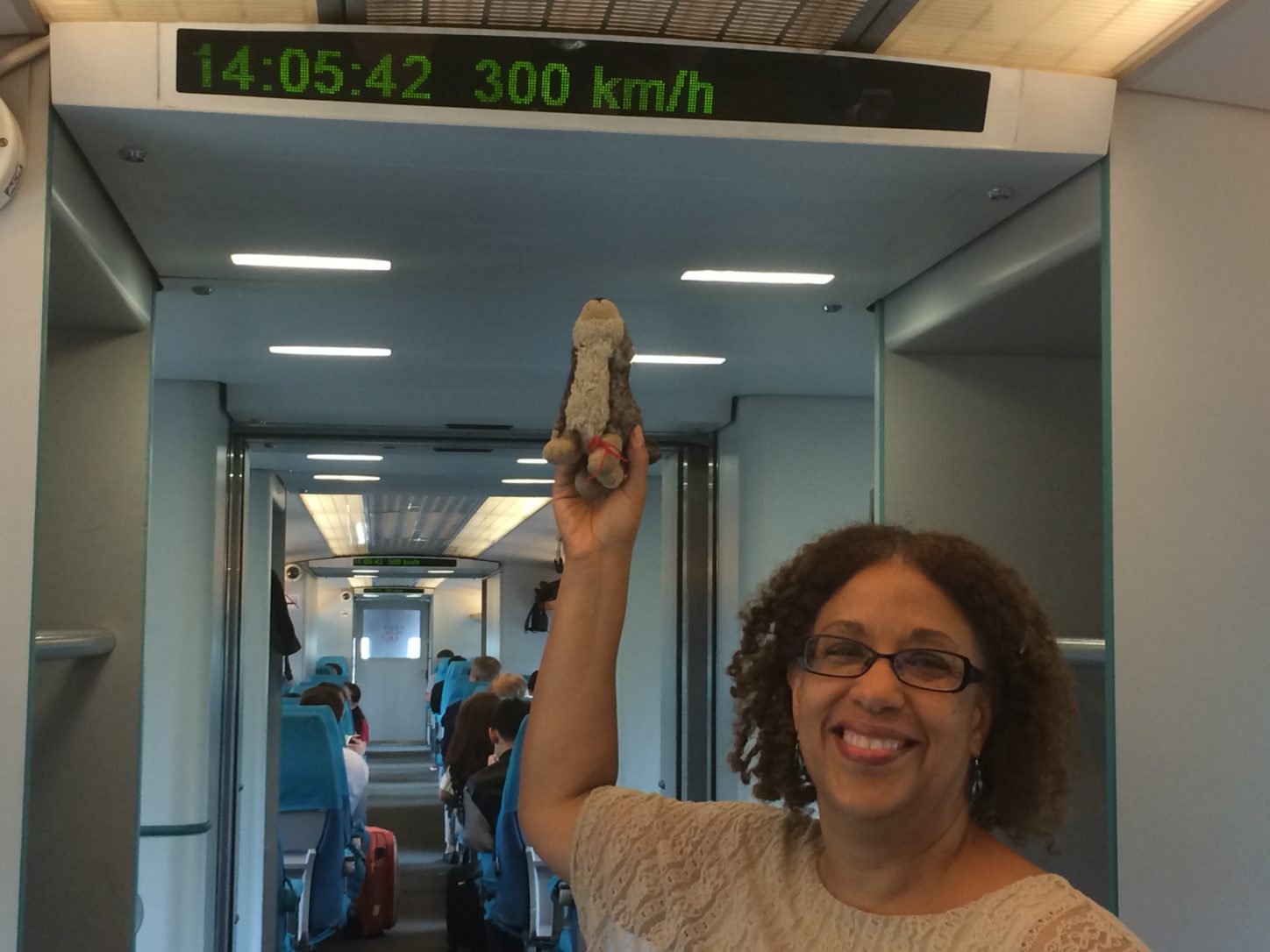 After we got back into the city, some people wanted to shop, so Lisa and I struck out on our own. We walked quite a way back to our hotel, and stopped off at the Ritz-Carlton for afternoon tea with champagne on the way. What a treat!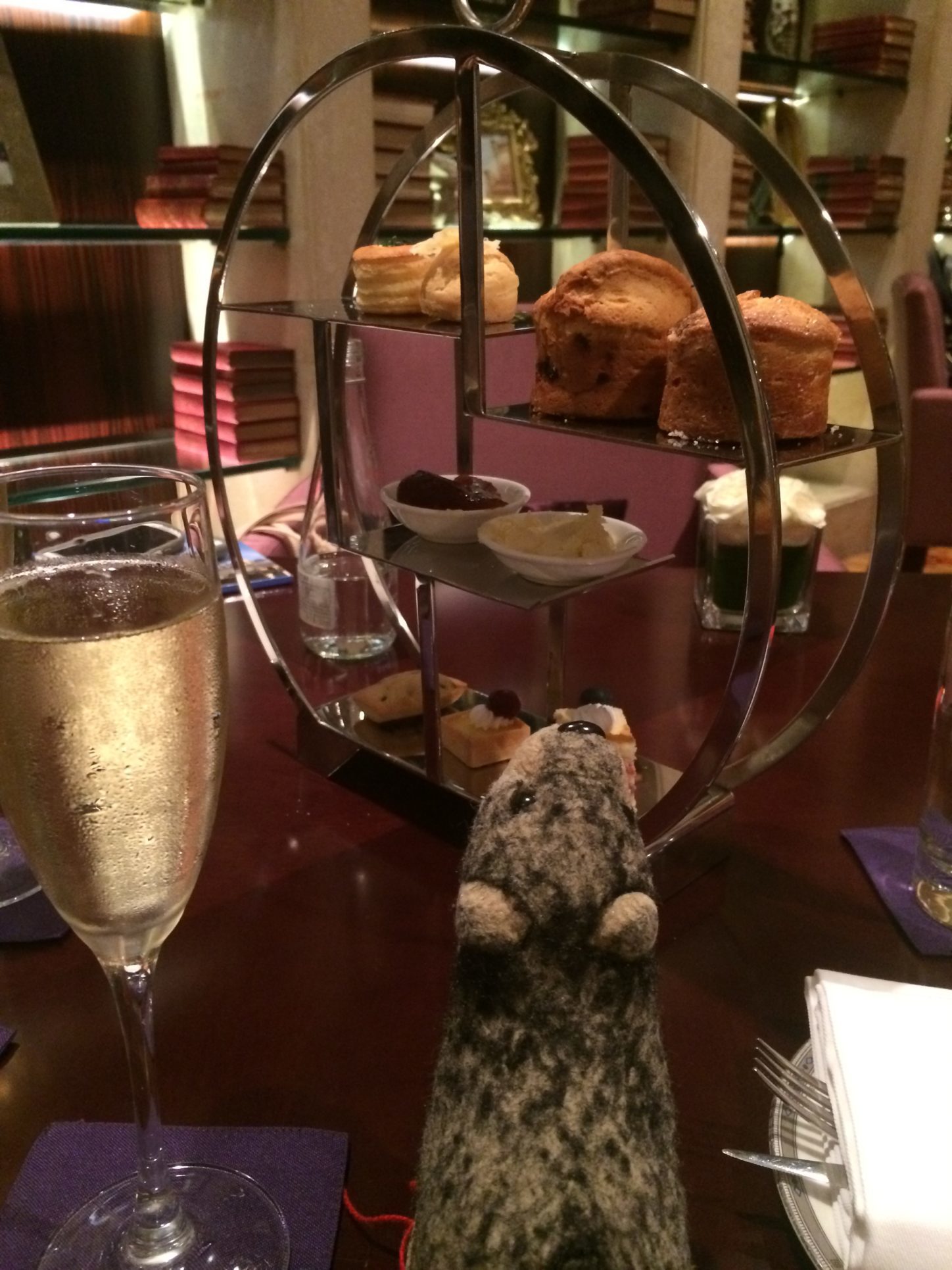 We did some shopping too. We went into a high end mall, and while Lisa was trying things on the salesclerk offered me some water. I was thirsty so said yes without thinking. The water she brought me was hot! That was a surprise, but then I learned the Chinese think drinking hot water is better for you. It felt good going down and I only hoped that it was bottled water and I wouldn't get sick. (I didn't.) After making a purchase, it was getting late so we headed back to our hotel to pack and get ready to leave China tomorrow.
DAY 10 RETURN HOME!!
Wednesday October 1. Shanghai airport. Waiting for the flight. We had to have our luggage out by 5:15am and downstairs for the bus to the airport at 5:45am. We got a box breakfast which wasn't bad – it had a hard boiled egg, banana, Danish and some bread and water. I was thankful because I was really hungry. It took about 25 minutes to the airport that early in the morning, pretty easy to get through security and to the gate. We had about an hour to wait for the flight to Beijing. Flight was on time, they served us an omelette on the plane. Got to Beijing on time, did the international transfer line as our bags were checked through to JFK. We shopped a bit more and found a Pizza Hut where we shared a pepperoni pizza which was quite good. I got bottled water nearby as the Pizza Hut didn't have any and bought a souvenir cup from Starbucks. The flight left on time and I slept 4 hours with lots of meds. I caught Lisa's cold so pretty much feel terrible but at least my tummy is ok. Made it back home safe and sound!
Here are a few tips about the Gate 1 Travel tour:
There are slippers and robes in each room. You don't need adapters – the U.S. plugs will fit into the sockets. Wi-Fi was best at the Mercure but probably because our room was near the lobby. Air China didn't enforce the one bag carry on limit. You can take one large bag that Gate 1 will schlep for you and it really doesn't matter how large it is. Take small bills no larger than $50 as it is difficult to change them. Don't expect to be able to get a taxi. They don't like to pick up foreigners. Watch out for the traffic the bicyclists and motorbikes do not observe the traffic lights. The vendors go away better if you just ignore them rather than saying no thank you. If you have any questions please feel free to contact me!
Jeanne