ARRIVAL IN NICE
Monday September 28, 2015
Delta Flight 412 out of JFK to Nice (NCE) at 910pm. Arrival the next morning, France time at 11:10am, non stop on a Boeing 767-400 (8 hours). The flight was OK, except we sat in the row with only 2 seats and the legroom was atrocious. We decided to make sure we got a row with 3 seats on the way back.
We were the last ones off the plane. Customs was really easy – no one stopped us or asked any questions and there were no forms to fill out. The information center is located near the exit of the customs area. I asked how to find the bus office to buy tickets to take the Ligne d'Azur, line 98 or 99, to the city. The bus office is outside to the right. The platforms are clearly marked: to the Nice train station (line 99) or to the Promenade des Anglais – Nice City Centre (line 98). Tickets are 6 euros one way per person. It is better to buy the tickets in advance because there is a mad rush to get on the bus when the doors open, even though you can buy the ticket from the bus driver. The line for bus 98 was very long, and we waited almost 45 minutes for either bus to arrive. We took bus 99 directly to the Nice train station.
There is an information center outside the train station. We got directions on how to walk to our hotel, the Marriott Boscolo Exedra. A 20 minute walk on the cobblestone streets and narrow sidewalks with luggage was not fun. Take a taxi!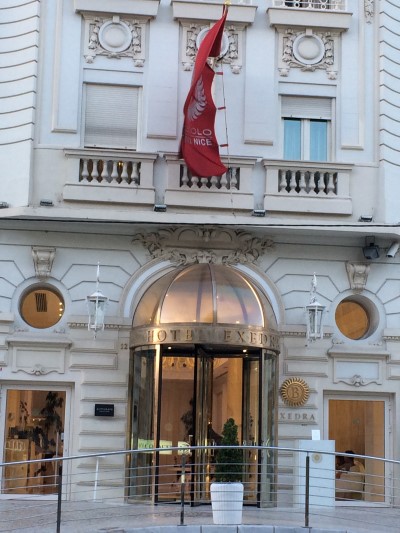 When you check in the reception clerk walks you to your room and the bell boy will bring your bags.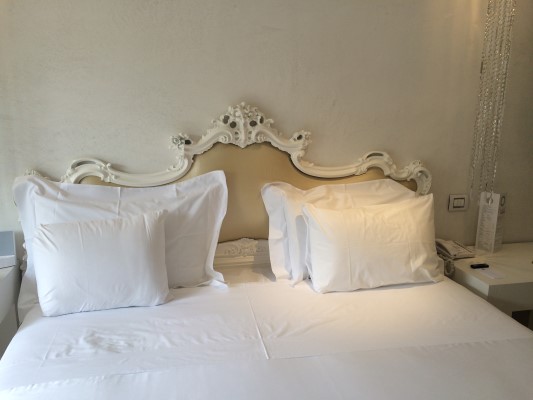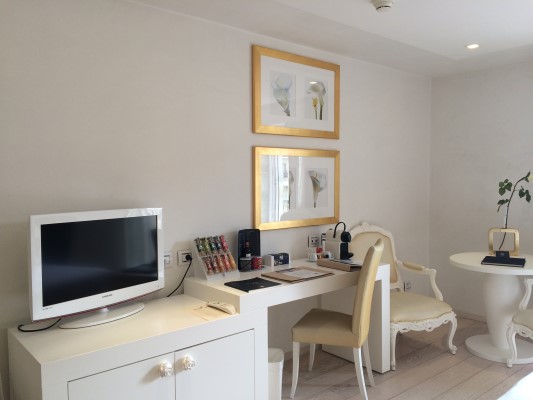 The rooms are really pretty and the reception area is filled with art and sculpture.
We were so tired from the flight we decided to go directly to the spa which is included in the rate. The facility is amazing – steam room called Hamdan, dry sauna and swimming pool which has jacuzzi type jets. Apples to eat, robes in the room and healthy refreshing drinks like mint tea with lemon were available. There are low comfy chairs to lounge on and several different rain showers. AAHH!
And a chair in the elevator!!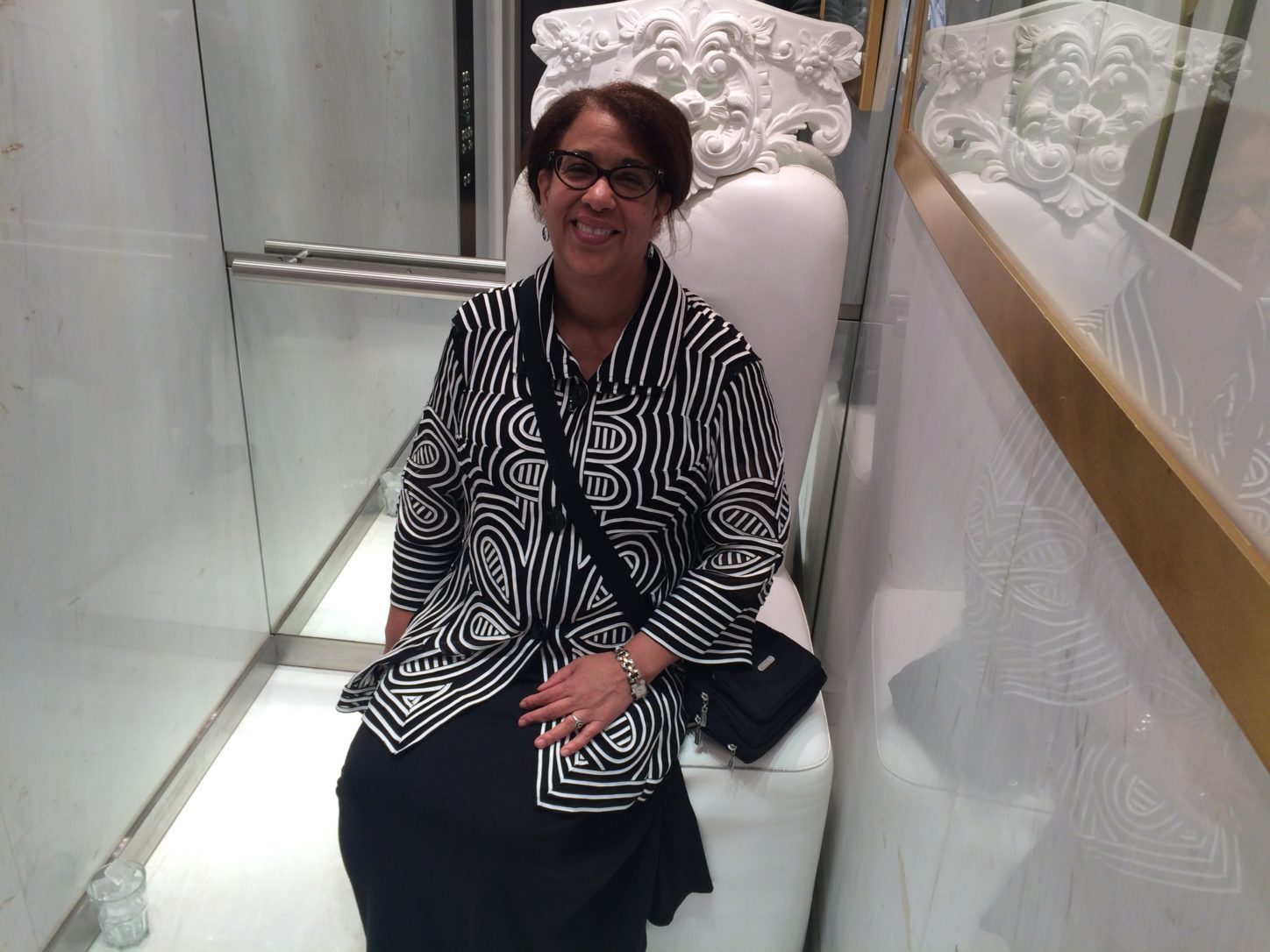 After we got dressed we decided to walk down to the Vieux Port and find dinner. On the way, we took pix at the Place Massena. I felt like I was standing in the middle of an art gallery!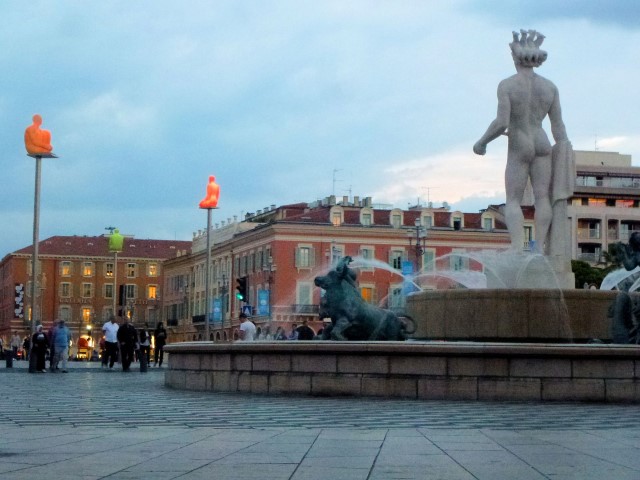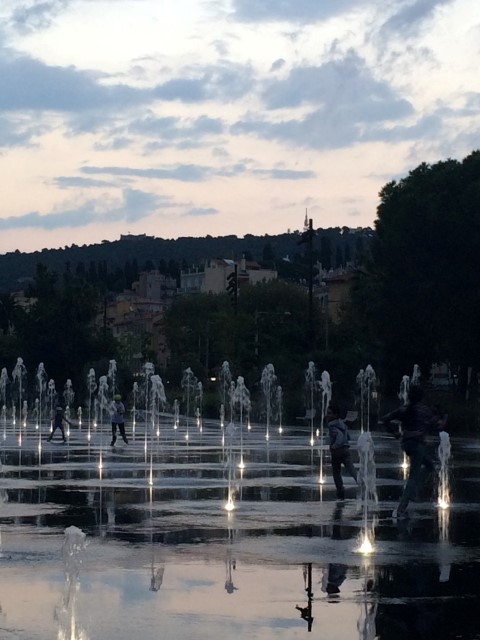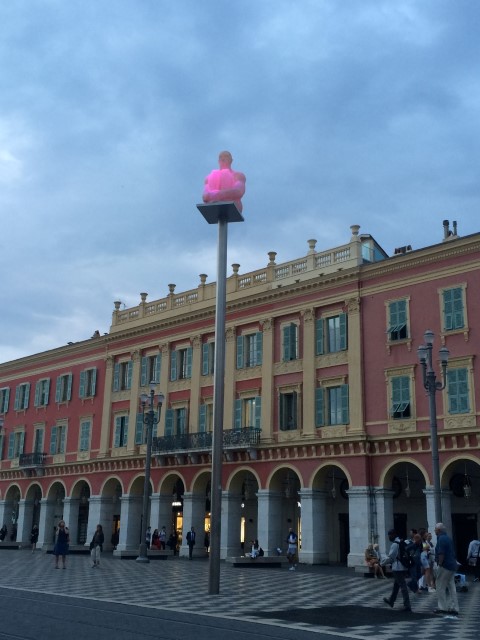 We walked along the Promenade des Anglais as far as the Meridian Hotel…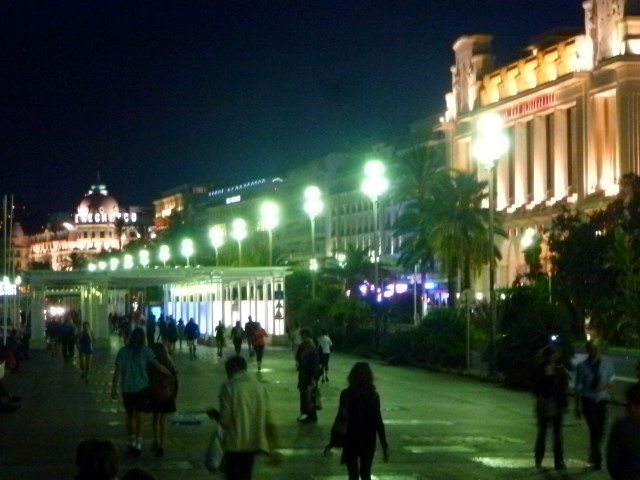 then came back and started looking for something to eat. We ended up on Cours Saleya which is a famous street. I saw La Safari which is a recommended restaurant but it was too crowded. A guy at a restaurant right across from there (Le Marche 12-14 Cours Saleya) greeted us and suggested we sit down and take a look at the menu. He spoke English and was very welcoming, unlike other restaurants on the street which just ignored us. I ordered mussels with cream and herbs and the traditional dish socca, which was excellent.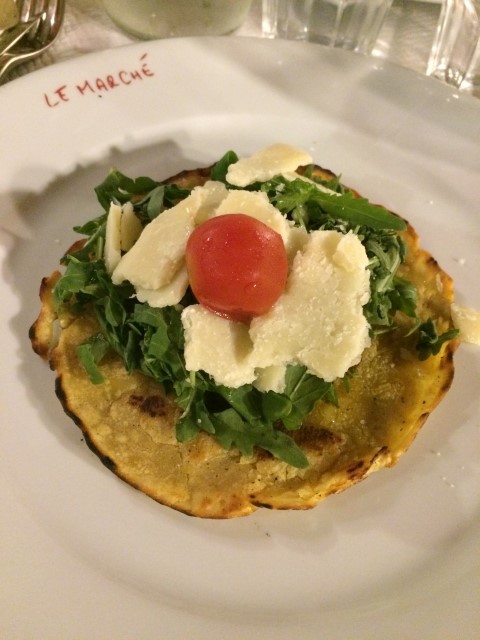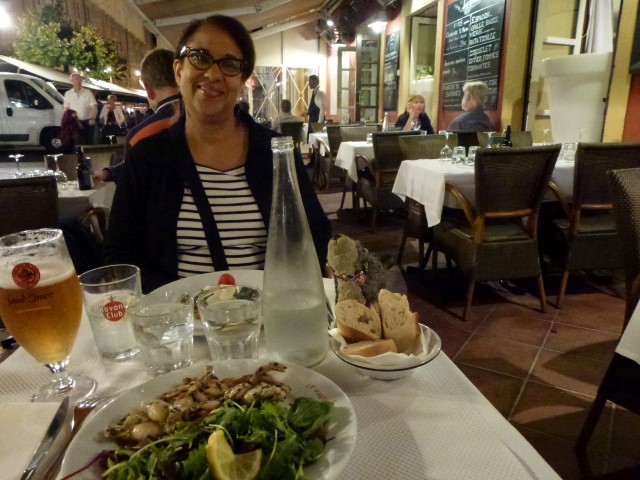 Dan ordered frog legs. Both were delicious. We didn't have dessert. Then we decided to try and find the opera house but got lost. We did see the Palais de Justice.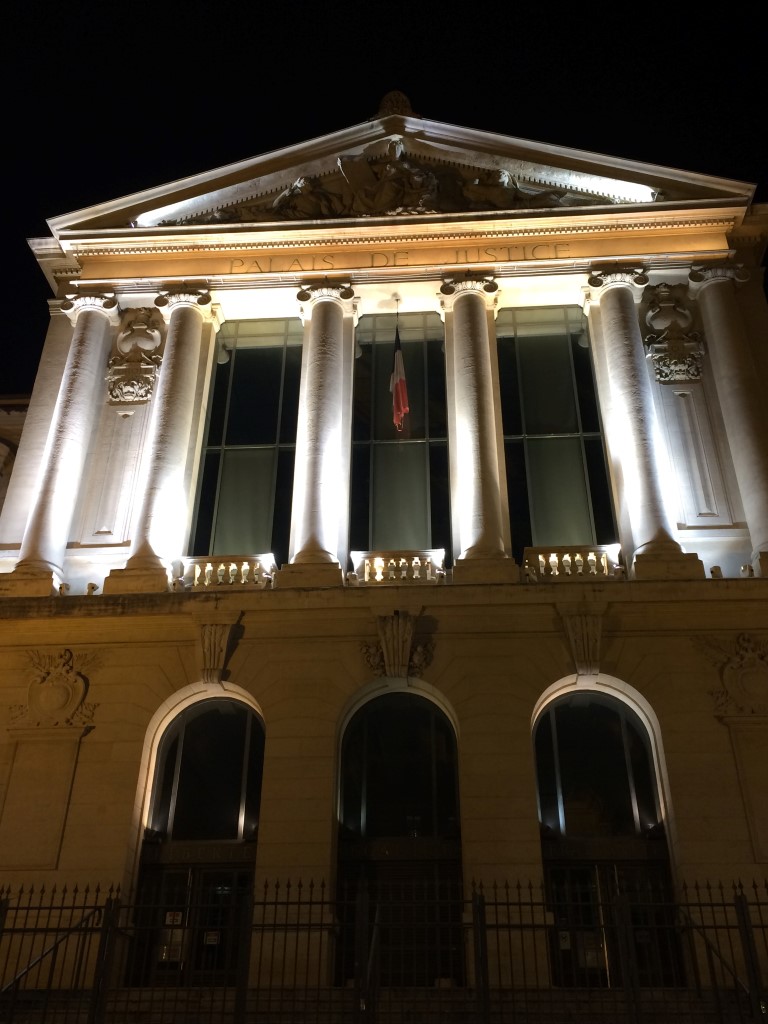 We eventually found our way back to the hotel. We felt right at home (as New Yorkers) when a big rat crossed our path, waved hello and ducked down a hole.
NICE TO MONTE CARLO, MONACO
Tuesday September 29
This morning in Nice I set the alarm for 8:30am but didn't get up until 9.  Needless to say we didn't check out of the room until 1030am.  Breakfast was an extra 24 Euros per person so we didn't purchase it, and instead ate snacks we had brought with us.  We had to wait for a taxi to the train station because another couple beat us to checkout.  So there was no way we were making a 10:56am train – and that was the last one that would even give us a chance of being at the changing of the guard at the Monaco Palace by 1155am.  At the Nice train station, it wasn't too difficult to use the machine to buy the tickets, but be sure to use the blue regional machines and not the yellow SNCF machines (Société nationale des chemins de fer français) ("French National Railway Company").  The yellow machines are usually for booking longer journey tickets on trains where the seats need to be pre-booked, such as the TGV.  The blue machines are for local trains TER regional.  Blue machines work by turning a small wheel and pressing the centre to select.  Both machines take cards which have a chip and pin security system.  If your card does not work with this system then you will need to go to the ticket office.
We didn't validate our tickets and no one ever came to check.  There are limited amenities in the Nice train station.  One very small sandwich stand and some vending machines.  There was an information booth.  The signs telling you which track and which train were easy to read and it was easy to find the gate.  We were on a noon train.  The train goes right along the water and you can get a glimpse of the waterfront towns like Eze.  Travel time is only 23 minutes to Monte Carlo from Nice.  When we got to the Monte Carlo train station the bathrooms were downstairs and there was a line for the women's room.  Only 3 stalls.  The very helpful tourist information office clerk at the Monte Carlo station gave us a map and told us how to walk to the hotel instead of waiting for a taxi because it was only a 15 minute walk.  The path was uphill for part of the way and we had to change sides of the street because the sidewalk ran out on the left hand side.  But we made it and checked in.  The Hotel Capitole is located in Beausoleil, France, technically, on the border with Monaco.  There is an elevator and a refrigerator in the room.  You can get coffee and tea at the front desk anytime but there is a 2-3 euro charge.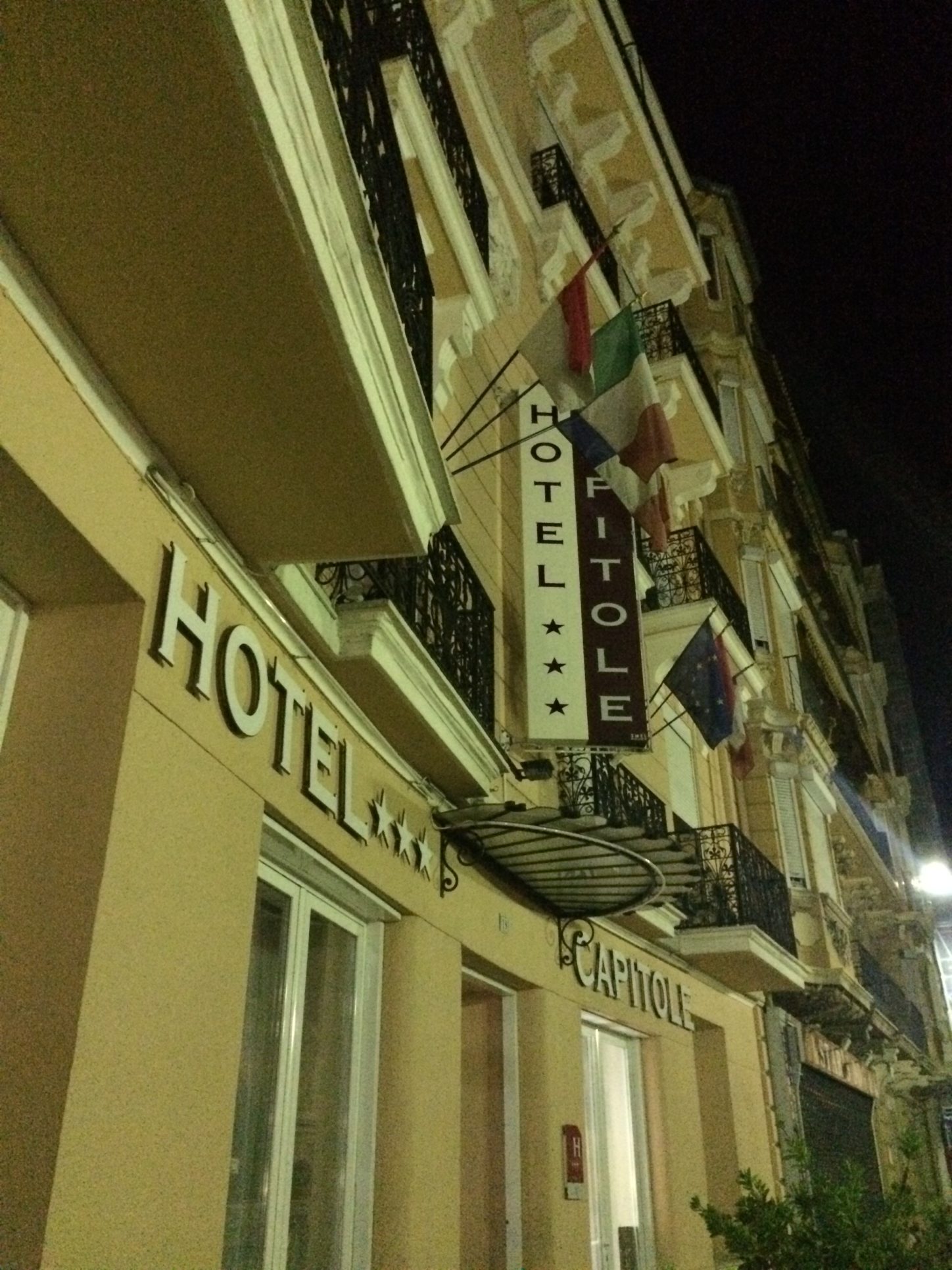 On the way to the hotel: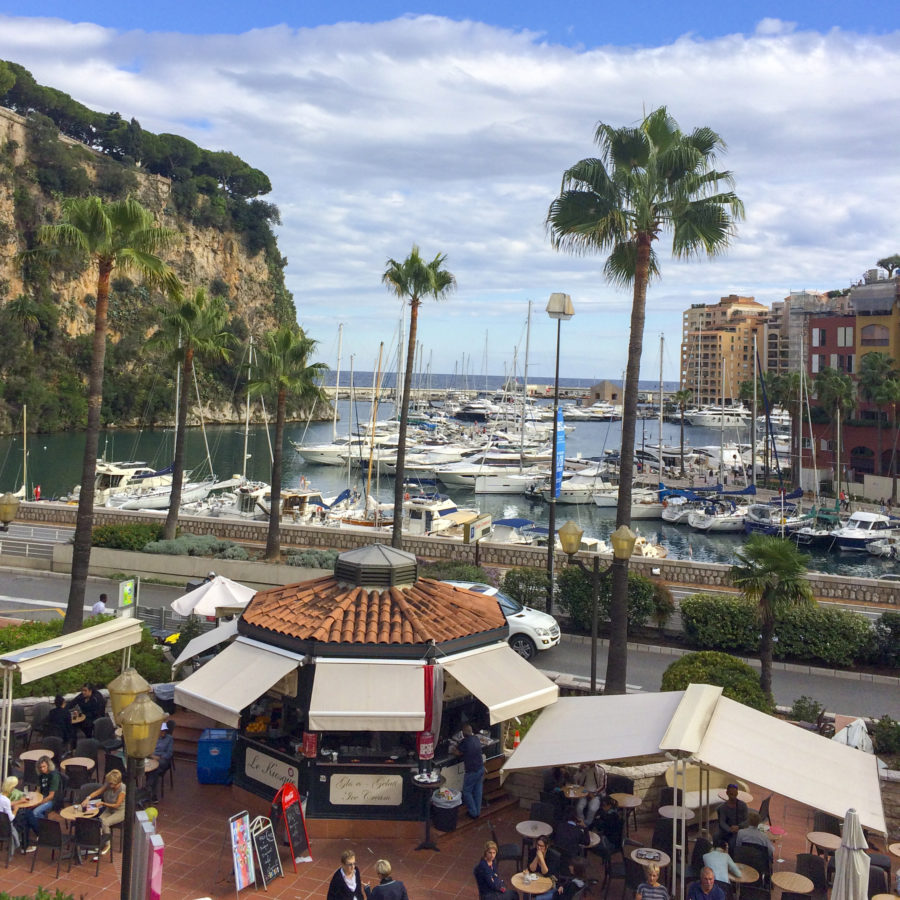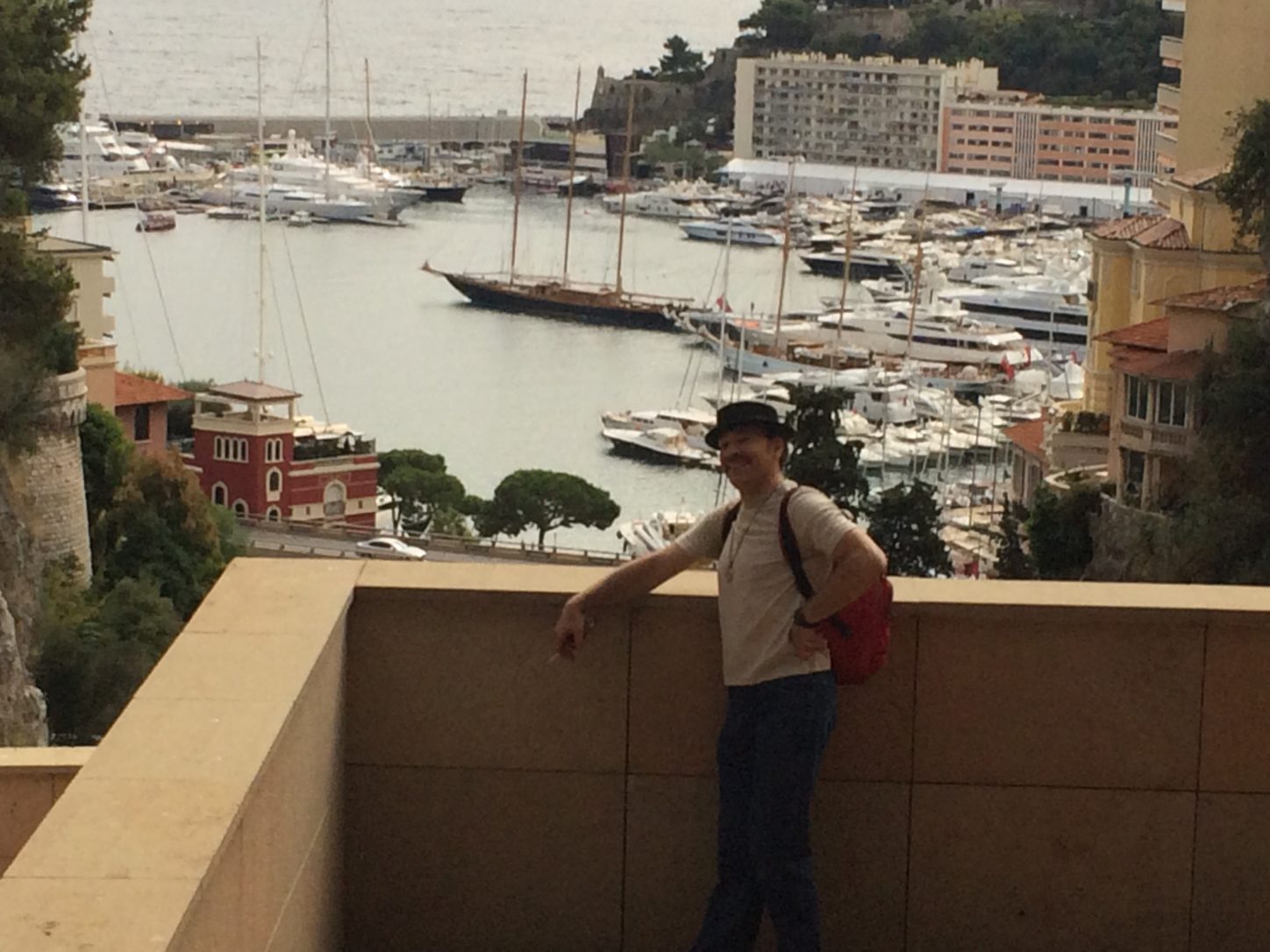 Once we checked in and got settled, we walked into Monte Carlo via the stairs.  There are a lot of stairs so look for escalators and elevators whenever possible.
Since we had missed the time for the changing of the guard at the Palace, we asked at the front desk about how to take the bus to the Prince's automobile museum.  You can buy the bus tickets on the bus for 2 euros per person.  The bus stops right in front of the automobile museum, take the escalator upstairs from the McDonalds.  The cost to get into the museum was 6.50 Euros for adults.  The museum is dimly lit, but there are two floors of cars and some really impressive art work, all with the theme of France's Red Cross.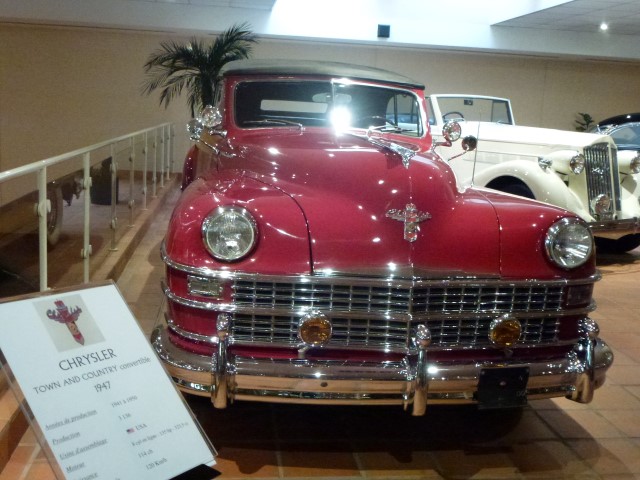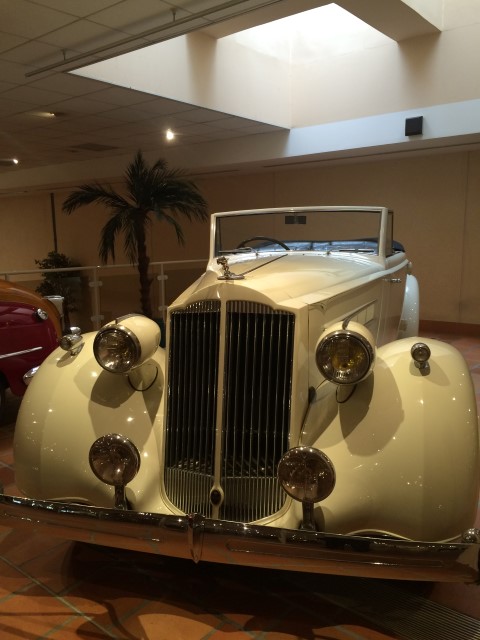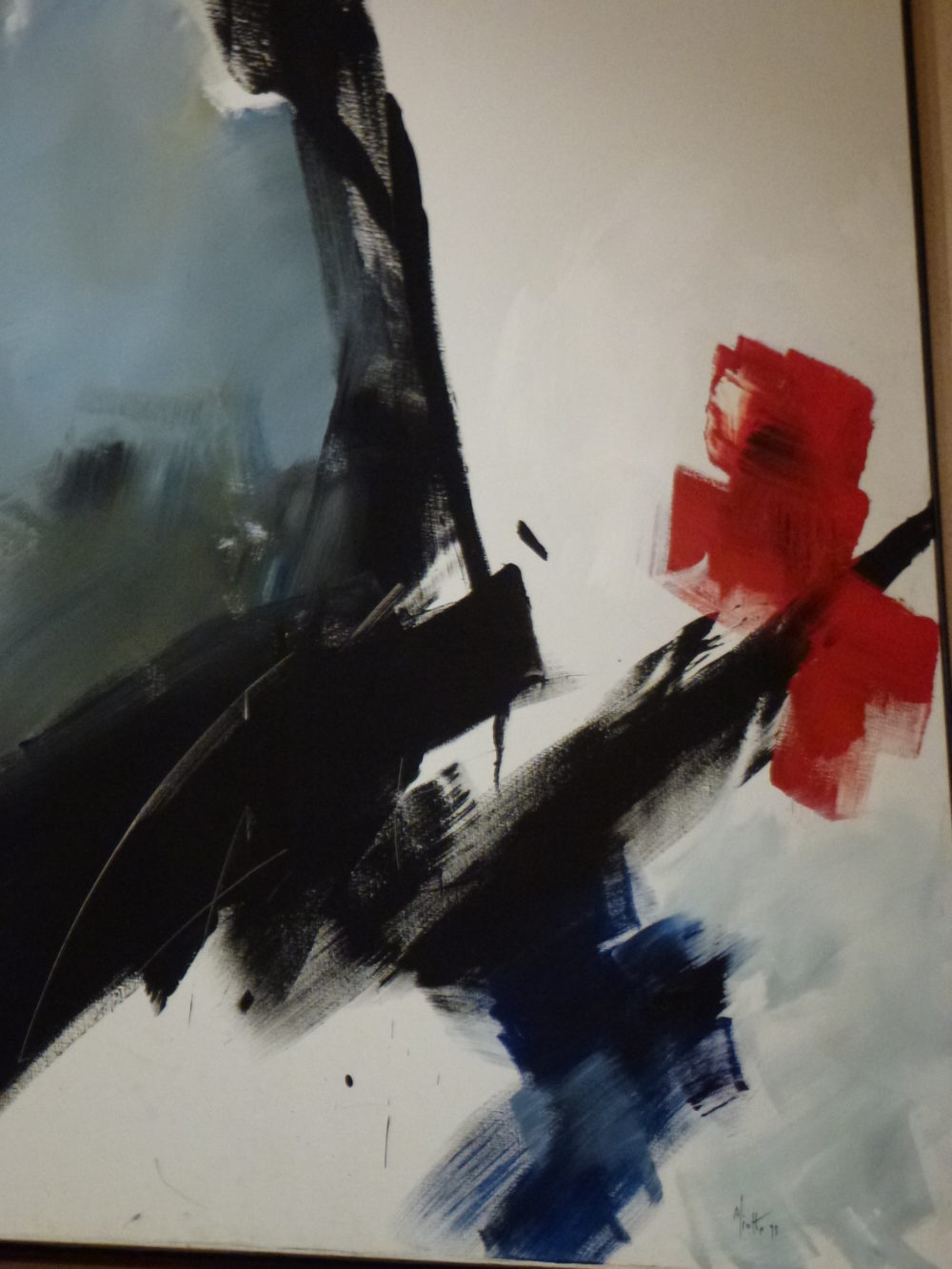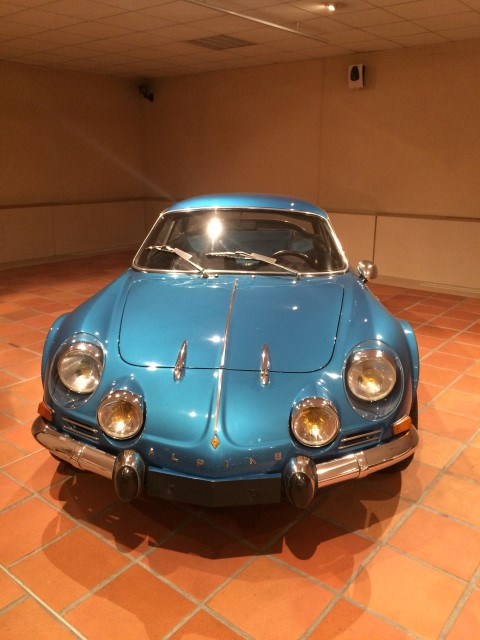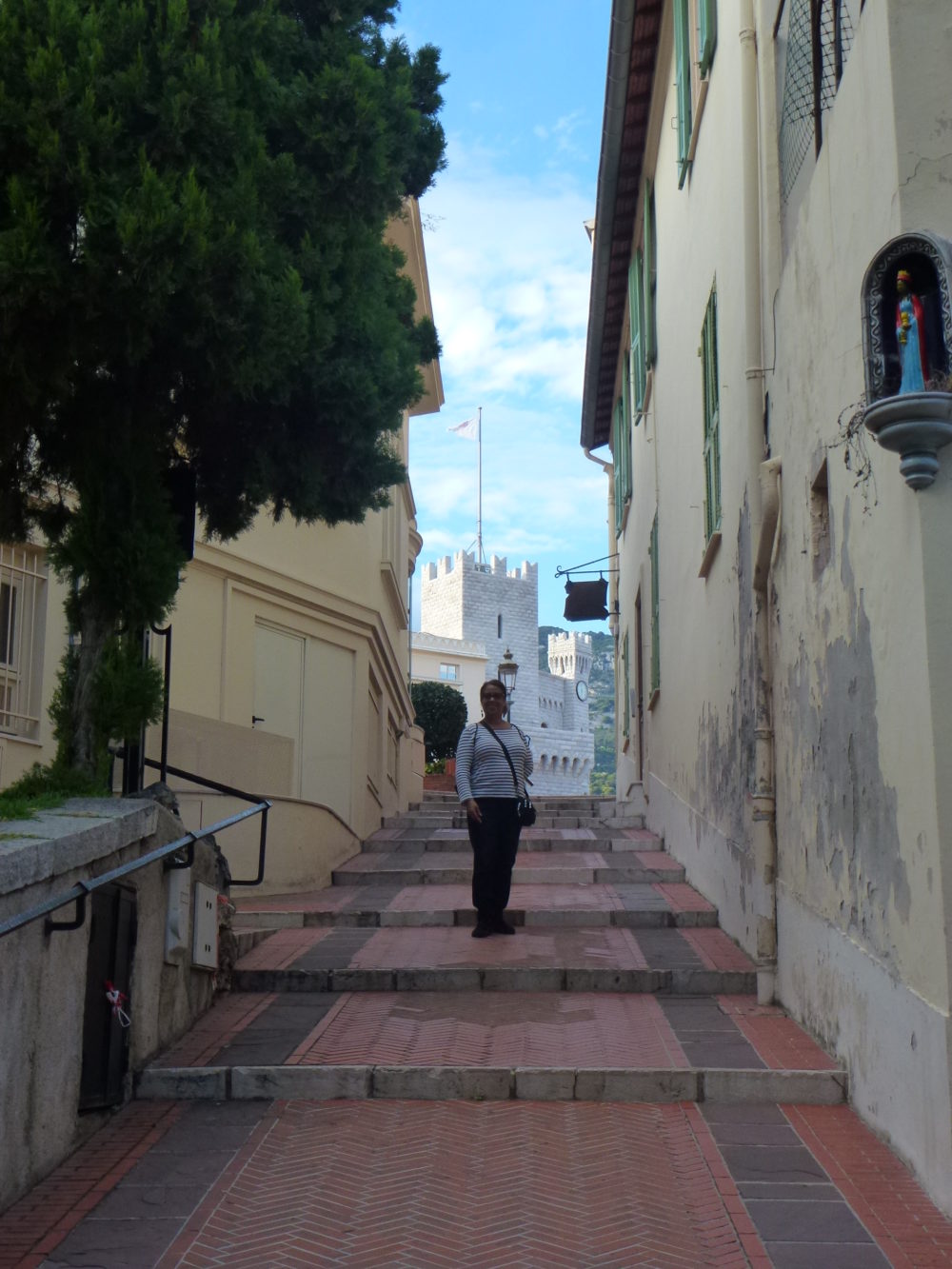 There is a decent gift shop and the salesclerk let Dan have an empty cigar box for free.  We then walked to the palace.  Plenty of signs point the way, but note the trek is uphill via quite a lot of stairs.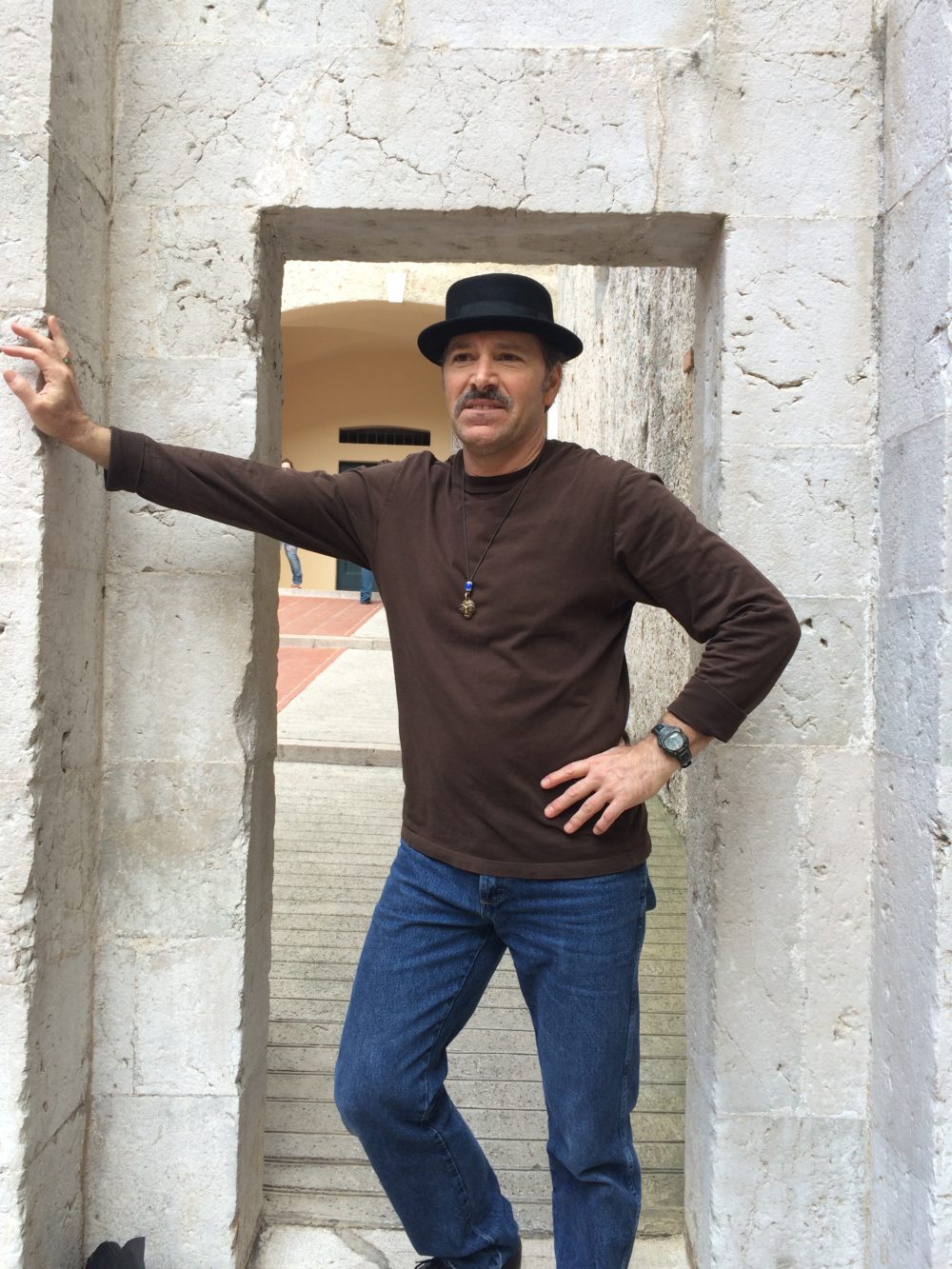 Dan posing as Popeye Doyle from The French Connection.
Once we got up there a sign said: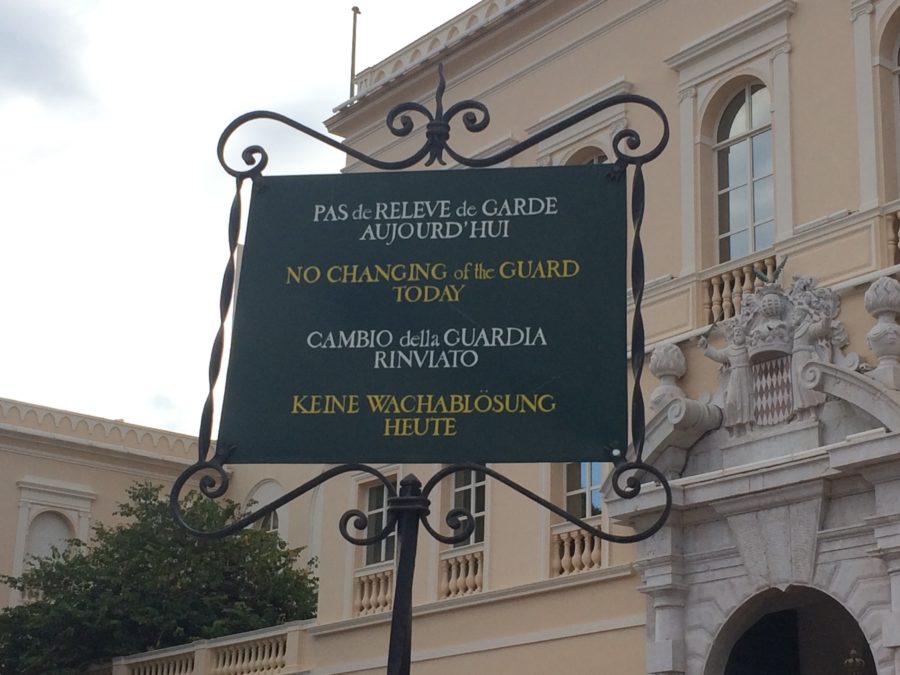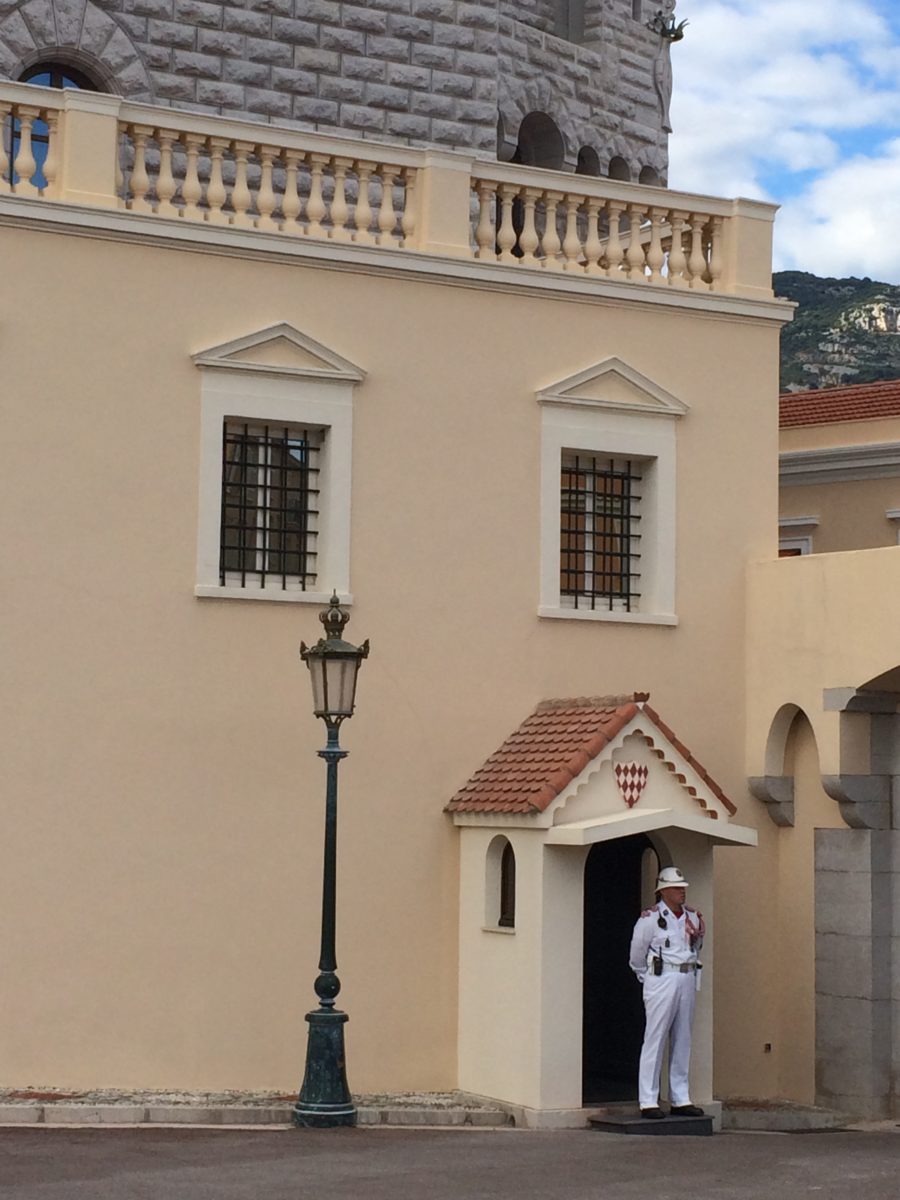 So that made us feel better that we hadn't missed it. However, the state of construction going on outside the building made me suspect it would be quite a long time before any changing of the guard occurred.  I was right – I asked at the ticket booth when we bought our tickets to take the palace tour and the clerk said the construction would be going on until probably mid December.  The cost to get in was 8 euros and it includes an audio guide in your choice of language.  I enjoyed listening to the history and the rooms that we were allowed to see.  We were not allowed to take pictures inside. 
There was a beautiful portrait of the royal family with Grace Kelly before her death.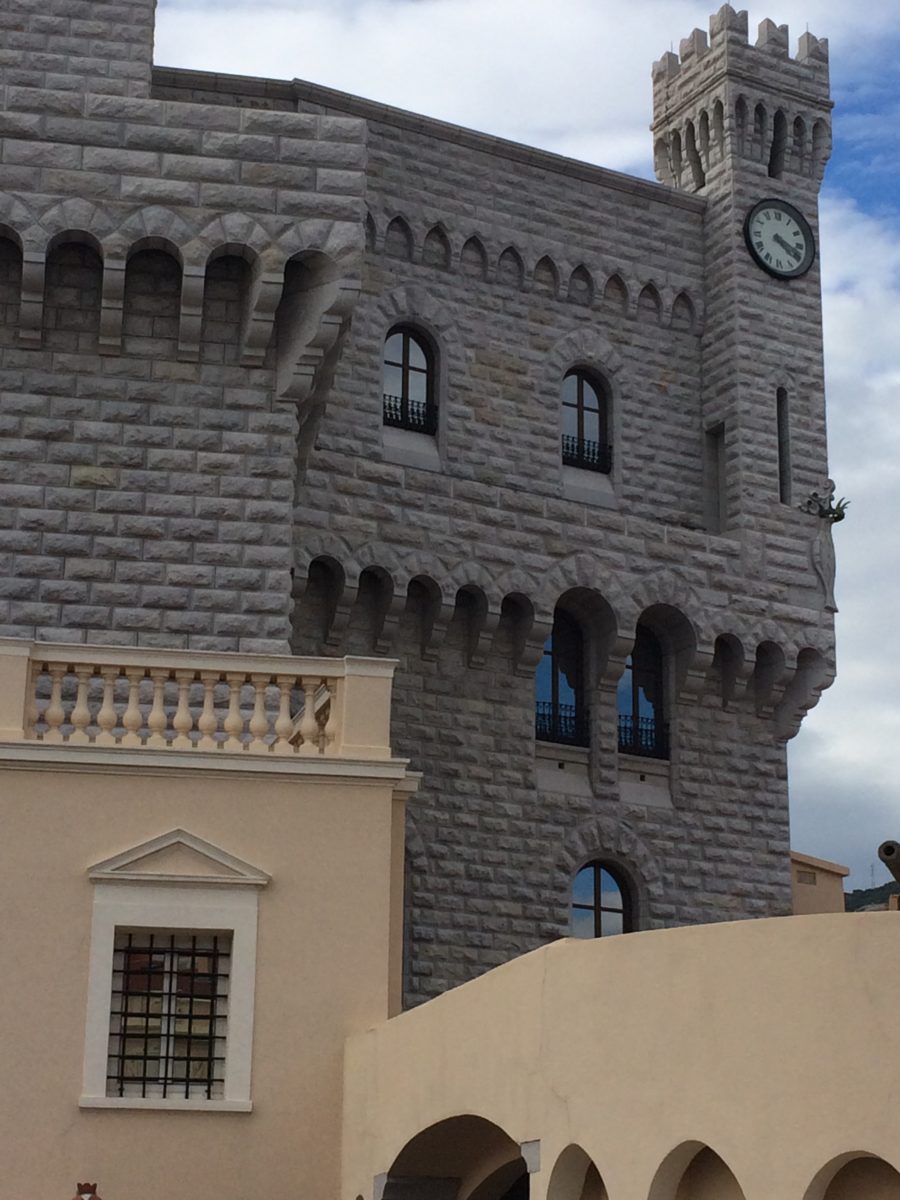 After that we tried to figure out where to catch the bus back.  Note that the streets are one way so you can't catch the bus on the same street as you took it there. We noticed a supermarket so went in there and got some food and ate it in a square with tables, a playground where kids were playing.  There was an entire food court inside and a Lebanese restaurant upstairs.  Marché de la Condamine.  The Lebanese restaurant is called Oliban.  They had bathrooms that they allowed us to use.  It was dark by then and we finally asked a bus driver going the wrong way where to catch the bus going back to the hotel.  The plan was to get dressed up and go to the casino.  Eat a late dinner there.  Due to many costume malfunctions, we didn't get out of the hotel until about 11pm.  We were within walking distance about ten minutes from the casino.  We went inside the building, but it costs 10 euros to get into the casino, and the bouncers looked menacing and nobody seemed to be going in, only out.  The lady inside at the coat check was really mean when we asked how to get to the Buddha bar.  We went over to the Buddha bar which seemed to be playing music with a few folks there but they didn't serve food.
Cafe de Paris on the casino grounds had just closed at 12:30am even though the sign out front said it was open 24 hours. We were told by our concierge at the hotel and the maitre d' at the Café de Paris that Tip Top Restaurant was the only game in town.  It is open until 3am and serves pizza, pasta and burgers and drinks.  Stella, Bud, Heinneken and Leffe beer.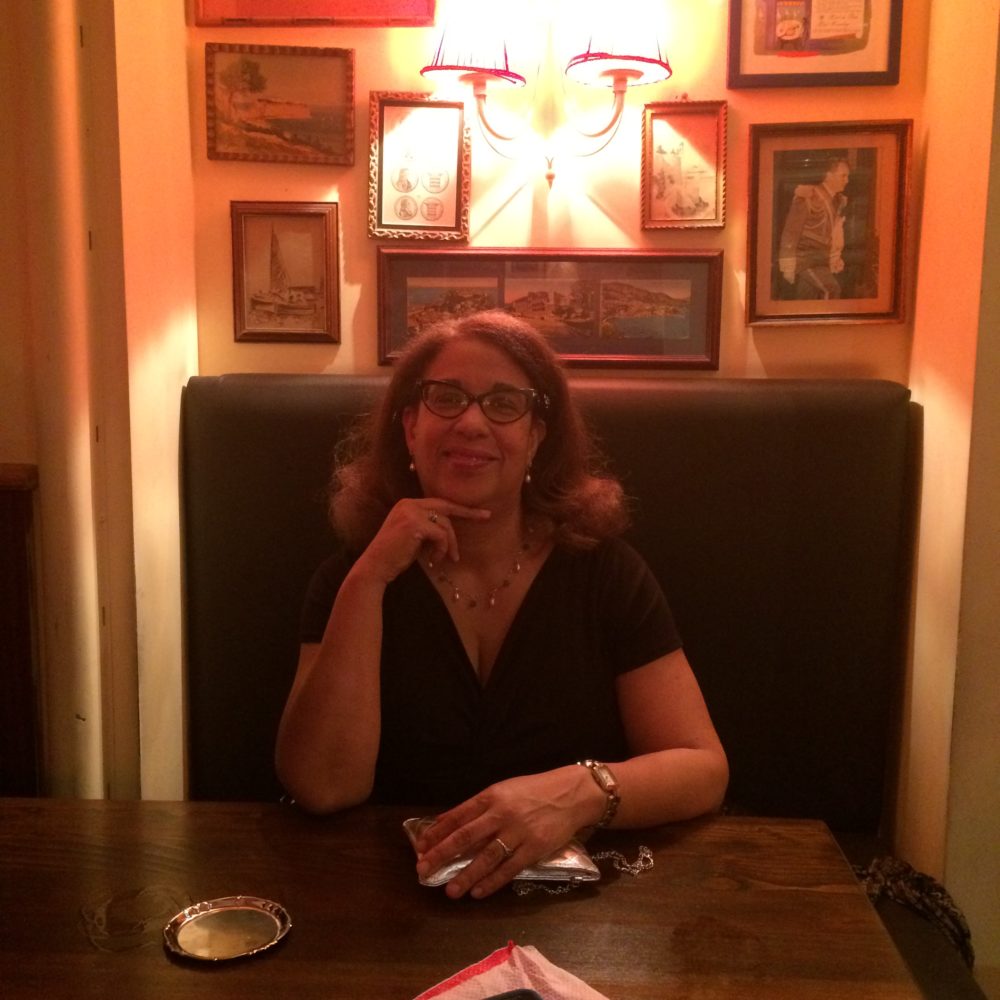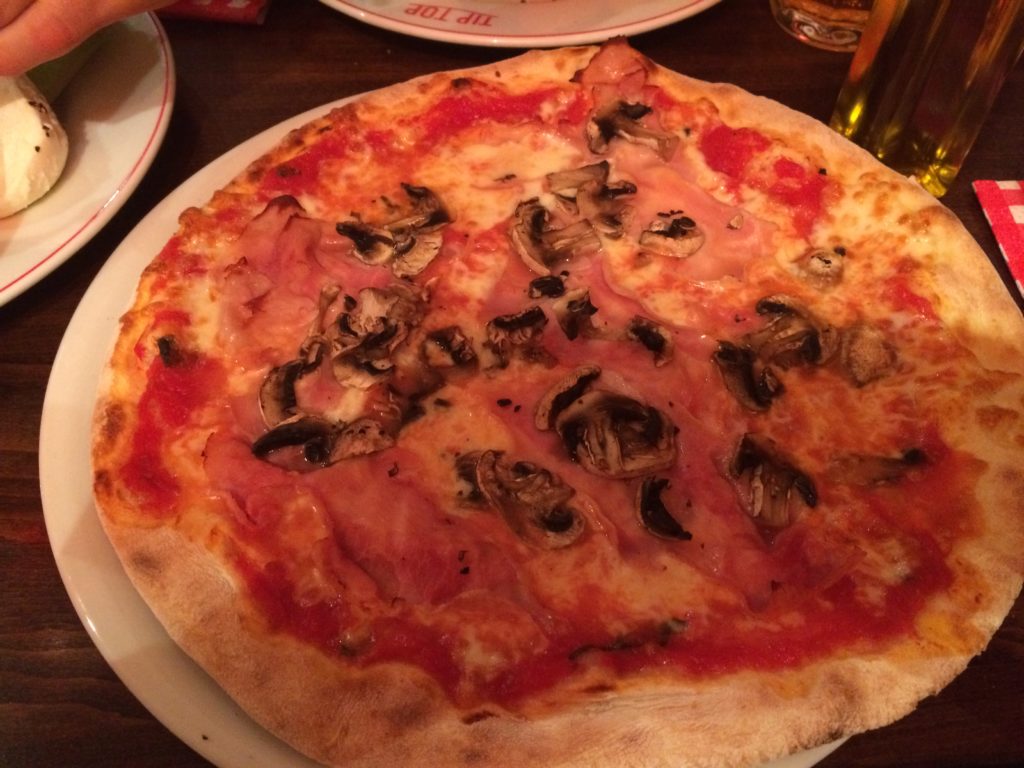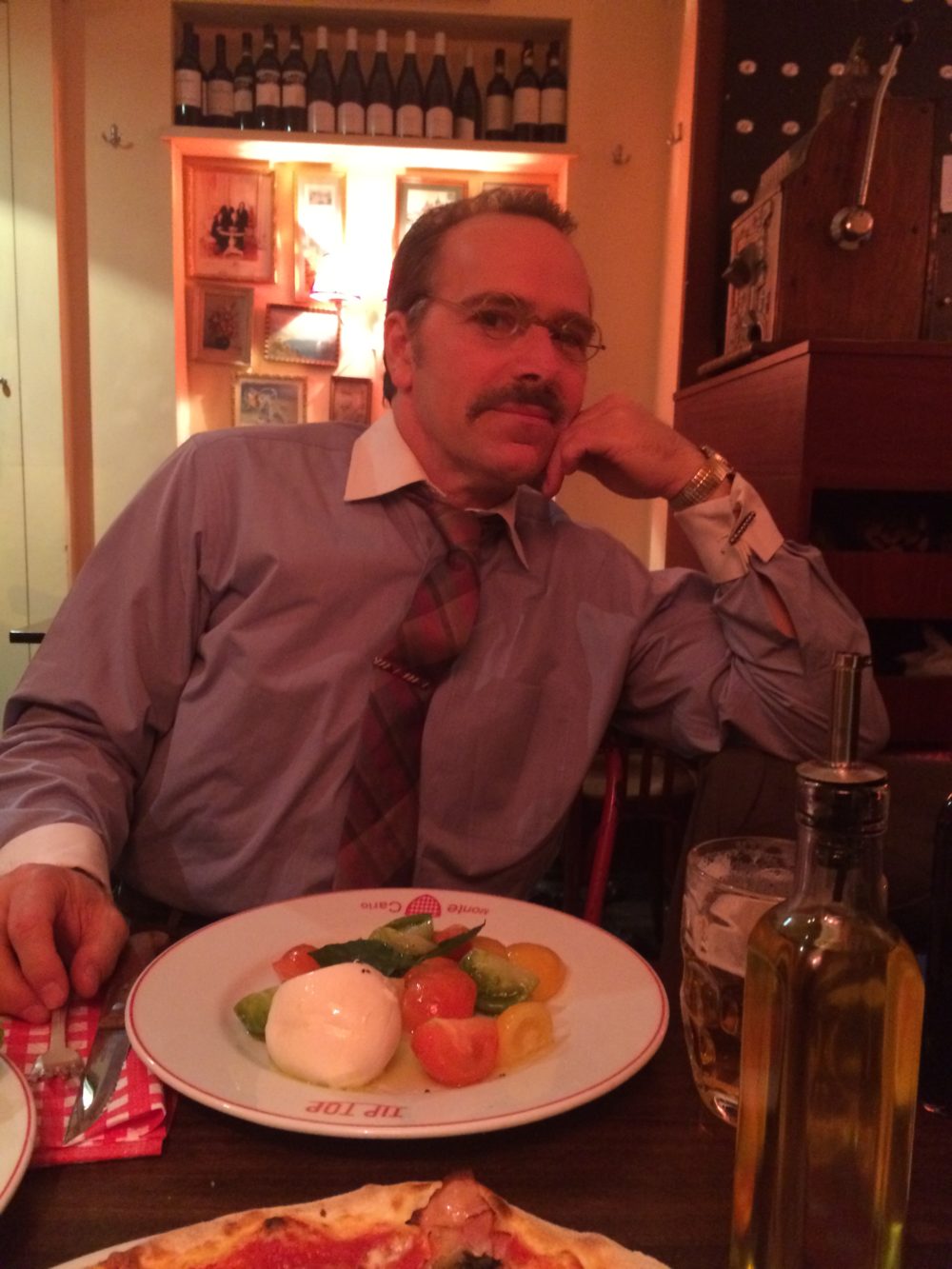 Kir Royal, Chardonnay and Bordeaux and other spirits. We ordered pizza with jambon (ham), champignons (mushrooms), a caprese salad which had extremely fresh mozzarella cheese and green, yellow and red tomatoes. We also ordered Chicken Caesar salad but I couldn't eat it because I didn't like the dressing.  The pizza was not cooked well enough for me but the sauce was good.  I was so hungry I would have eaten cardboard. We walked inside the Casino Royale park on the way back to the hotel.
Monte Carlo morning back to Nice afternoon, Wednesday September 30
This morning after breakfast we wanted to buy a few more postcards and I wanted to visit St. Charles church, which had served as our landmark to find our hotel at night.  I took some photos inside and lit a candle. The church was a bit shabby inside. I got a photo of a priest.
We had stored our luggage at the hotel. We decided to try and find another casino to see what it looked like. We just kept walking down to the water and ended up at the Fairmont hotel.  It was right on the water and had a beautiful view.  We browsed around there, went inside their casino. You must check all bags except ladies purses and are not allowed to wear a hat. One person was playing slot machines. The casino didn't open until 8pm. Officially.  The hotel was pretty dead too.  Guess you really need to go during high season.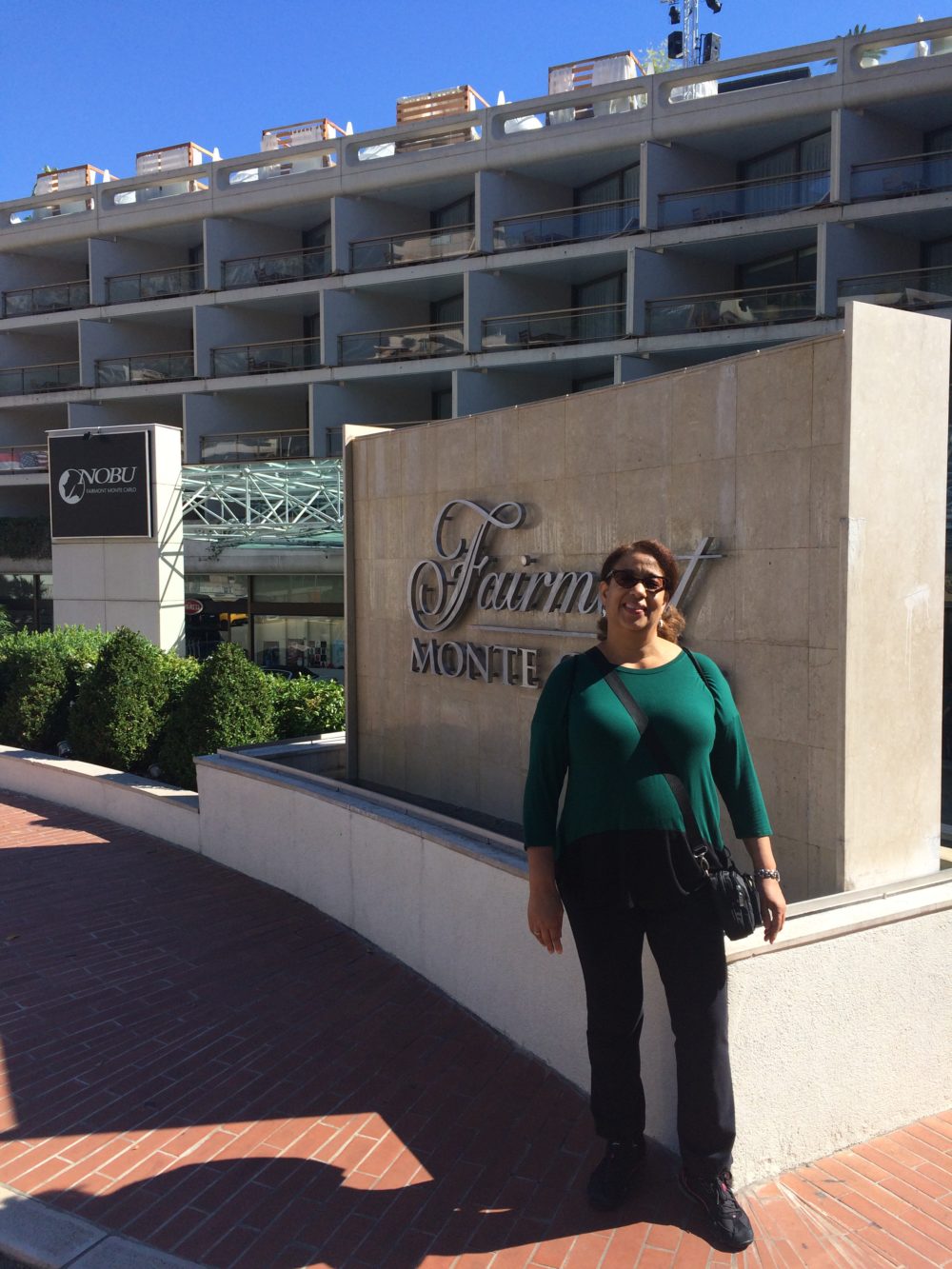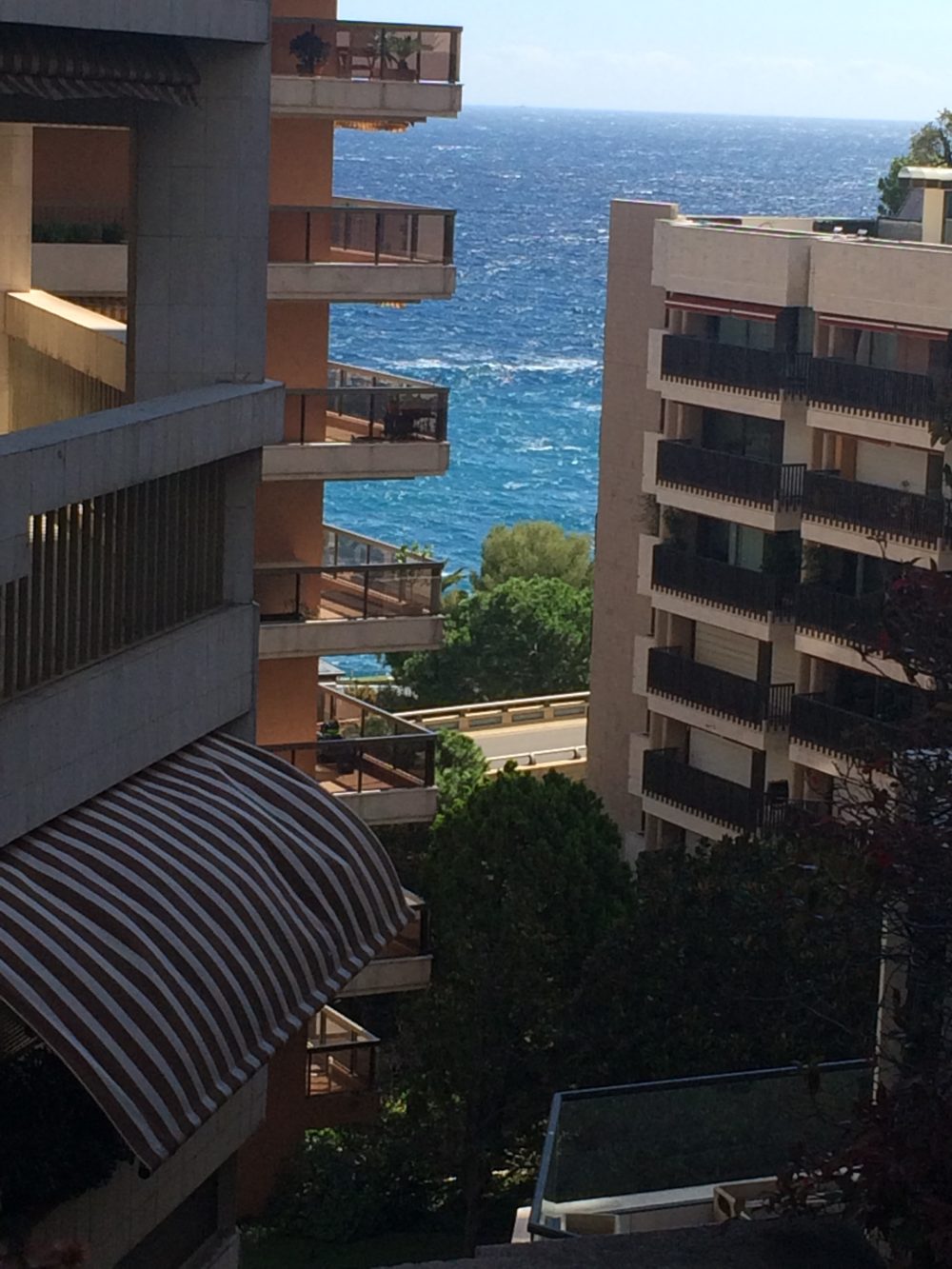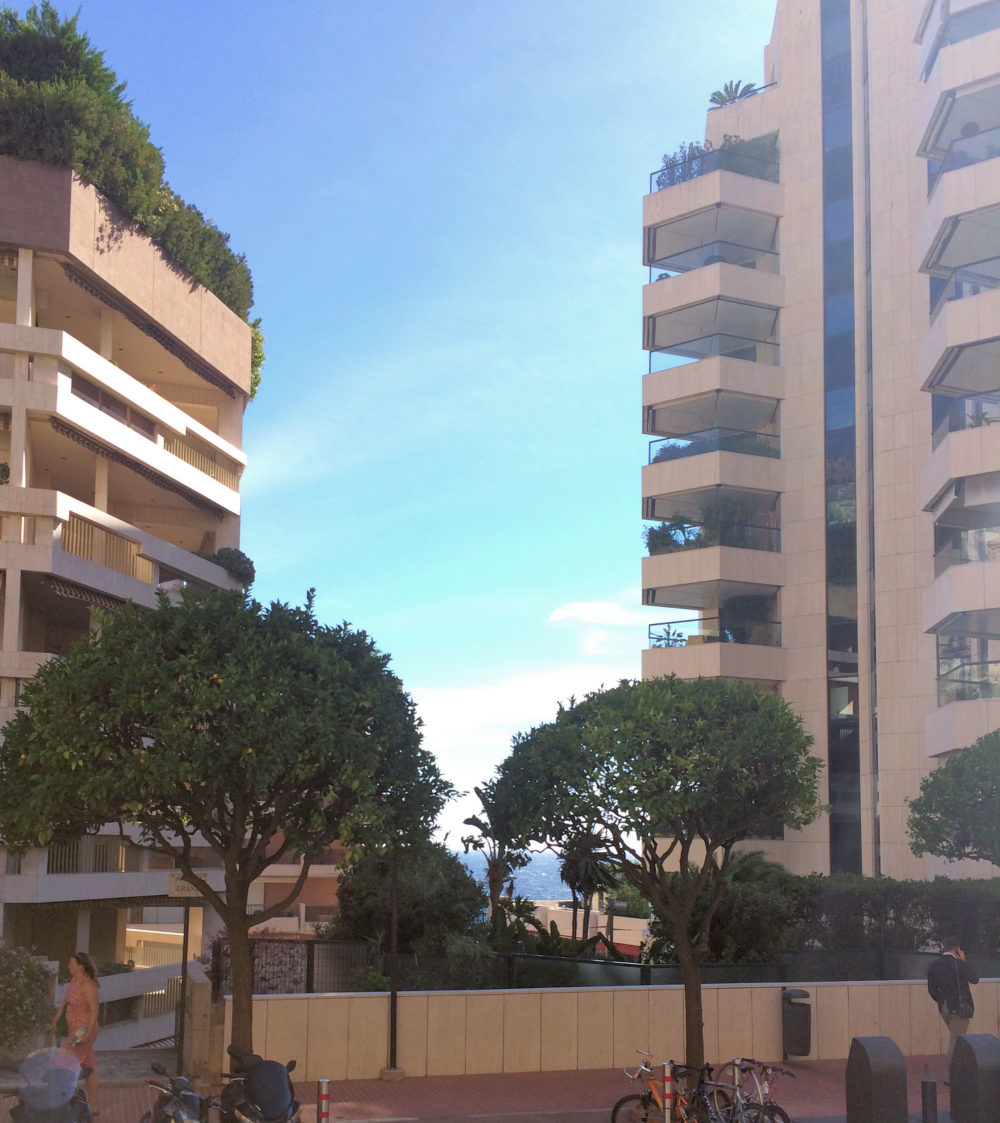 Here are some more views of Monte Carlo.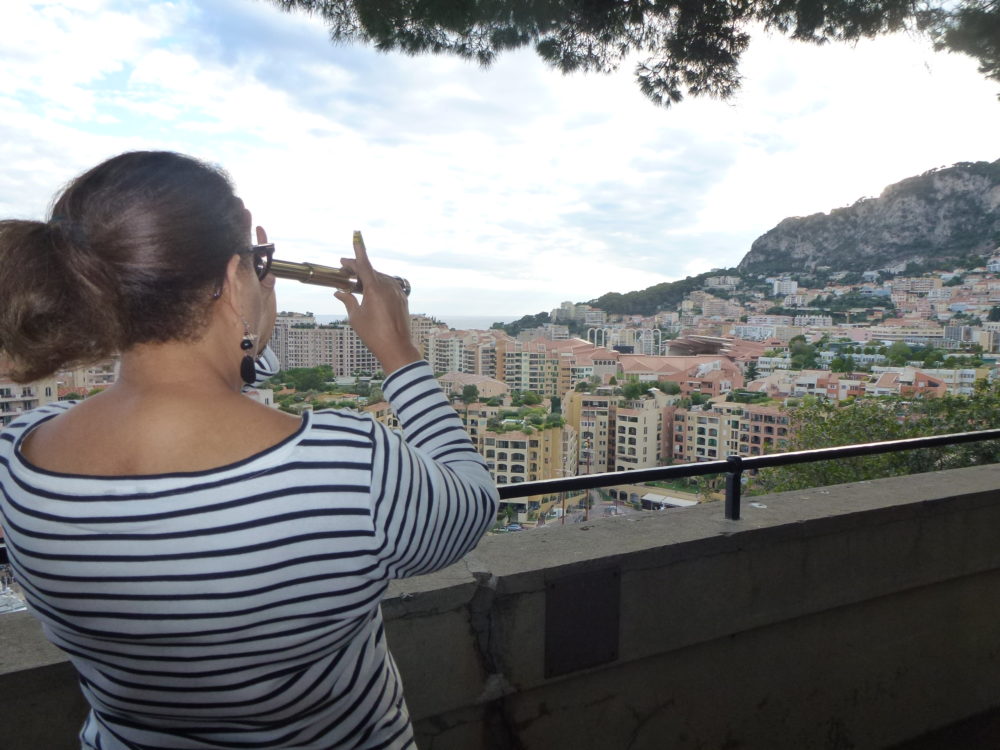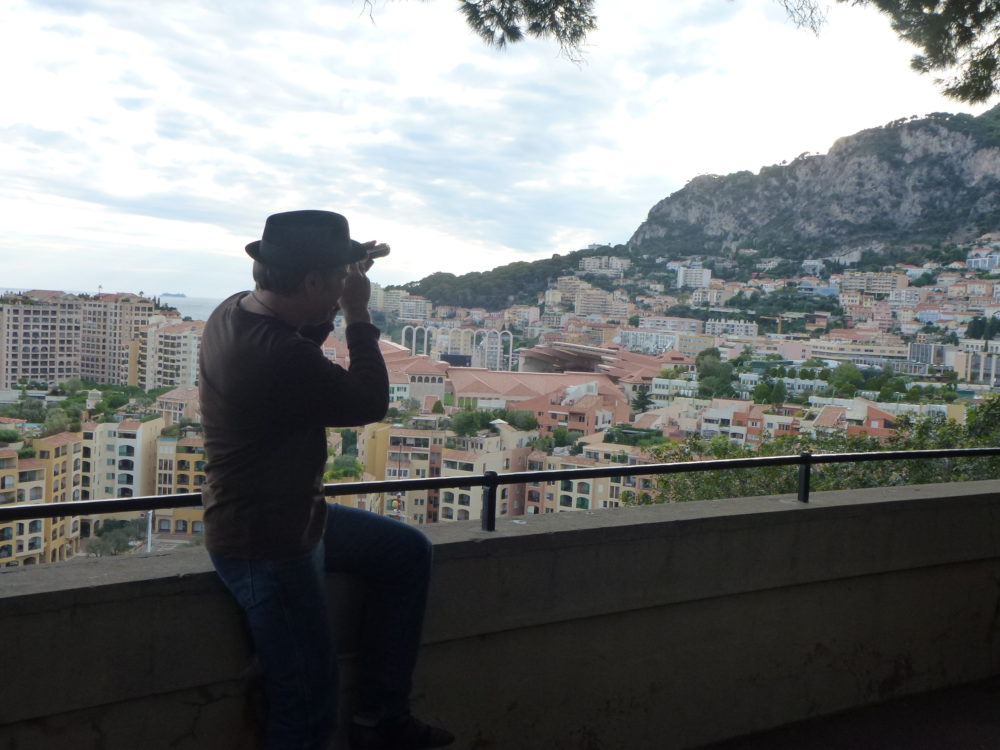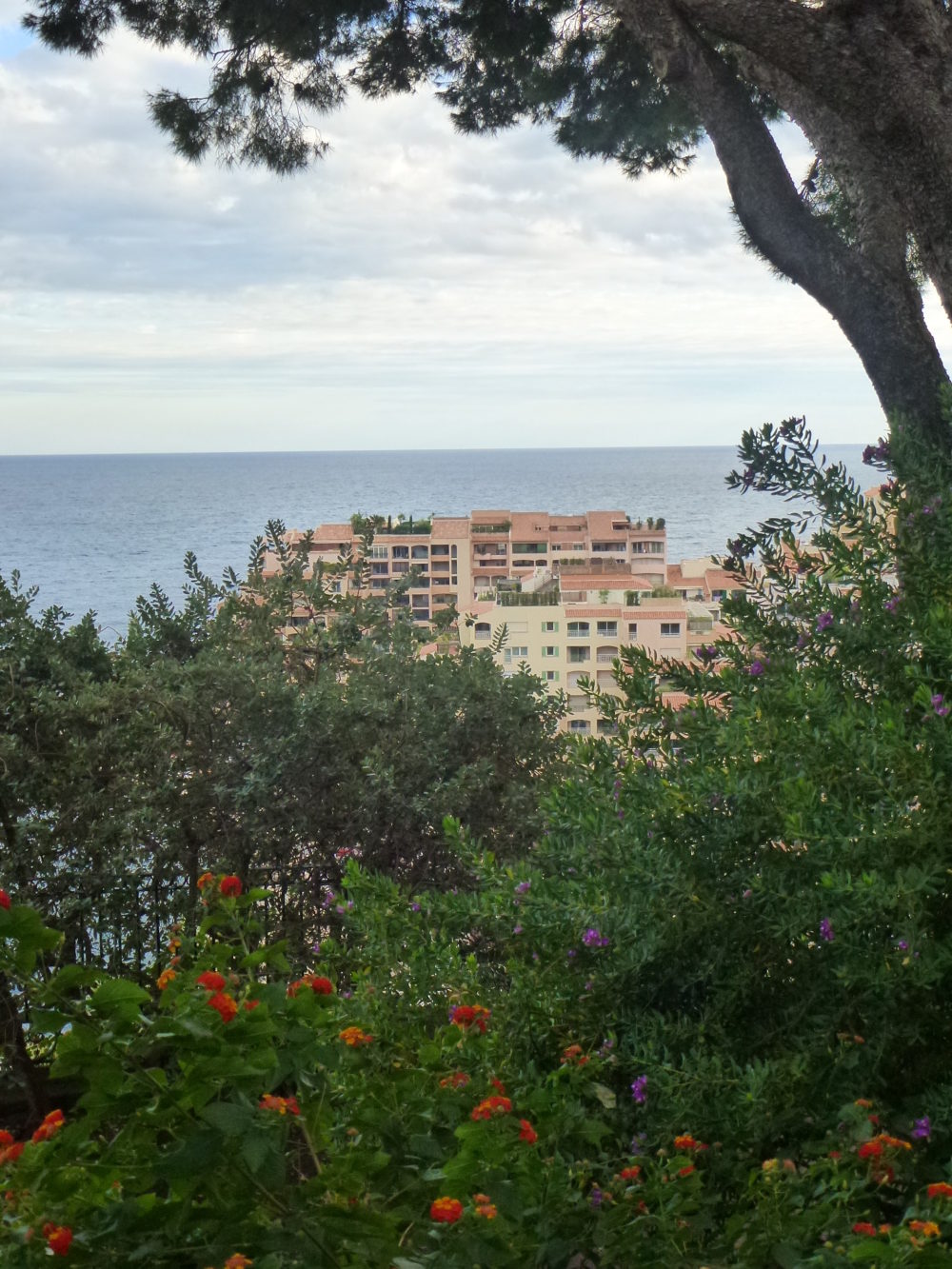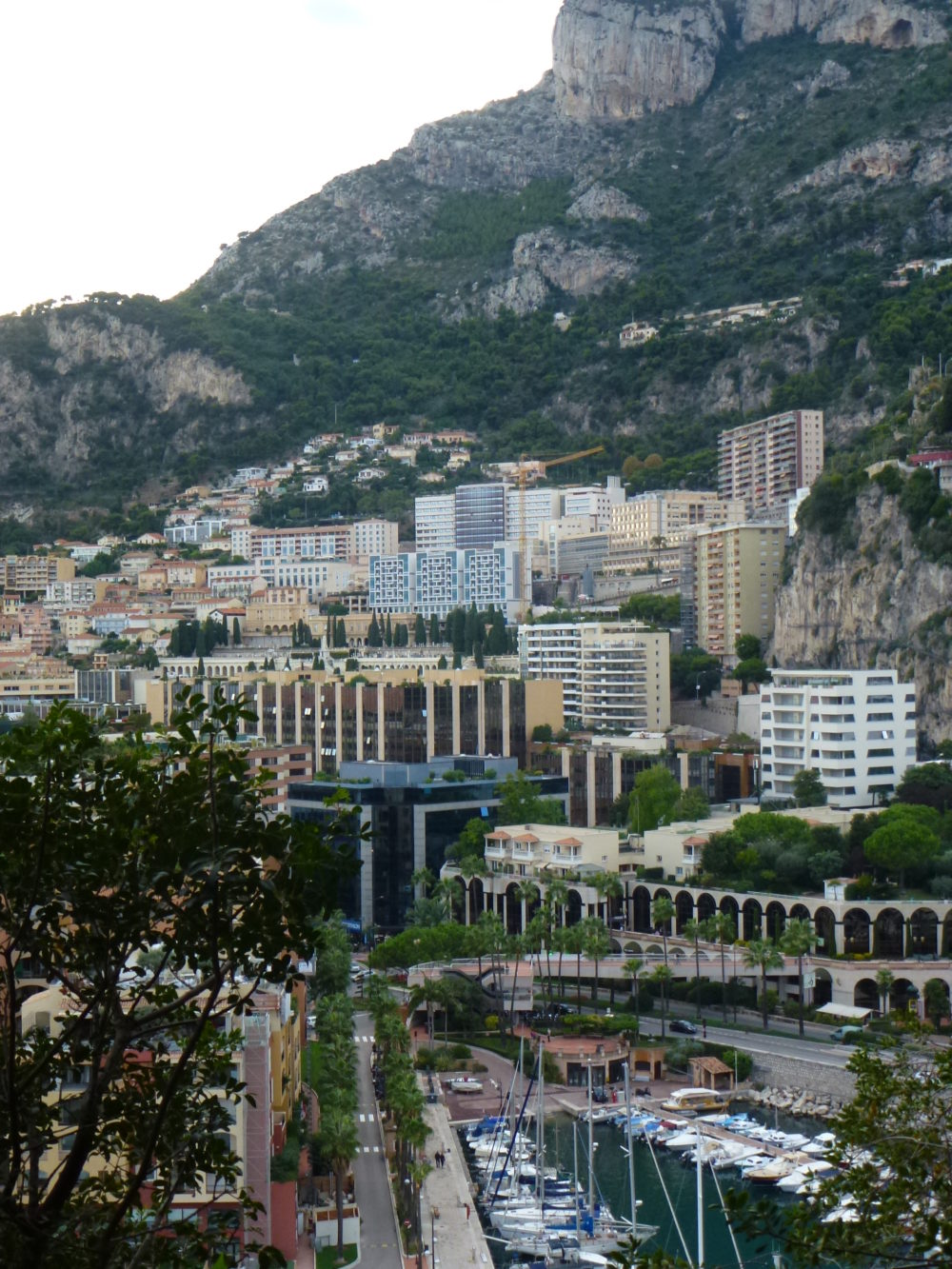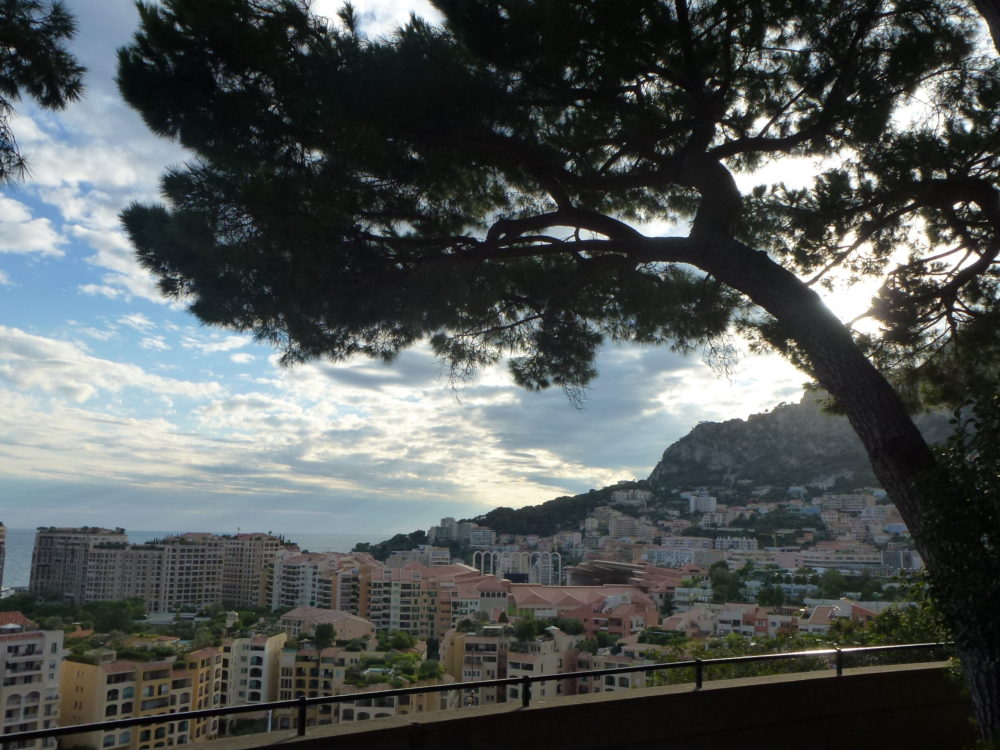 We went back to Hotel Capitole to get our luggage and asked the front desk guy to call for a taxi but there weren't any available, they said. So we just walked back to the train station and went back to Nice. This time we took a taxi to the Boscolo Exedra. After we checked in there was only time to visit one museum, so we chose the Musée d'art moderne et d'art contemporain which we were able to walk to in about 20 minutes.  It has a unique roof terrace that you could walk all the way around with spectacular views.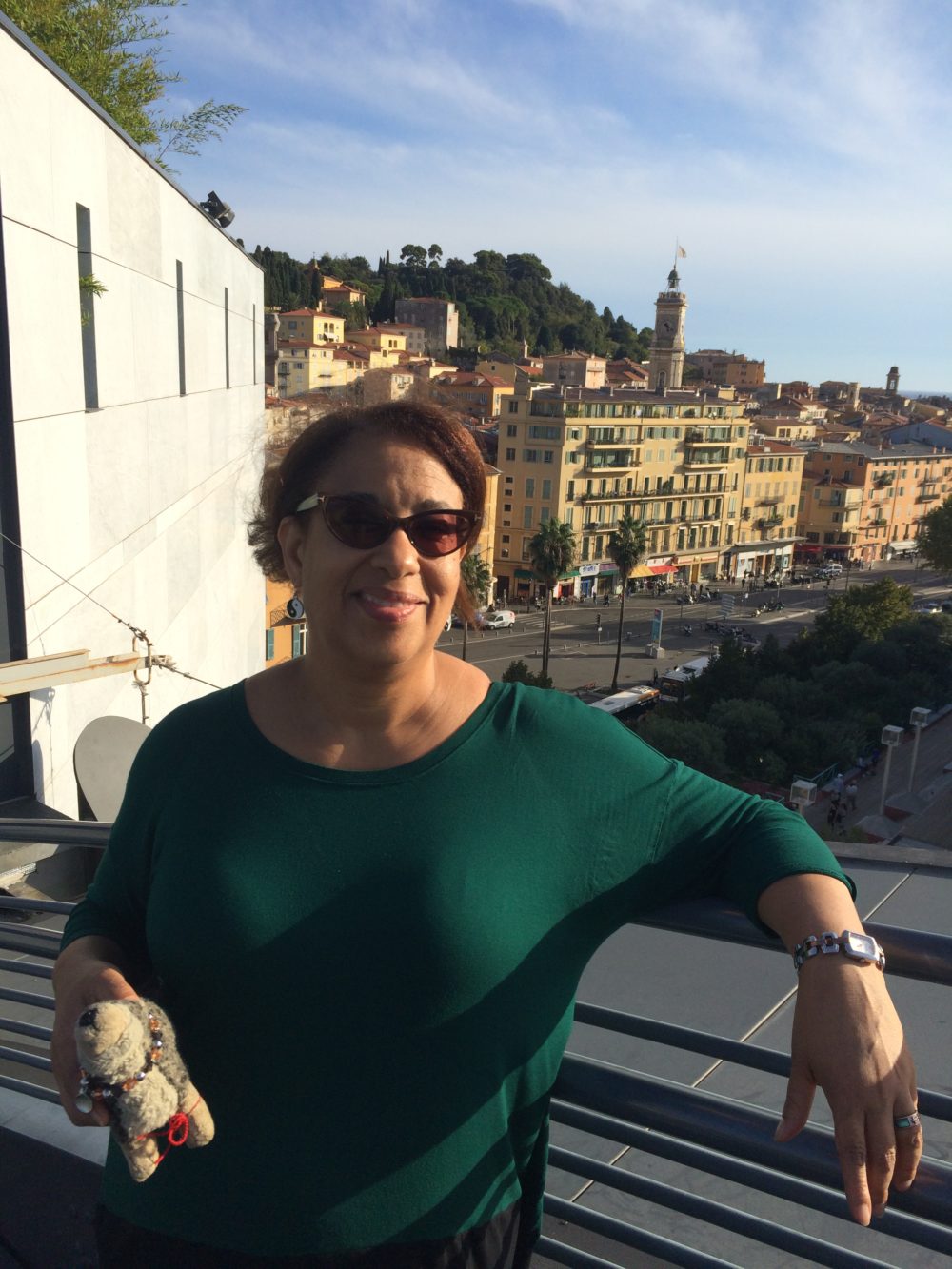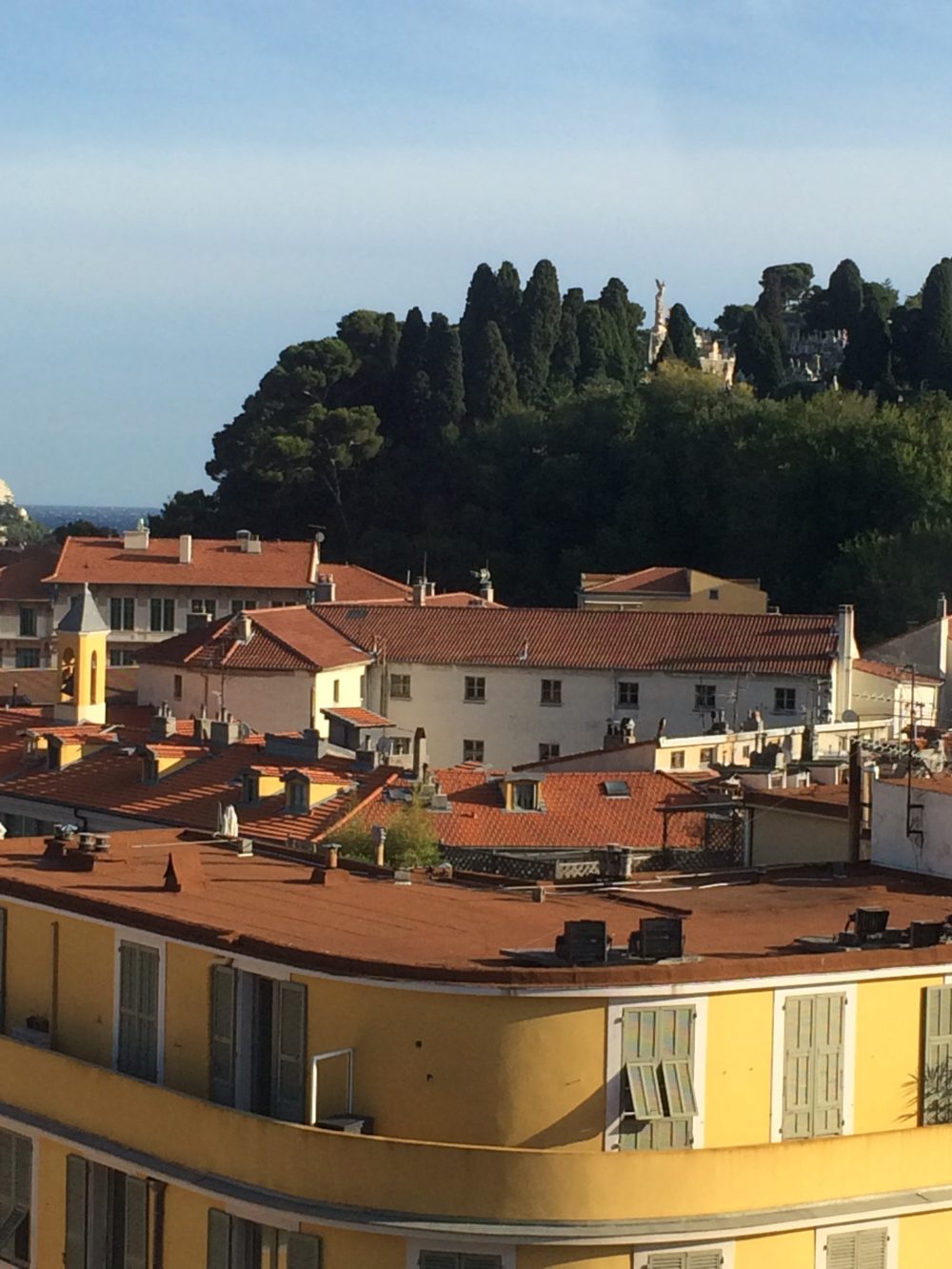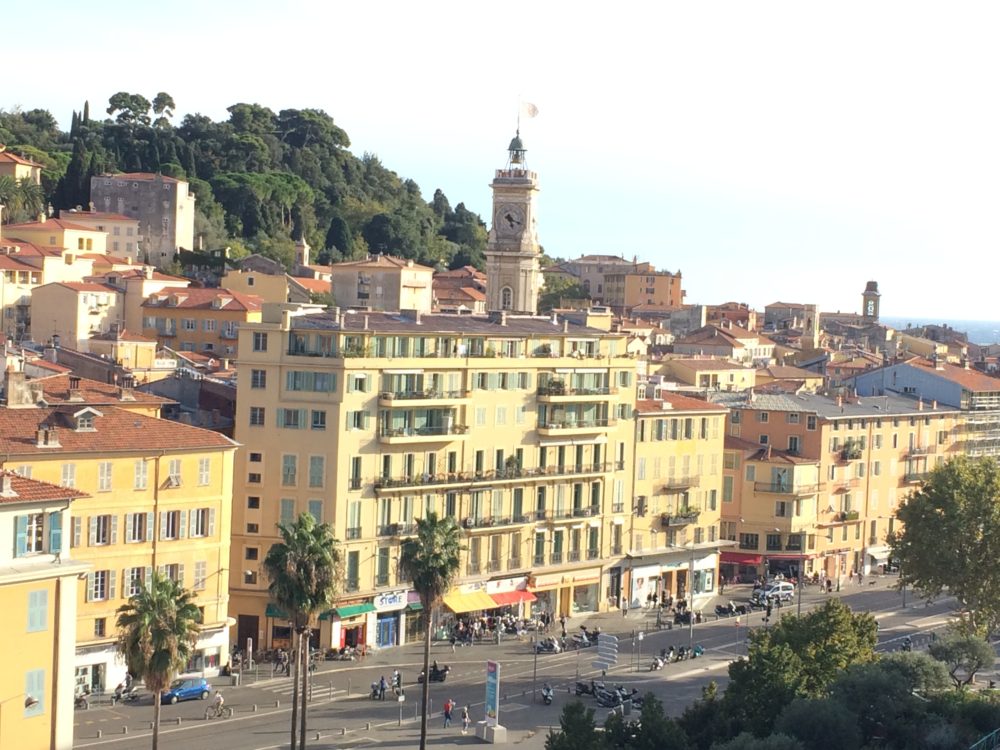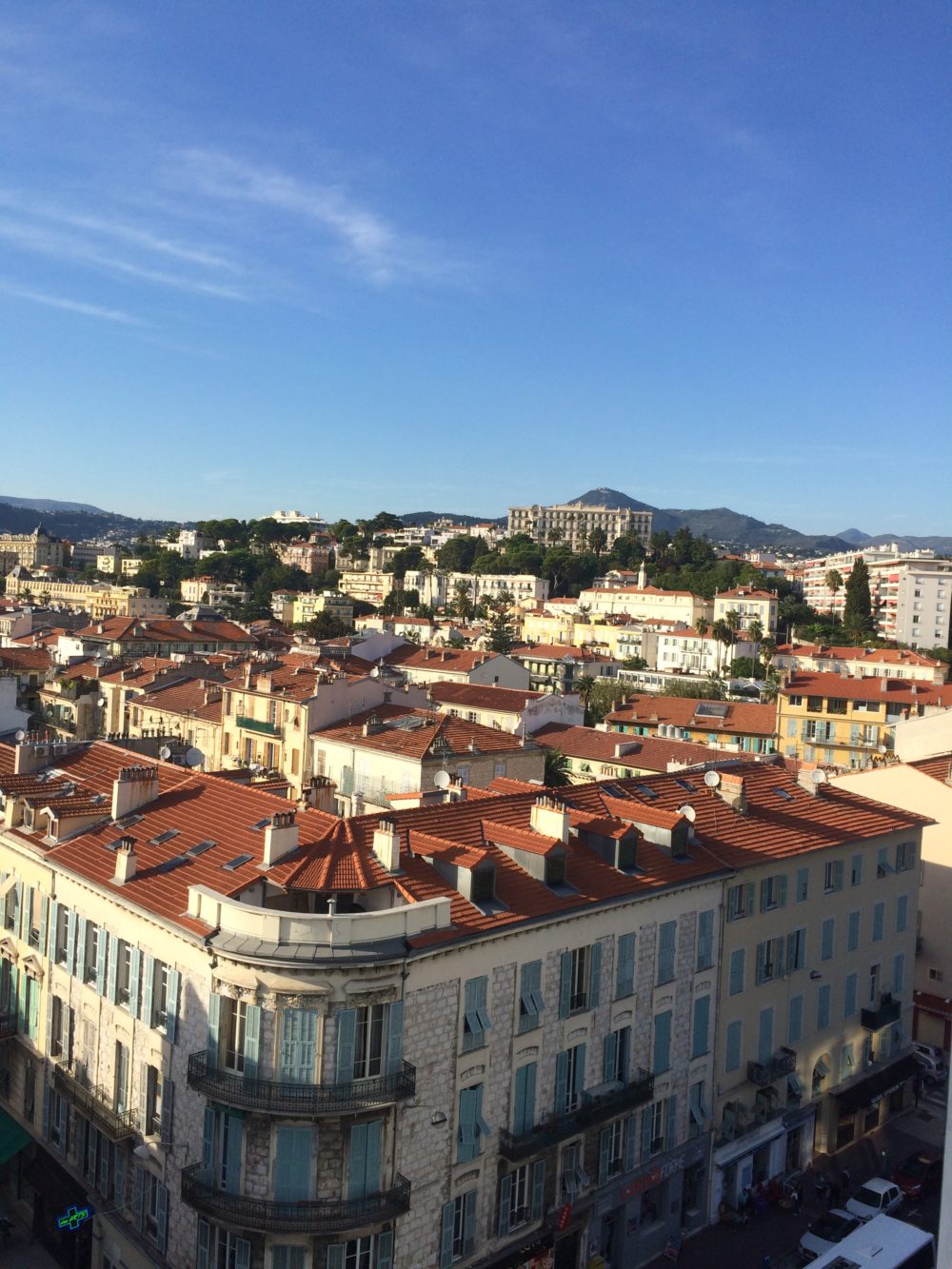 It was a good choice and cost 10 Euros to get in. Be forewarned though that they start shutting down about 15 minutes before closing time and we didn't get to see floor 2. They had completely closed it off. The national theater is across the way so we stopped in there next, then went into a pharmacy. The woman there spoke English so we chatted with her a bit but she didn't have any good medicine to offer. She did give us two restaurant recommendations. But, being that bewitching hour between 6 and 7 when nothing is open but bars, we decided to head back to the hotel and see what was nearby there. We stopped in one restaurant, but the service was terrible.  They kept asking us to move and seated other people right on top of us even though there were plenty of other tables, so we left.  Back at the hotel I got on trip advisor and it recommended a place that was right next door to the place we had left. In fact, Le Sejour Cafe was a Michelin restaurant. I went downstairs to ask the desk clerk to call and make a reservation for us. She said normally you need reservations way in advance and looked at me like I was crazy but she called anyway. Lo and behold they had a opening at 930pm which gave us time to go to the spa and get dressed up again. We got the best seat in the house and the staff were all bending over backward to serve us. The food was incredible. The hostess spoke English and explained all the dishes well. It was a fantastic meal and short walk back to the hotel. http://www.lesejourcafe.fr/
NICE TO MARSEILLE
Thursday, October 1st
This morning we checked out of the Boscolo Exedra, and walked to pick up a rental car on Gustave Stade avenue. There was a post office on the way so we got stamps. The rental process took a while and the woman didn't speak English but I navigated ok. We wanted a GPS so she upgraded us to a car that had one installed instead of paying for it extra. What a mistake that would turn out to be!! The car was a big BMW. It had a lot of dents and scratches already. I figured out how to get to the parking lot where the car was and we got in. Dan was having difficulty driving such a big car.  It took us a while to find our way back to the hotel to get the luggage. We managed to follow the signs to Antibes where we were going to see the Musee Picasso. Of course we get there at noon, and the museum was closed until 2pm.  Take note of that – many museums and shops are closed between noon and 2pm, and everyone just goes to lunch.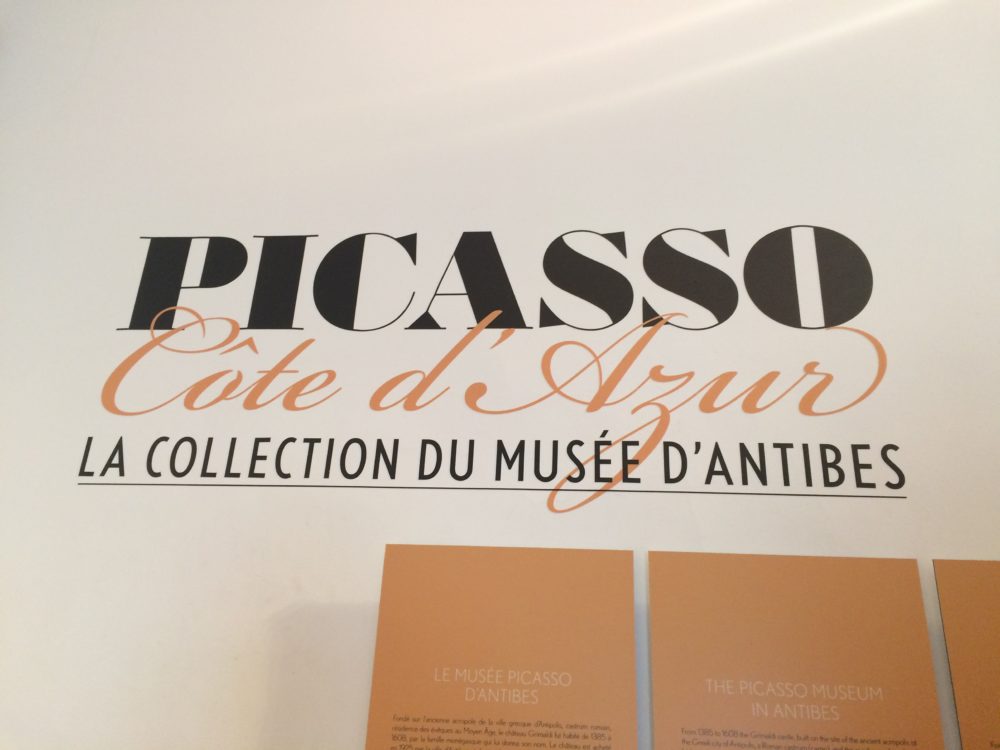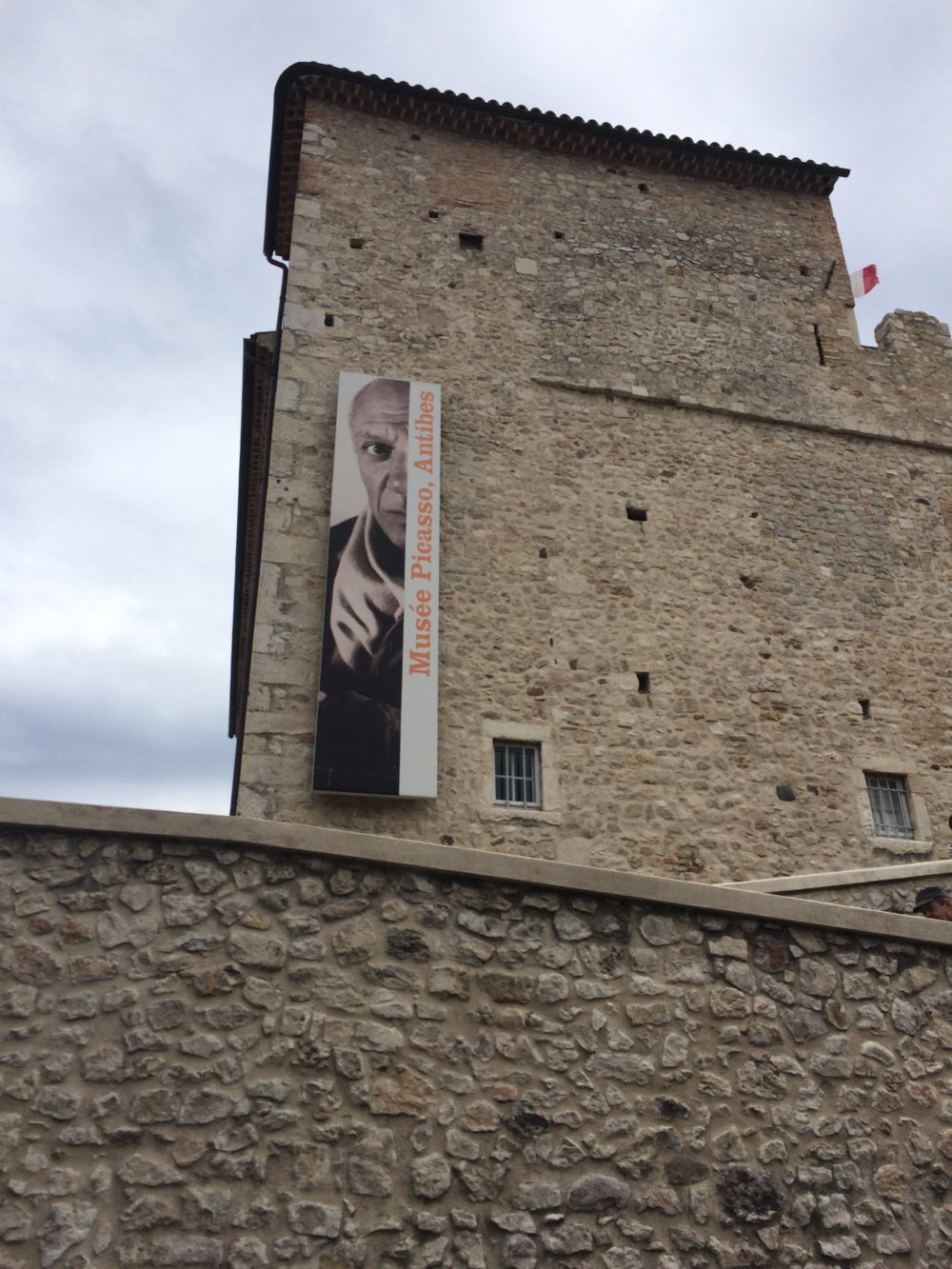 So we walked around a bit looking in the shops, then stopped for lunch.  We each had a ham and cheese omelet with salad and a Bloody Mary. Then we went to get in line at the museum. The entrance fee was 6 Euros.  The museum had good art and sculpture and lots of photos of Pablo and his wife. The castle is up on a hill so you have to park at one of the pay lots and walk up.  The view is incredible.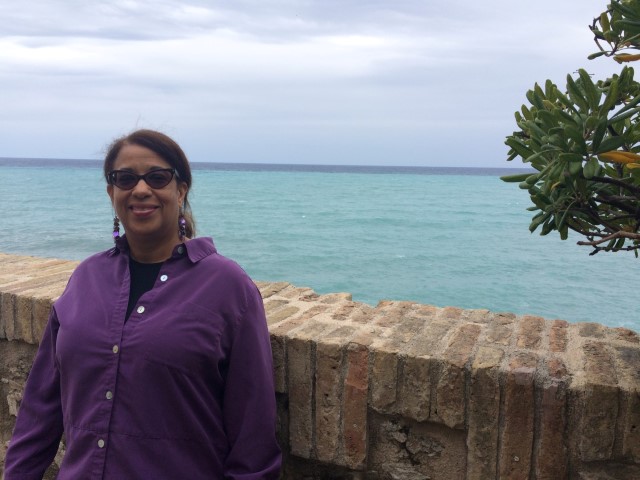 The last entrance is thirty minutes before and they start shutting down 15 minutes before. We left at 4 pm when it closed but meandered around and stopped at some other artist studios. Dan got in a conversation with one artist and we didn't leave until close to 5pm.
We knew we had a three hour drive to Marseille and it would be getting dark. We got lost after driving through Cannes and the GPS literally took us in circles. We found a rest stop, picked up some food and drink, and then I took the wheel. That was a pleasant hour and a half, driving into the sunset, speeding down a very nice highway with the other drivers. I saw a Total gas station on the way and something told me to stop there, for potty break and to get the gas, but Dan thought we had too far to go to get the gas and I thought I could wait for a bathroom. Again wrong. As we got nearer to Marseille the traffic was terrible and it took 30 minutes to go a few stop lights. By this time I was desperate for a bathroom so we pulled into the train station taxi area and I ran inside. When I came out Dan had tried to move the car since it was in the way of the taxis and scraped the bumper along a concrete railing. He was having trouble maneuvering the car away from the pole without scratching it further, and I was worried that I would get charged for the damage. The taxi drivers jumped out and helped us on our way. We found another gas station, but couldn't figure out how to open the gas cap. Comedy of errors. Finally, we got some gas in, then tried to use the GPS back to the hotel. That didn't work either and we ended up way out in some suburb.  This was super frustrating because I had seen the hotel from the train station!  Somehow we finally found the hotel around midnight. We loaded all our luggage onto the cart then the front desk clerk told me I couldn't take the cart in the elevator so we had to unload it all again and get it upstairs.
Holiday Inn Express – St. Charles, Marseille, France
Luckily, after all that, the room was great.  We had a beautiful sea view on the 8th floor.
Dan took the car to the drop off at the train station.  We agreed that evening to cancel any other plans where we needed to drive.  I got an email copy of the Hertz bill and there was no charge for the scratch. Whew!
MARSEILLES  Friday October 2
I woke up in the morning with 5 red bumps on my forehead. I had other bites on my hands and arms. At first I thought bedbugs but looked for them and didn't see any evidence. Plus, Dan didn't have any bites on him. Later figured out they were mosquito bites. Never been bitten on the forehead before!! They looked horrible! I had to redo my hair to try and cover them up. Breakfast is included at the Holiday Inn and we were meeting the Provence Greeters at 10am so we had to get up. Luckily they had picked an easy place for us to find, right around the corner from our hotel. Their names were Gérard and Marie.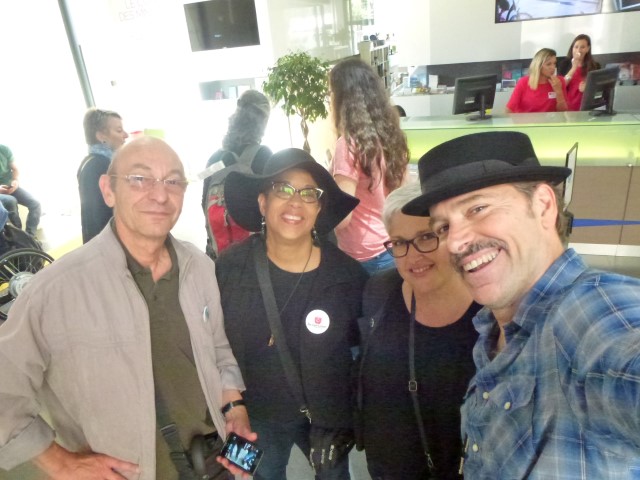 The weather was drizzly and I had not brought my coat with hood or umbrella, so they joined me while I went into a nearby department store to buy a hat. Then Dan wanted to go into a tabac and buy cigs. Marie asked what we had in mind for sightseeing, and I said go to Chez Fonfon. This is because Dan was re-creating all the French Connection movie locations. They knew exactly where we wanted to go, called Vallon des Auffes.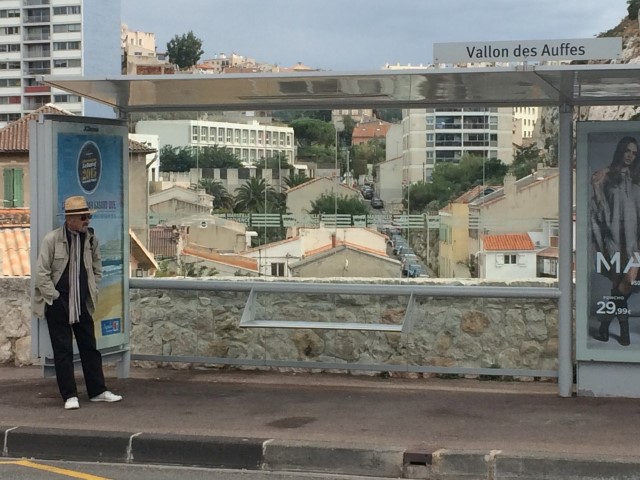 It took Gerard and Marie a few minutes to plot out how to get there because the buses had changed routes due to construction. We took in all the sights of the Vieux Port while we waited.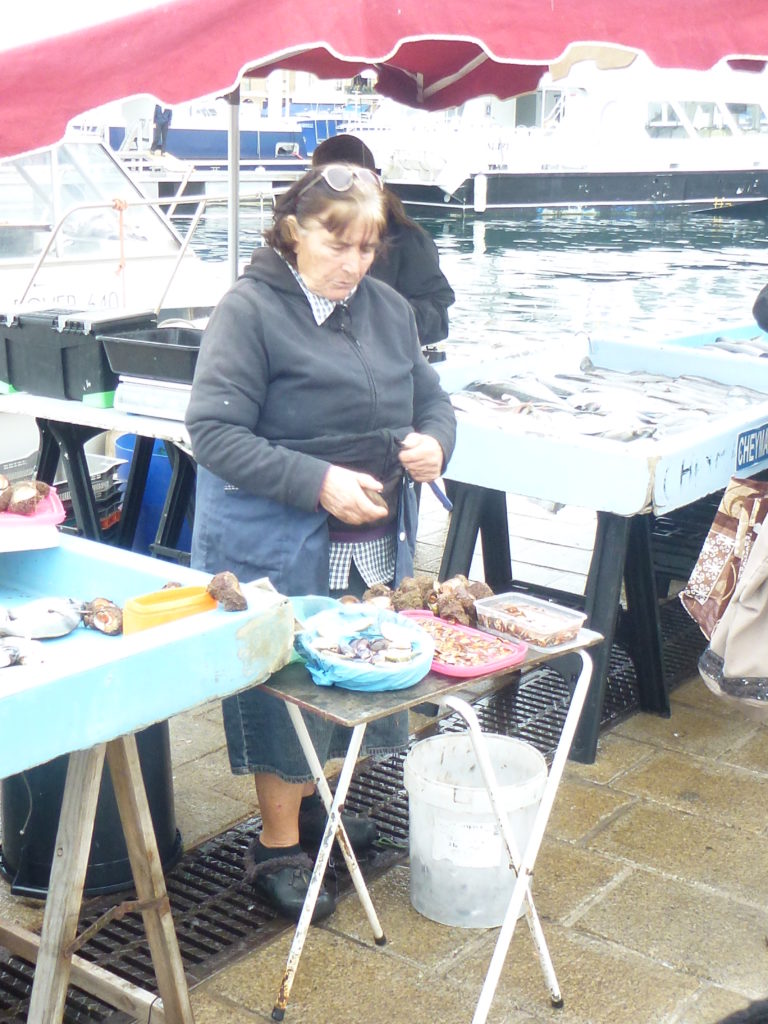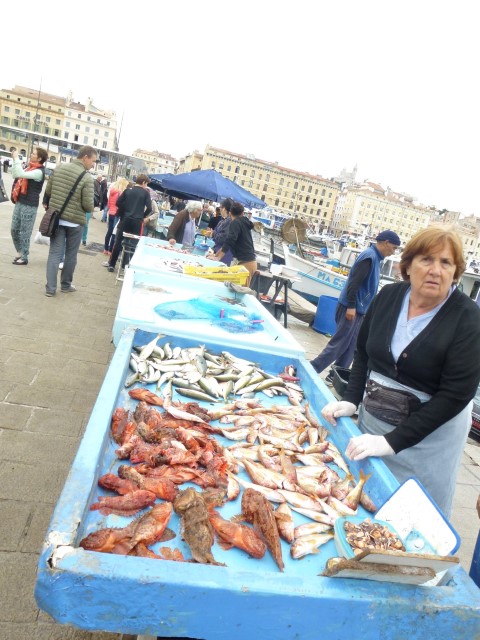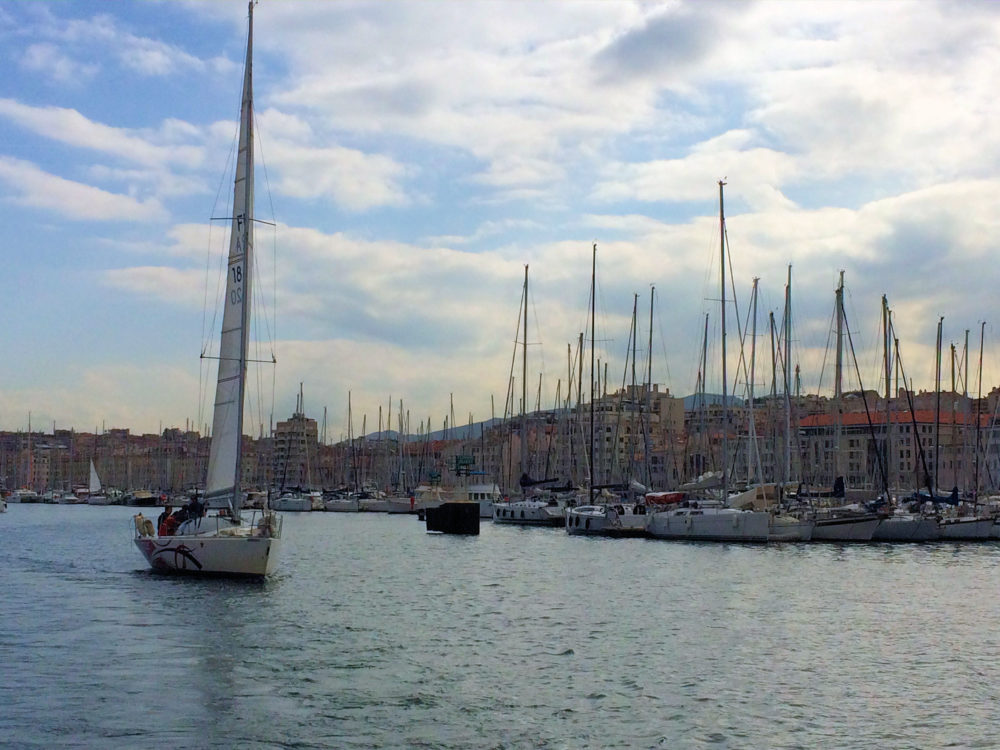 William Friedkin's 1971 thriller French Connection tells the story of bent cops 'Popeye' Doyle and Buddy 'Cloudy' Russo as they attempt to foil a large narcotics smuggling operation from Marseille, France to New York City. The film is shot in both cities, portraying them as mean and sinister. Marseille is shown as a murky port of narrow alleys and criminal types. Indeed, French Connection has probably done more to solidify an unsavory reputation of Marseille than any other film – a reputation both deserved and unjust.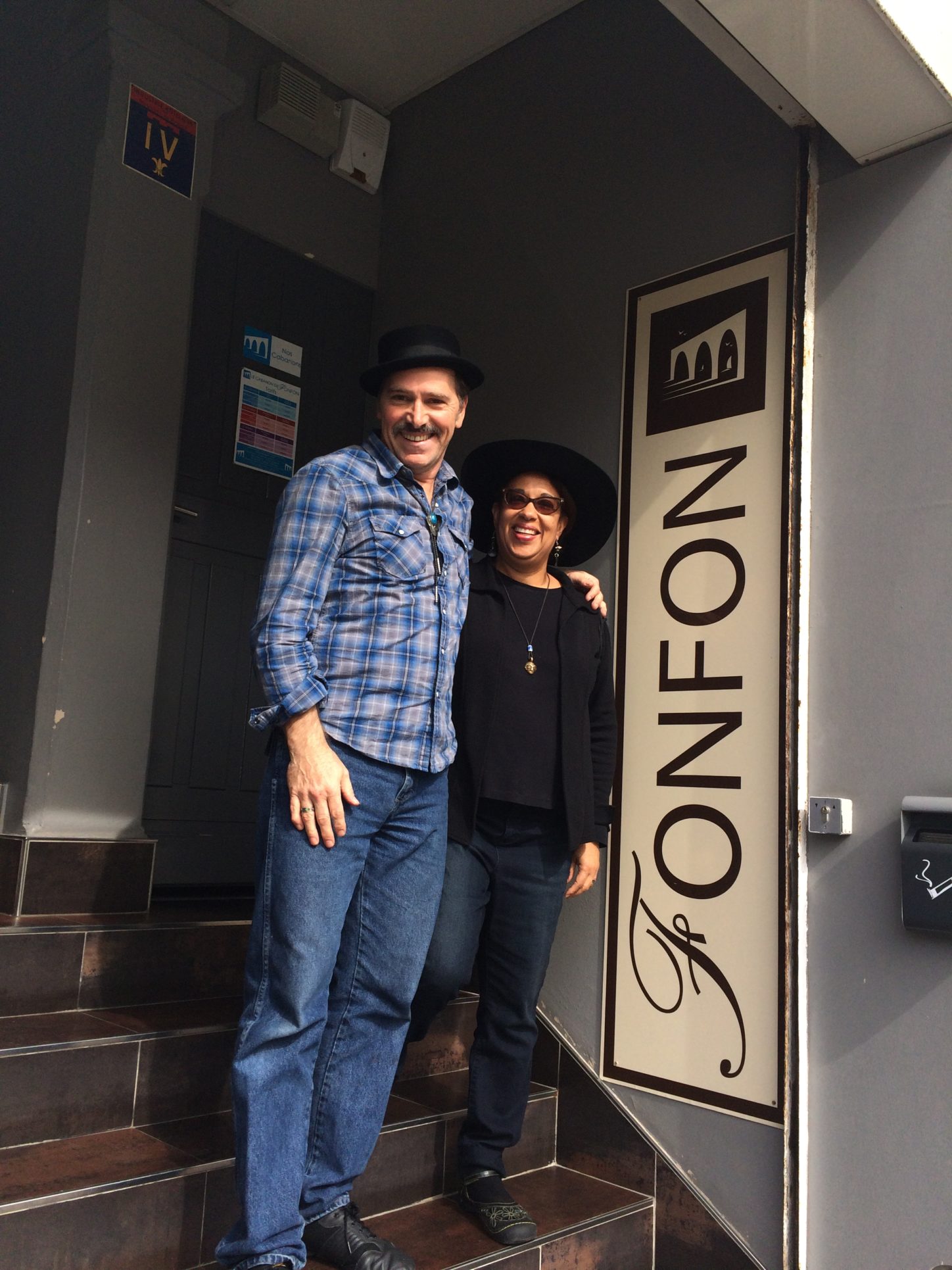 In the film's opening scene, French criminal Alain Charnier (Fernando Rey) leaves the Chez Fonfon restaurant tailed by a detective. In the 1970s, Marseilles was the largest provider of heroin to the United States and mafia bosses congregated in this charming restaurant, enjoying fine wine and exquisite seafood. Fonfon remains today a Marseille institution, serving up bouillabaisse (the famous local fish stew) in the picturesque harbor of Vallon des Auffes. The restaurant is surrounded by tranquil lapping waters, and dozens of fishermen's boats.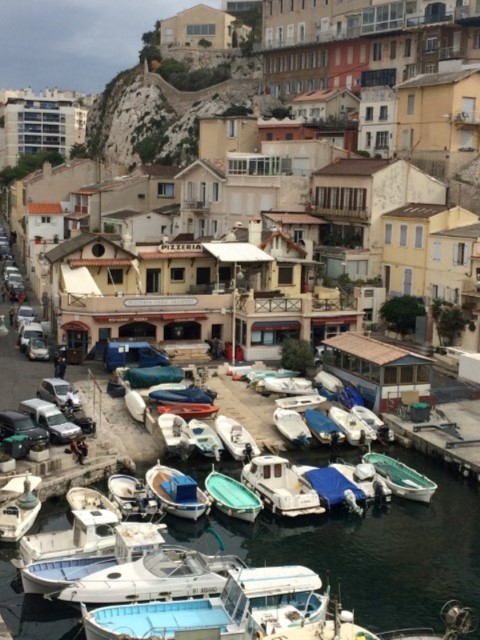 After our tour, we had a fantastic lunch (wine is a must for French people, even at lunch) at Victor Café, and ate a traditional dish called Aioli.
We said goodbye to Gerard and Marie, and agreed to get in touch with them again when we came back to Marseille later in the trip.  The rest of the afternoon, we visited Fort Saint Jean and the Mucem.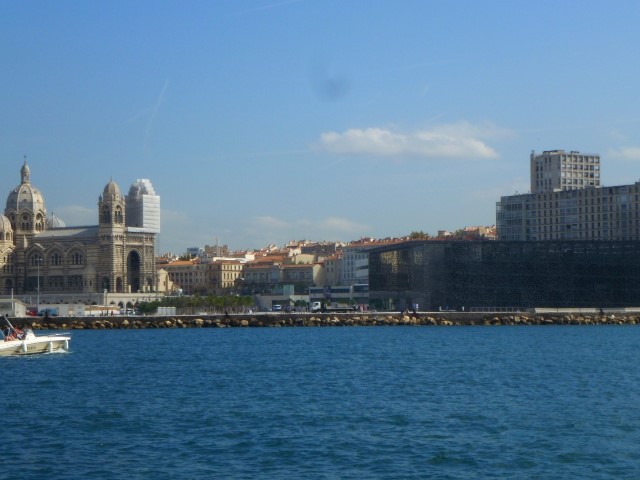 Amazing how we got the highlights of the city in. We had a few hours to rest until we met up with one of my Couchsurfing friends, M and her boyfriend G.
Moroccan/Tunisian food was planned for this evening, at Sur Le Pouce (1-3 Rue de Convalescents,13001) a restaurant Dan's friend had recommended, and that G knew from his student days.  Dan and I attempted to ride the subway and find our way to M and G's flat, but we got lost.  I called her and asked them to meet us at the subway entrance.  They took us to a famous street with bars and restaurants near their home, the Cours Julien.  We stopped in a bar and I had a "Martini" which is a liqueur, not the Martini that Americans know.  The bar was loud and noisy, as it was Friday night.  We stayed there for about 30 minutes and then walked to Sur Le Pouce, happily, close to our hotel.  Sur Le Pouce does not serve alcohol, but you can BYOB if you like.  The servings of food are huge!!  I had chicken and olive tagine which was delicious.  M and G insisted that we try the desserts and they were melt in your mouth fantastic and worth all the extra calories!
Marseille to Avignon
Saturday October 3
While we were eating breakfast at the Holiday Inn,  it started to pour down rain.  I thought we would make a 11am train to Avignon and so I emailed my Couchsurfing friend L, while I still had Wi-Fi, who we were going to visit and stay with for two nights.  But we ended up on a noon TGV into the Avignon train station, not the Avignon Centre station which was closer to her home.  I had sent a text to her but no response.  I later learned it was the wrong phone number.  Luckily, she texted me and I got it, so I was able to let her know where we were.  The rain continued to fall in sheets.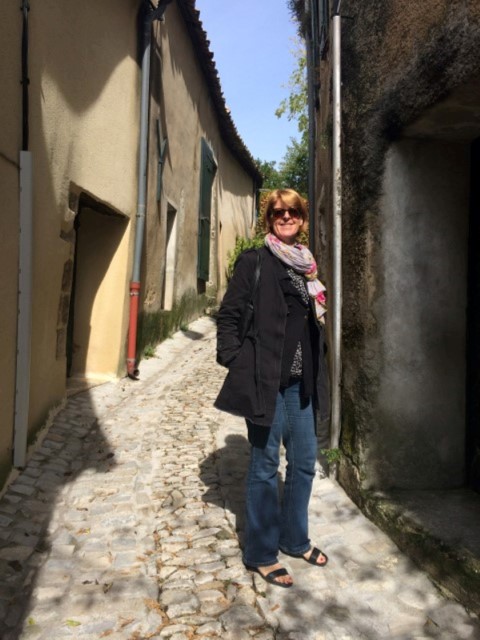 We arrived at her lovely flat, settled in.  She fixed lunch and we ate and chatted and stayed inside while the storm raged.  Found out the storm caused floods in the low lying cities of the French Riviera, including Nice, and Antibes where we had just been two days before. She said it was very unusual weather.  Another plug for climate change.
After the rain stopped (at 5pm, just as she predicted) L took us on a tour of the famous Pont d'Avignon bridge and the city wall.  Cross the street and head over the car bridge for the best view.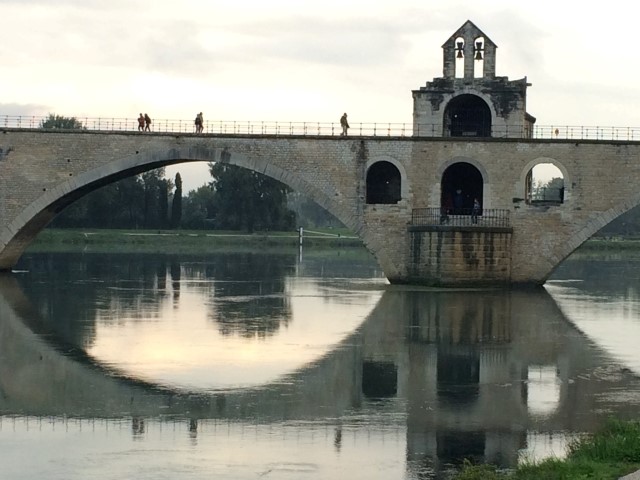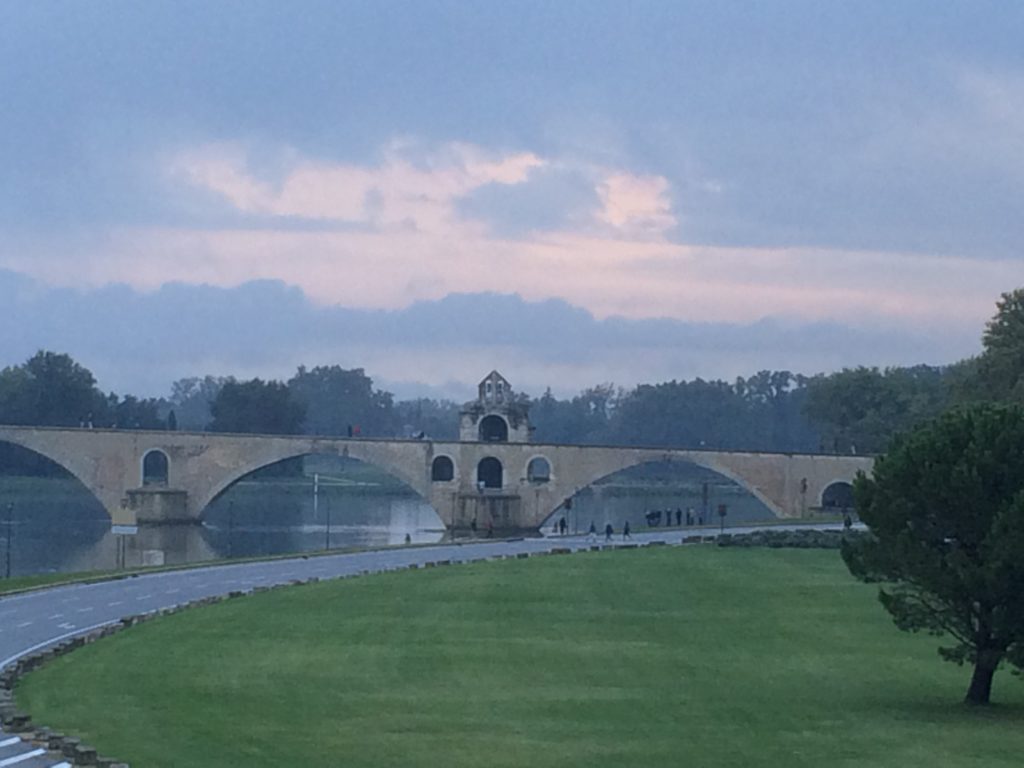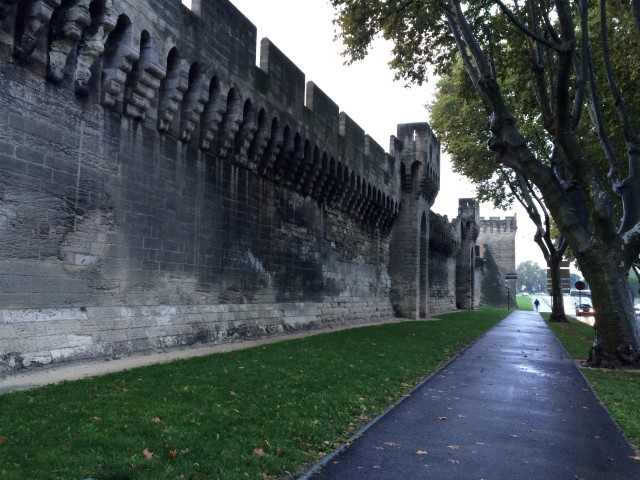 She also took us to the top of a parking lot for a beautiful sunset.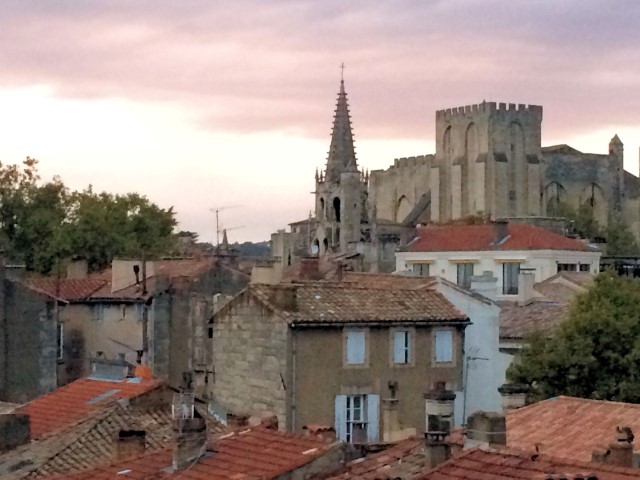 We were too late to get into the Palais des Papes as the last tickets are sold one hour before closing.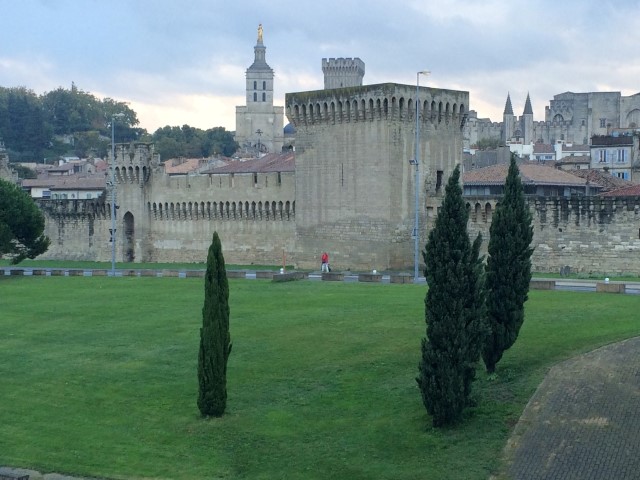 Then we walked back to the clock square for dinner at her favorite restaurant, Nani, on the Rue de la Republique.  I had spinach lasagna with creme and fresh mozzarella.  Then Dan and I went to the light show which was pretty cool.
http://www.lesluminessences-avignon.com/en/
It costs 10 euros and you stand up for 45 minutes.  It was like watching theater in the round. I recommend it if you happen to be there when the show is on.
Sunday, October 4 – Avignon then Arles
In the morning L prepared for us the traditional French breakfast of bread, jam, fruit and butter.  Then we got in her car for our drive to the wine country.  We went to Segurat and Chateauneuf du Pape.  There was some shopping at boutiques in Segurat.  Green rolling hills landscape.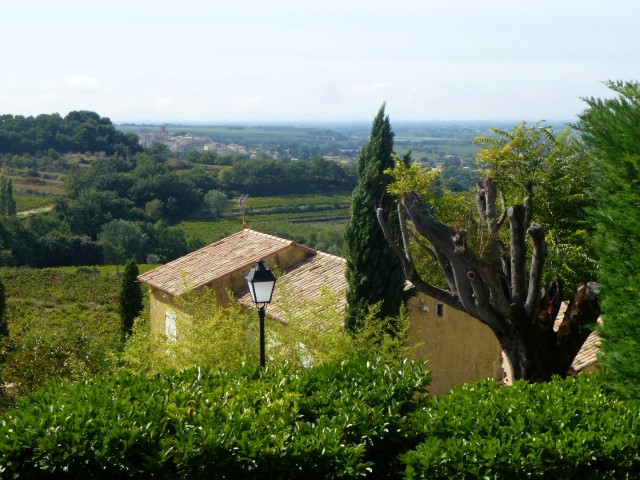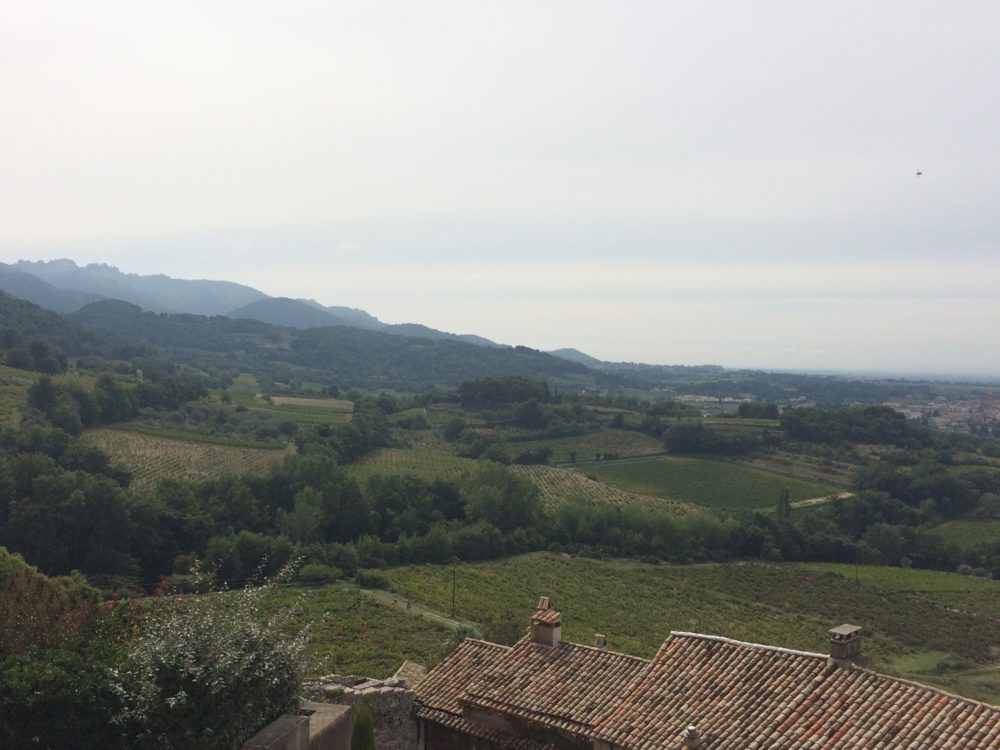 The degustation rooms were small in Gigondas and the proprietors were not friendly.  If they think you are only tasting, and don't want to buy anything, they are not interested in serving you.  We went to the Musée du Vin in Chateauneuf du Pape which was very informative.  Free with an audio guide and it takes about 45 minutes to go through 17 exhibits.  The wine tasting was liberal afterward.  We were there with a group from Gate 1 travel.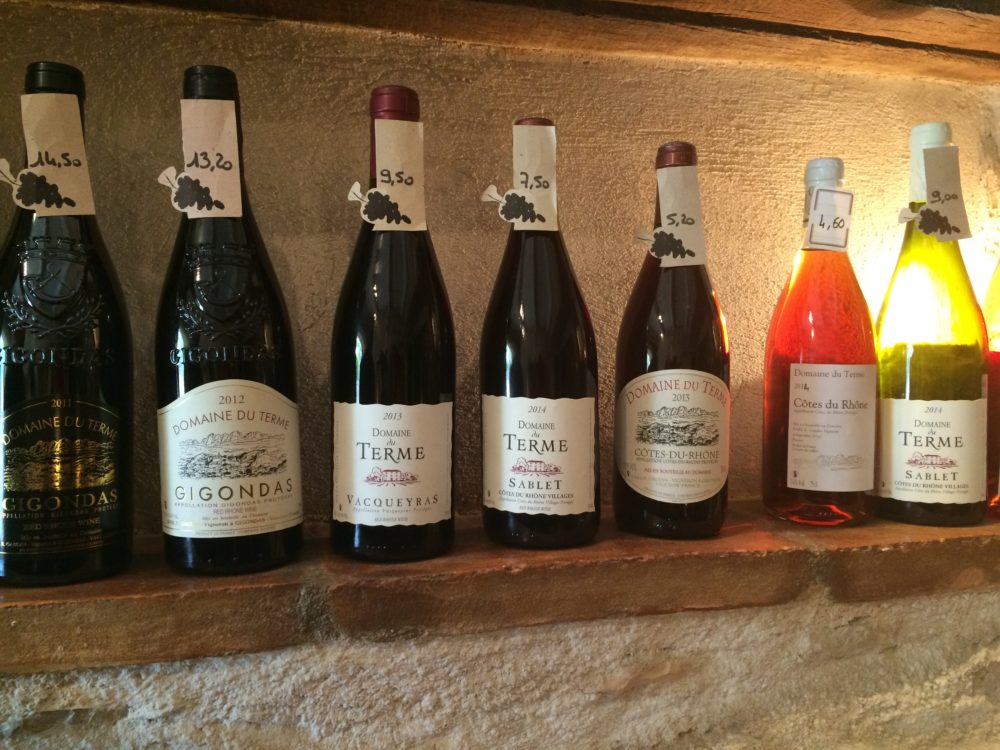 We drove back to L's flat, and she went running while Dan and I went to the Musée Louis Vouland, at 17 Rue Victor Hugo.  The Museum is housed in a lovely private mansion and holds a prestigious collection of decorative arts that Louis Vouland, the former owner of the home, had gathered throughout his life, with marked taste for the 18th century.  It cost 6 Euros to get in.  
After the museum, we walked back to L's place and learned we had to cut our visit short (I won't go into detail, but it had to do with the fact that we had cancelled any planned activities dealing with driving a car).  We packed our bags for the next leg of the trip in Arles.  We ate dinner with L in a Brasserie near the train station which she said was like a diner and the only place open on Sundays.
At the last minute, I had found what seemed like a good hotel near the train station in Arles.  The Hotel Acacias.  We got on the next to last train out of Avignon to Arles at 9:30pm.  Important piece of information – there are no bathroom facilities in the train station after the pub closes at 9 pm.  A nice man helped me carry my luggage down and up the stairs to the track.  We got on the TGV though we didn't have reserved seats. The ride took 20 minutes.  When we arrived in Arles, a taxi driver explained to us how to walk to the hotel.  We made it there, and reception had closed at 9:30pm (it was now 10pm).  I called the number on the door and the front desk clerk asked for my name for the reservation.  He came down, gave us the key, the breakfast spiel, and how to get in and out of the front door if we went out.  A bar that was open across the street called Picador looked worth investigating.  We unpacked, plugged in and checked out our cool balcony.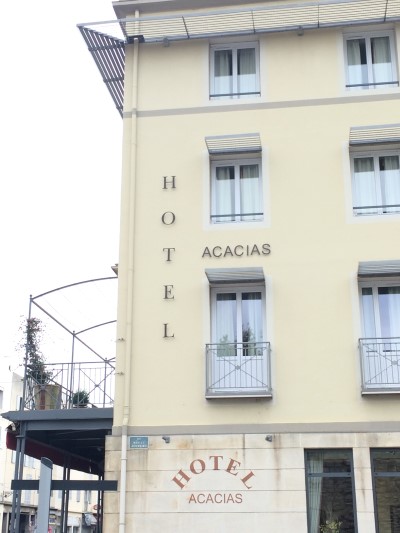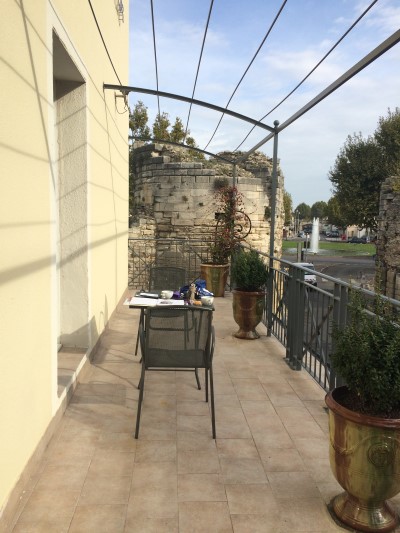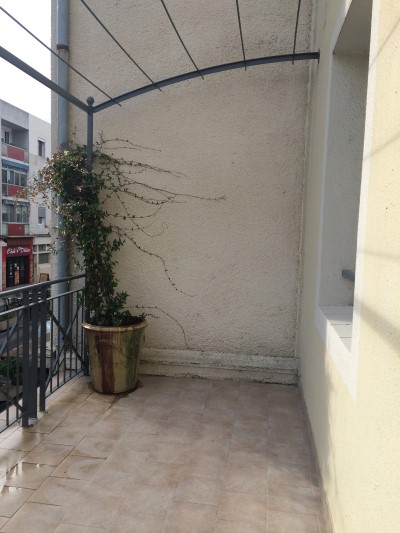 Then we hopped across the street to Picador (3, rue de la Cavalerie, Arles) for some food and drink cuz we were hungry and thirsty.  It stays open until the last customer leaves.  They have a full bar, and also serve French craft beers, wine, cheese and deli items.  Very friendly bartender.
Arles Monday October 5
We enjoyed a tasty breakfast in the hotel in the morning, then headed out to discover Van Gogh's city.  We saw a park with a bust of Van Gogh that showed the bench he used to sit on to paint.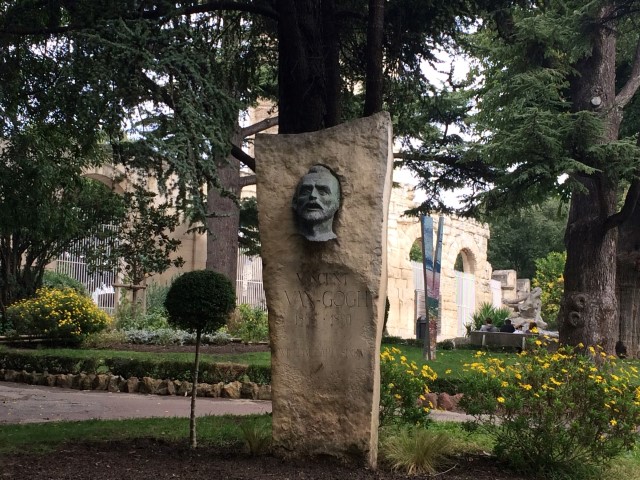 This is the hotel where he lived when he cut off his ear: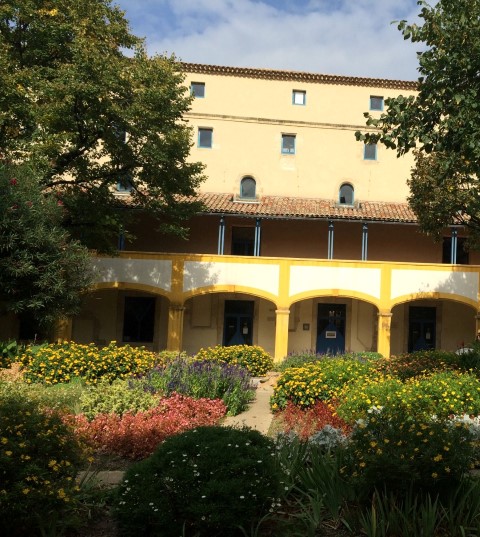 Below is Café Van Gogh in the Place du Forum where he used to hang out and the location of his famous painting Café Terrace at Night.  (They didn't object to me going inside to use the facilities without buying something.)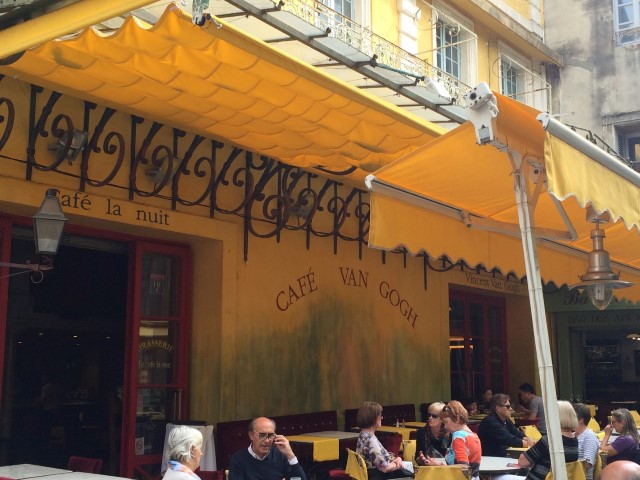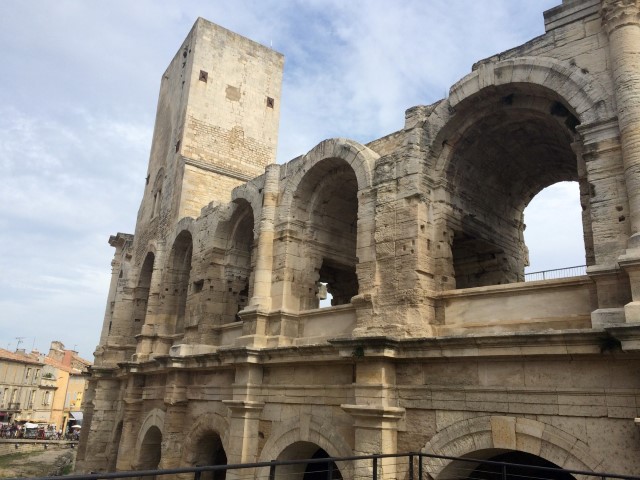 This is the Arles amphitheater, a UNESCO World Heritage site.  You have to pay to go inside but we decided we could see enough of it from the outside.
This is the Obélisque d'Arles ("Arles Obelisk"), a 4th-century Roman obelisk erected in the center of the Place de la République, in front of the town hall.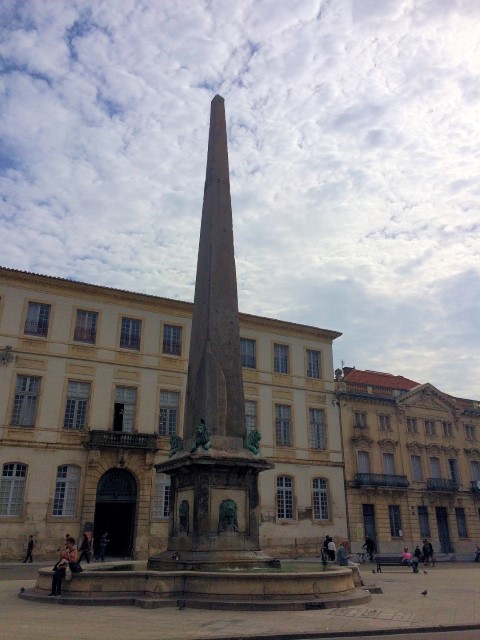 The town was very walkable so we didn't use public transportation.  We were intrigued by a sign for for "hot wine" we saw advertised in a bar window, so decided to take a break and have some.  We laughed when the guy poured some red wine in a mug and put it in the microwave!
There is a self walking tour with arrows painted on the sidewalk to guide you to all the Van Gogh sites, and our last stop of the day was to stroll along the Rhone River and see where he painted Starry Night.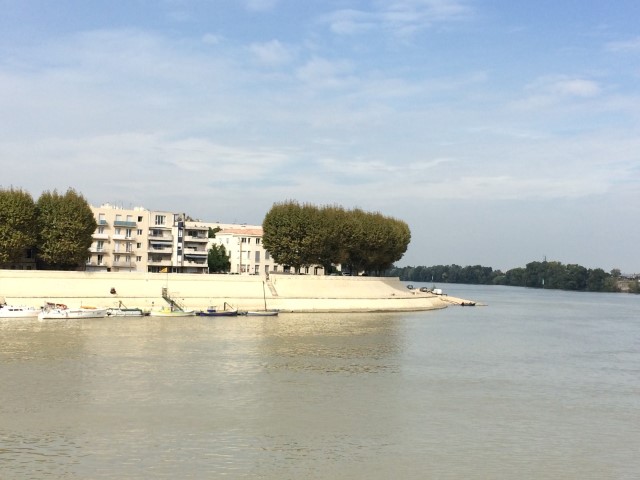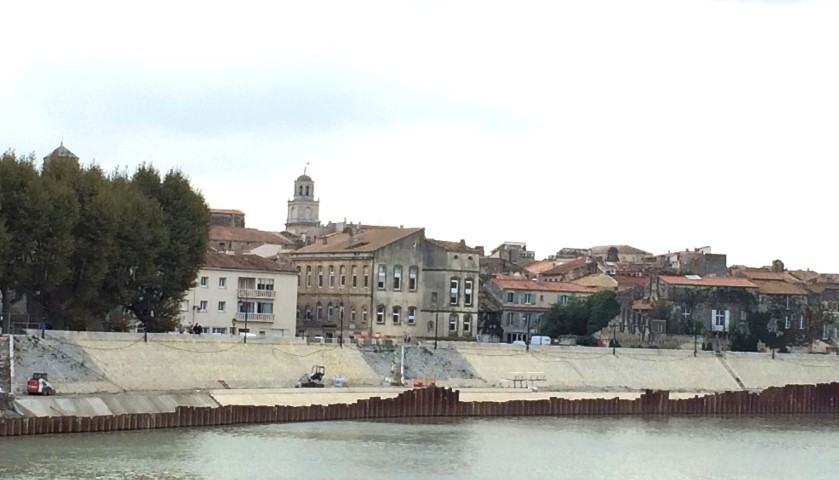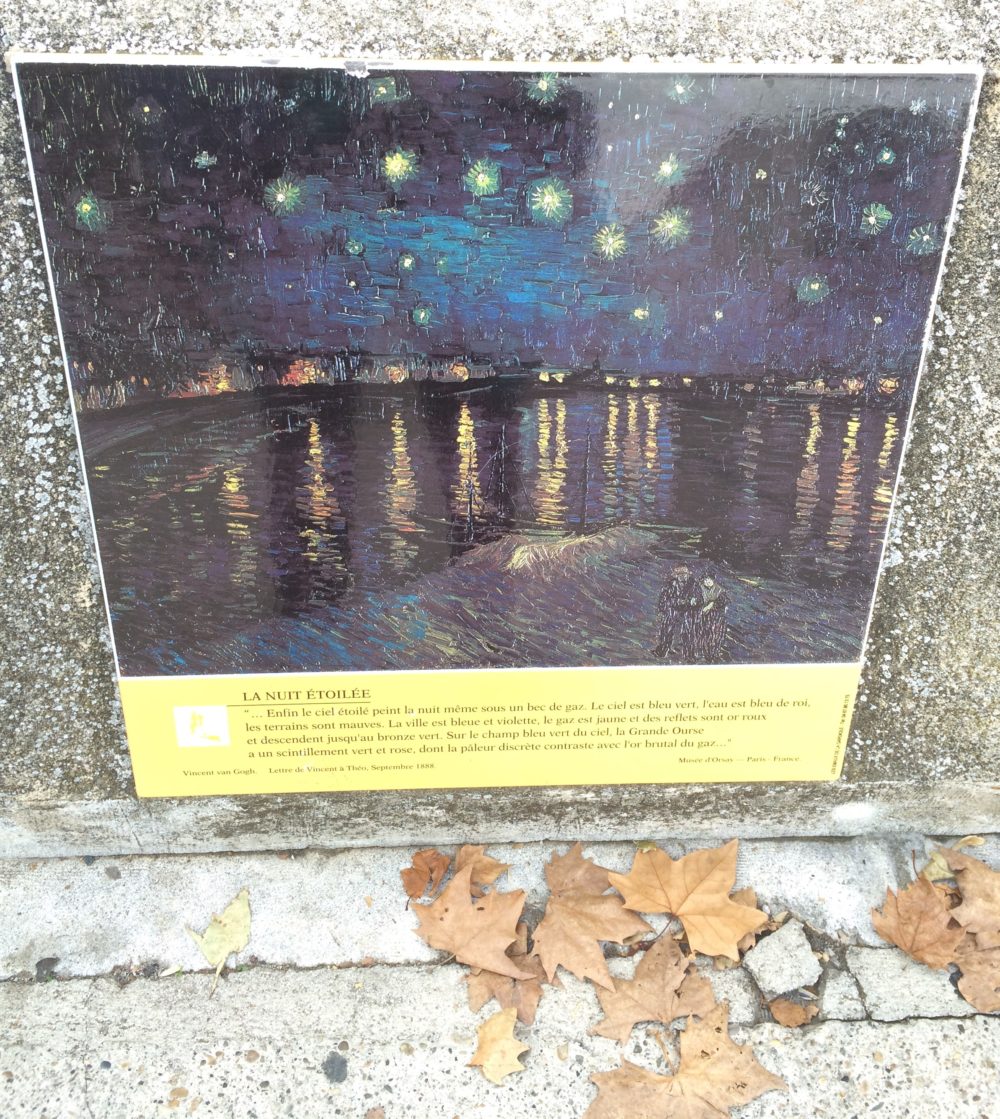 Then we headed back toward the hotel, and stopped for happy hour. After trying some absinthe, we picked up our stored luggage from the hotel reception and checked on the times for the train to Aix-en-Provence.
Arles to Aix-en-Provence  Monday, October 5.
We walked the short distance to the Arles train station from the hotel, and got on a regular train, not the TGV.  It was about 9pm when we arrived in Aix, and we waited quite a while at the Aix train station for a taxi.  Finally I stepped out into the street and flagged down a taxi.  The Renaissance Marriott was only about a ten minute drive from the station.  It is a magnificent hotel, quite avant garde.
We made a reservation for dinner at the hotel restaurant, Le Comptoir du Clos when we checked in.  We didn't feel like trying to find somewhere else to eat.  This was the first time I had foam on my food!  It's a risotto.
We were pretty exhausted, so went to bed right after dinner.
Aix-en-Provence, Tuesday, October 6
This was a throwaway day.  We threw on some clothes to go down to breakfast, which was fantastic.  Made to order eggs, a full counter filled with pastries.  Fruit, meat, cheese.  Afterward, we just decided to take it easy, and didn't leave the room until 3pm.  Wrote out some post cards.  The main reason for coming to Aix was to see Cezanne's home and studio.  I recommend it.  We took a taxi there, because it is a long walk mostly uphill.  The grounds surrounding his home are truly inspirational.  You can hike along some short trails.  You sign up for a short tour of the home, and what you see is the area where he worked.  The guide gives you some facts about the windows, curtains and the light coming in, and all the unique things that he used in his work.  You aren't allowed to take pictures inside.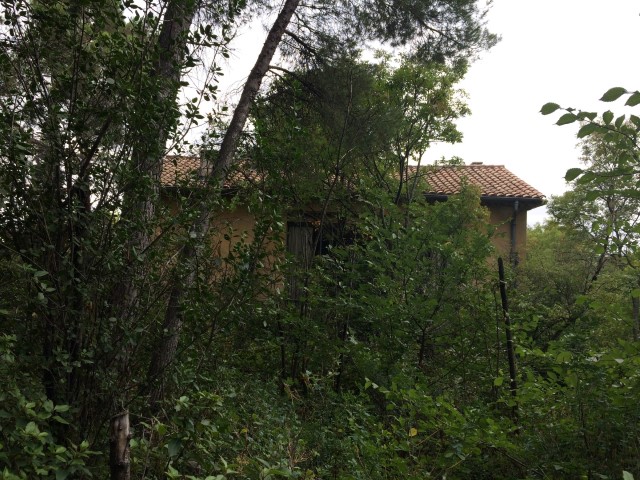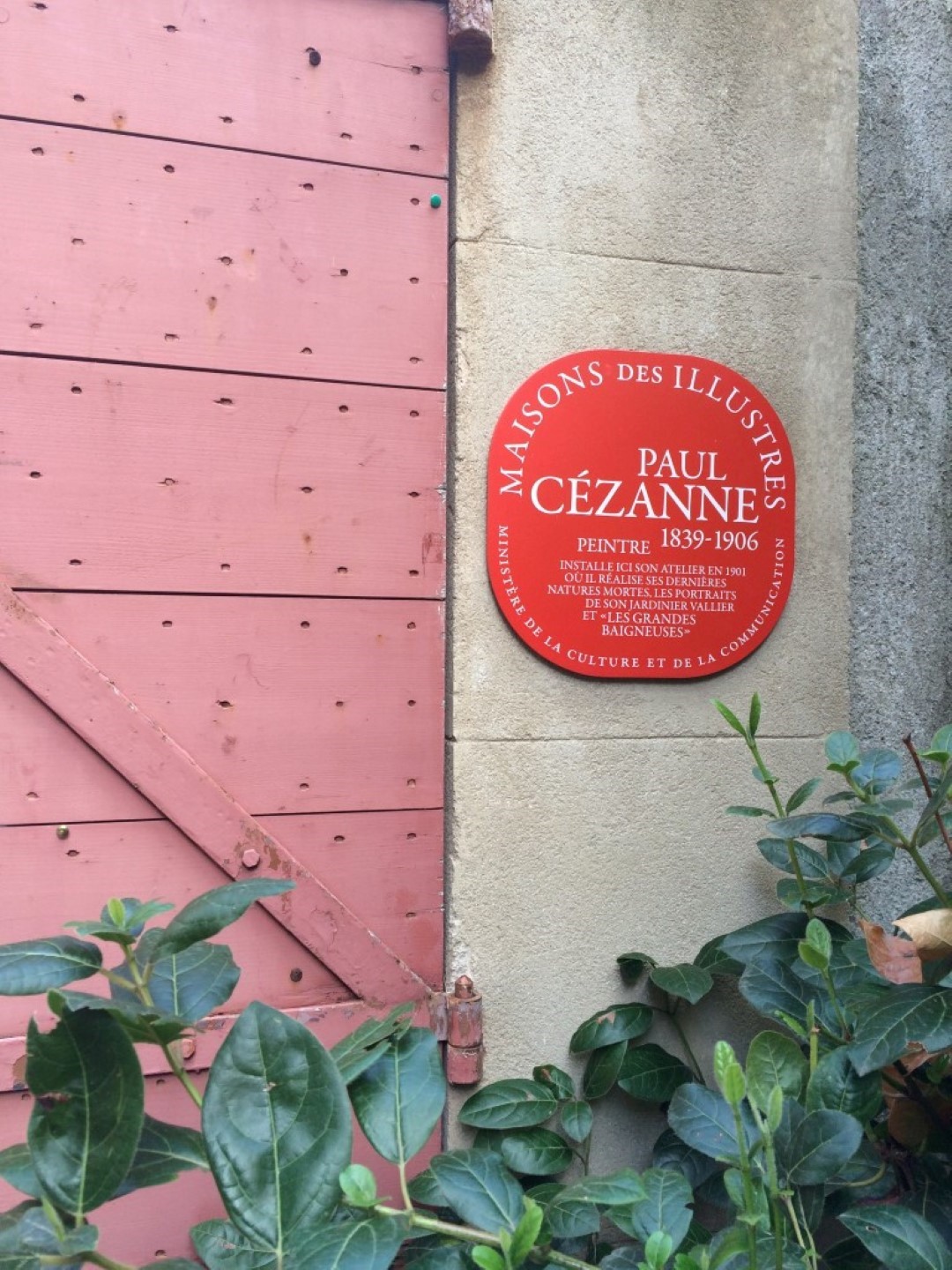 After that, we walked down the hill to a park that was pretty and green.  There was a museum, the Pavillon Vendome, but it was closed. Pavillon Vendôme is a historic pavilion surrounded by a French formal garden located 32 rue Celony in Aix-en-Provence, France.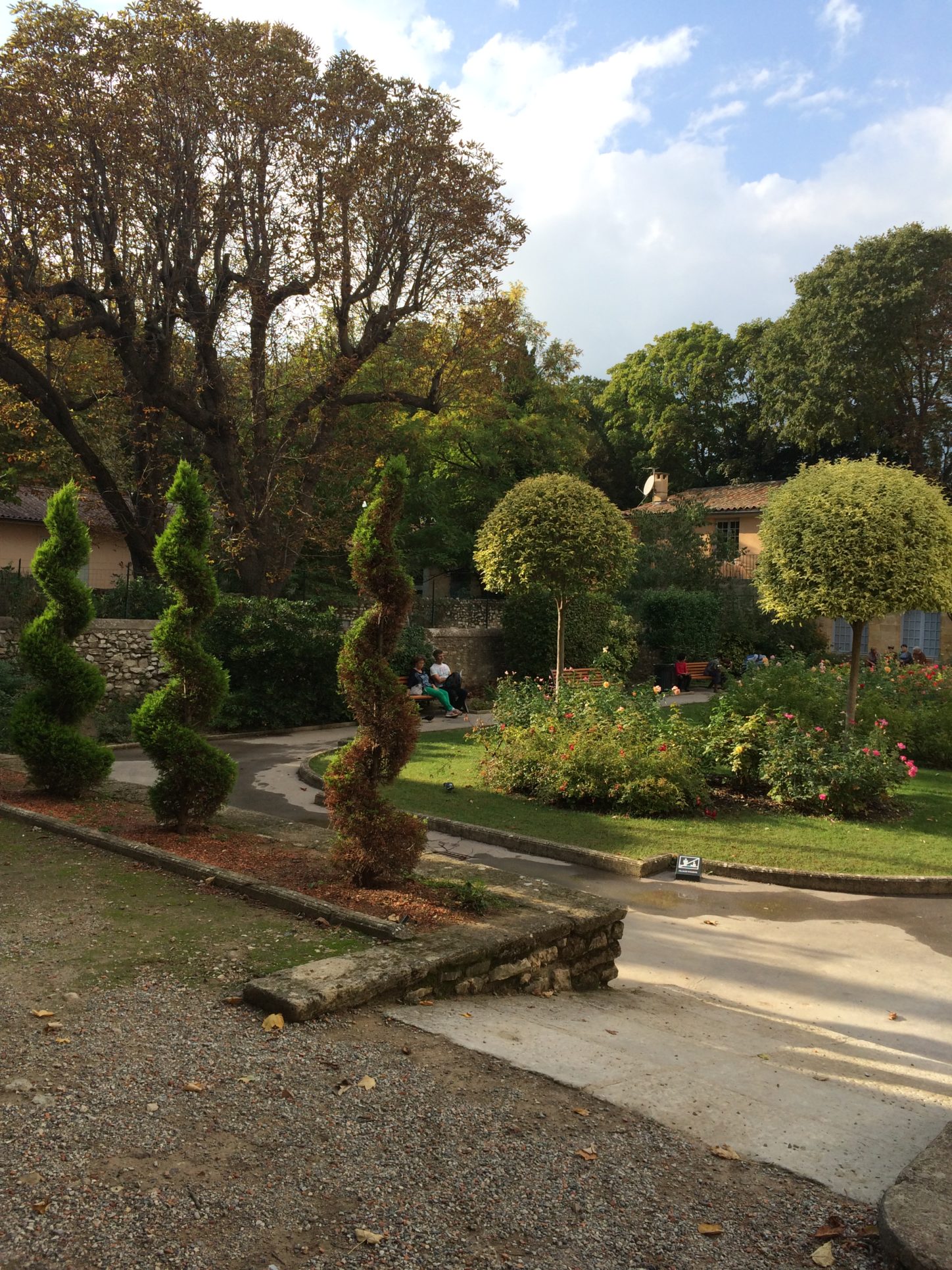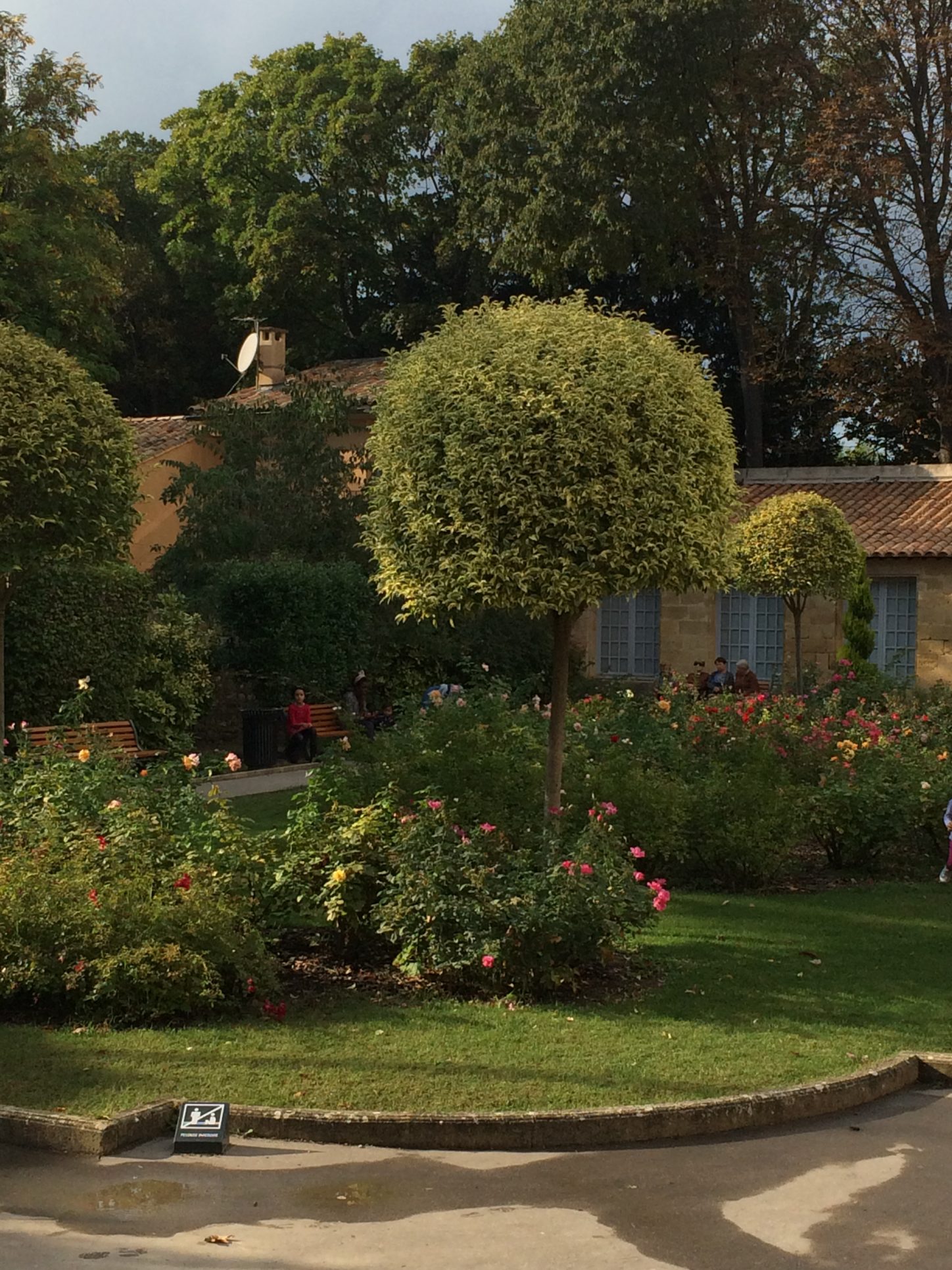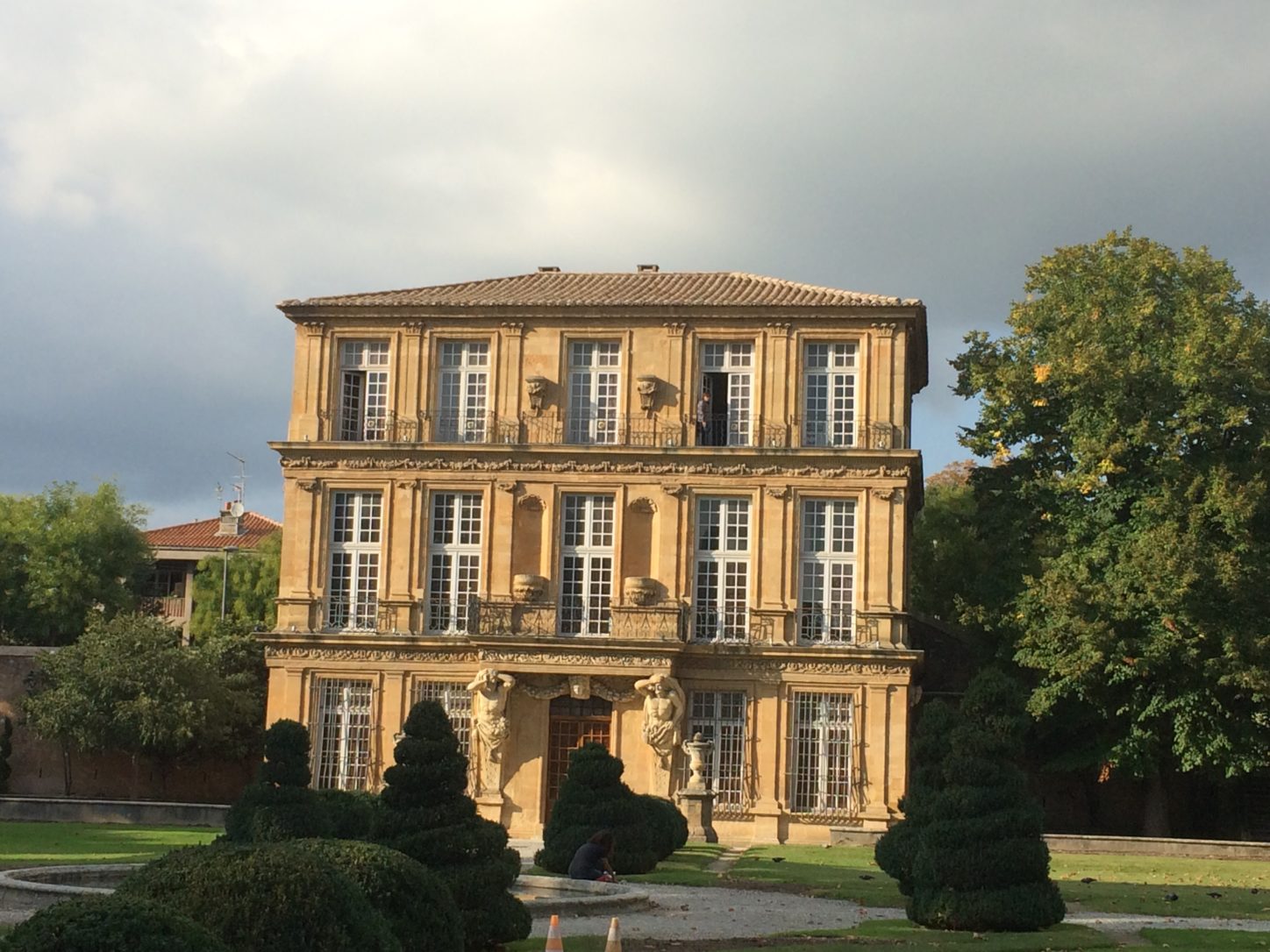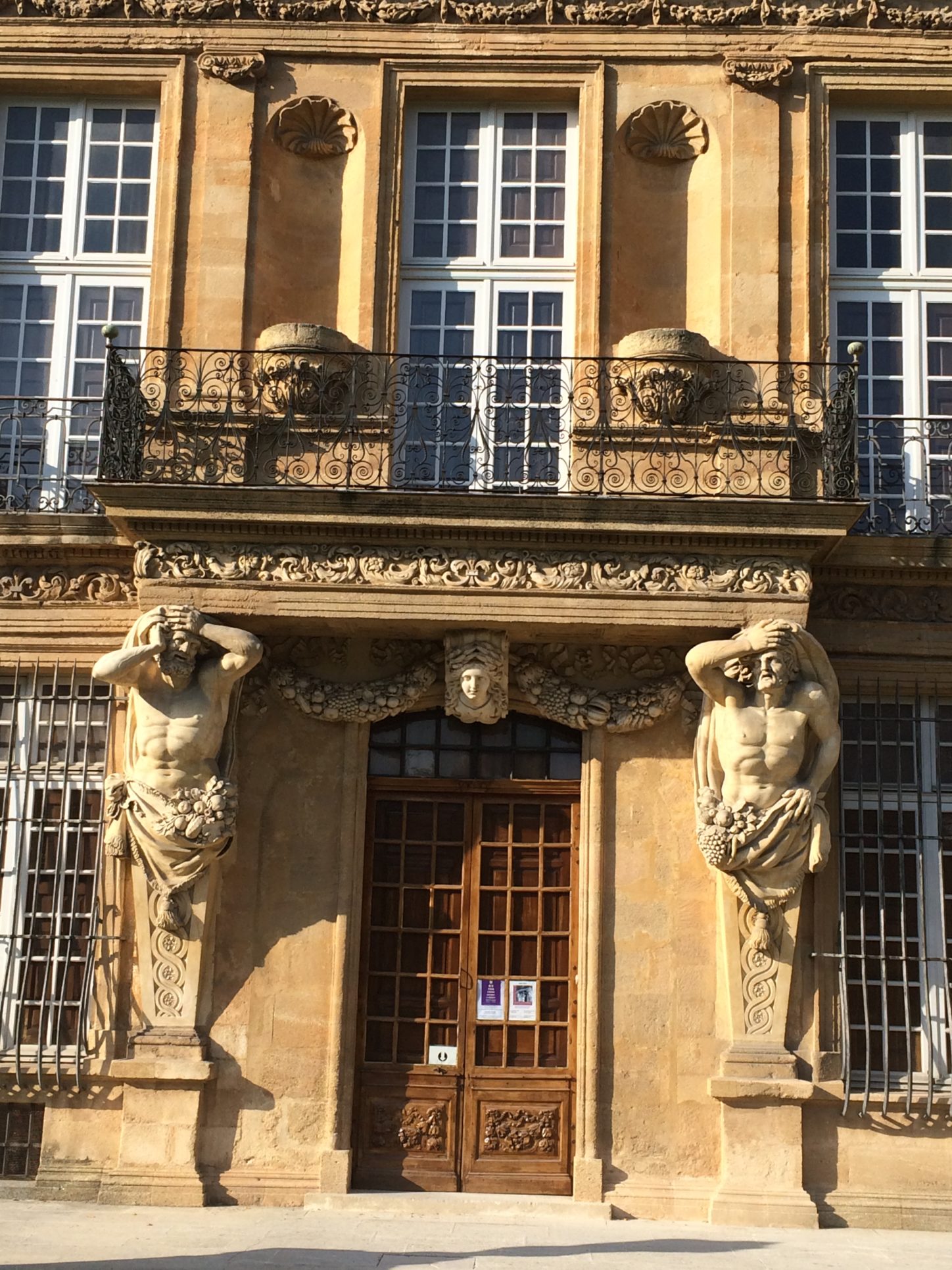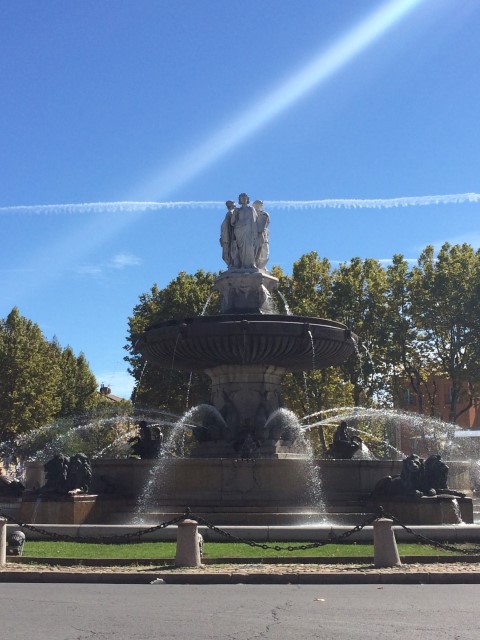 We walked around the city some more, admiring the beautiful fountains and architecture.
We stopped into the Centre d'art Caumont.  The museum part was closed (notice a theme here – very difficult to find open museums in France when you want them to be open). But there is a hotel next door with a serene outdoor bar, so we went in there and had a drink.  Very peaceful.  We headed toward our hotel, hoping to find somewhere interesting to eat.  Despite getting some recommendations from people at the library near our hotel, we ended up at a mediocre Asian place.  It started pouring down rain about 10pm, and I was wishing we had just gone back to the hotel and eaten there.  However, the rain eventually stopped and we made it back without getting soaked.
After returning to the hotel, we decided to get up on time the next morning so we could visit the Musée Granet before heading back to Marseille.
Aix-en-Provence, Wednesday, October 6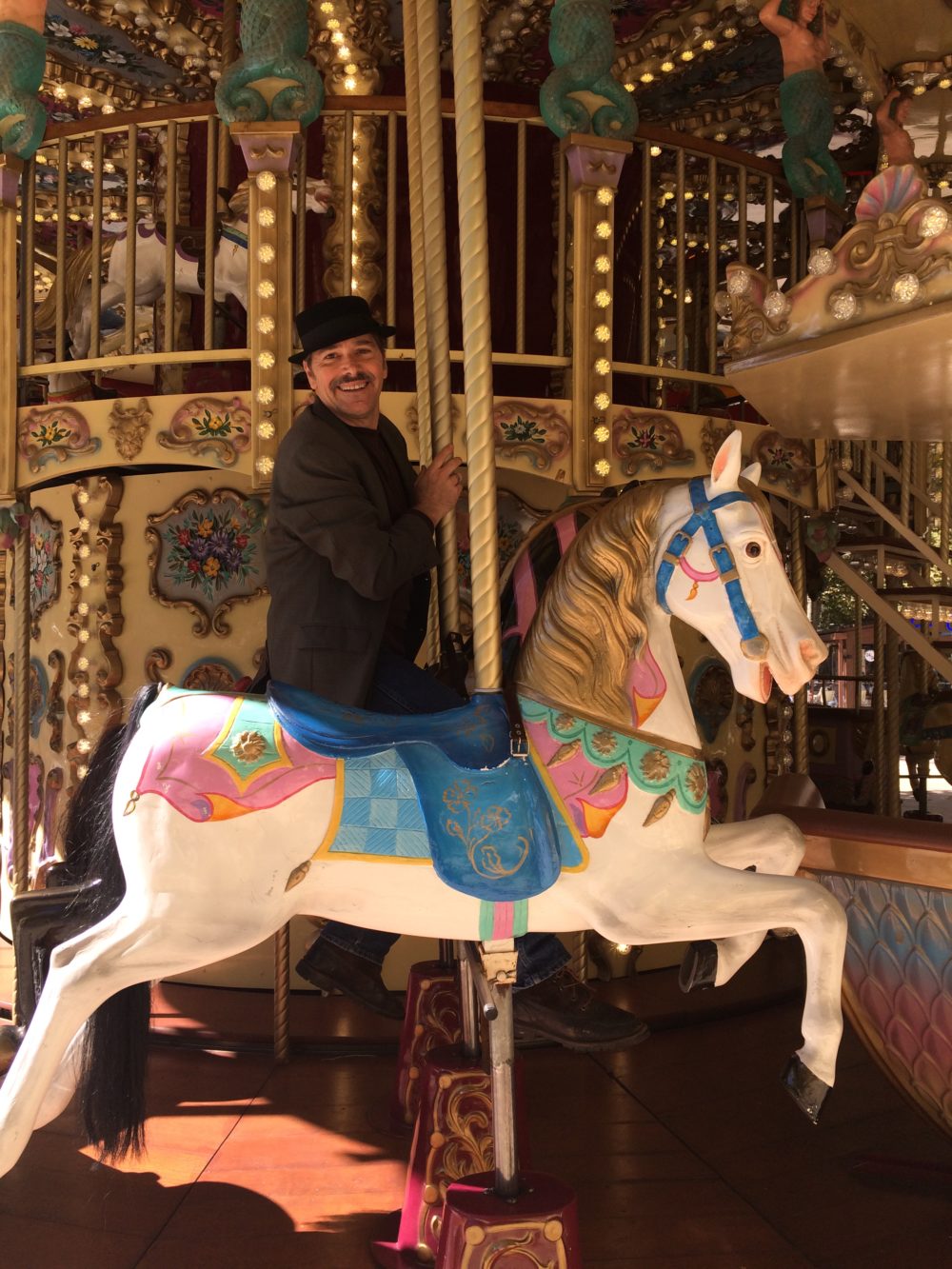 On the way to Musée Granet, Dan saw a carousel and just had to have a ride.  The ticket takers were quite amused.  Musée Granet was worth the extra time in Aix and the price of admission – 8 Euros.  It has an interesting history and several original Cezannes.  There is one section where you can guess which Cezanne is the original and which is the copy done by someone else.  The collection contains over 300 works of art, including paintings and drawings by Degas, Renoir, Gaugin, Monet, Van Gogh, Picasso, Pierre Bonnard, Paul Klee, Fernand Leger, Giacometti and Dubuffet.  The founder of the museum, Francois Marius Granet, was a French painter who left all his fortune to his hometown to build the museum.   https://en.wikipedia.org/wiki/Fran%C3%A7ois_Marius_Granet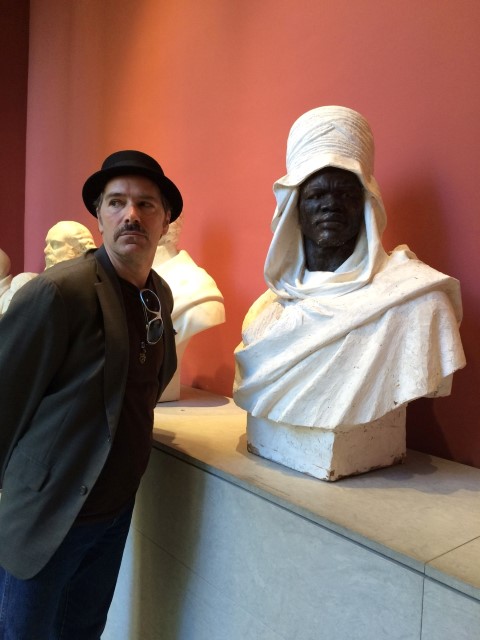 After that, we decided to take a bus to Marseilles, since the bus station was within walking distance of our hotel, the price was cheaper than the train, and the bus arrived into the train station in Marseilles.  The buses left about every hour.  People at the hotel told us we should wait until evening rush hour was over, because working folks used the buses to commute between Marseilles and Aix since the cost of living in Aix was much higher.  So we hung out at the hotel's Starbucks, which also has a bar.  We had a good conversation with the bartender/barista and a free drink from the beer rep, who insisted on making us a Dark and Stormy (ginger beer and dark rum).
Back to Marseilles, Wednesday, October 6
Riding on the bus was fantastic.  The bus driver opens the door for luggage storage, but you have to put your suitcases in yourself.  You can buy the ticket on the bus.  It took a little over an hour.  We walked back to the St. Charles Holiday Inn and dropped off the luggage.  We called our Marseille Greeters Gerard and Marie to see if they wanted to meet us for dinner.  They did!  We ate at the Bistro du Cours, 13 Cours Julien.  It had a menu of the day written on the chalkboard, so we each ordered one item from the menu.  A pleasant conversation.  Back to Nice tomorrow!  We had heard about the terrible floods that had happened in Nice and other low lying areas, and that train tracks had been damaged.  When we got back to the hotel I checked the train schedules, and sure enough there was only 1 afternoon train back to Nice.  I had to cancel the reservations I had made in St. Laurent du Var (a cool Holiday Inn right on the beach) as there was no way to get there without 3 connections.  I hoped we could make it back to Nice, and find someplace to stay there.
Thursday, October 7 Marseilles
In the morning we took the boat ride out to Chateau d'If, to complete the full circle of French Connection locations.  Charnier discussed details of the New York job with his associate on the Château D'If Island.  For privacy.  The castle used to be the French "Alcatraz."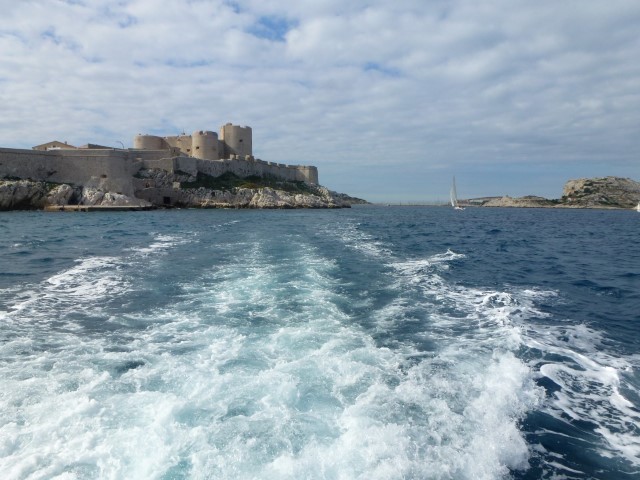 The boat ride was pleasant, and we didn't have time to get off and walk around the Chateau.  We had to do some quick last minute shopping, then back to the hotel to pack and head to the train station.
Back to Nice.  The train ride was horrible.  We didn't figure how crowded it would be and didn't get in line soon enough to get seats.  Dan had to stand for the entire 3 hour ride.  I got a seat after an hour.  I booked the Boscolo Marriott again (at a price of 400 euros a night!) because we wanted to be pampered and go to the spa again.
Friday, October 8
Easy to get a taxi to the airport.  It took less than 30 minutes to get to the terminal.  It was a clear, sunny day, good for flying.  We had changed our seats and got a 3 seat row in the back all to ourselves.  Aaaahhh…..arrived home safely!  End of the trip!