VIENNA, AUSTRIA
Saturday, November 27. Landed in Vienna, Austria, on time at 820am after an 8 hour and 25 minute flight on Austrian Airlines 90. (Love the all red flight attendant uniforms – even the pantyhose!)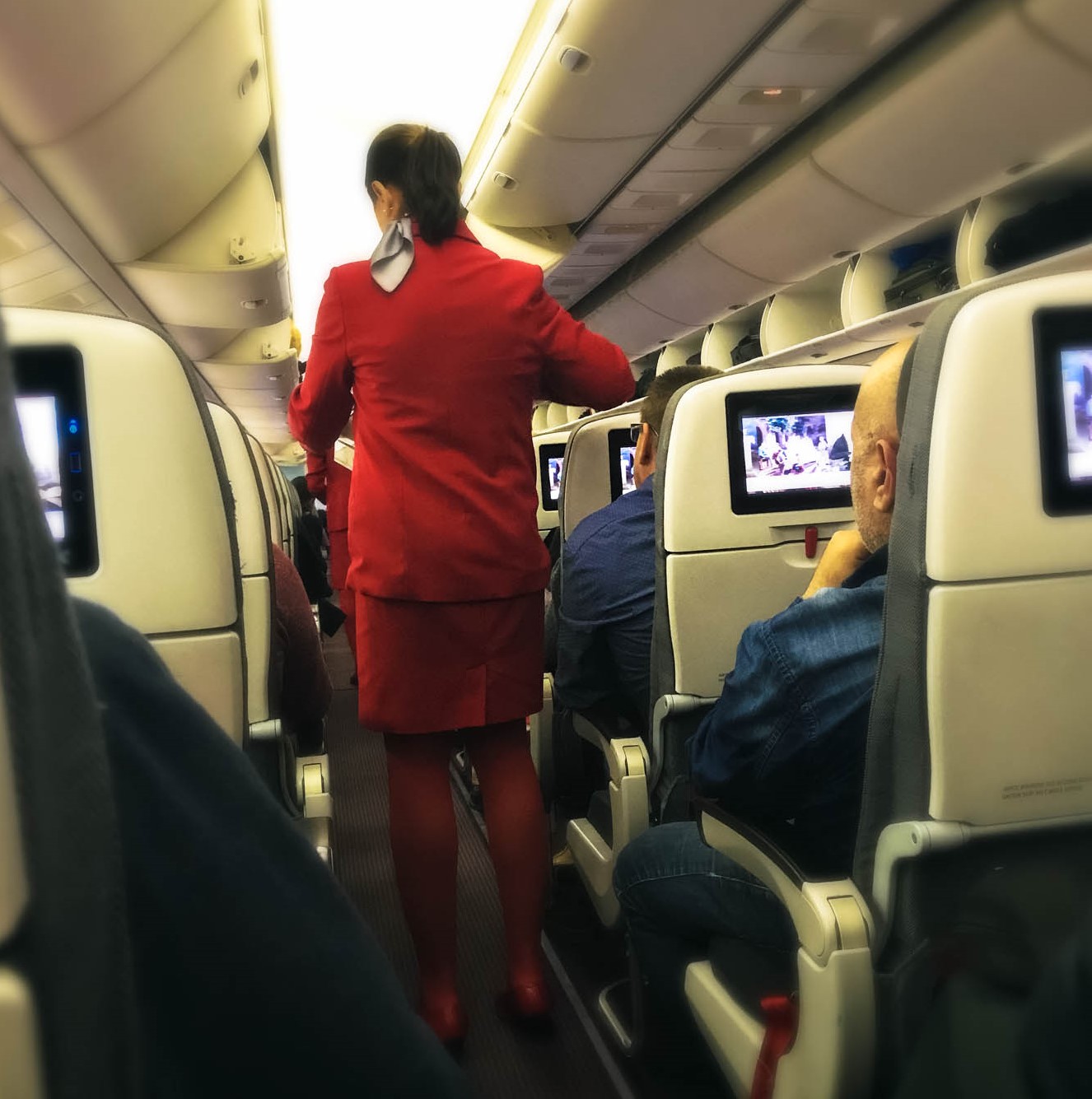 It seemed like every woman on the plane stopped at the convenient restroom just outside the arrival gate.  There were only a few stalls in the bathroom so the line was long.  (I found this to be a problem in all of Vienna's ladies rooms.)
Easy to get to customs.  You actually walk through part of the airport.  Two customs officials quickly stamped passports and didn't ask questions, avoiding long lines.  If you have nothing to declare, just exit into the pickup area.  I found the driver that I arranged with Jupiter Taxi Service (http://www.flughafen-taxi-service.at) (27 Euros one way) holding a sign with my name on it.  Information on how to get to the city from the airport was provided for me by my helpful AirBNB host Eva.  I have learned how nice it is not to have to figure out transportation into a city after a long flight.  My chauffeur was a friendly Serbian man. He had been living in Austria since he was 8 years old.  I enjoyed the mini tour he gave me on the way to my friend J's flat.  We pulled up in front of J's apartment and he let me out.  I didn't find out until 3 days later I had been ringing the wrong button.  I had texted J when I got into the car, but I hadn't heard back so I texted again.  She called and came downstairs to let me in.
J showed me around their beautiful, large apartment, I met her boyfriend D, and I got on their wifi to let everyone know I had arrived safely.  Then I fully admitted to be starving because the food on the plane was horrid.  So she heated up their leftovers from Thanksgiving dinner in the oven and twisted my arm to eat some.  Yum.  Mac and cheese and stuffing and turkey.  We chatted about my flight and what sights I wanted to see while there.
About 10:30am Eva emailed to make sure I had arrived and ask my check in time.  I told her 11am.  J walked with me to find the location.  Right around the corner from their place.  But the address I had said 25 Operngasse and there was no name on the buzzers and no indication from Eva which button to push.  Now I had no wifi so we found a café, ordered a cappucino and chai latte and logged in.  Free wifi is pretty much available everywhere in Vienna.  Then Eva called.  The correct address was 26 Operngasse.  We headed over and she let us in.
The apartment building is right next to a Remax real estate office.  The flat is on the 5th floor and there is an elevator.  It was flat 27.  The rental price of $303.00 USD total for 4 nights included a huge two bedroom with a spacious eat in kitchen, living room, bathroom with washer, tub, and two sinks.  The toilet is in a separate room near the front door.  J and I found it amusing that Eva had put a picture of my airbnb photo on the dresser in front of the bed of the room she chose for me to use.  I liked the other bedroom better but the bed didn't have sheets on it so I couldn't switch.  The bed didn't have a top sheet, just a heavy comforter, so I was glad I brought my light blue blanket.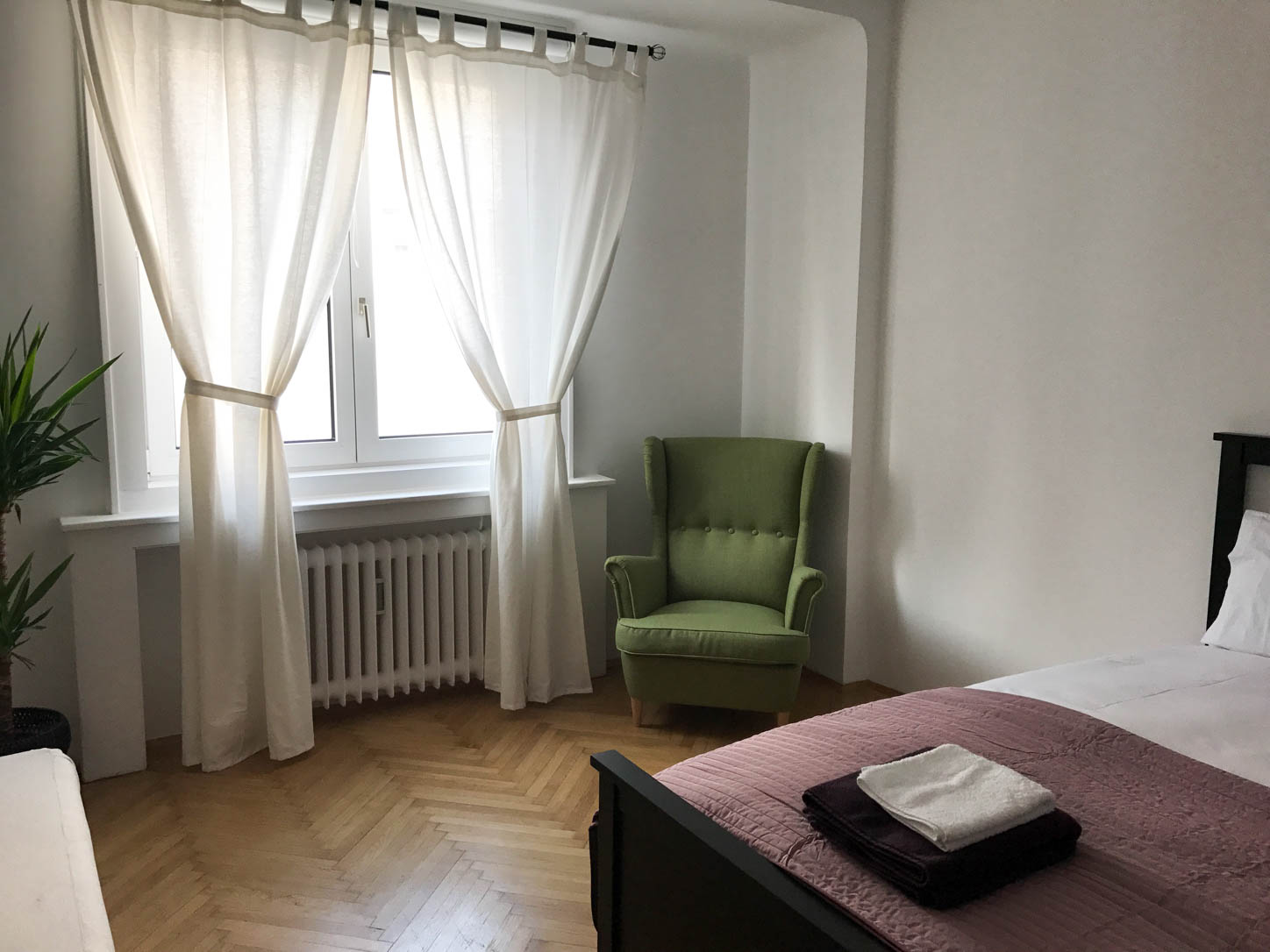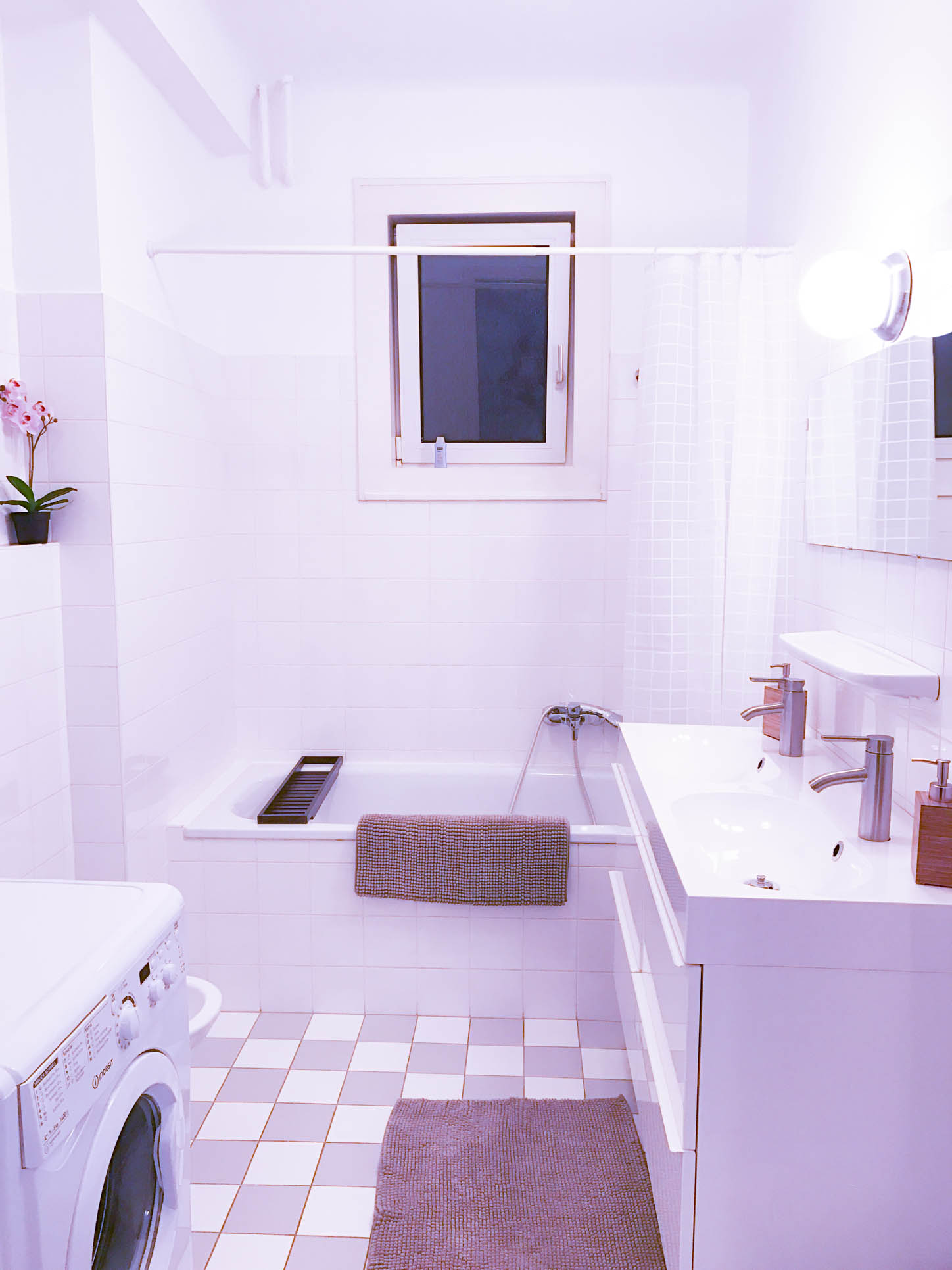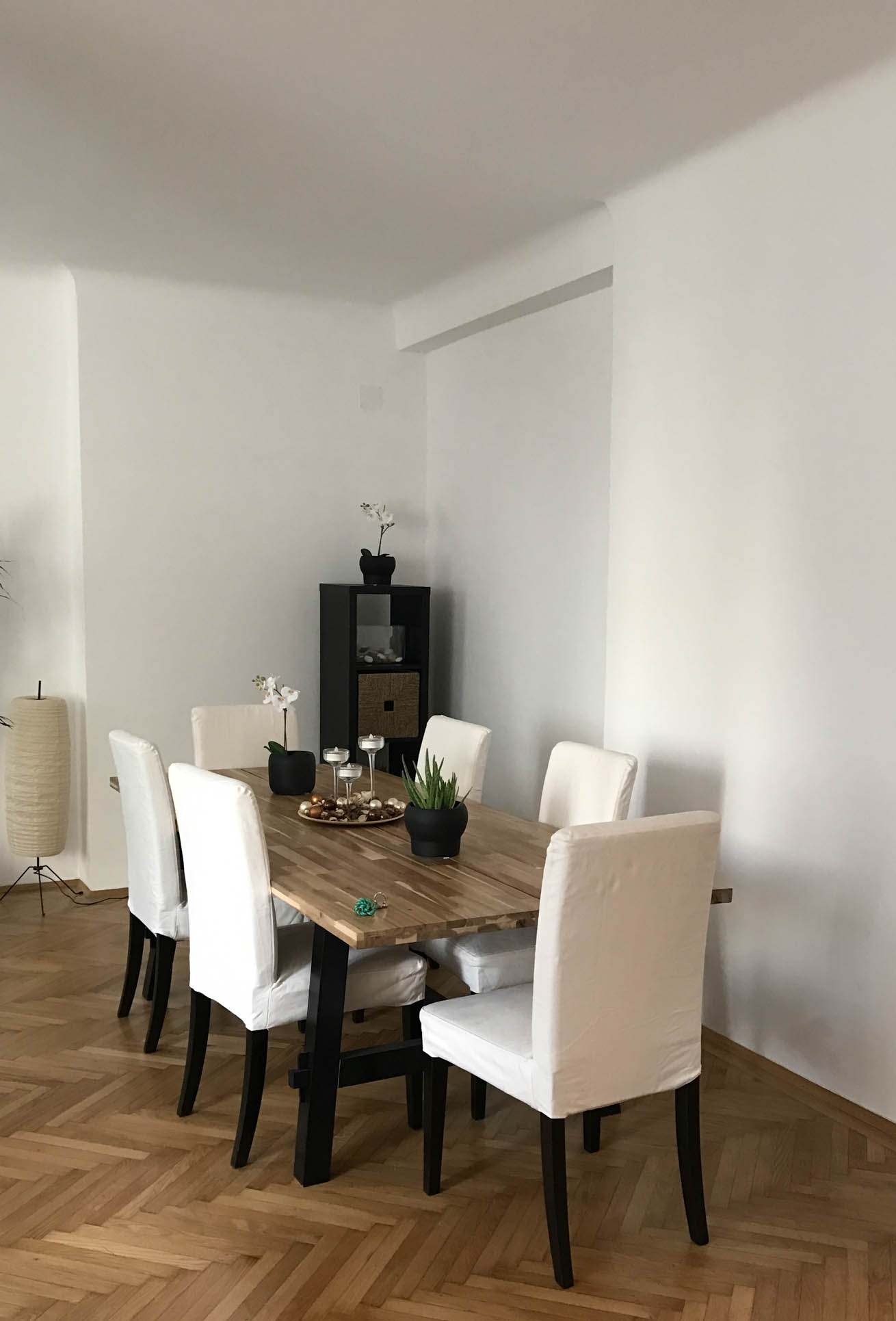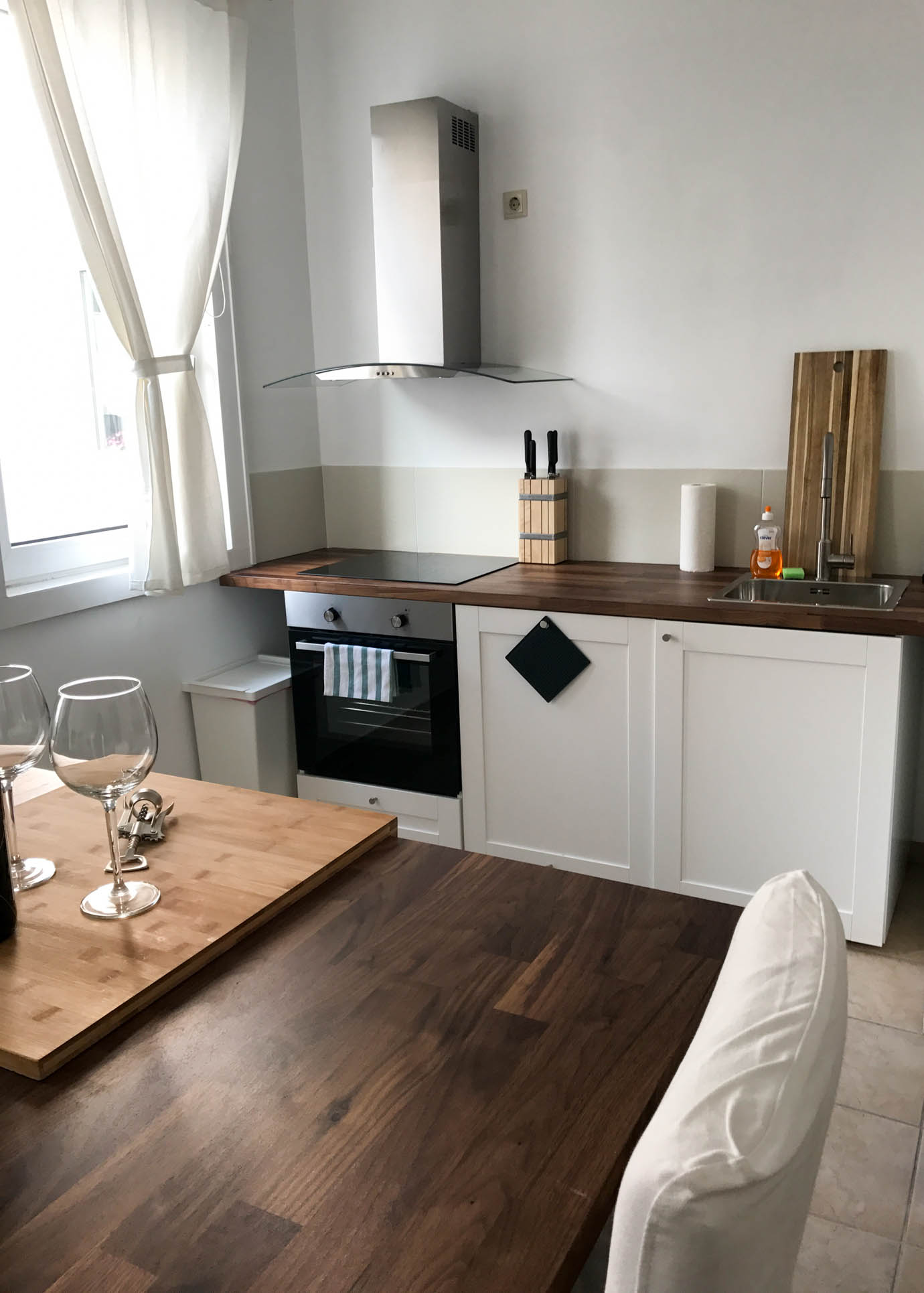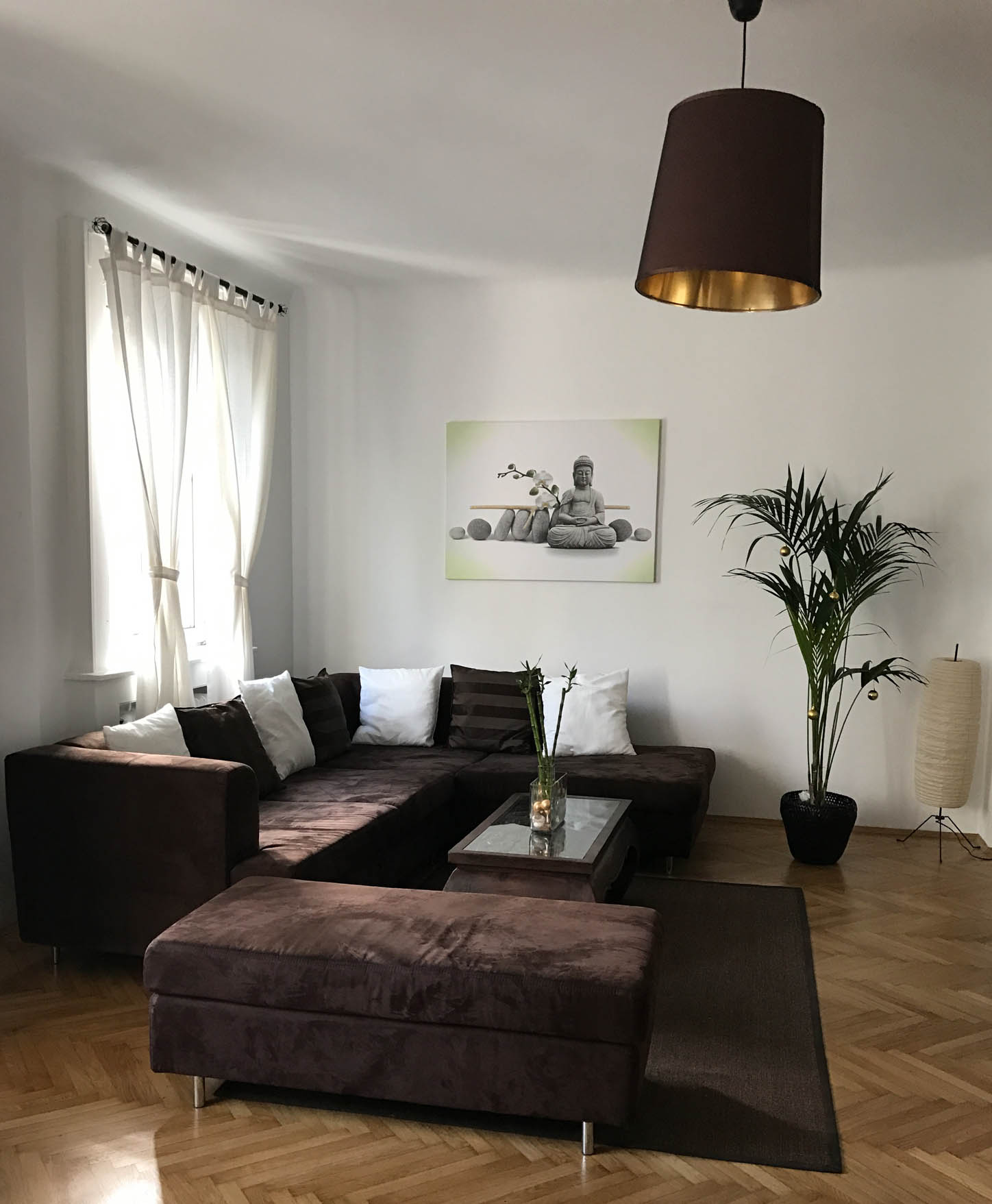 Got myself unpacked and organized. J stayed with me and we talked.  Then she texted D that we were done.  We decided to go to the Third Man museum as it was nearby and only open on Saturdays.  The exhibit captured my attention more than I expected.  No, I hadn't seen the movie but vowed to order it on Amazon Video as soon as I got home.  There were 3 different rooms of exhibits.  The first section had walls covered with information about the movie – the director, the actors, and the reactions around the world.  Japan appeared to be exceptionally moved by the story, including the music.  The second section offered an 8 minute clip of the original reel to reel movie on the projector.  The most interesting to me was the third section which was all about Austria and Vienna during WWII.  My heart broke seeing how many buildings were destroyed by bombs. Impressive that the Austrians restored most of the antiquities as exact replicas.  Where did they get the money to do that? It took about 2 hours to see the museum.  There was also a display of the underground sewers, the cat, the rats and the manhole grate.  You can take a separate movie location tour around the city.  D pointed out many of the attractions to me as we covered Vienna over the next 4 days.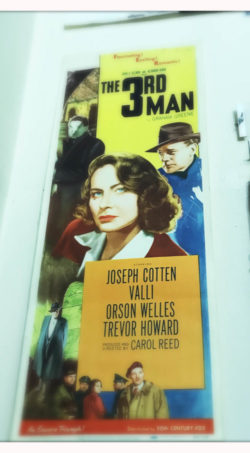 After we left the museum, D took us on a walking tour. He knows the city and he speaks German, so we were in capable hands. We passed by the Mozart museum (didn't go in), and took photos in front of a huge, gilded, baroque sculpture in the middle of one of Vienna's most famous streets. It is a memorial to the erradication of the plague back in the 1600s. http://www.atlasobscura.com/places/vienna-pestsaule-plague-column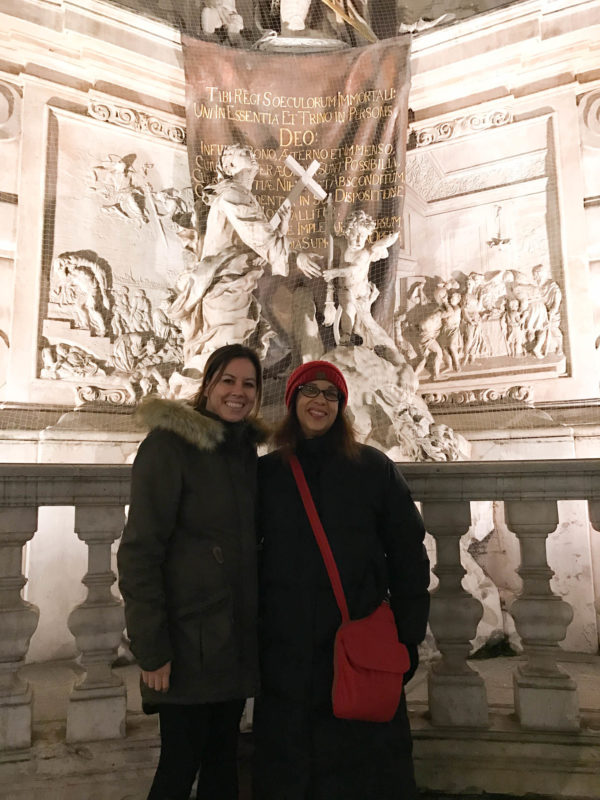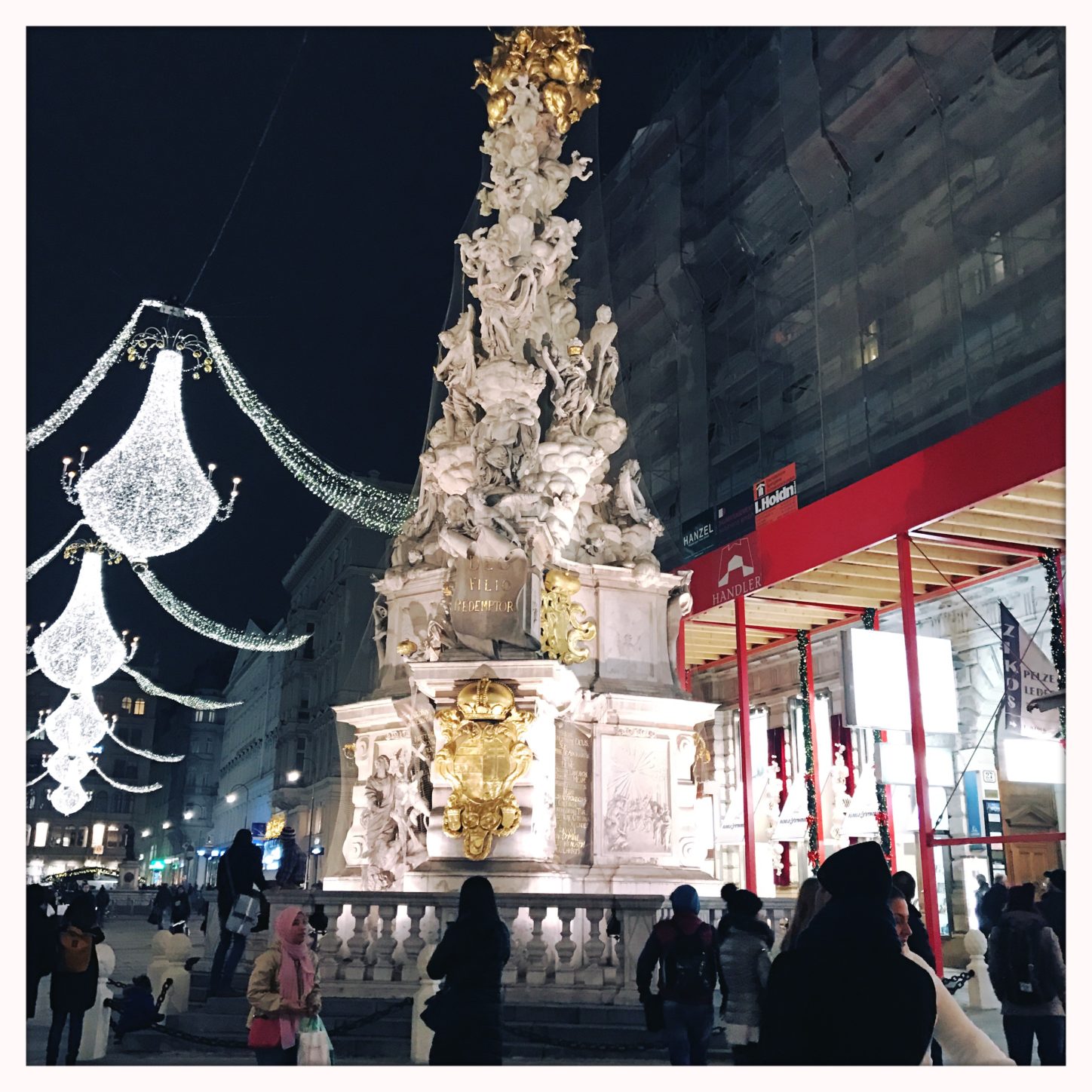 We walked through the Naschmarkt, Vienna's best known market, which is right outside D and J's front door.  It has shops and restaurants.  http://www.naschmarkt-vienna.com/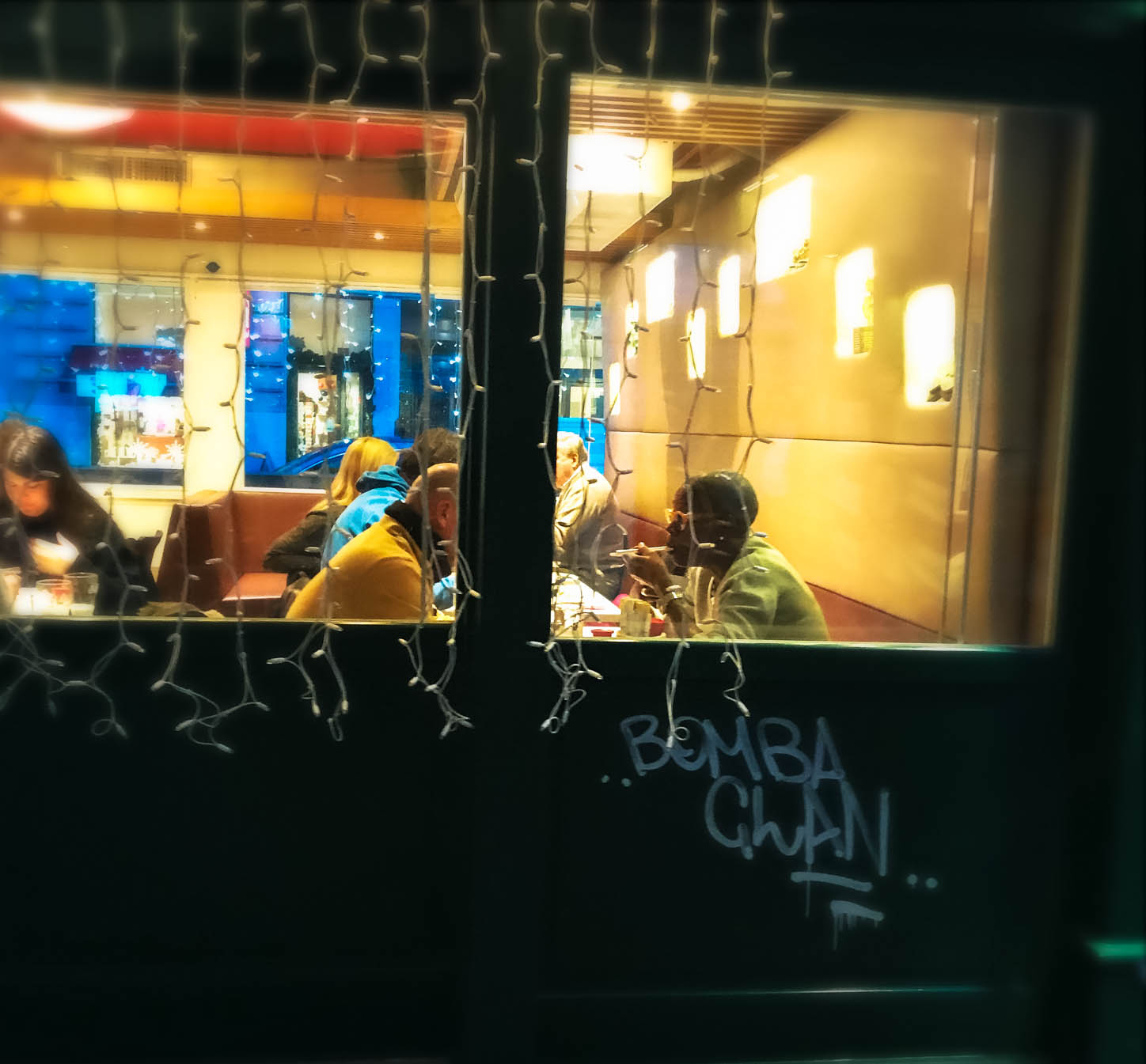 I wanted seafood, so we went to a restaurant called La Marie which had oysters and champagne displayed out front and enticed us in. But the price of oysters was steep so I ended up ordering mussels in wine sauce instead.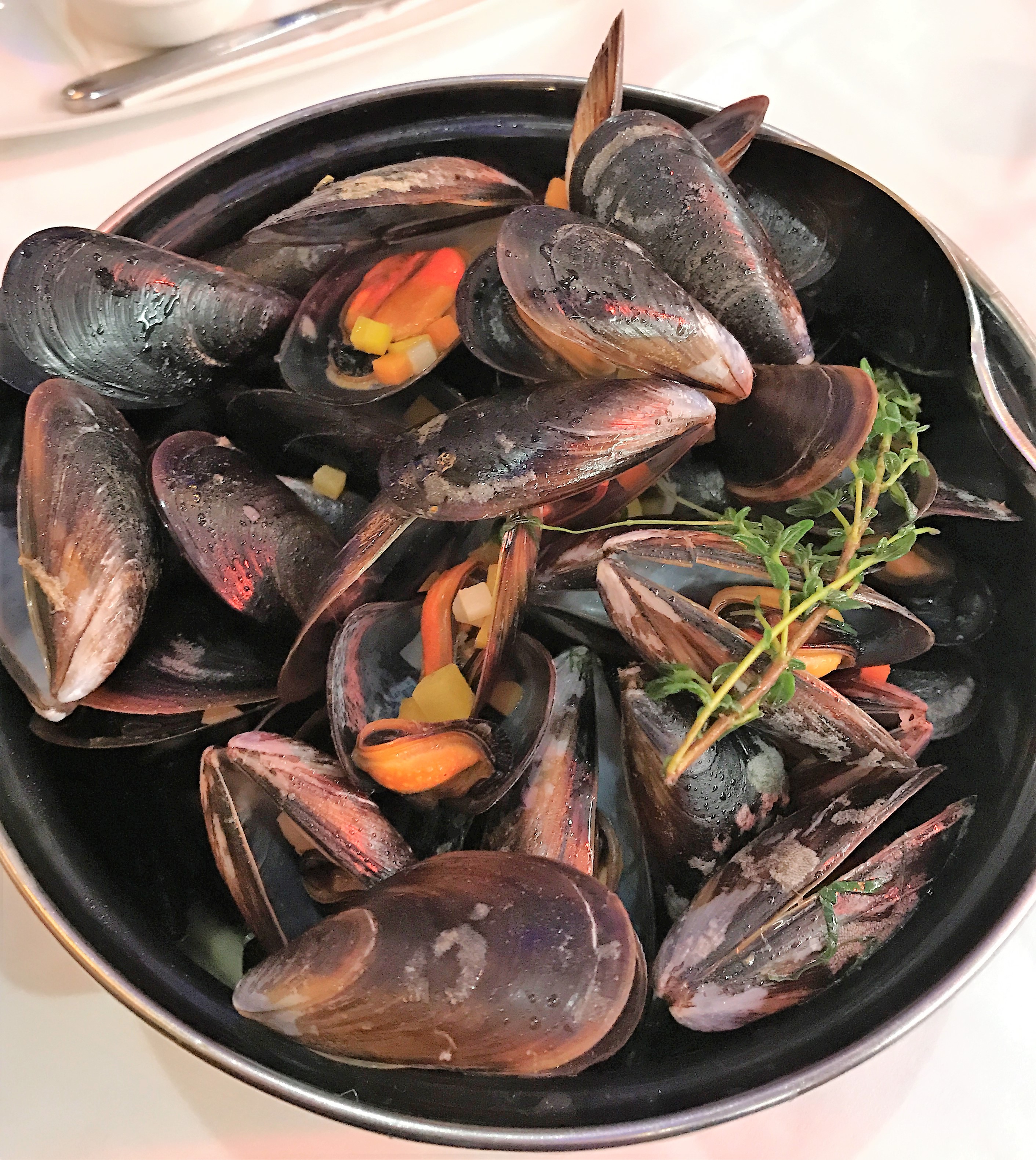 D ordered two different white wines, a Riesling and a Grüner, a dry white wine produced almost only in Austria. The Austrian Riesling was not sweet like the German ones I have had. I liked it better so he let me have that one. After eating, we walked through the Hopsburg Palace complex.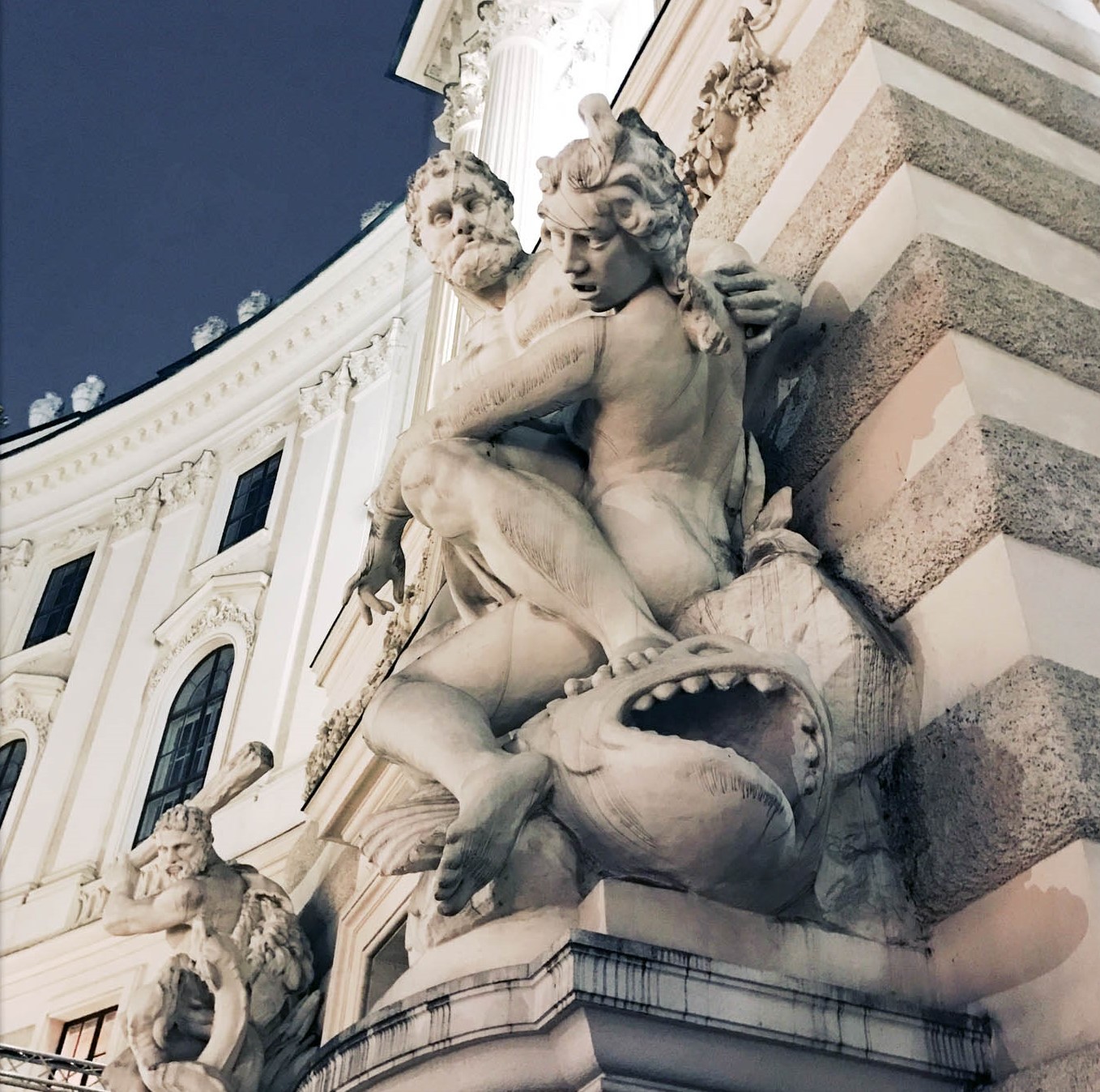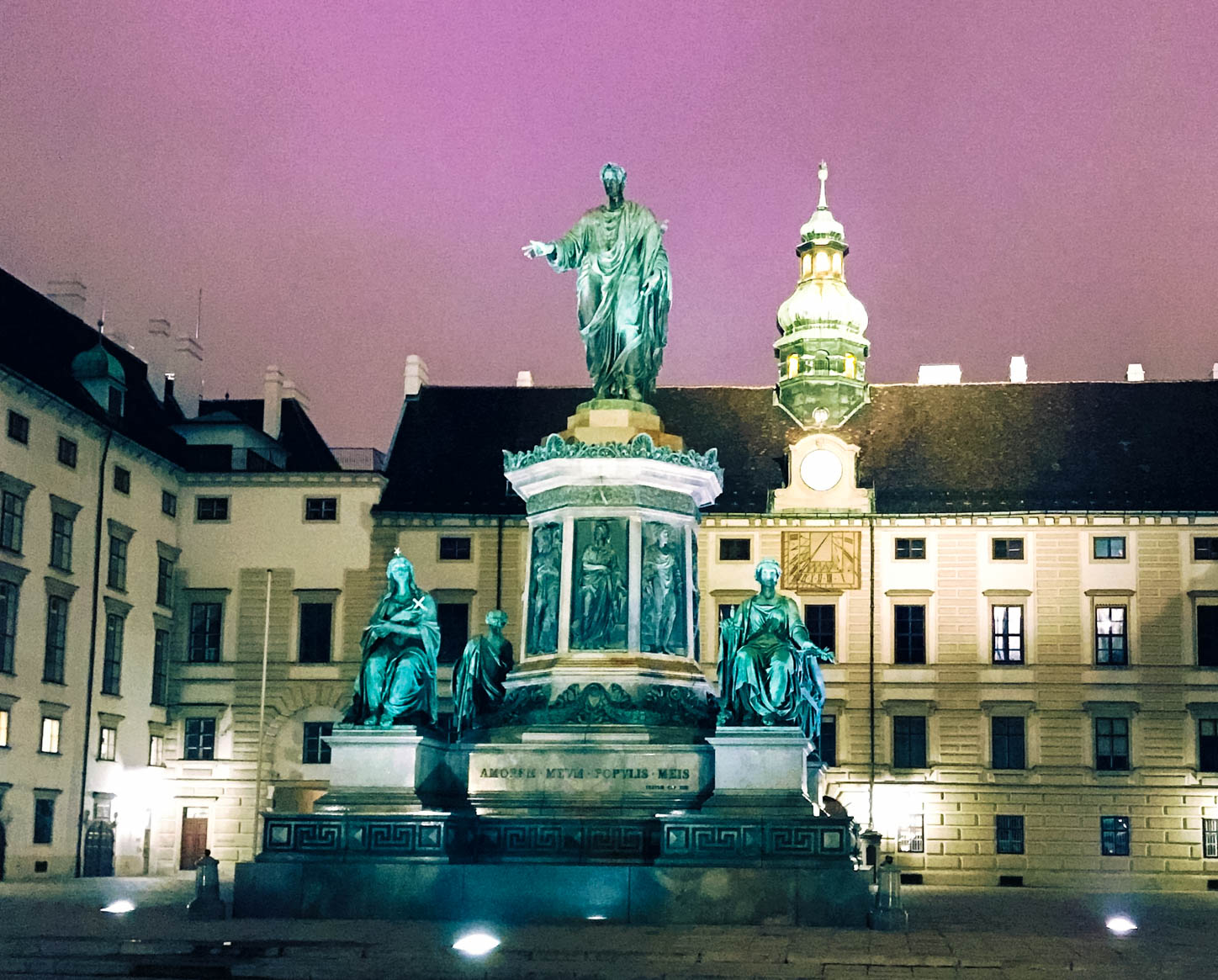 Then we went into St. Stephens Cathedral. Mass was being held so we couldn't get up close.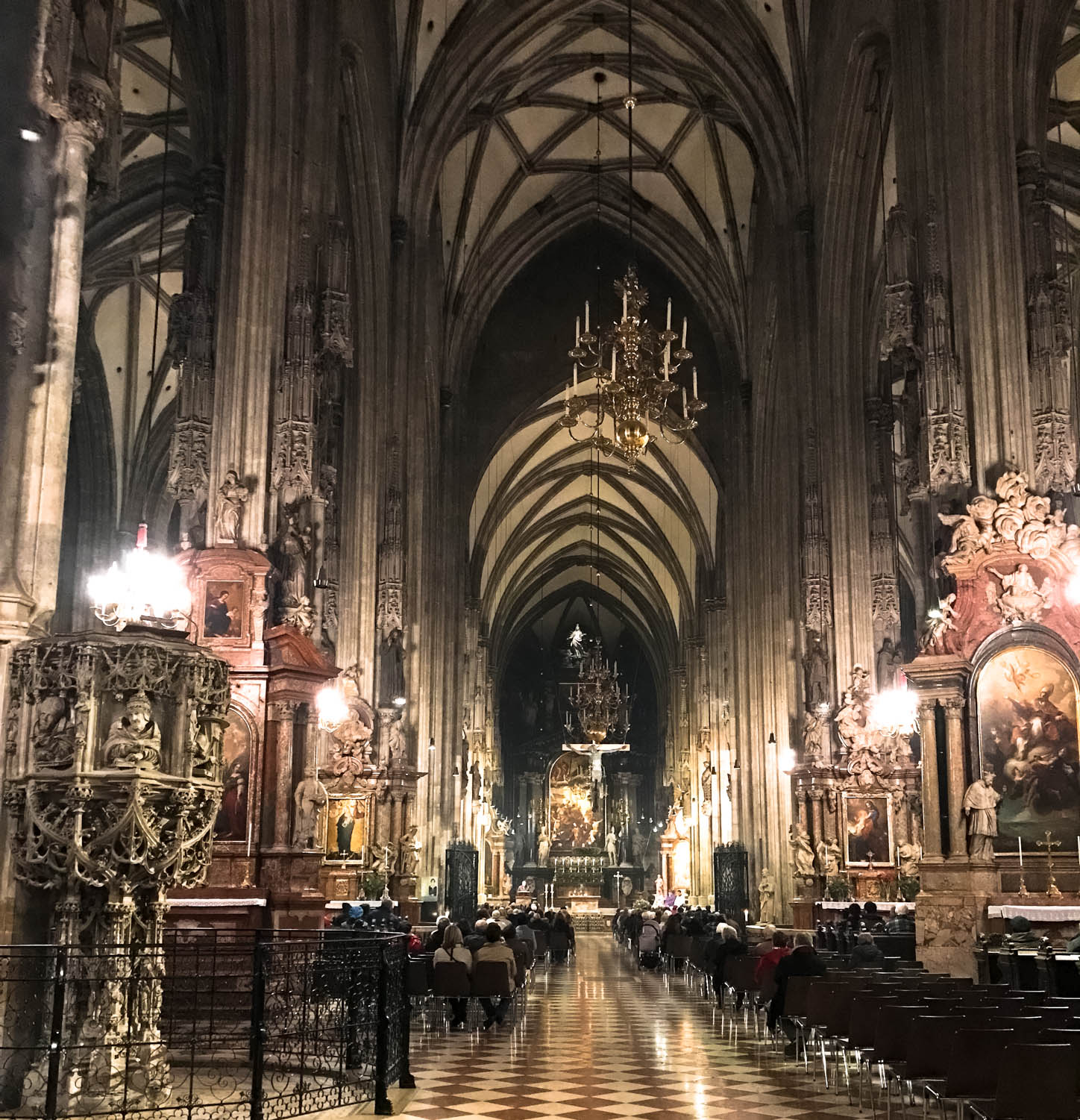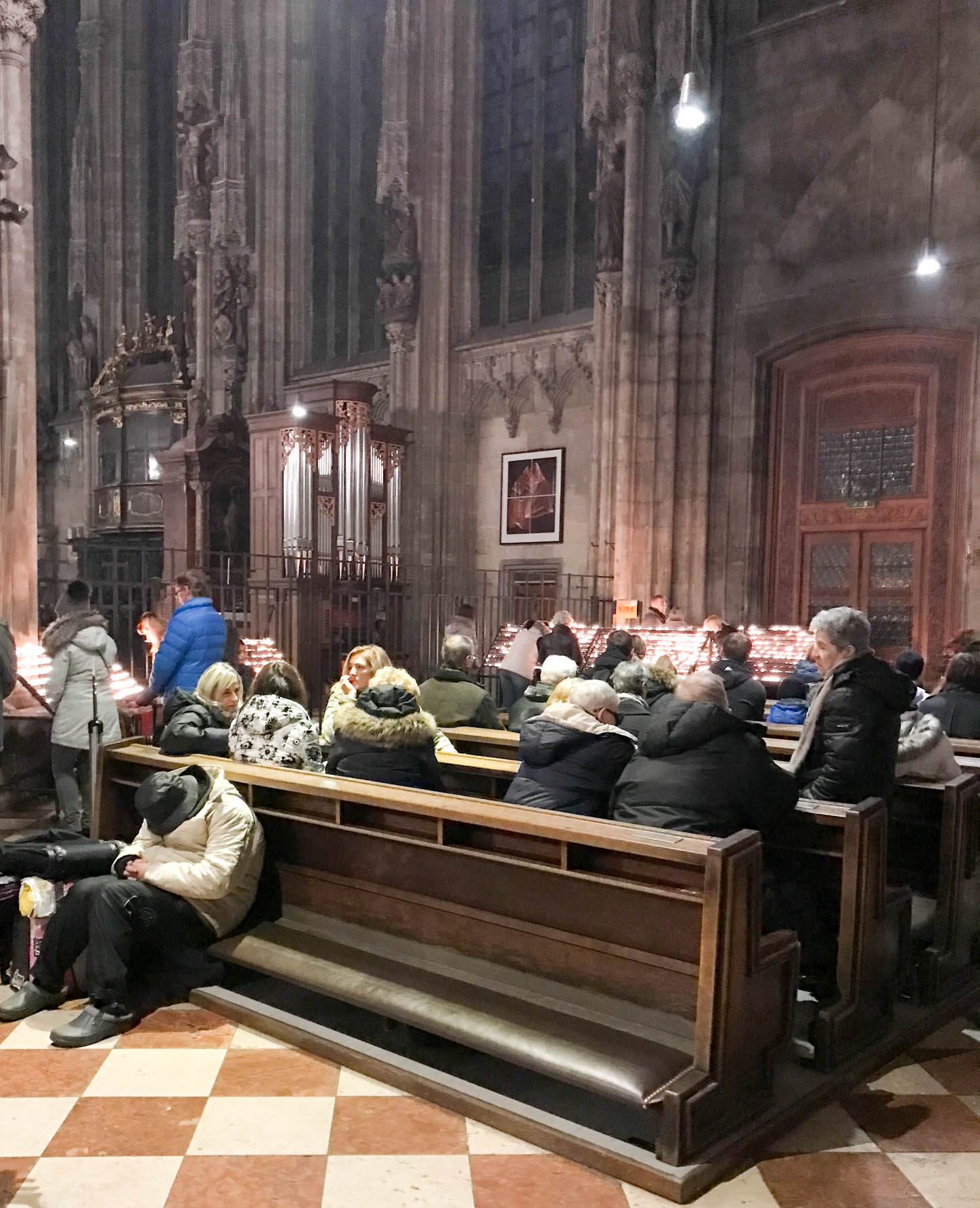 We had time to kill because our next scheduled event, a Mozart concert, at Karlskirche (St. Charles Church) https://events.wien.info/en/auy/w-a-mozart-requiem-at-karlskirche/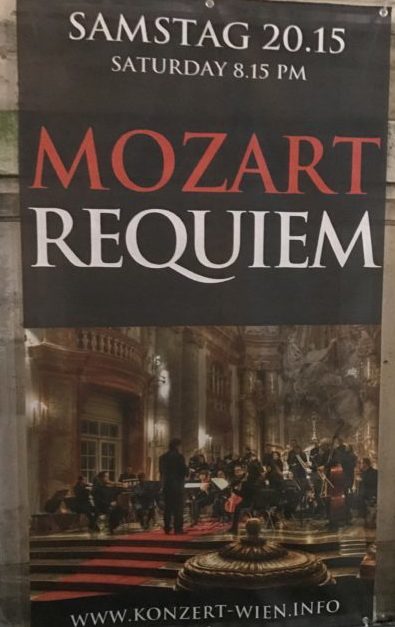 https://www.wien.info/en/locations/st.-charles-church didn't start until 20:15.
D took us by a façade that held a tableau of a dishwasher who slayed the dragon by using a shiny tray as a mirror and causing the dragon to turn back on itself.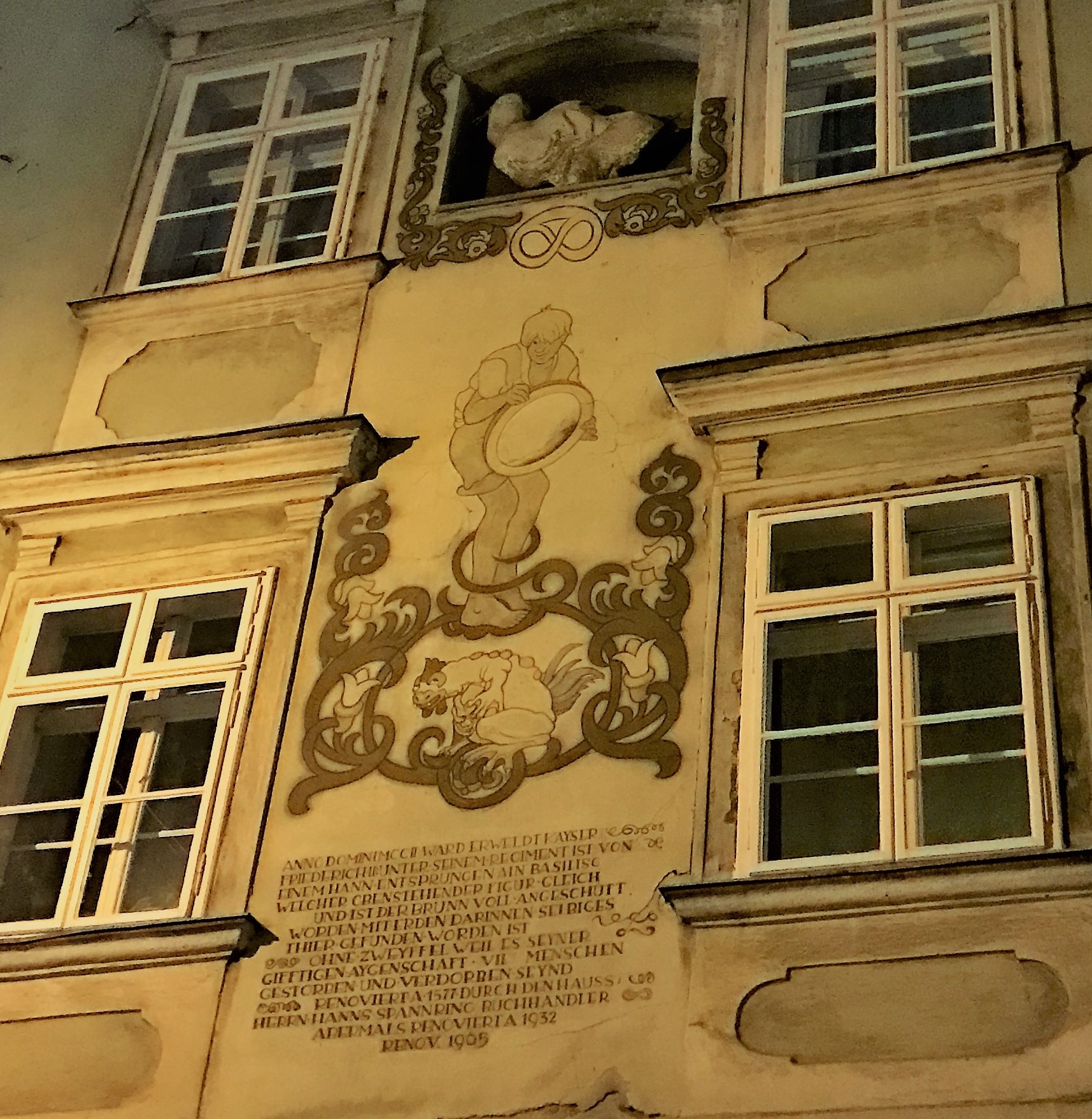 If you see flags on a building, that indicates it is a historic site.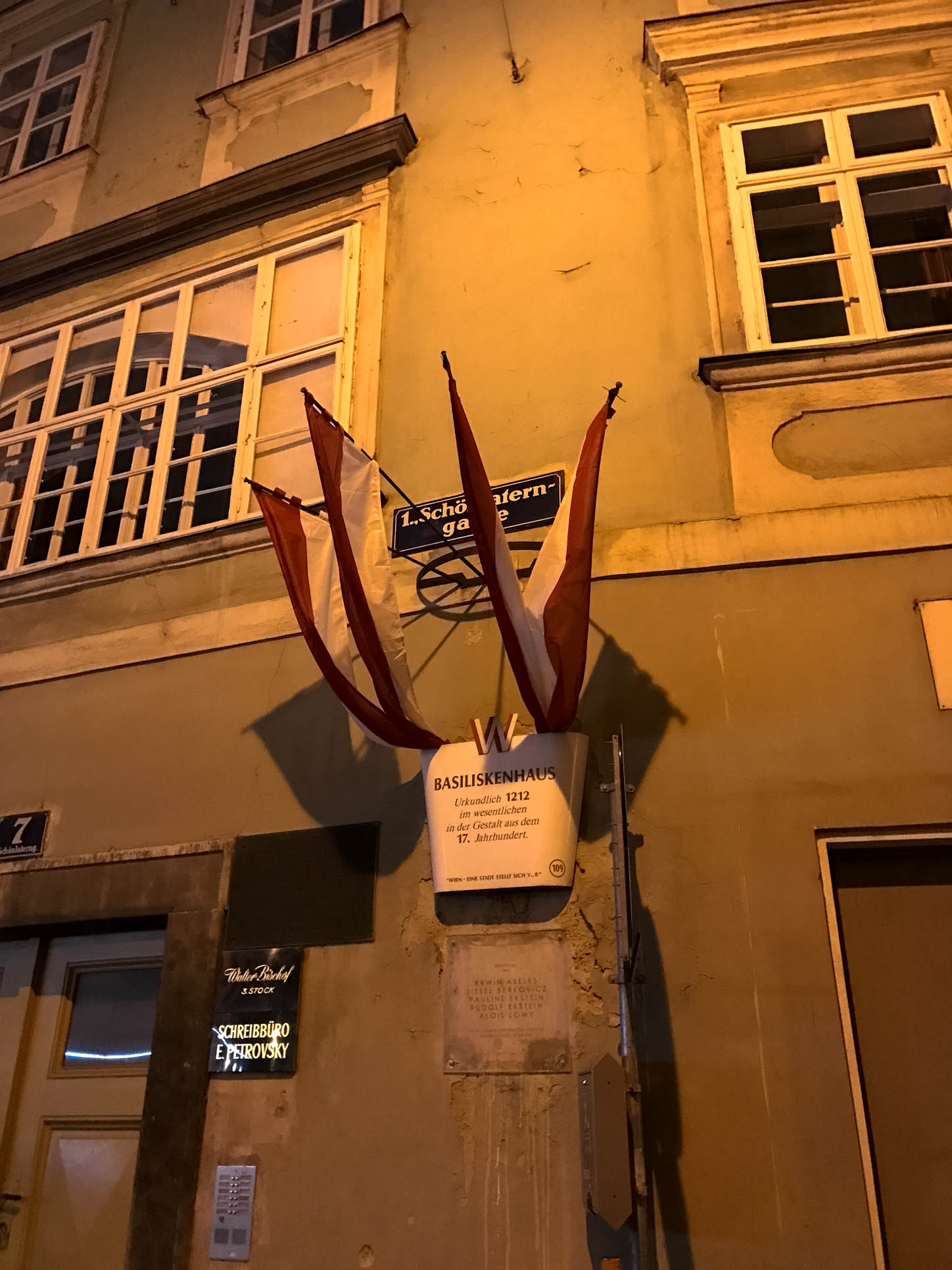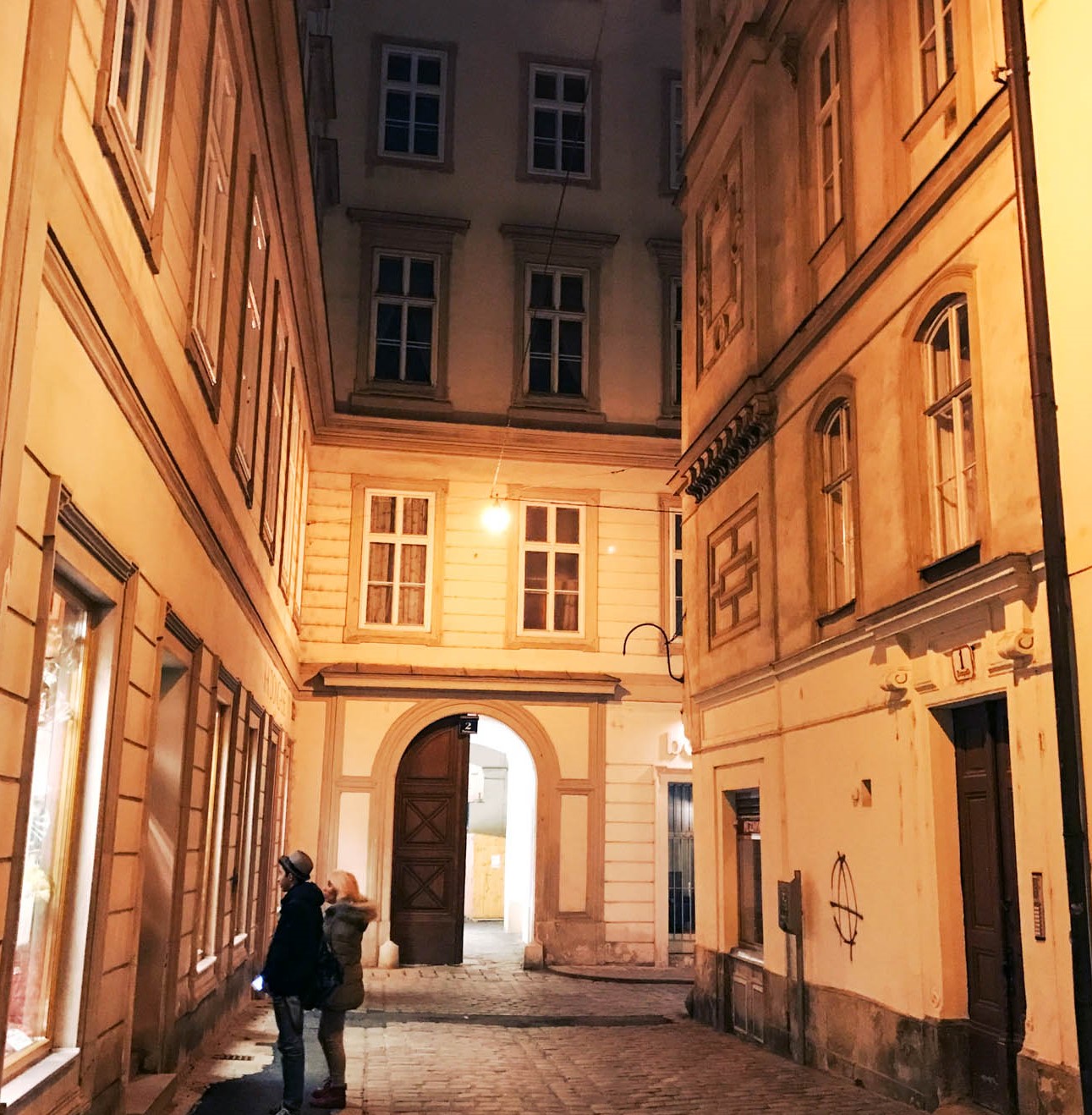 Vienna was decked out in its Christmas finery.  Everywhere you turn there is a Christmas market!  At the Karlskirche market I had my first taste of Glühwein (German mulled wine) and I added a shot of Wodka (vodka in German) in it.  Delicious!  You pay a deposit of 3 euros and keep the cup it comes in, or, you can turn the cup back in and get the 3 euros back.  We decided to keep the mugs.
Note – no bathrooms for use by the public inside the church.  You had to pay 50 cents to use the facilities in trailers outside but no one was monitoring so we didn't pay.  We got to the concert late so we had to sit in the back.  They handed out a blanket as you walked in because it was quite chilly in the vestibule.  The church was ornate and the music soothing.  The concert was unusual because the ensemble only uses old authentic instruments.  I was not expecting singing with the music and honestly the singing was a bit distracting.  The concert lasted only about an hour.  J had bought the tickets in advance which was good because it was sold out.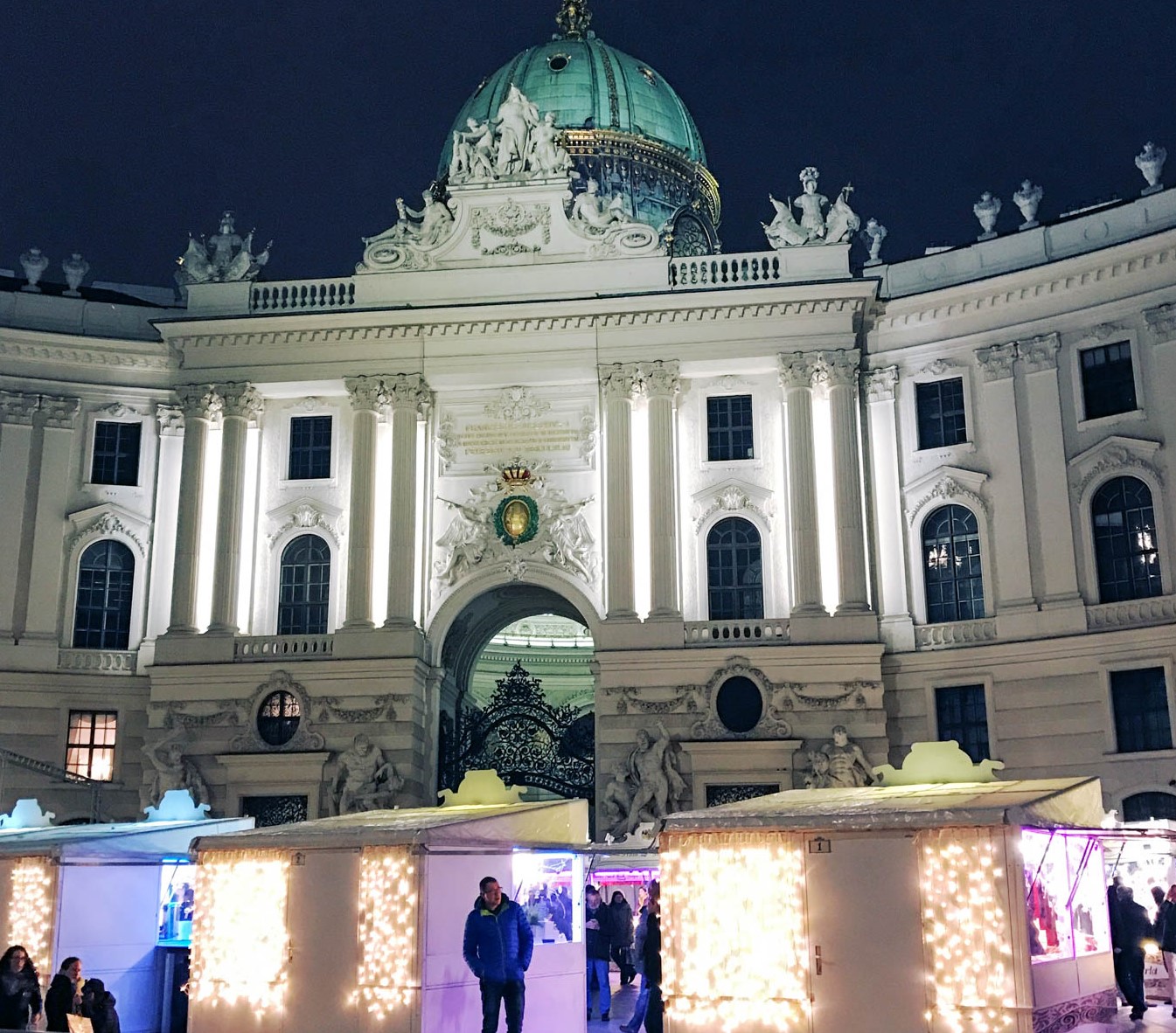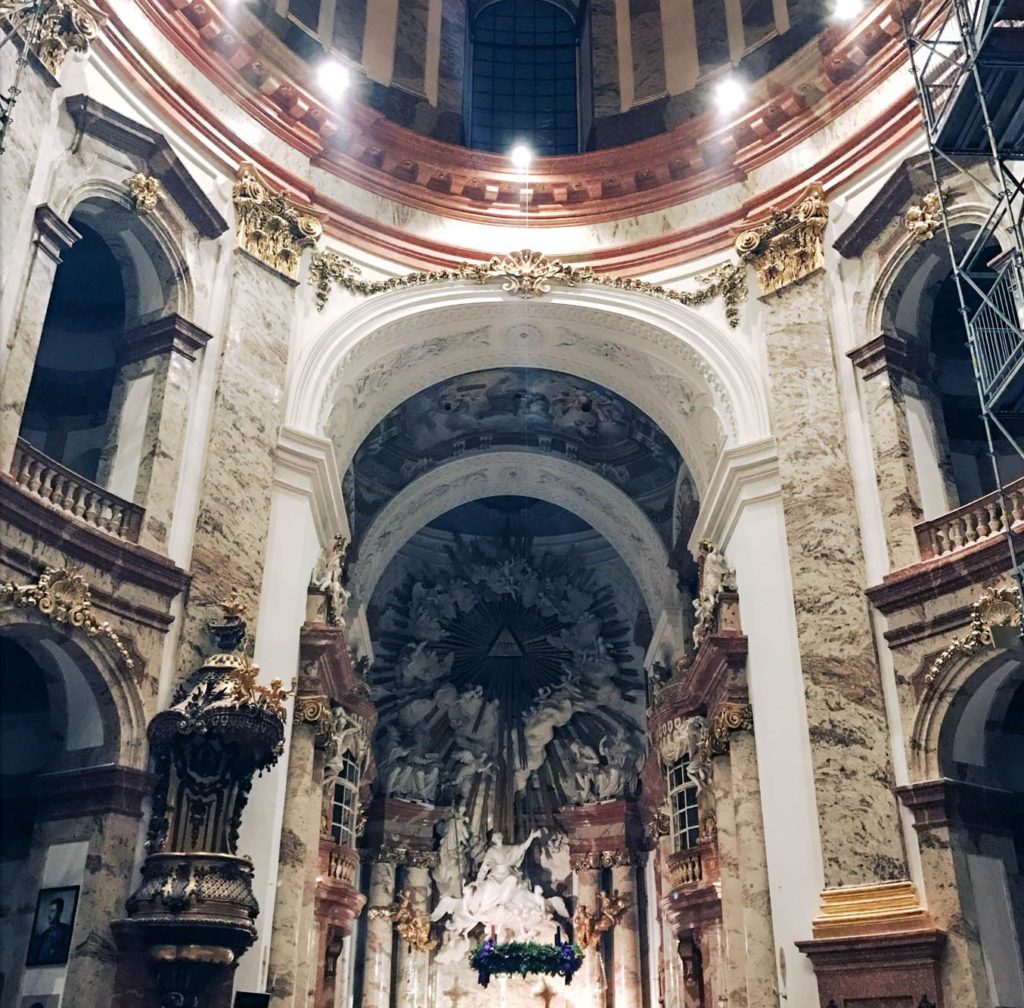 After the concert we strolled to Cafe Museum.  We got a cool circular booth in the back.  Excellent service.  I ordered the apple strudel with whip cream (instead of the vanilla sauce).  Oh my goodness.  The crust was so flaky, stuffed with apples, and pure whip cream.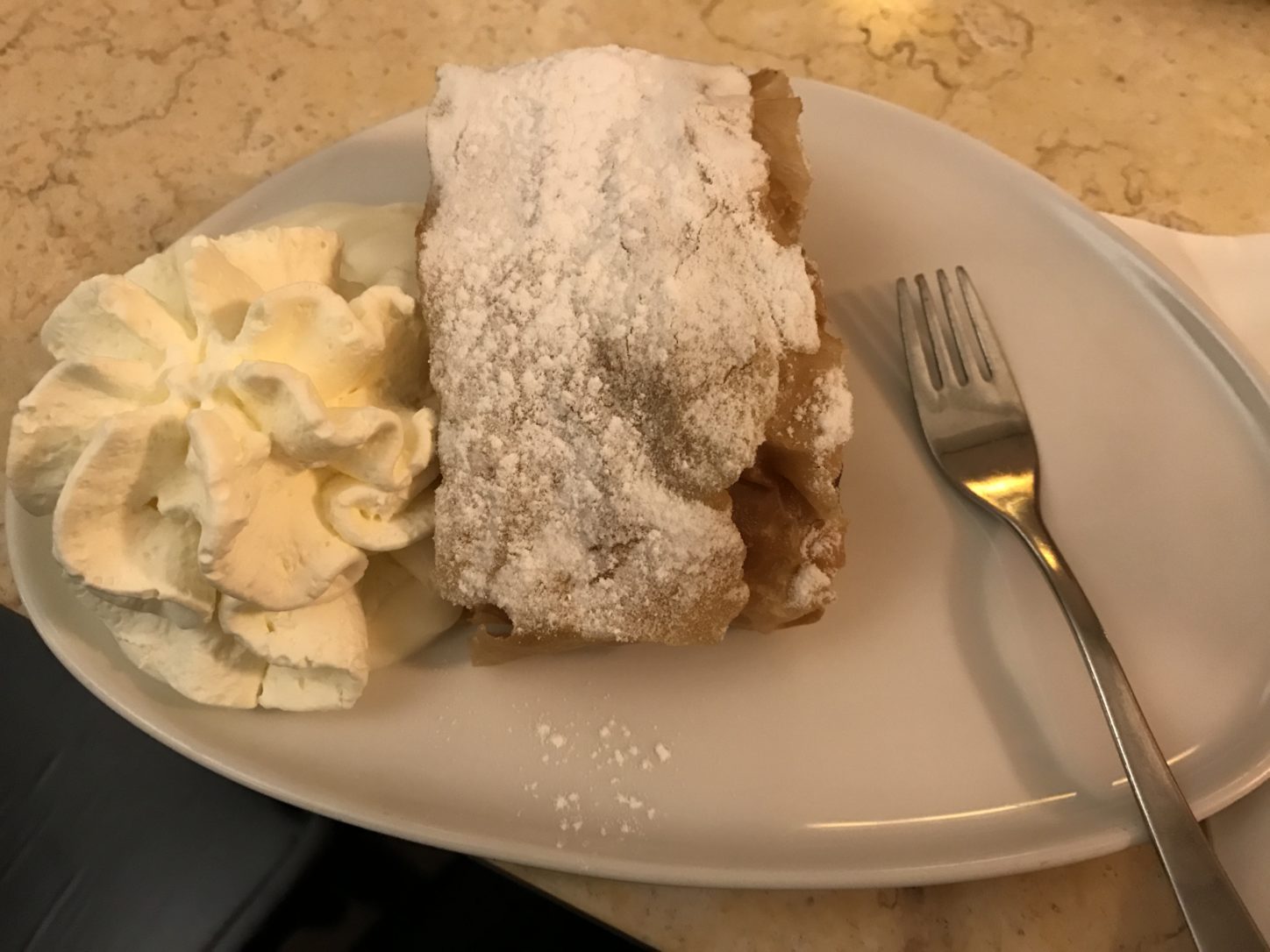 We stayed there talking for a while.  D said if you order something the waiters will not bother you to leave for at least two hours.  The catch is that when you want the bill you have to ask for it.  You also have to ask for water.  I ordered cognac to go with my strudel.  J and D were impressed I stayed awake all day on my first day of travel and didn't get too sleepy.  They walked me back to my flat, and came upstairs with me while I figured out how to use the light in the hallway and the door key.  A full first day!!
Sunday November 28. J had said text her when I woke up so I did, around 10am.  She texted back shortly.  She had been worried I would wake up earlier.  They slept in too because after they dropped me off, they had gone out to meet a friend of D's. I met them for brunch around noon at a nearby restaurant named Vollpension.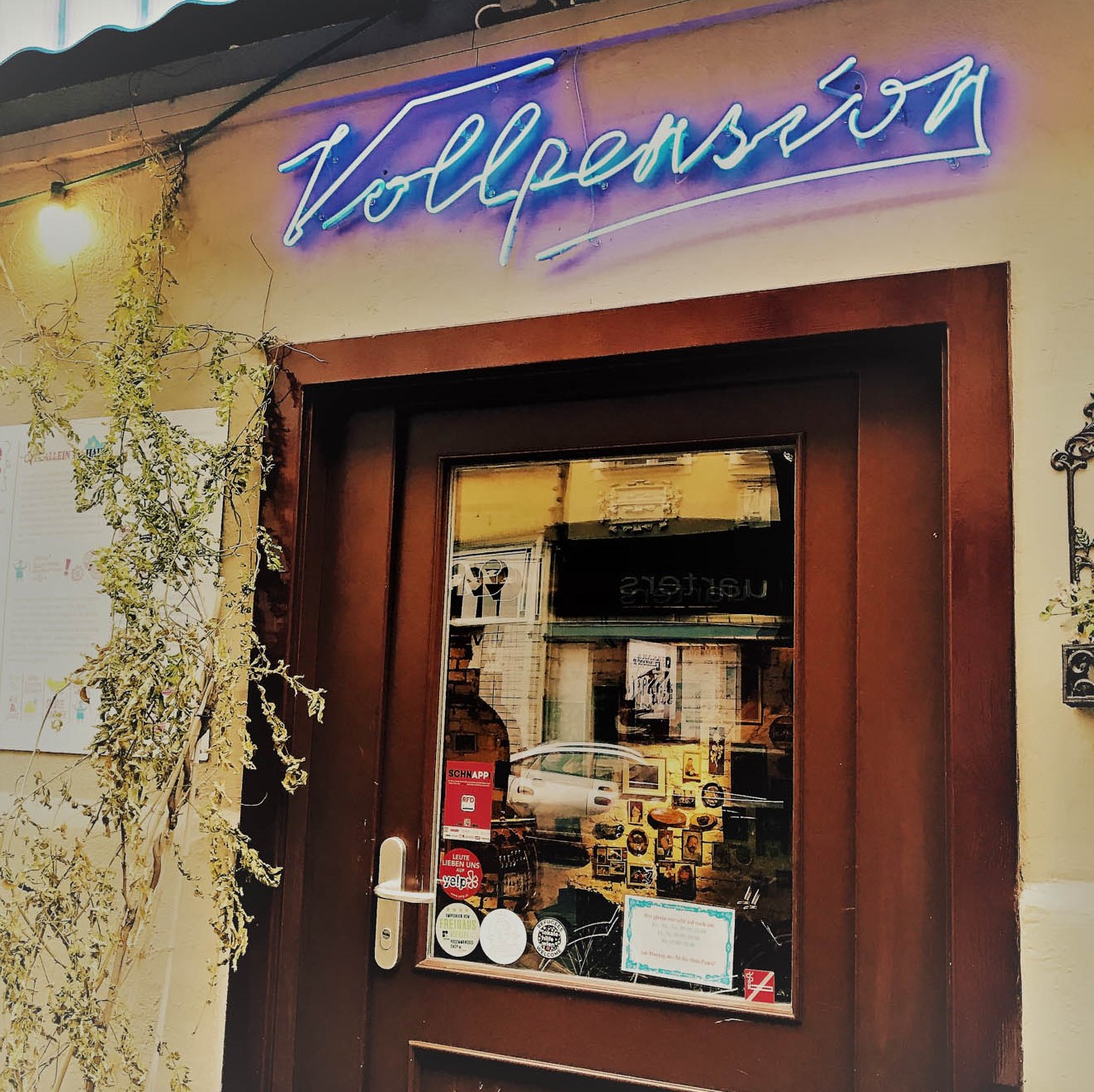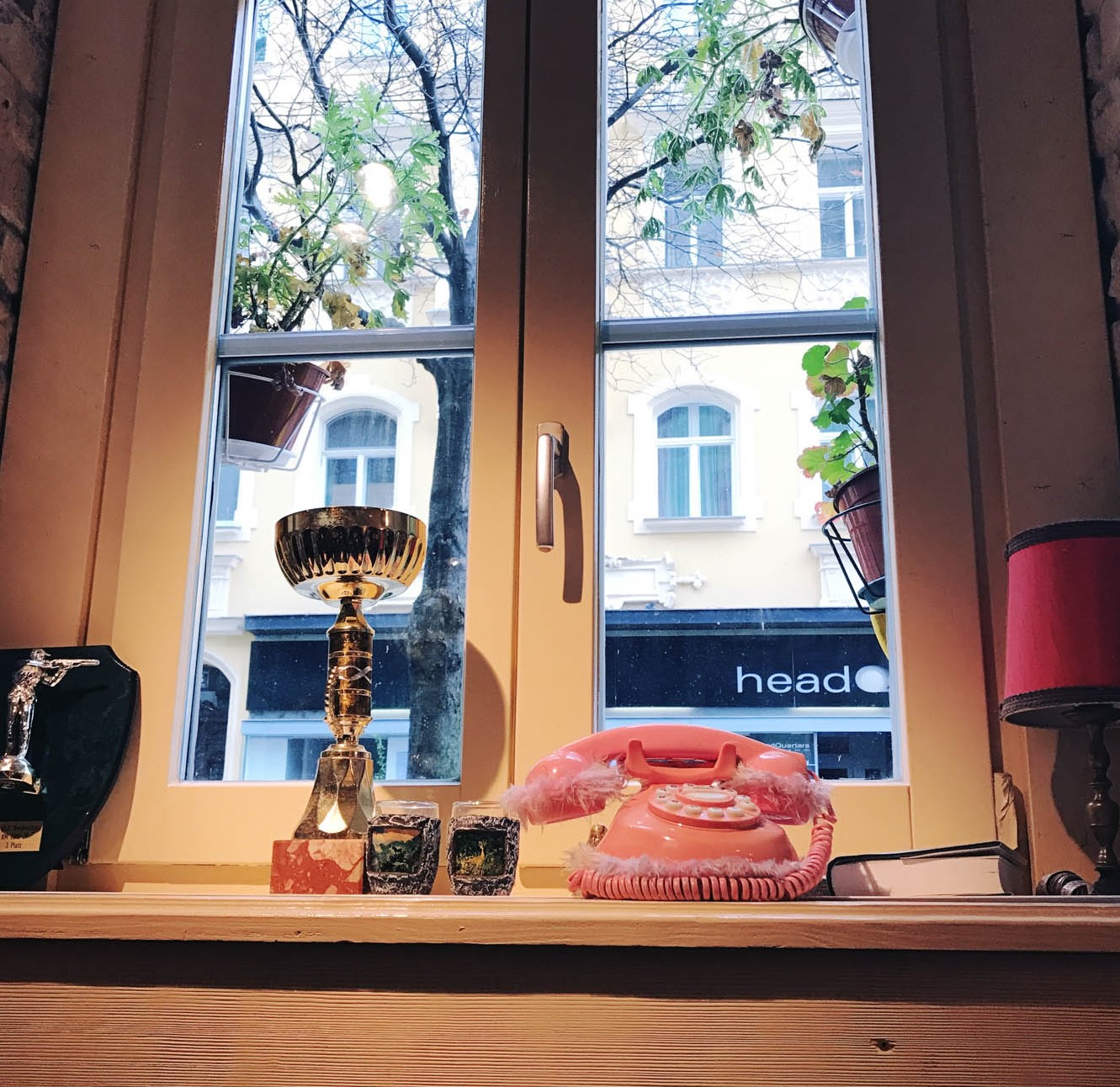 The inside had couches with tables and looked like a grandma's kitchen/living room.  We waited about 10 minutes for a table. One thing I observed in Vienna is that the cafes are full all the time.  You almost always have to wait until a seat opens up.  A young brunette with a ponytail came over to take our order.  She was wearing a T shirt that said Je Ne Regrette Rien (I have no regrets).  I told her I liked it and she said she owned part of this restaurant and she wore it to remind herself that her decision to become an owner was good at times when things were stressful.
I ordered a breakfast called the Spicy Grandpa.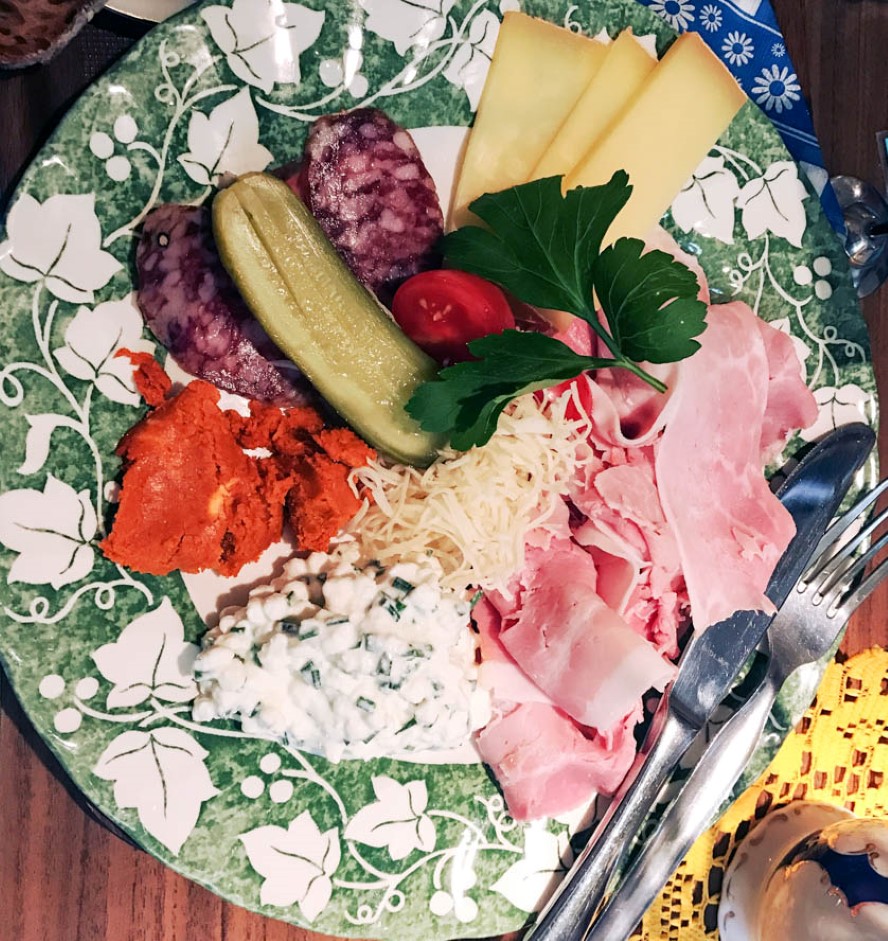 It included cottage cheese (so fresh) with chives, shredded horseradish (which at first I thought was cheese), a few slices of salami, dark toast and a roll, some slices of cheese, a pickle, and some tomato butter.  The meal also came with a soft boiled egg served in an egg cup and a small spoon.  D showed us how to eat it.  Tap the top to crack the shell, peel the hat away, and use the spoon to dip in to the egg and eat it.  The yolk was bright orange.  I love the food in Europe.
After brunch, we headed to Schoenbrunn Palace. https://www.schoenbrunn.at/en/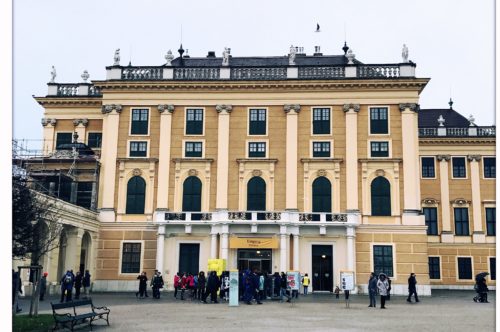 My first time riding the subway.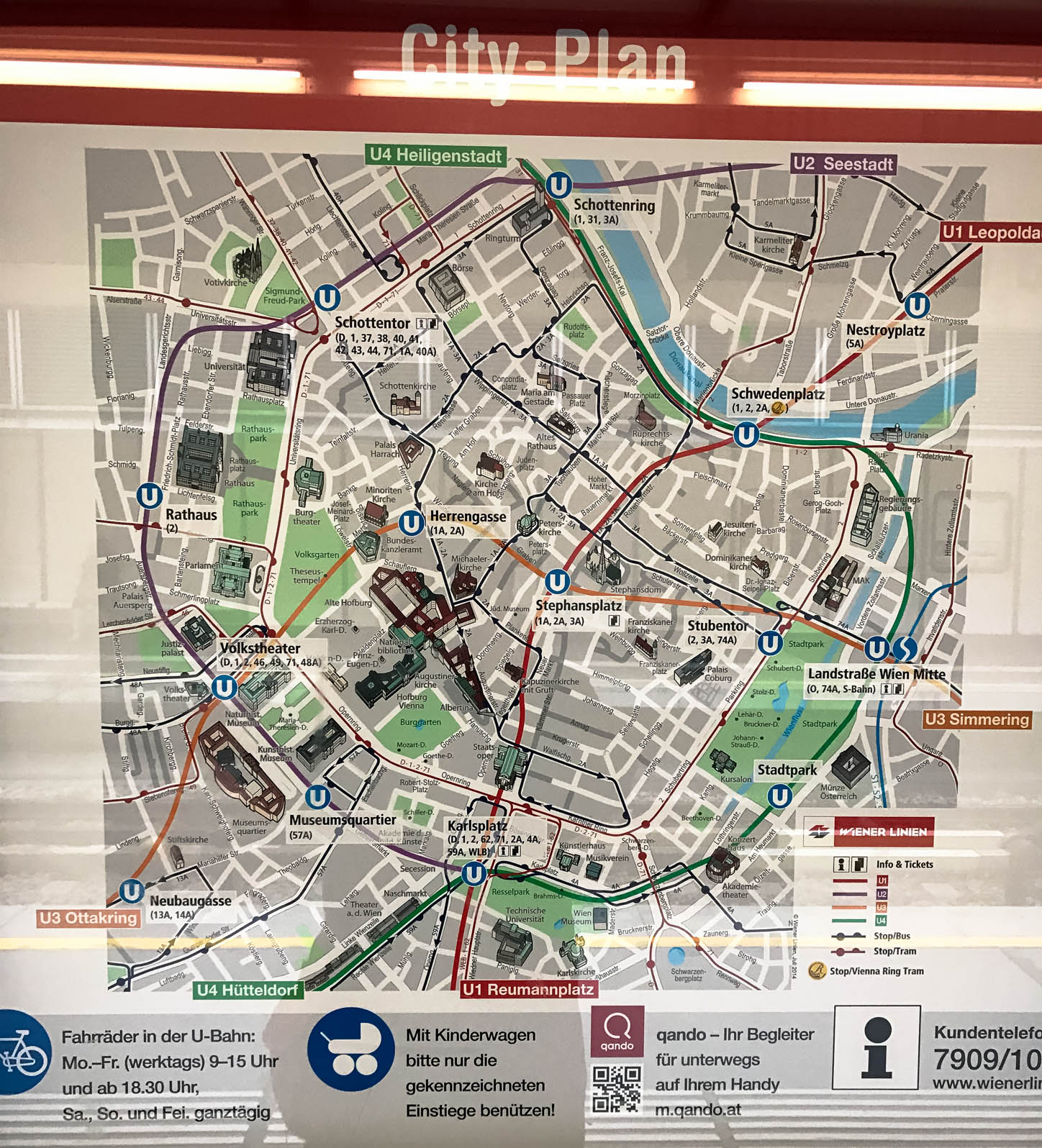 I decided to buy a 72 hour pass which cost 16.50 euros.  One time on the train we saw the subway police but they were not checking anyone's tickets.  J and D said that so far during 2 months of living there they have not been asked to show their ticket.  You validate the ticket once and then you don't have to use it anymore.  We arrived at the Palace about 1pm and it started raining.  Probably not the best decision to visit on a Sunday because of the crowds.  There are two different tours you can do – The Imperial Tour, 22 rooms, 30-40 minutes.  This tour gives you a picture of the different stylistic eras of the imperial monarchy and the lives of the Palace´s inhabitants.  You will see the state rooms and private apartments of Franz Joseph and Sisi. Cost is 13.30 Euros.  The Grand Tour has 40 rooms, takes 50-60 minutes and costs 16.40 Euros.  Besides the state rooms and private apartments of the imperial couple you´ll also see the 18th-century interiors from the time of Maria Theresia.  We all agreed to do the Grand Tour and I'm glad we did.
After the 22 rooms you have to show your ticket again to keep going.  I loved seeing how they lived back then.  The price also includes an audio tour.  I learned a lot about the history of Austria and its rulers.  OK, so I like palaces.  D wanted to show us the gardens and sculptures but it was still raining and cold (40 degrees) so we didn't last long outside.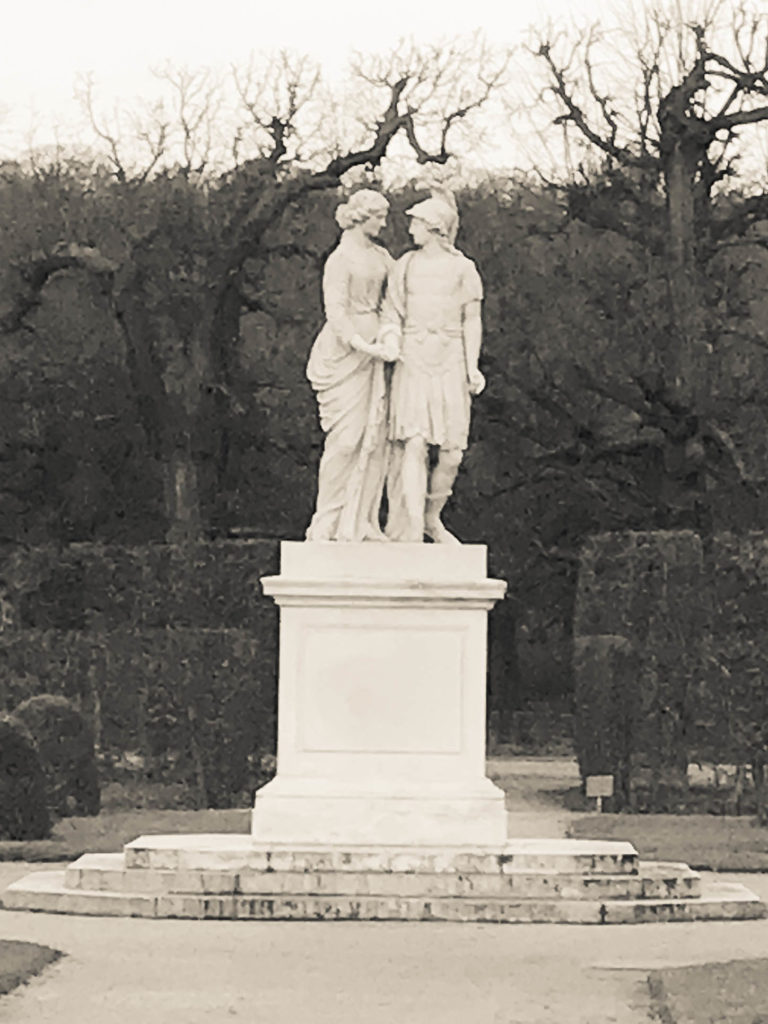 Hunger pangs struck so we stopped for a bite at Café Residenz on the grounds of the Palace.  I had a mixed green salad with lots of different greens, tomatoes and cucumbers.  The salad dressing was sweet and light.  D ordered tuna salad on greens and the dish overflowed with green and black olives which he does not like, so J and I scooped them up.  The olive flavor definitely improved my salad.  I ordered the Glühwein to drink.  Yes, another Christmas market in front of the Palace.
We looked a little, then rushed to get to the art museum, Kunsthistorisches Museum Wien, https://www.khm.at/en/
before it closed at 6pm.  We got there about 17:20 but D said he could give me a high level tour of the best pieces, and he did.  It cost 14 euros to get in (discounted from 15 euros as J let me use her Vienna card).  The picture gallery of the museum developed from the art collections of the House of Habsburg.  Today it is one of the largest and most important of its kind in the world.  I saw 16th century Venetian paintings (Titian, Veronese, and Tintoretto), 17th-century Flemish paintings (Peter Paul Rubens, Sir Anthony Van Dyck), pictures by Pieter Bruegel the Elder, which are unique worldwide, as well as masterpieces by Vermeer, Rembrandt, Raphael, Caravaggio, and Velázquez.
After that, we went to eat at a restaurant near the plague monument called Reinthaler's Beisl.  The address is Dorotheergasse 4,  Graben, Vienna 1010, Austria.  The website is only in German.  They had eaten there before.  We had to wait about 15 minutes for a table.  The décor reminded me of a cozy log cabin.  Quaint and cute, but tiny.  J and D talked me into trying the goulash, and I gobbled it up.  Austrian goulash is a roast beef stew with potatoes and carrots.  The thickness of the gravy compared favorably to a New Orleans roux, and so did the seasoning.  I could cut the tender chunks of beef with my fork.  A glass of Austrian Riesling added to my taste buds' content.
After that we walked to Rathauspark which is Vienna's biggest Christmas market, in front of Vienna's City Hall.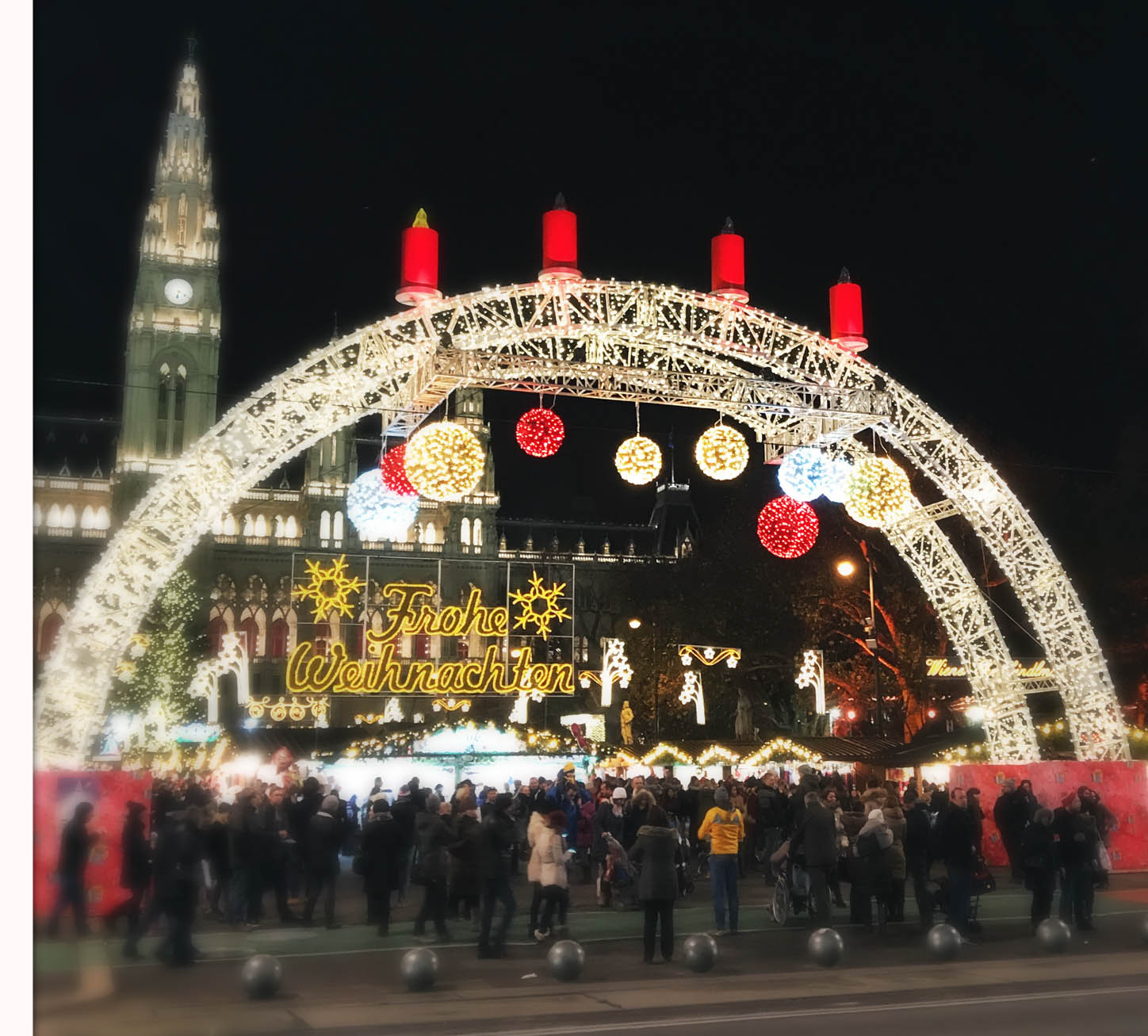 We shopped, drank more Glühwein, added to our collection of mugs.  I found some warm, red glittens (convertible mittens). The top of the mitten opens up so I could use my fingers to take pictures which was exactly what I needed.  We walked some more and came across another market.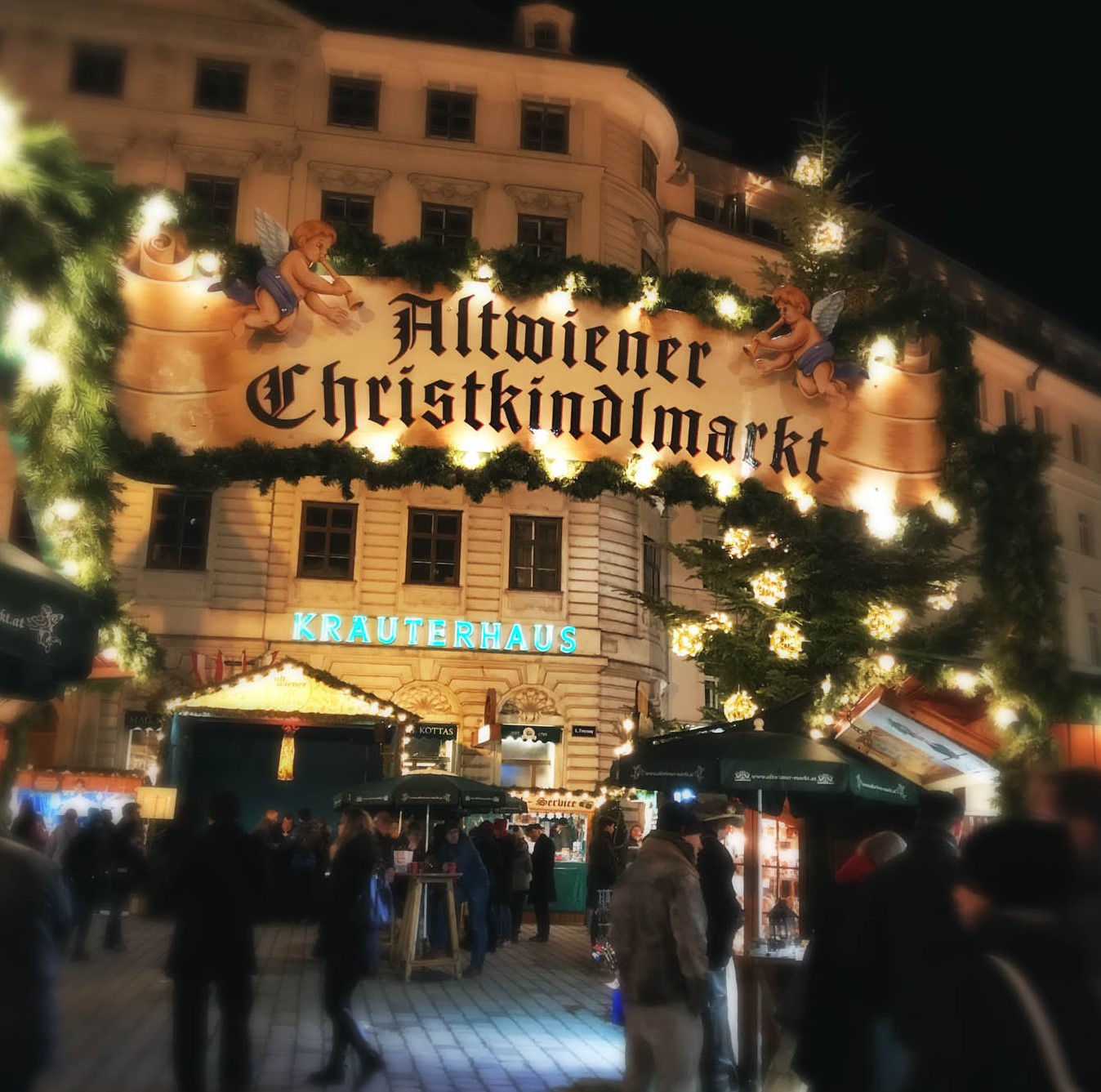 I bought some earrings from an Asian lady from Thailand.  This time I had Glühwein with Baileys Irish Crème in it.  Next we meandered to the Jewish memorial.  The memorial is not very picturesque, simply a gray brick box with writing on it.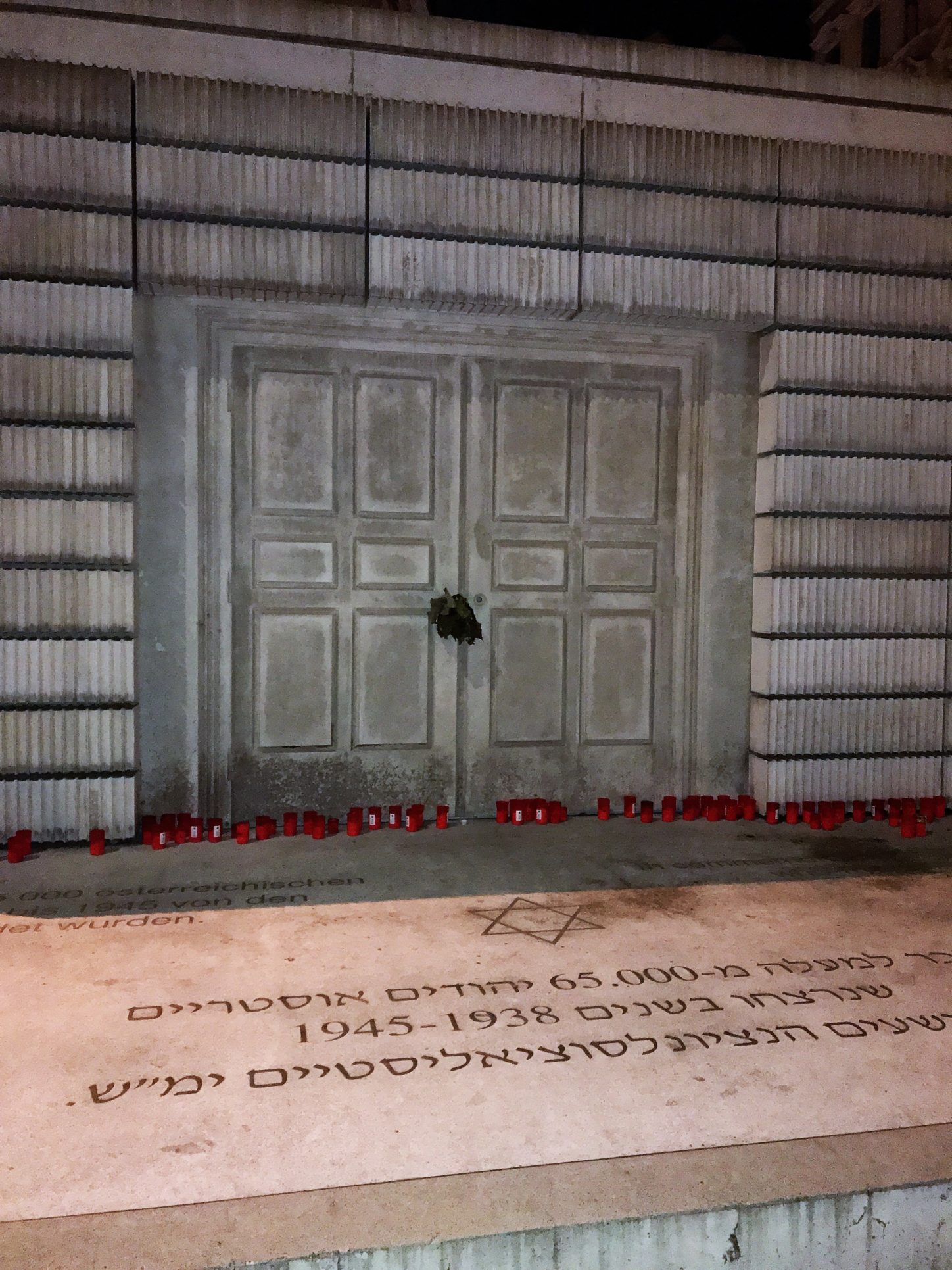 Then we headed to one of their favorite wine bars, Wein and Co.  We had a small cheese plate and some more white wine.  Done for the day.  J said we walked almost 8 miles according to her Fitbit.
Monday, November 28. We decided to go on a tour of Parliament which began at 11am.  I arrived at their flat around 930am as J planned to cook breakfast.  We got to Parliament only a few minutes before 11.  They made you check your coats which meant we should have given ourselves a bit more leeway (all events start precisely on time in Austria!).  The tour was in German and then the tour guide would translate to English.  We got to see both chambers of the house.  This building sustained damage in WWII also but was rebuilt.  https://www.parlament.gv.at/ENGL/GEBF/FUEHRUNGEN/OeffentlicheFuehrungen/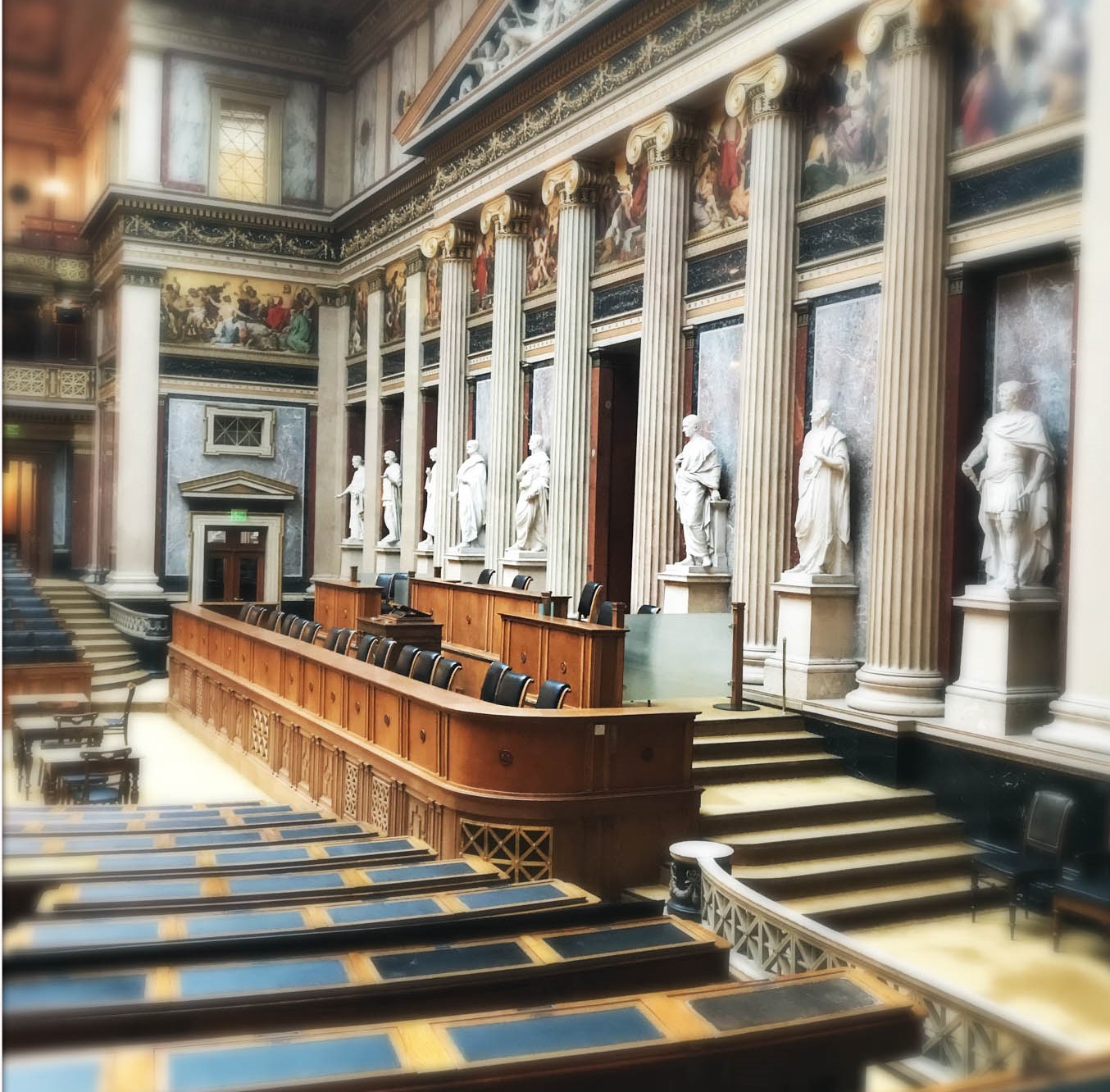 On our way to the Parliament Building, D explained to me the significance of the walk and stop symbols on the street light poles.  Unlike in the U.S., where there is only one green or red or white figure, in Austria you may randomly see two men together or two women holding hands:  Austria's nod to lesbian and gay people.  I thought that was pretty cool.
Difficult to capture the photo from across the street because the light doesn't stay on long. After the Parliament tour, which lasted an hour and cost 5 euros, D went off to do some errands.
J and I walked back into the city center. She wanted to show me the Rauthaus, the theater, and St. Stephens Cathedral in the day time.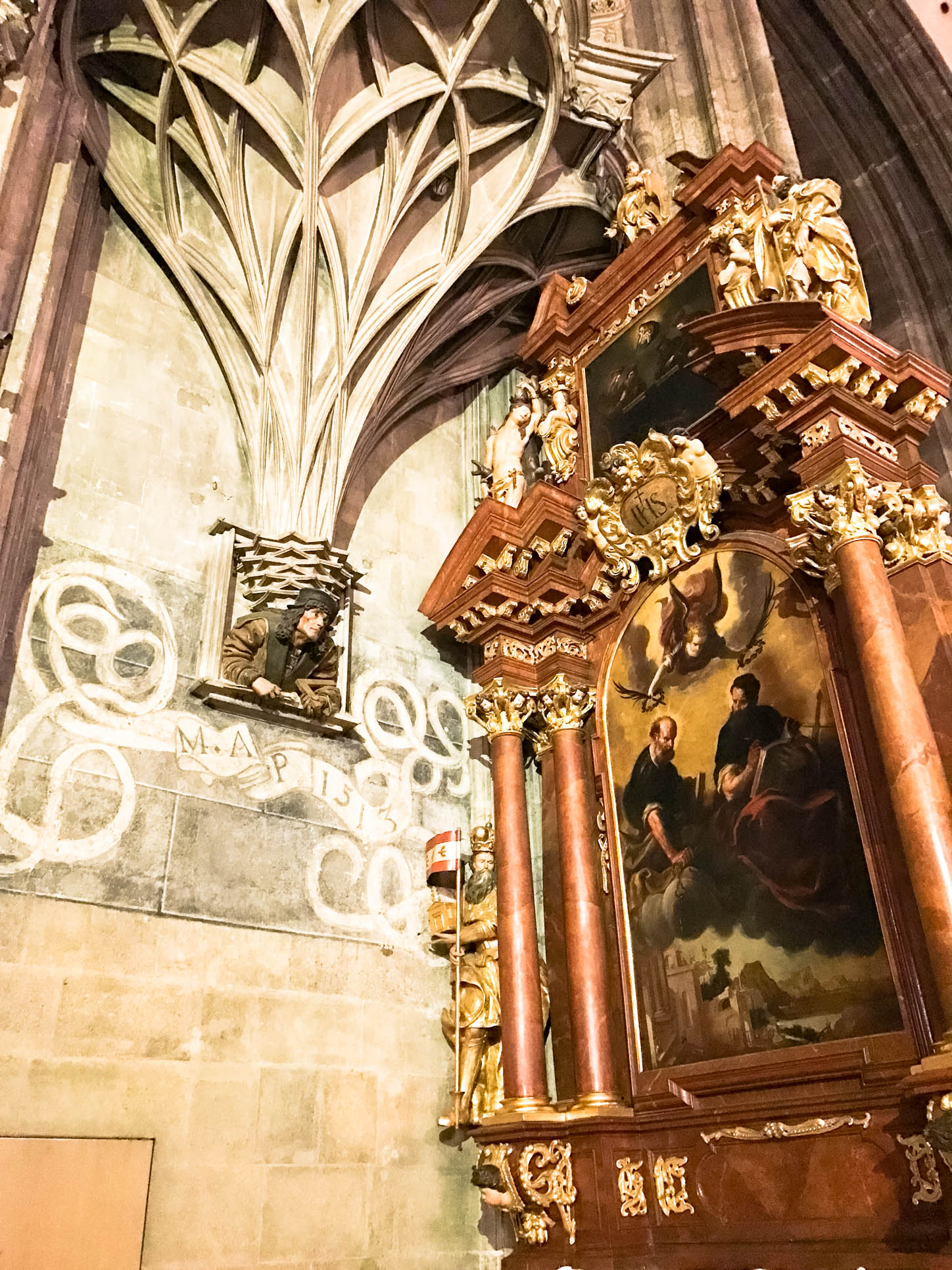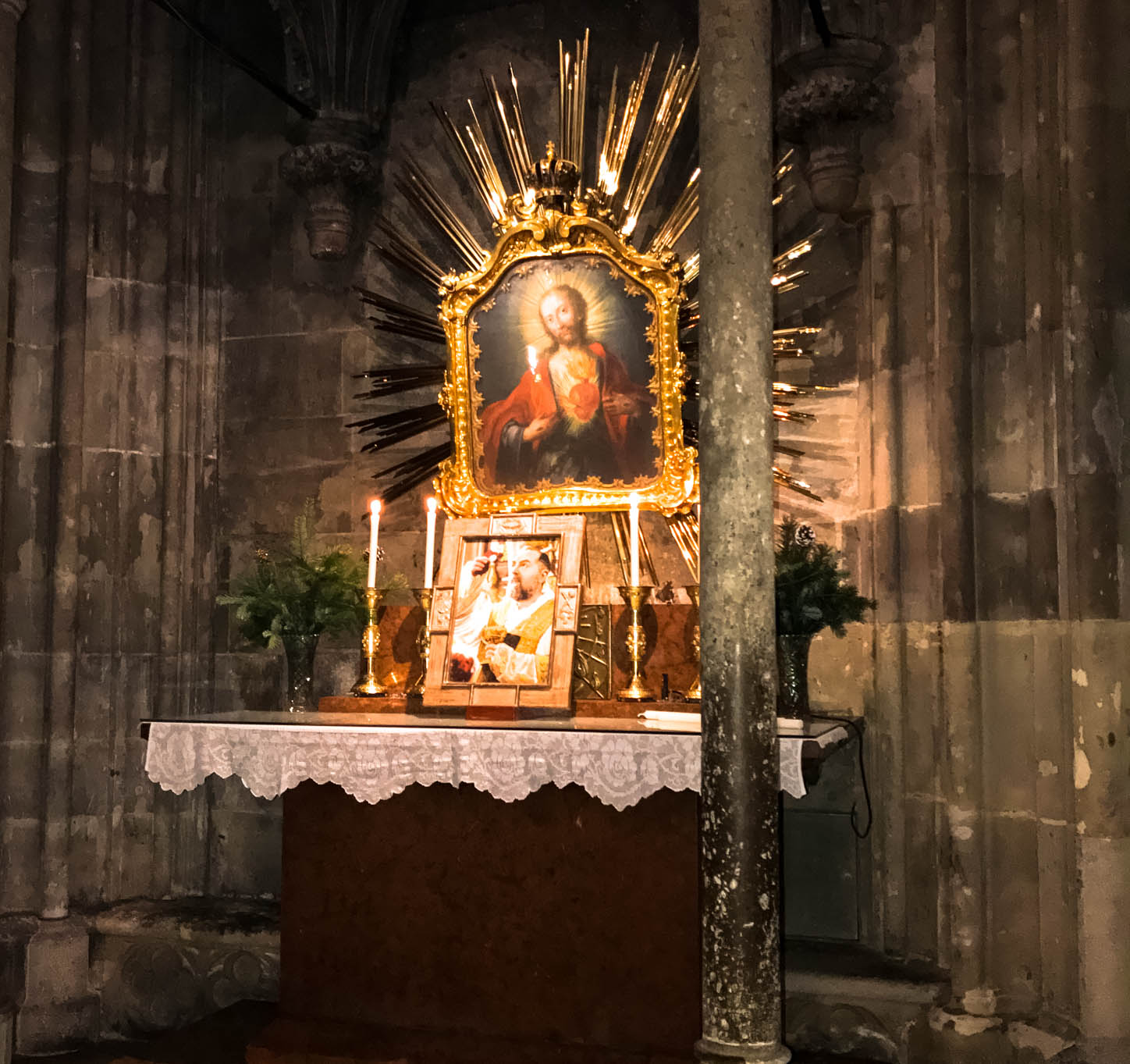 We did some serious shopping on Kaerntner Strasse, the main shopping street. High end stores as well as souvenir shops.
We sauntered past Café Central, thinking we would stop and get some coffee, but the line was too long. https://www.cafecentral.wien/en/.  Established in 1876, Freud, Hitler, Lenin and Trotsky (among many other famous people) patronized Vienna's most attractive coffeehouse.
Then we strolled right past Hotel Sacher and that Sacher torte called out to us.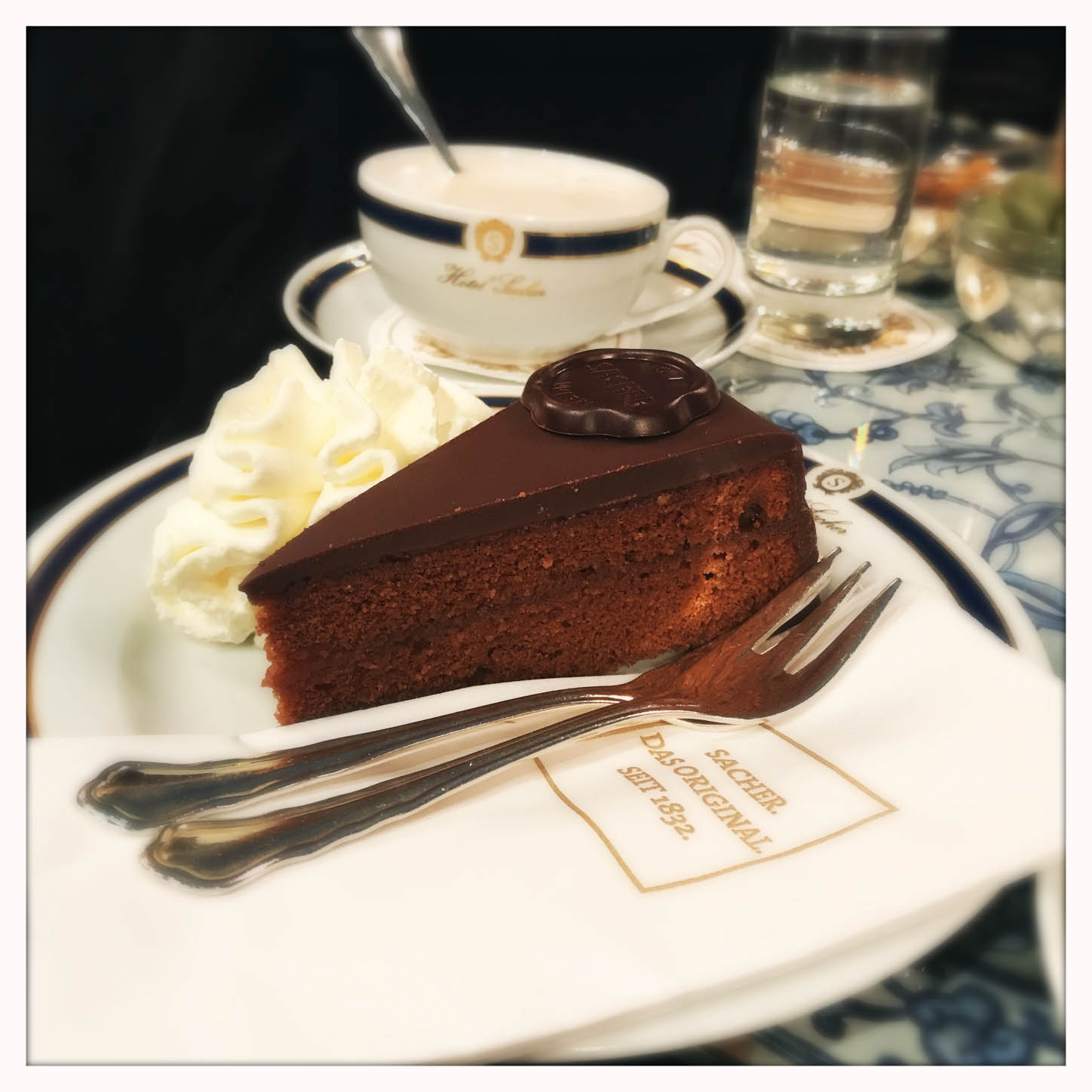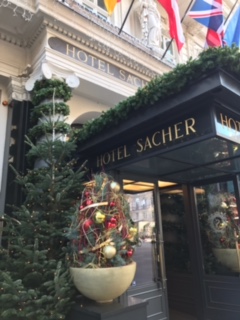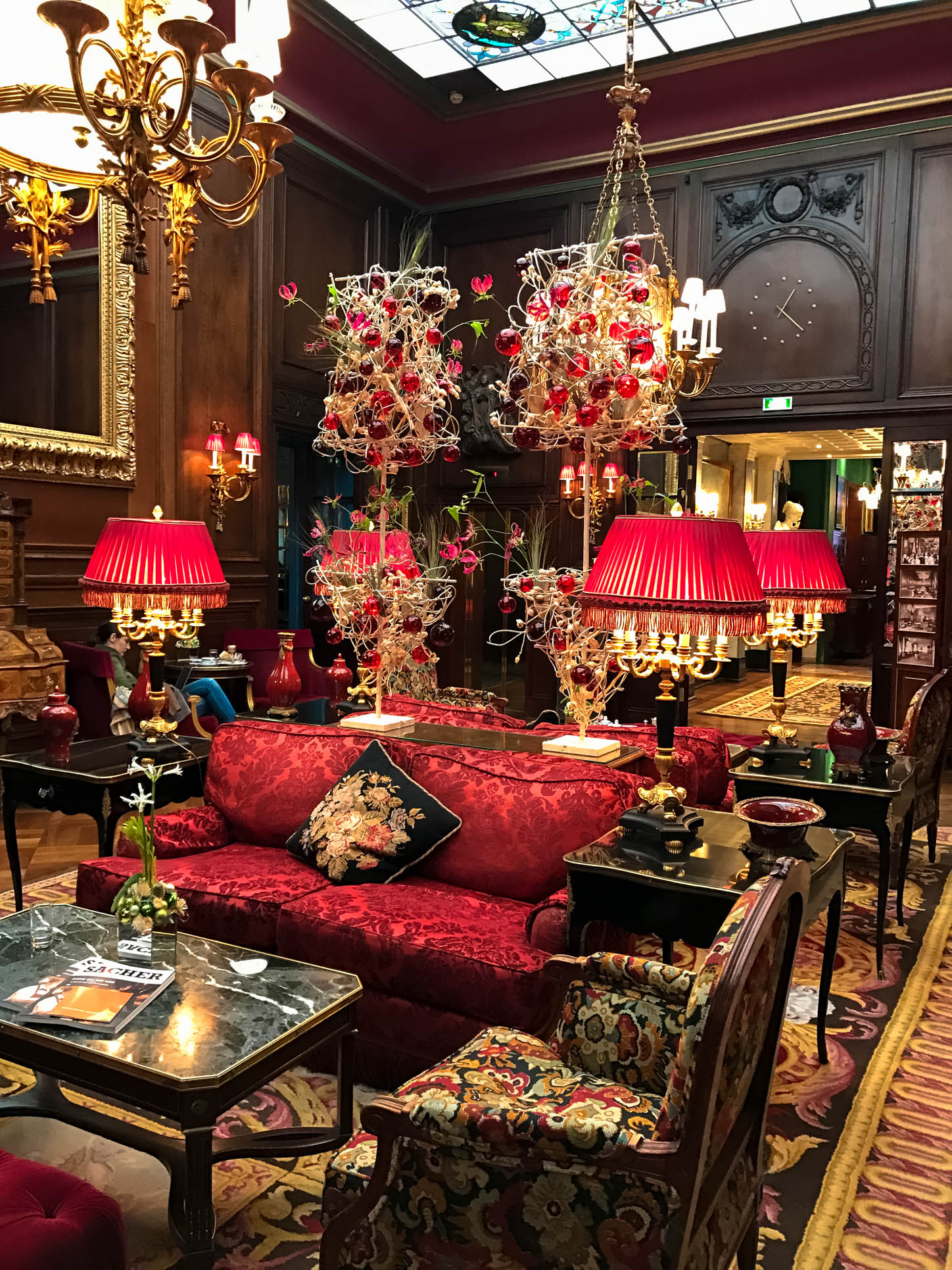 Hordes of tourists at the cafe but J knew about the restaurant section and we were able to get a seat. The atmosphere felt like a fairy tale inside. All decorated up for Christmas.
They bring you a three part tray of mixed nuts and spicy wasabi nuts to begin. We only ordered one torte to share. We ate it up quickly as we were hungry, but restrained ourselves and didn't order another one. We accompanied the torte with a drink called a mélange which is like a cafe latte. After Hotel Sacher we were on our way to the Upper Belevedere to see the Klimt paintings. J figured out which tram to take.
J took me to the ticket counter, but she decided not to go in since she had already been there. She looked in the Christmas market (yes, another one) until I finished. I was mesmerized by the outside garden from the windows in the museum.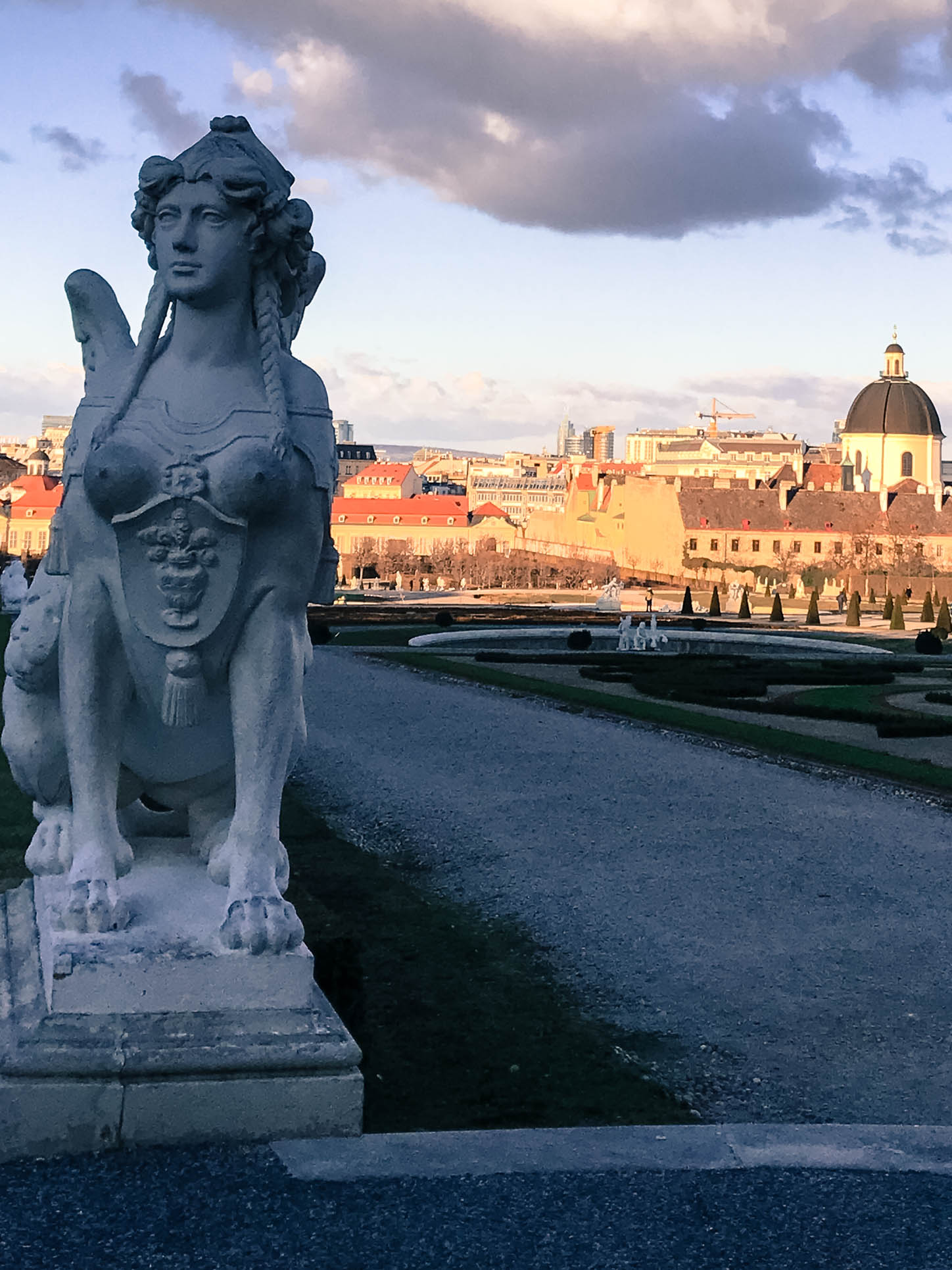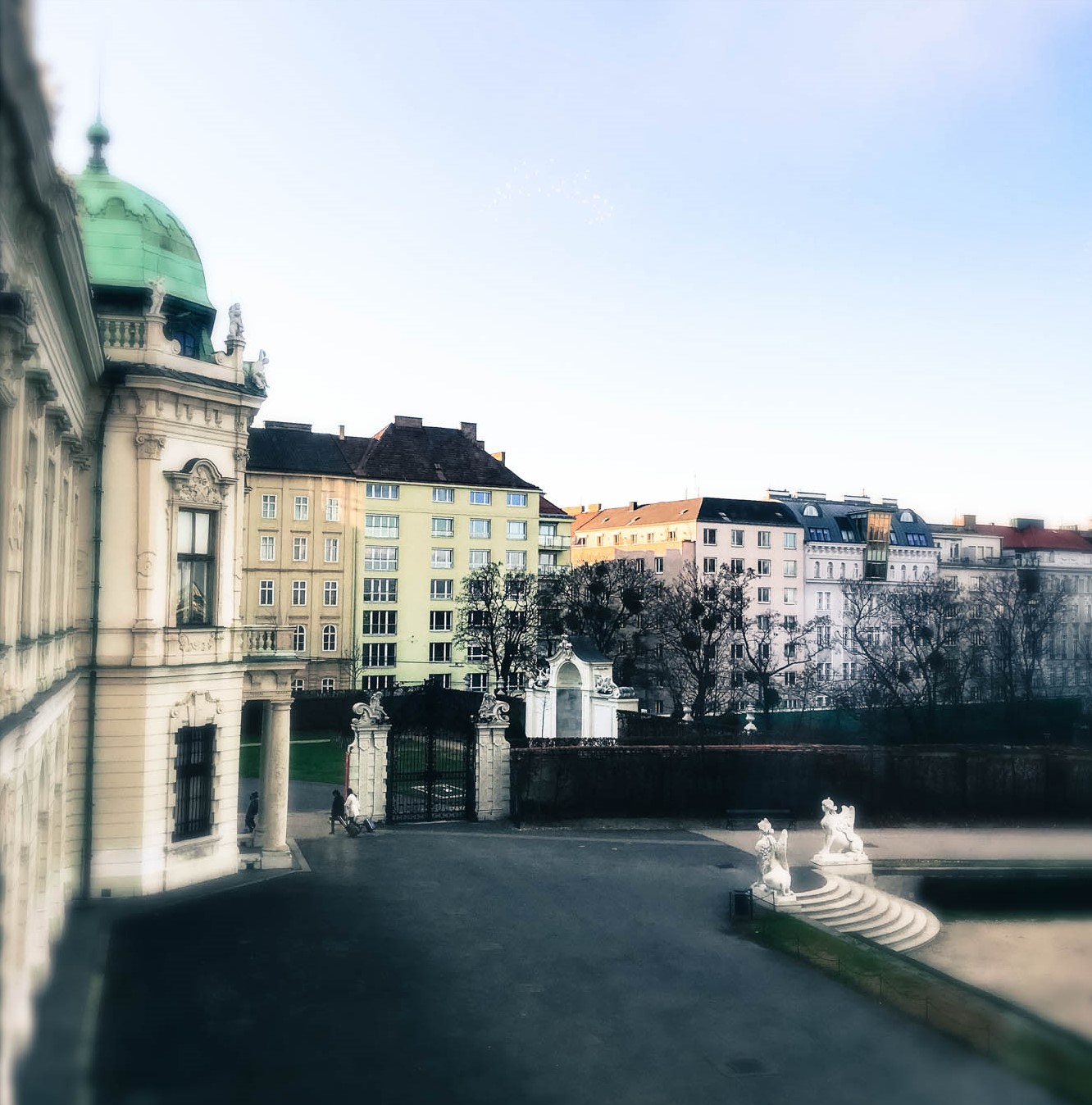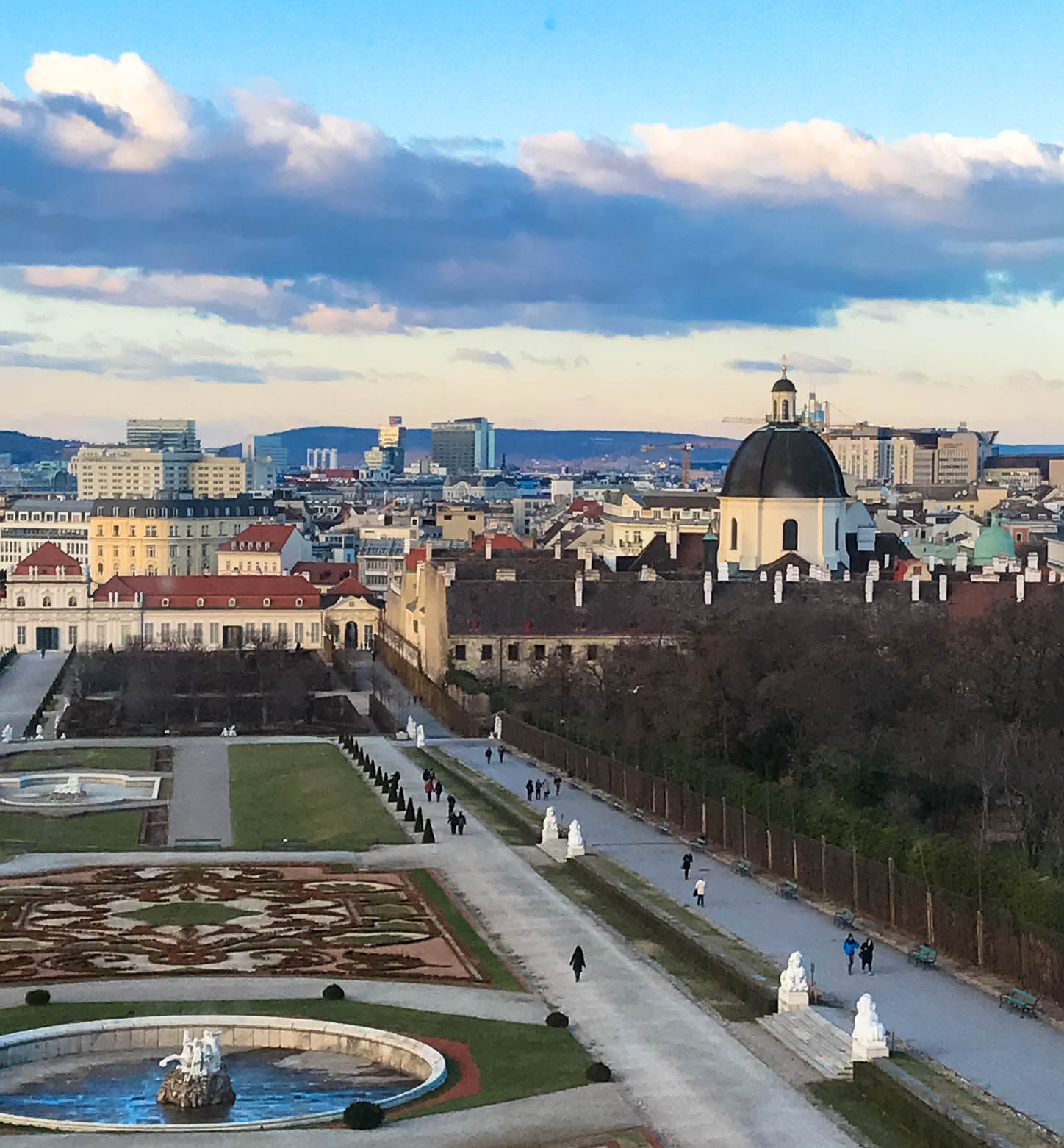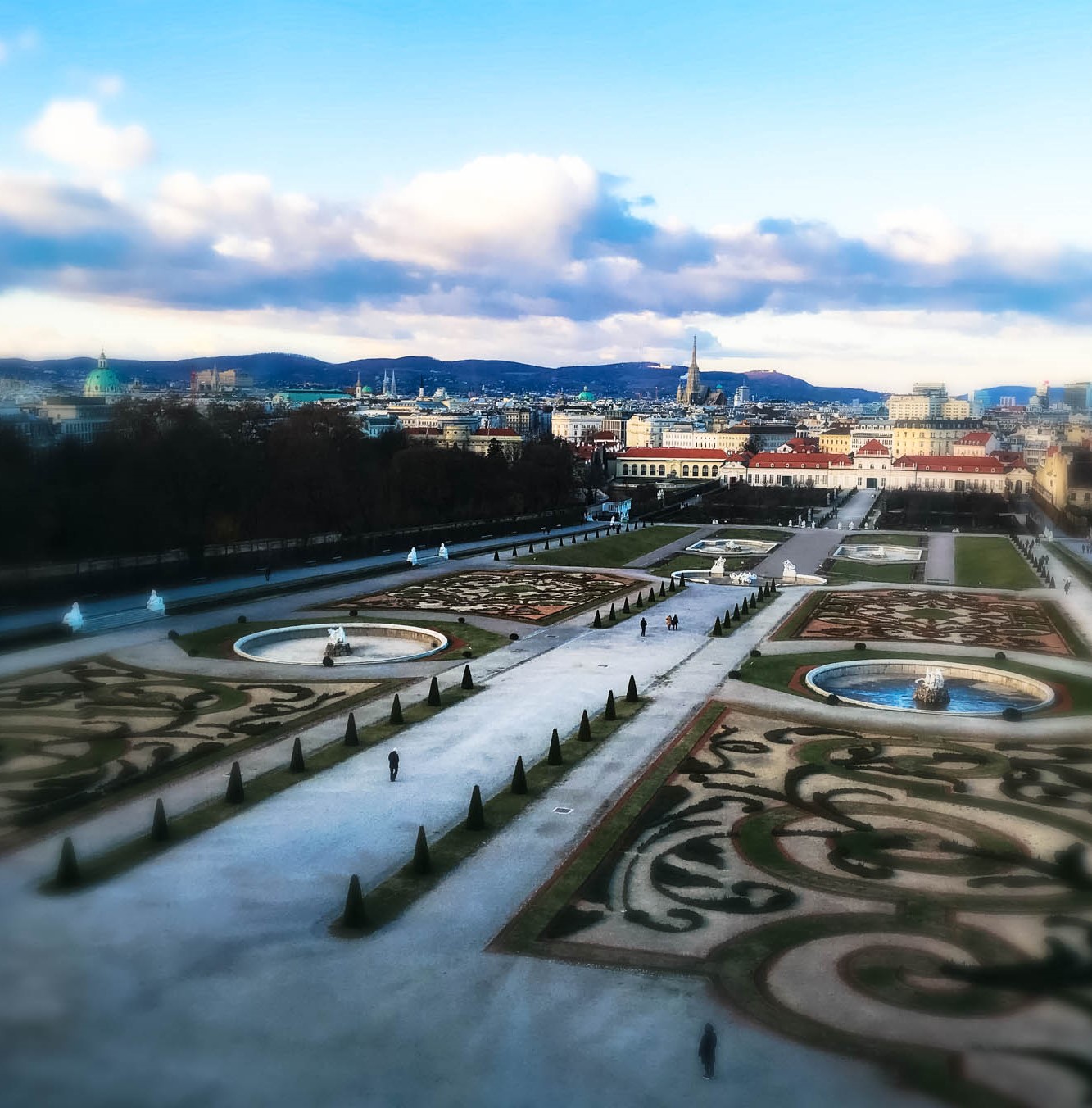 I saw almost all of the museum in an hour. The Klimt paintings were impressive. I liked the art overall. Then we went to a photo school to see an exhibit. The exhibit was very short, and it wasn't what I expected but the photographer was there and talked to us a little bit. Pinhole photography which I have heard of.
We had to get ready for the ballet at the Opera House at 7pm and D had wanted to get there a little early so I could look around. We walked back to her flat instead of taking the subway, which we probably shouldn't have done as it took longer and we started getting cold.  We decided to eat first and then go home and change for the ballet.  However finding a place to eat took longer than we thought.  We didn't like the menu at the first place, plus we had to wait 15 minutes for it to open at 5 pm. We walked to another place J knew but it was closed.  We went to another place called Franz which was across the street. J ordered goulash again but it wasn't as good as the goulash I had the night before.  I ordered what sounded good, grilled chicken breast with veggies, but it was dry and bland and the veggies were 2 slices of carrot.  Seriously.  I decided to try ordering vodka with lemon.  I received a highball glass with room temperature vodka.  I squeezed the lemon in. J got red wine.  We kept talking so we each ordered another drink.  Time got away from us and we had about 10 minutes to change.  The opera house also requires that you check your coats so we didn't have time to look around before hand. Man, they started at 7pm on the dot.  They ring one bell, and then another one is your final notice a few minutes later.  Then we found out we were seeing three different ballets and there would be a 20 minute intermission between each one. So we were able to look around and take pix then.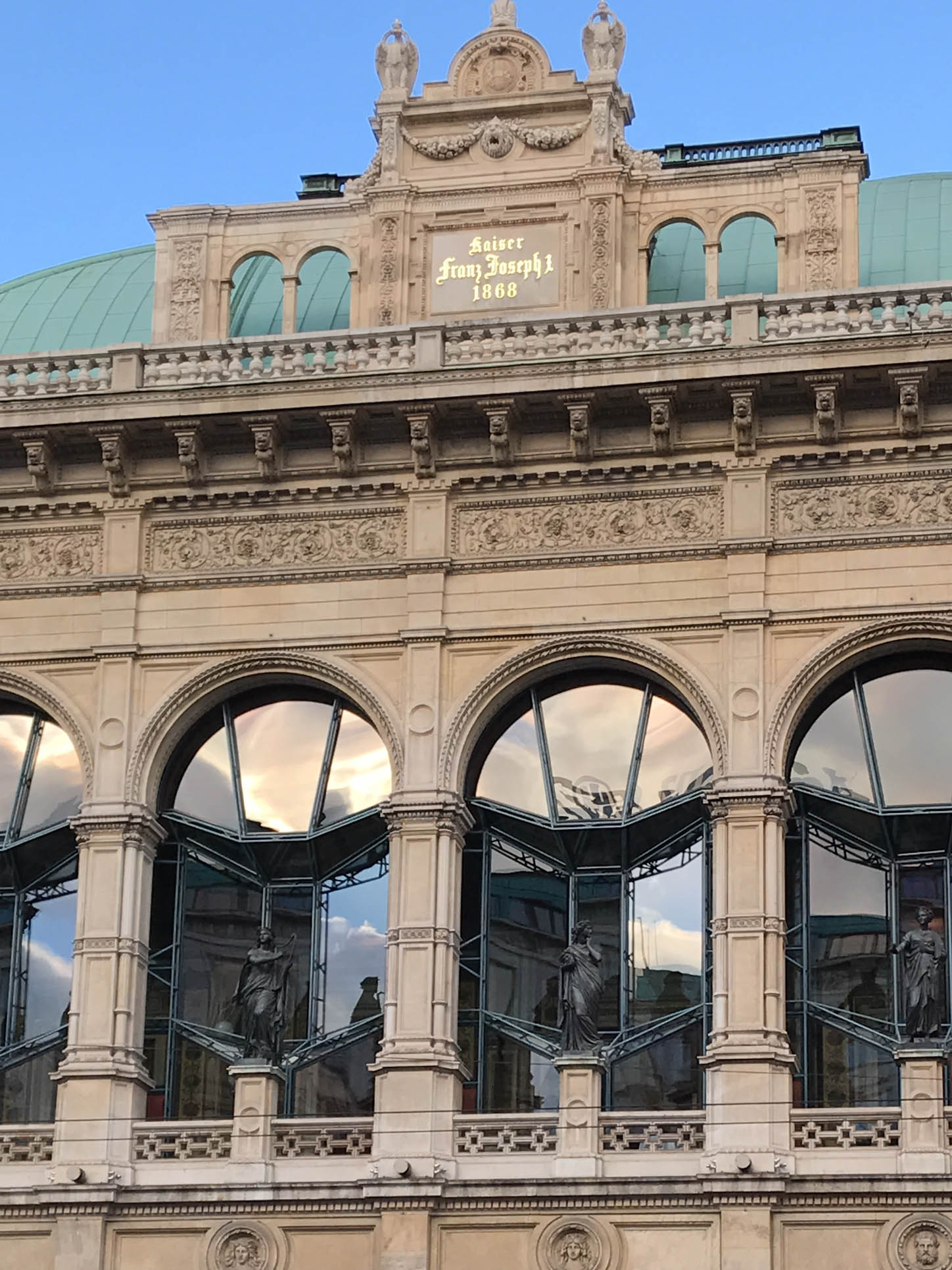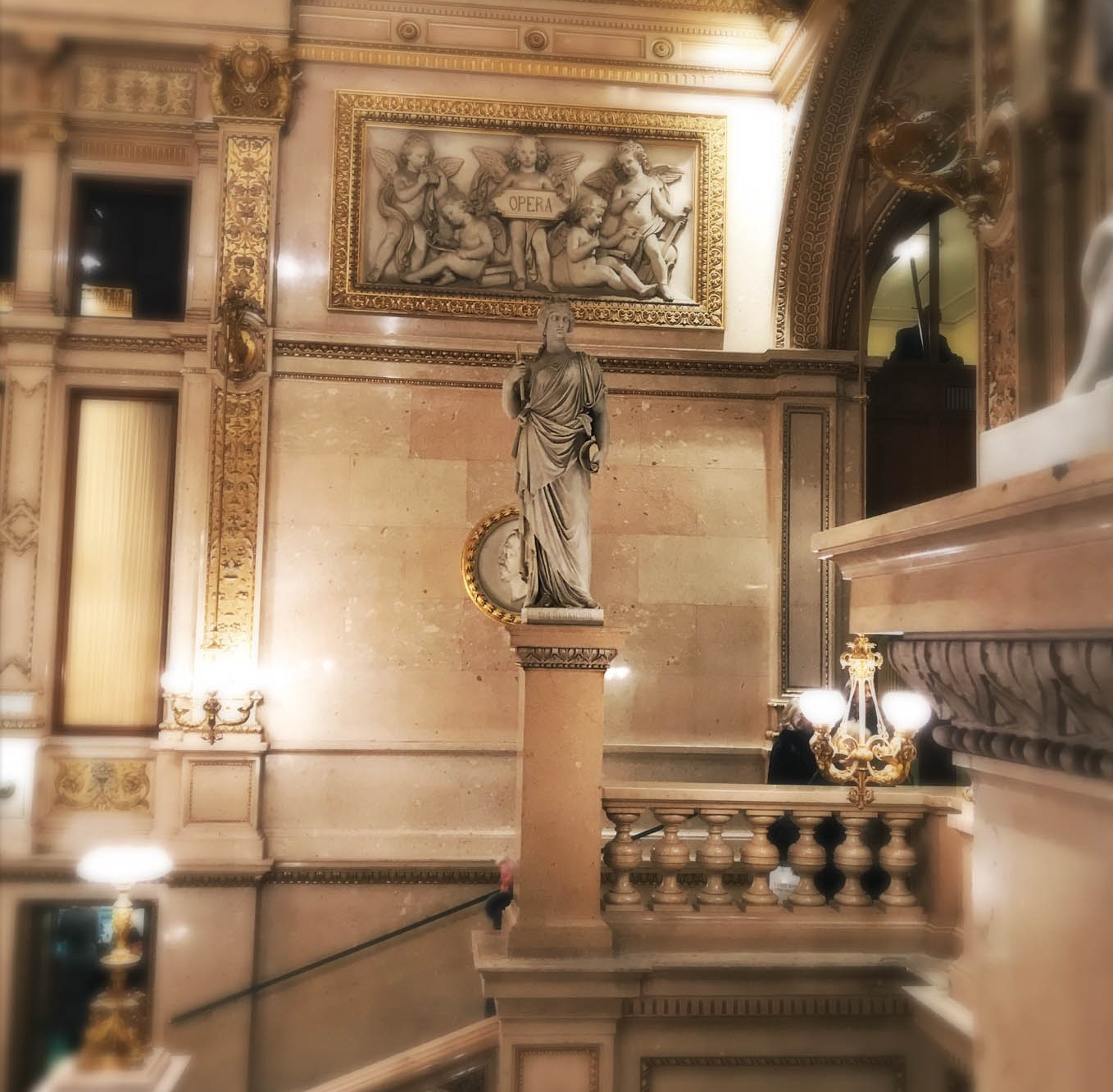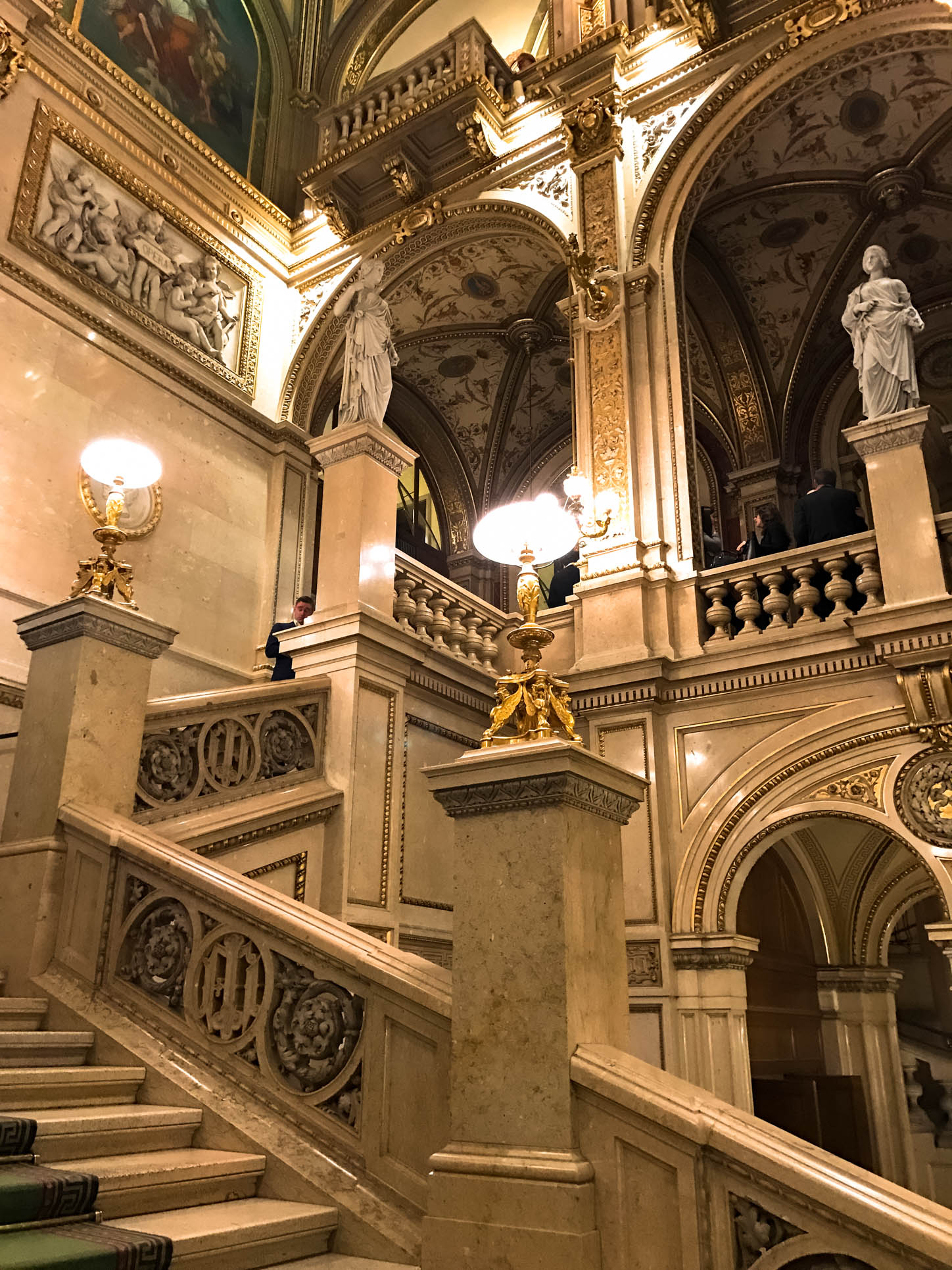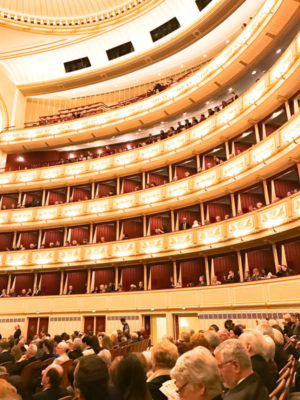 We had orchestra seats which cost 92 Euros each. Well worth it!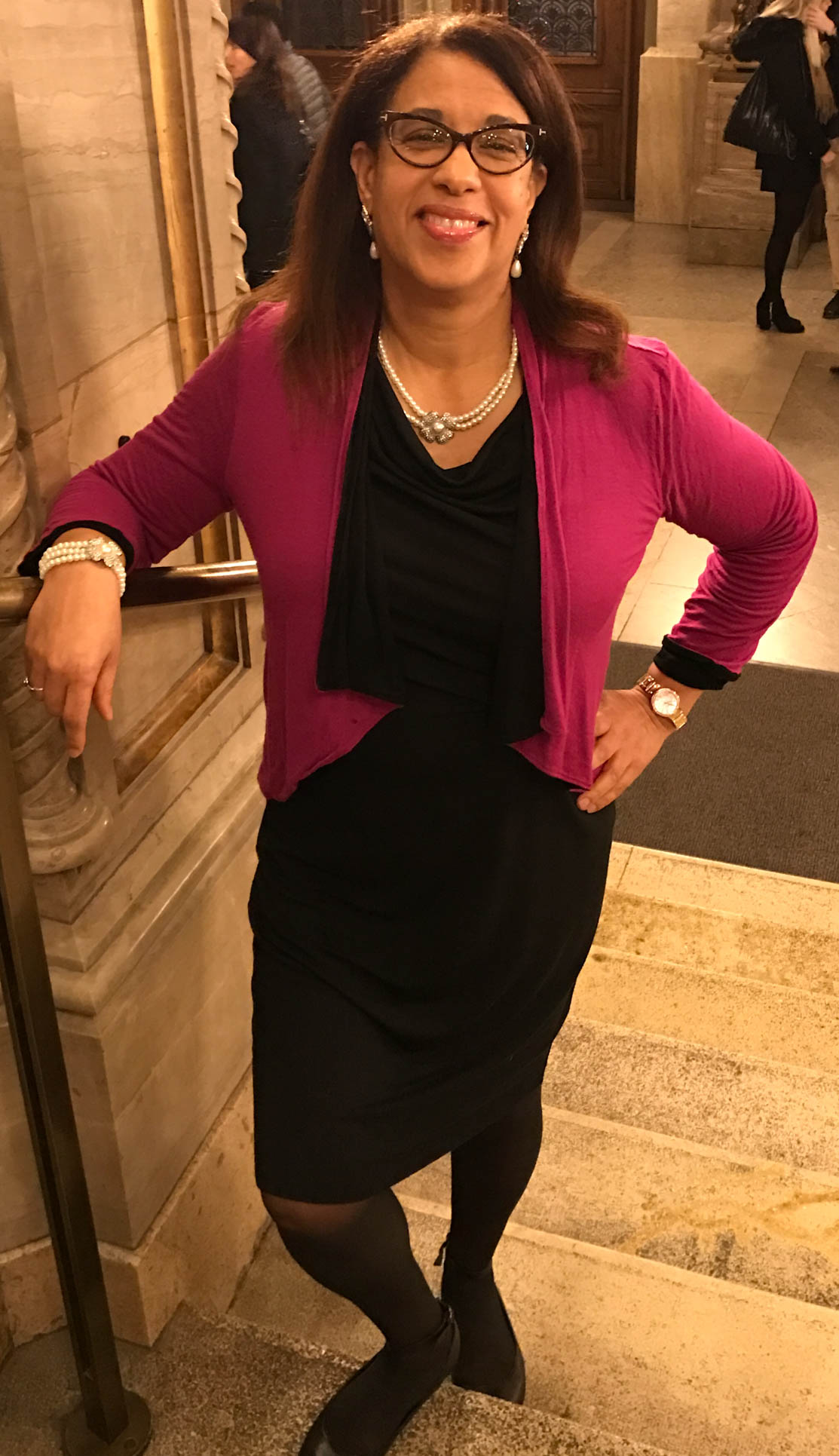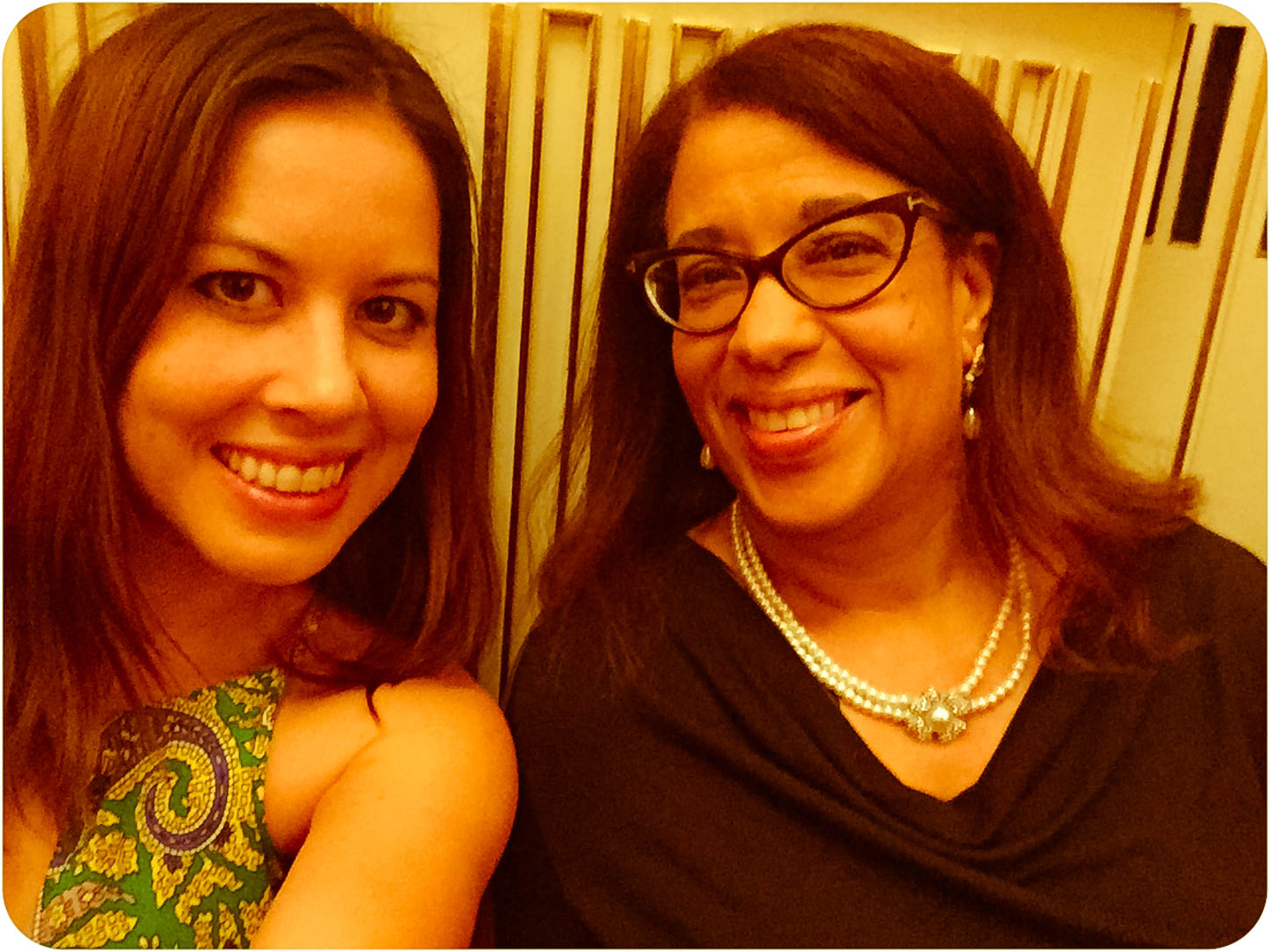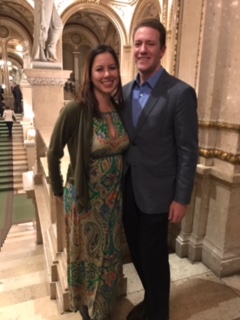 The ballet didn't end until 10pm.  We stood outside for a bit trying to decide where to go but I was freezing in pantyhose and a dress.  My shoes were not warm either.  So we ended up at  Café Museum again, and I ordered the same thing, another apple strudel and cognac.  I went back to their place to get the food to cook for myself tomorrow.
Tuesday November 29. We all agreed to sleep in this morning.  J gave me some eggs and other food last night so I could cook myself breakfast and not have to go out.  Cooking breakfast was fun, it took me a while to figure out how to get the stovetop burners to work.  Had to put the pot on and then the burner would stay on.  J had mentioned going to a spa, and I took a look at the offerings but they only offered Swedish massage for 50 minutes at almost 90 dollars.  So we decided instead to go and see the Freud museum. J didn't go in but she was kind of able to do the bookstore and watch an interesting film loop put together by Anna Freud, Dr. Freud's daughter.  He was able to escape to London when the Nazis came by paying a huge sum of money and with help from Marie Bonaparte.  Many other members of his family were killed in the concentration camps. I liked the museum, there is a lot to see and the bookstore is quite comprehensive.  The original waiting room is still there though he had the original couch shipped to London.
There is a picture of the couch.  Rick Steves recommended the Freud museum.  After the museum we went to Café Landtmann which was another café where Freud liked to go.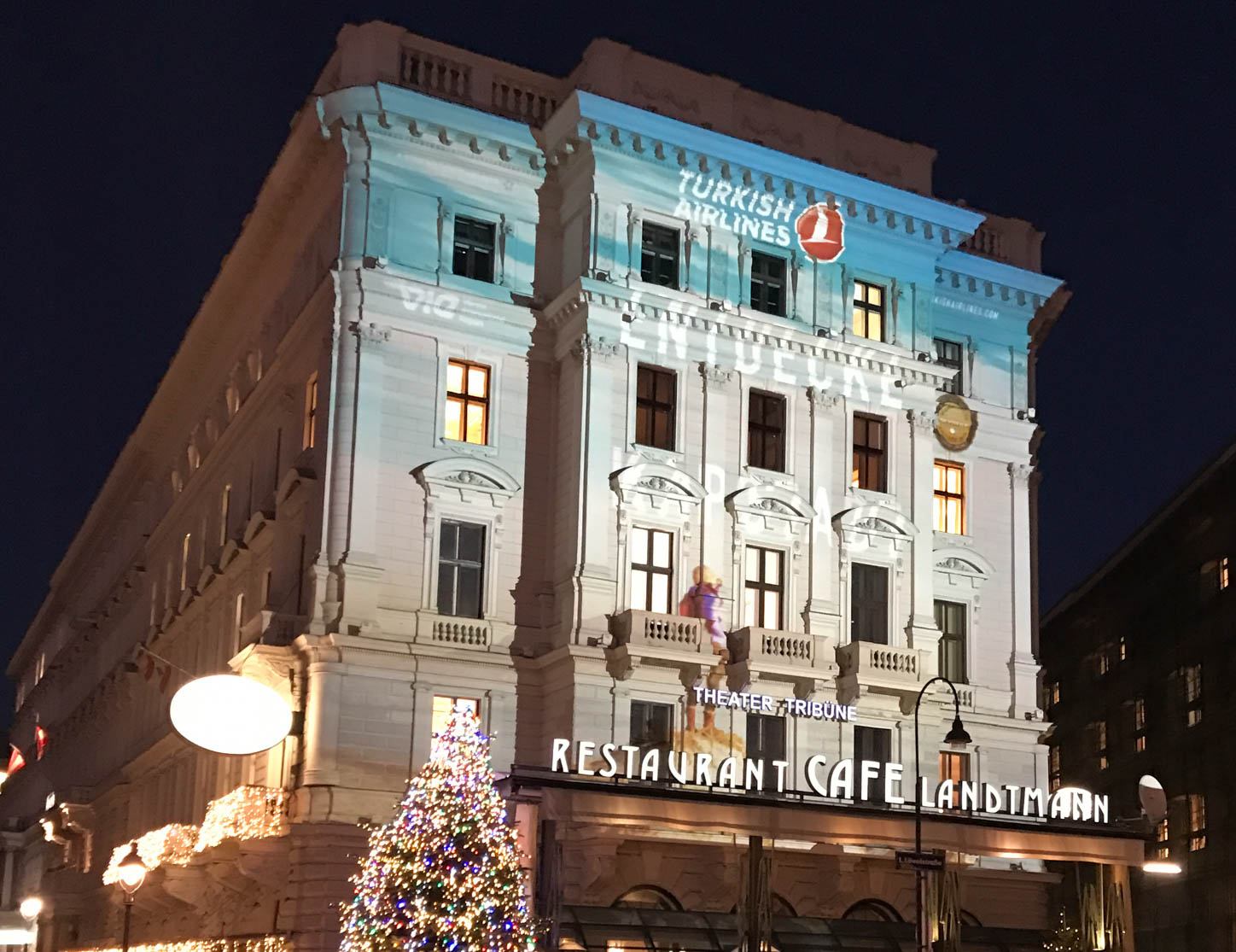 I had a dish of soup with roast beef and noodles.  Next we went back to their place and had wine and cheese.  I stayed until about 21:30.  Earlier in the evening I had received a text from United saying my flight was leaving 2 hours later in the morning so I changed my taxi pick up time which was fantastic.  My driver was right on time but this time not so friendly.
Although my visit to Vienna was short, I felt like I had the perfect overview of the city.  I took this picture on the way to the airport, and it kind of sums up my impression of this neat, clean city:  A man polishing up the garbage can!  I would go back to Vienna, but in the spring or summer when it's warmer.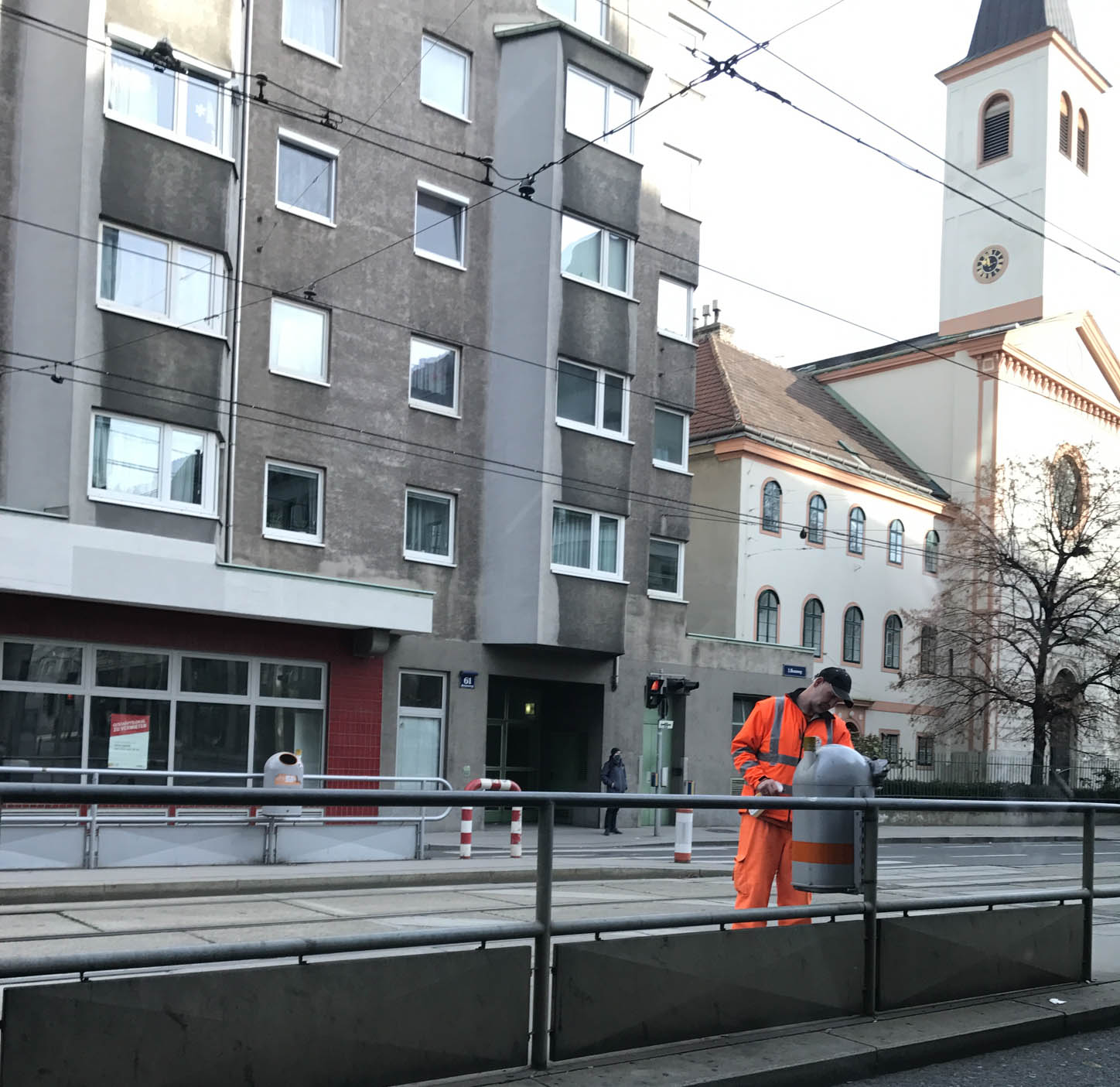 My flight was delayed another additional hour. There wasn't much to do once you go through security so be aware of that. There also weren't many seats in the gate area.  But I finally arrived back in NYC!